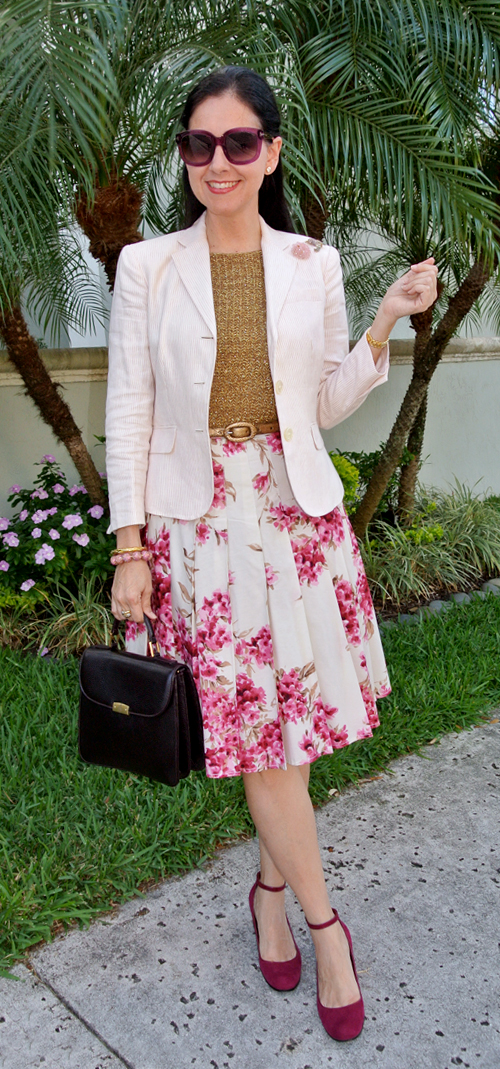 This is a quintessentially spring look, not only because of the floral skirt and shades of pink, but also because of the small brooch collage featuring a cluster of flowers and a crystal-studded hummingbird. It's a feminine look that works professionally, but that could work equally well for a day event.
I have a special place in my heart for hummingbirds, since I grew up surrounded by them in my backyard in Venezuela. We have a special species there, smaller than regular hummingbirds, which we call tucusitos (too-coo-see-toss). I remember checking their nests during the day, while they are away, and seeing the tiniest pale blue eggs, which are the size of a jellybean!
LET'S KEEP IN TOUCH! Join me on Facebook, Twitter & Pinterest! 
If you want to VOTE (you can vote once every day!) for the looks I enter in Vanity Fair's International Best Dressed Challenge, click here and then go to "My Looks"! Every week I post a couple new ones!
Want to leave me a comment? | ¿Quieres dejarme un comentario? [+]
Comments | Comentarios