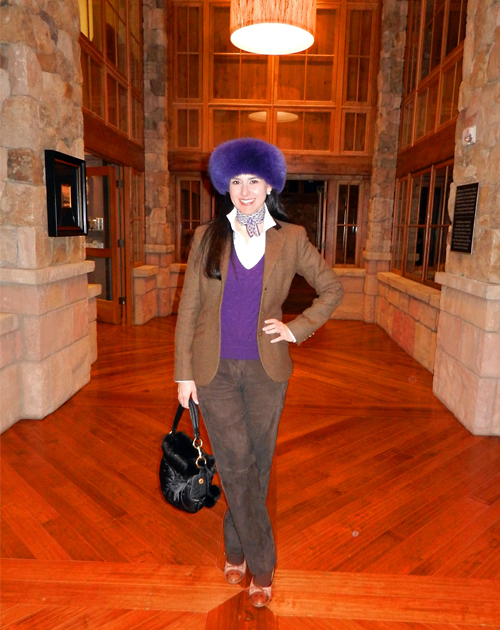 Skiing makes you tired, but the best part of a skiing vacation is the après ski or "after ski", which is what you get to do once the slopes close at 3:30 p.m. and everyone is back in town. That's when everyone gets ready to go to dinner and walk around.
Vail and Lionshead (which are literally together) have fantastic options for dinner and entertainment, so there's always something fun to do. I for example, found that there's one sport where I'm not horrible: bowling. One of the nights we went bowling before dinner and I won by a landslide! You don't believe me? Check the picture: three strikes in a row, thank you very much!
On the day I wore this, we went for a stroll around the stores after dinner, and I met two friends from school that I had not seen in over 20 years, plus one from college that I had not seen in about 17! My parents also met with some friends, so it was definitely a fun night.
As everyone tells you, the key to winter dressing is dressing in layers, which is what I did here. I wore an undershirt, plus my shirt, plus the pullover, plus the blazer…pretty warm. For the bottom, I found that long underwear was not really an option off the slopes, so I relied on a high-denier (300) count hosiery I bought in Spain under my pants, and it worked fine. Deniers are the units of measurement for counting fibers, so the higher the count, the higher the density of the fiber. For example, pantyhose that is crystal or very sheer could easily be 10 deniers, and normal every-day hosiery is typically 15 deniers. If you want to learn more about it, click here.
I Wore: 
Purple Fox Fur Headband/Collar: Saks Fifth Avenue Collection (different color 

here

 and another option here)

White Cotton Piqué Shirt: Theory

 

(similar

here

)

Cable-Knit Mitered Cashmere Pullover Vest in Purple: Ralph Lauren Black Label (the sweater version here)

Wool-Cashmere Tweed Hacking Jacket with Velvet Lapel: Ralph Lauren Black Label (similar here and here)

Soft Suede Pants in Chocolate Brown: No label, but I believe they were Ralph Lauren Black Label (similar here)

Silk Chiffon Gingham Scarf: Brooks Brothers (similar coloring here)

Handmade Cap-Toe Crocodile Ballet Flats: Gravati

 

(Gravati crocodile loafers here and similar looks here, here and here)

Quilted Satin Nylon, Leather, and Rabbit Fur Bag: Coach (I added the pom-poms) (similar here)

Earrings: Pearl studs (similar here)

Ceramic, Diamond, and Mother-of-Pearl Watch: Anne Klein New York (similar

here

)

Perfume: So de la Renta, (

here

) Many people ask me the kind of perfume I wear. This has been my signature scent for quite a while. I find that it is both fresh and flirty, light and feminine, and very classic. When I looked online, I was pleasantly identified by the description in the Oscar de la Renta site: "For the spontaneous, energetic woman who spreads her enthusiasm everywhere she goes. A radiant, sparkling scent." And also, "So de la Renta revels in the elegant, unexpected, playful side of the Oscar woman."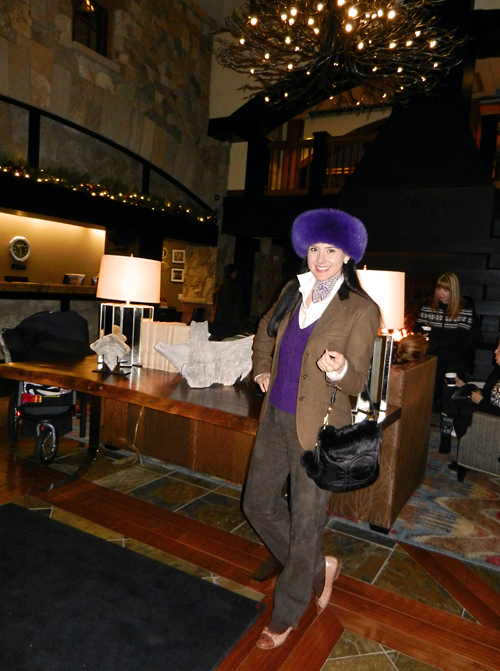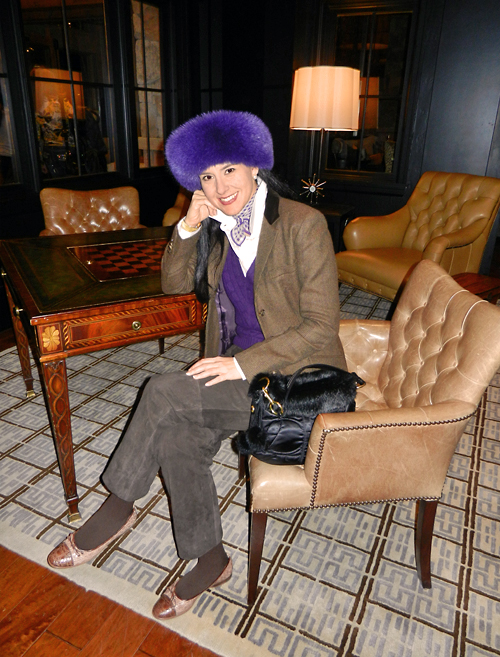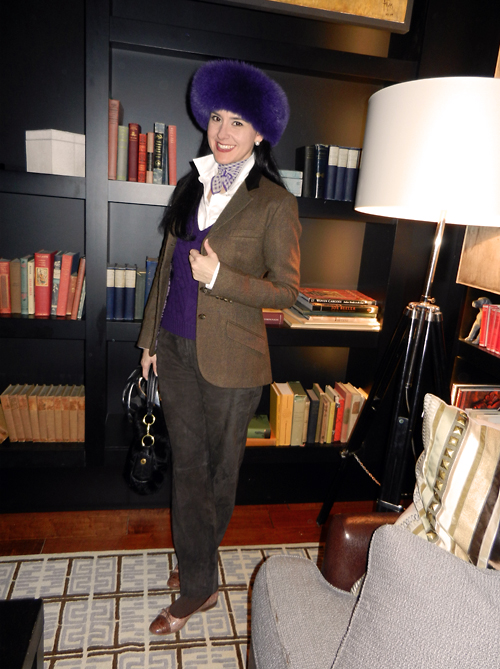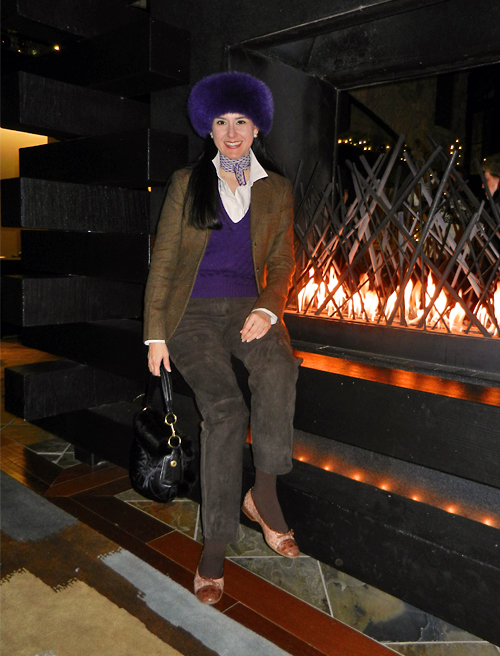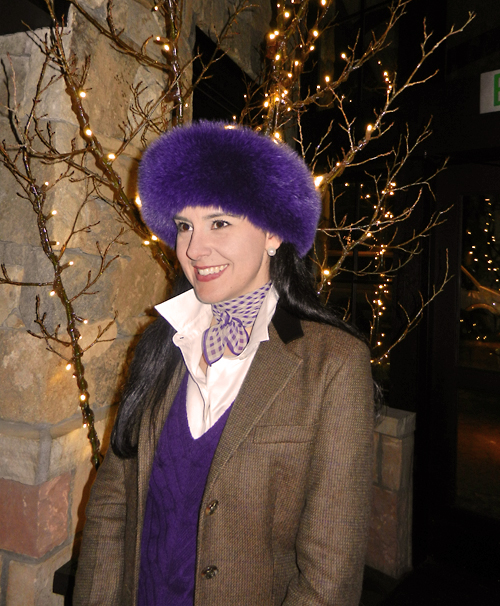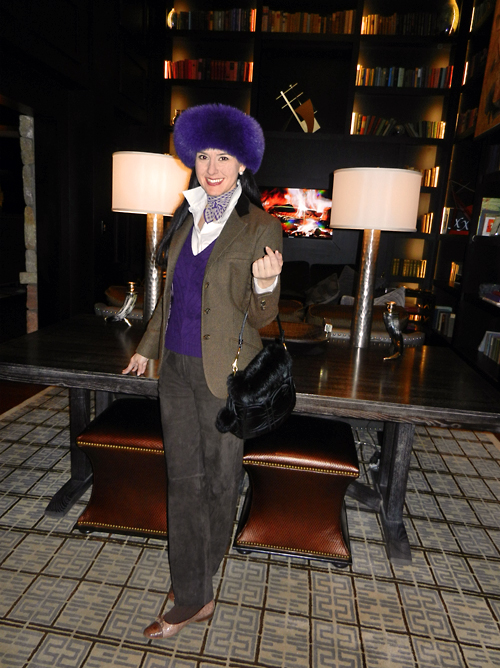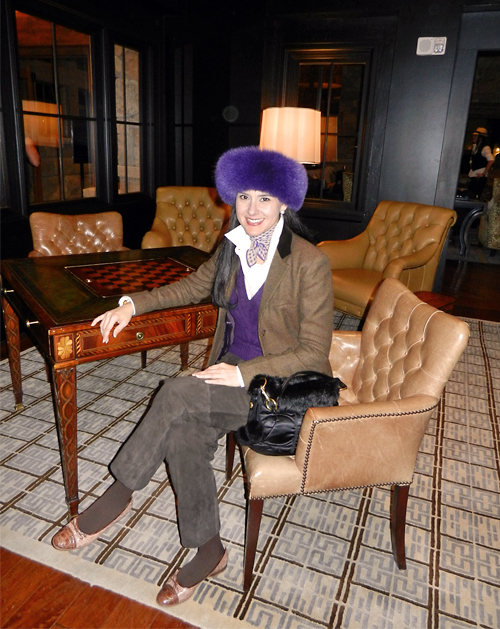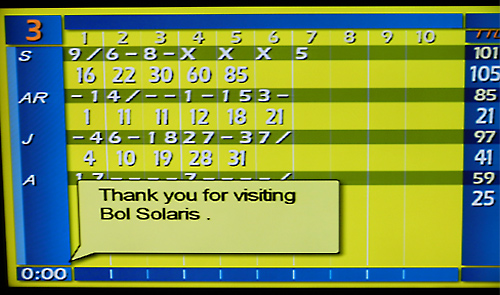 Esquiar cansa muchísimo, pero sin duda la mejor parte de unas vacaciones de esquí es el après ski o lo que se hace "después del esquí" una vez que las pistas cierran a las 3:30 p.m. y todo el mundo vuelve al pueblo. Ahí es cuando la gente se arregla para salir a cenar y dar una vuelta.
Vail y Lionshead (que están literalmente unidos) ofrecen opciones fantásticas para cenar y divertirse, asi que siempre hay algo divertido que hacer. Yo, por ejemplo, descubrí que hay un deporte que no hago nada mal: bowling o bolos. Una de las noches fuimos a jugar antes de cenar y gané pero por mucho! No me creen? Miren la foto: tres strikes seguidos, muchas gracias!
El dia que me puse ésto, fuimos a pasear por las tiendas después de cenar, y me encontré con dos amigas del colegio a las que no veía en mas de 20 años, y a otra de la Universidad a la que no veía en como 17! Mis padres también se encontraron con unos amigos, asi que fue una noche divertida.
Como dice todo el mundo, la clave para vestirse en invierno son las capas de ropa, que es lo que hice aqui. Me puse una camiseta debajo de la camisa que me puse bajo el chaleco y la chaqueta…muy abrigada. Para la parte de abajo, me di cuenta que la ropa interior larga no iba a ser buena opción fuera de las pistas, asi que opté por confiar en medias con un número alto de deniers (300) que compré en España y estuve perfectamente cómoda. El denier es la unidad de medida del grosor de una fibra textil, asi que cuanto mas grande sea el número, mas densa la fibra. Por ejemplo, las medias cristal o muy transparentes fácilmente pueden ser de 10 deniers, y las medias panty normales tienden a ser de 15 deniers. Si quieres aprender mas sobre esta medida, apreta aqui.
Me Puse:
Share it in your...
Compártelo en tu...
Want to leave me a comment? | ¿Quieres dejarme un comentario? [+]
Comments | Comentarios