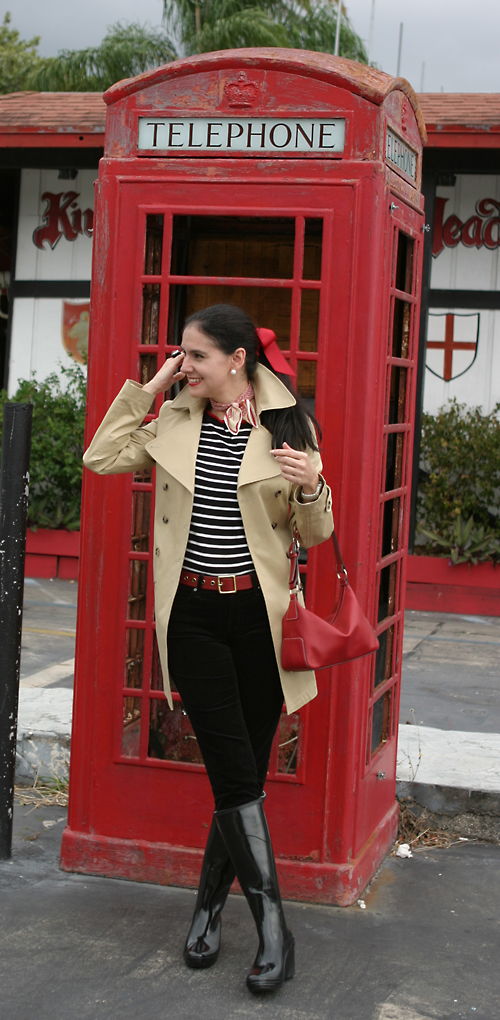 I love rainy days, but I don't love dressing for them necessarily. However, when I woke up to a rainy day this week, I was simply happy to have an opportunity to wear my Hunter rain boots again.
It was a lazy day, so I wore them with something really simple: black skinny pants and a striped boatneck sweater. The trench and the neckerchief kind of came with the weather, but overall, I ended quite pleased with the whole look!
I Wore: 
Striped Cotton Boatneck Sweater: Lauren by Ralph Lauren

Cotton Velvet Skinny Pants: Gap, Always Skinny 

Cotton Neckerchief: Paco Rabanne

Cotton Trench Coat: Theory

Rain Boots: Hunter, Champery (here)

Leather Bag: Ann Taylor

Leather Belt: Coach

Earrings: Cultured pearl studs

Ring: Black jade, red jade, and sterling silver

Ceramic, Diamond, and Mother-of-Pearl Watch: Anne Klein New York

Sunglasses: Vivienne Westwood

Perfume: So de la Renta, (

here

) Many people ask me the kind of perfume I wear. This has been my signature scent for quite a while. I find that it is both fresh and flirty, light and feminine, and very classic. When I looked online, I was pleasantly identified by the description in the Oscar de la Renta site: "For the spontaneous, energetic woman who spreads her enthusiasm everywhere she goes. A radiant, sparkling scent." And also, "So de la Renta revels in the elegant, unexpected, playful side of the Oscar woman."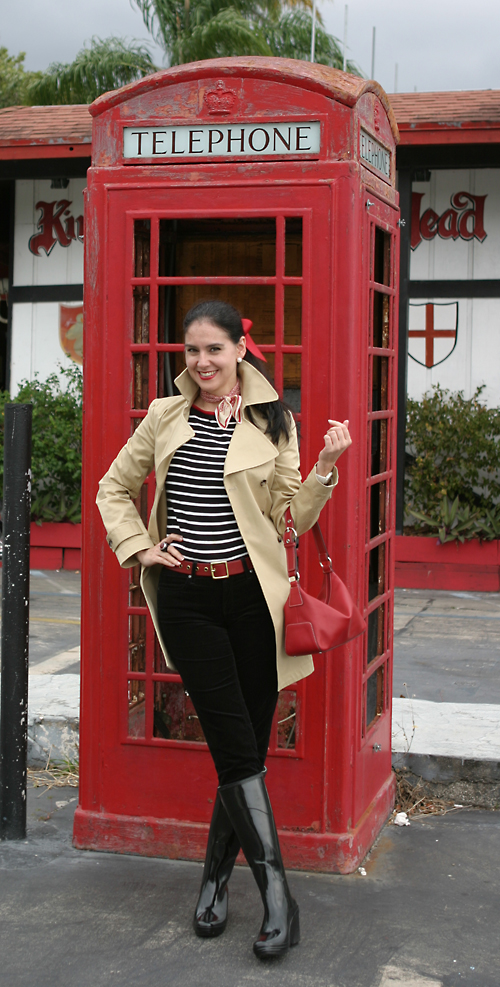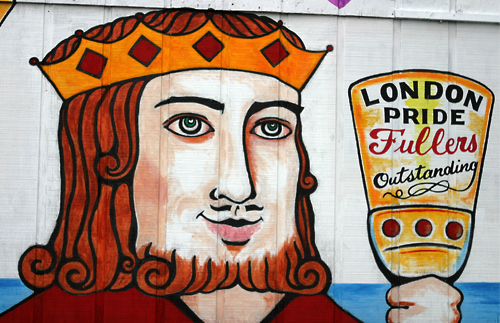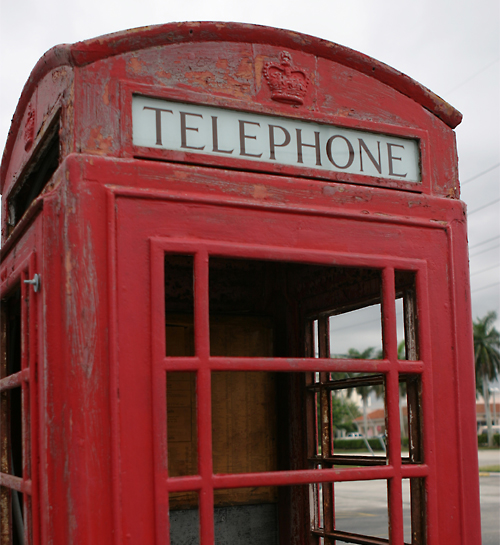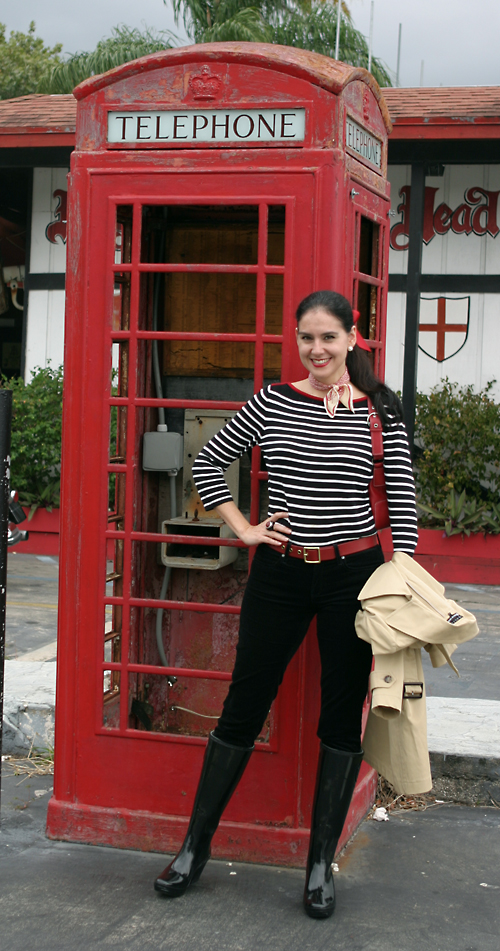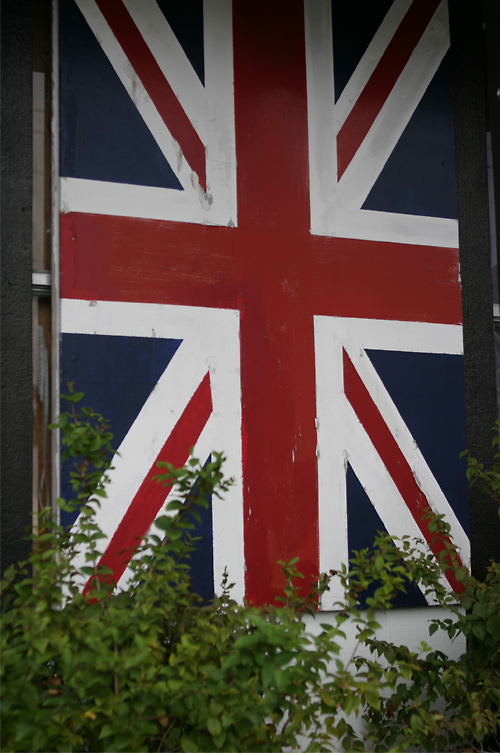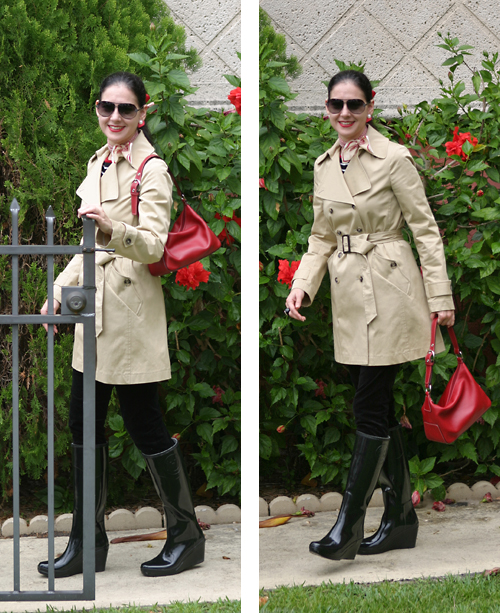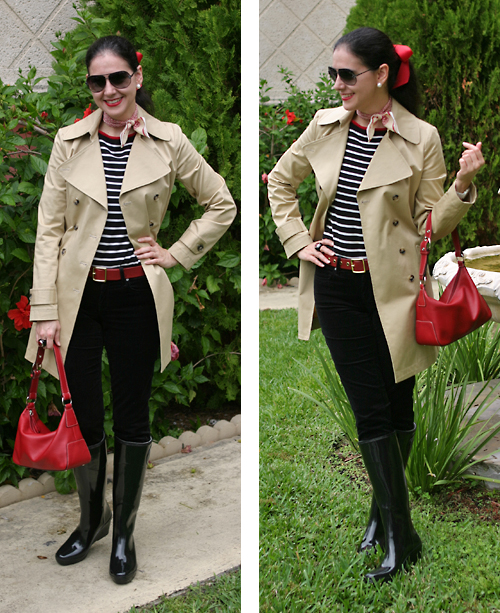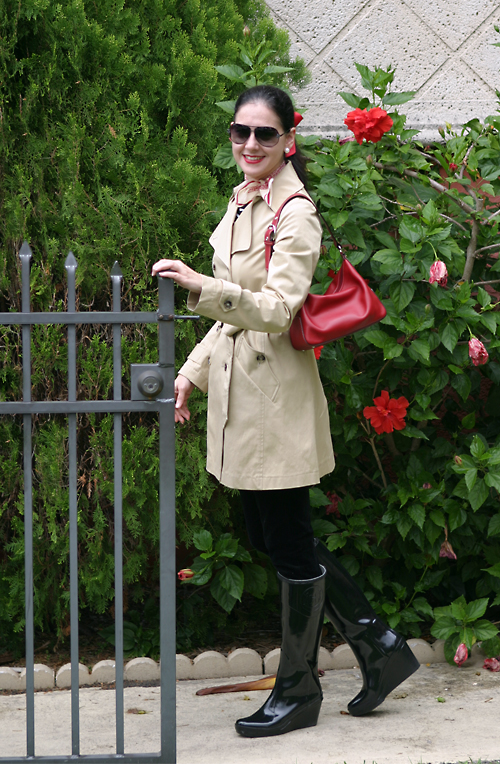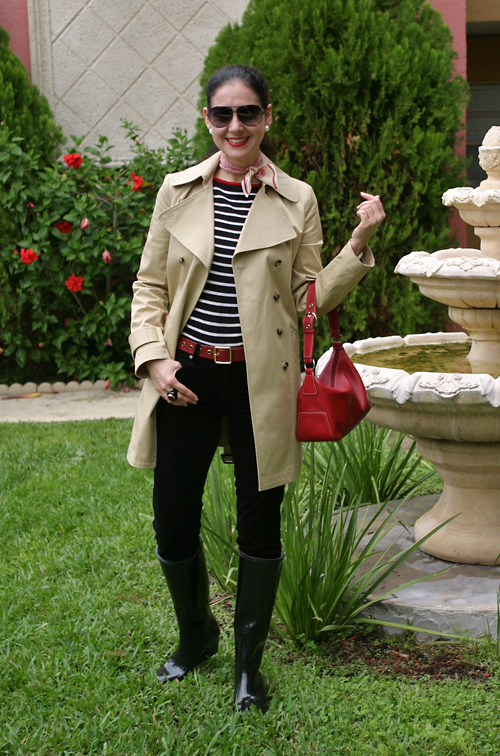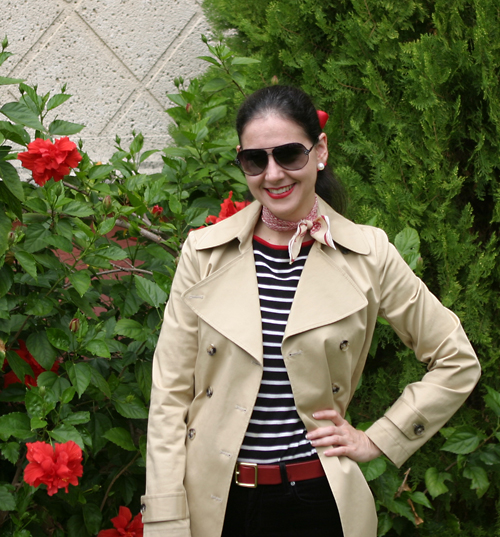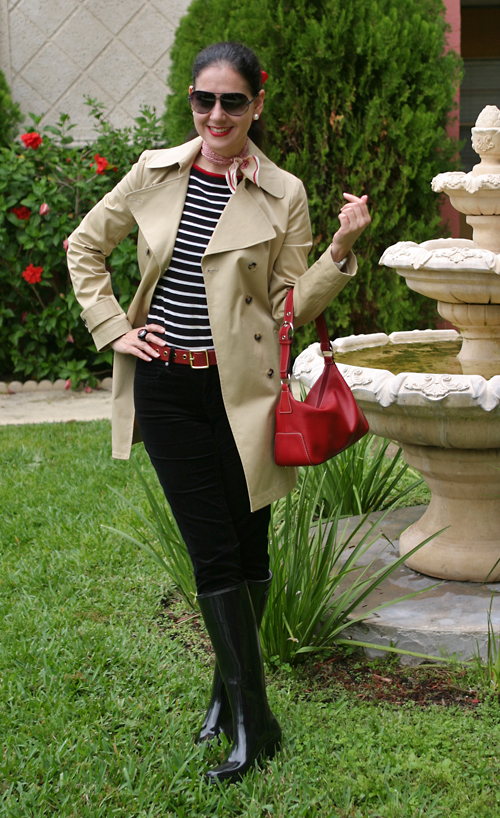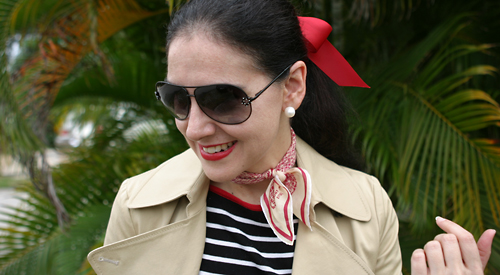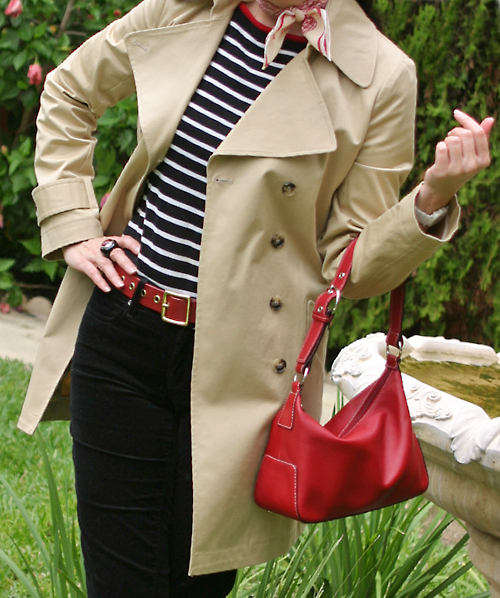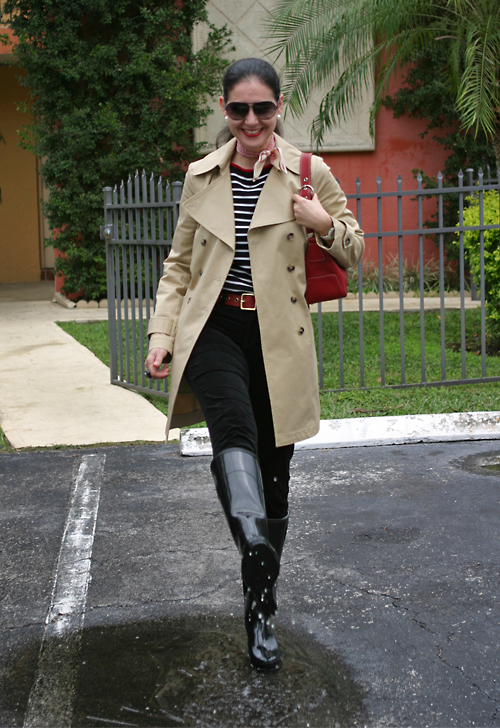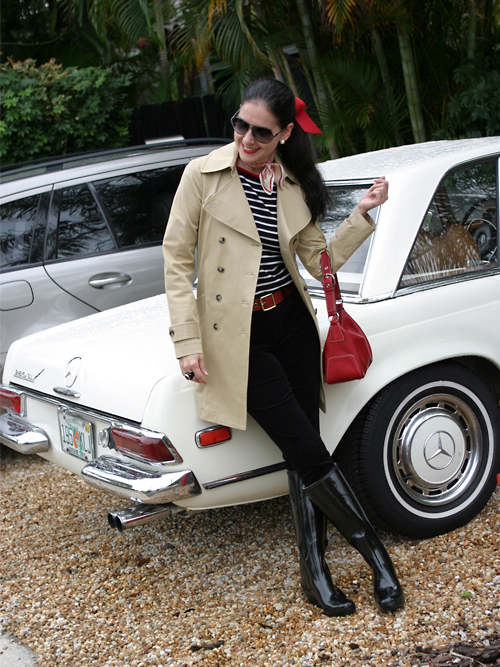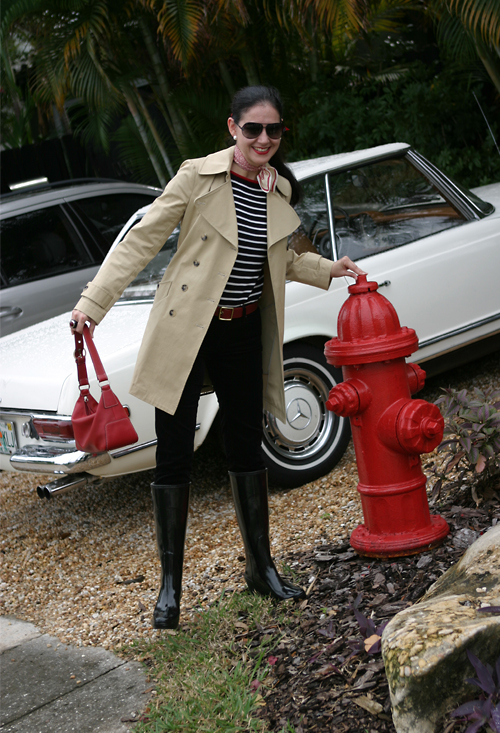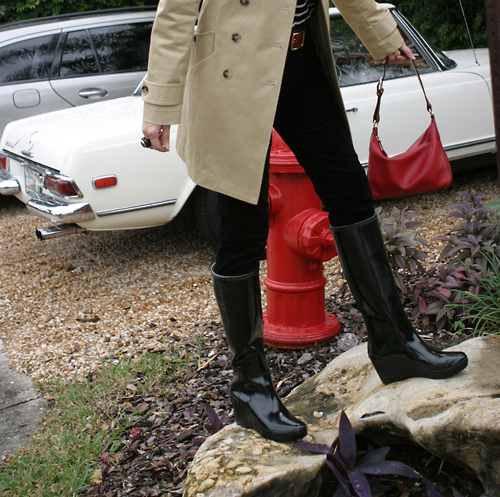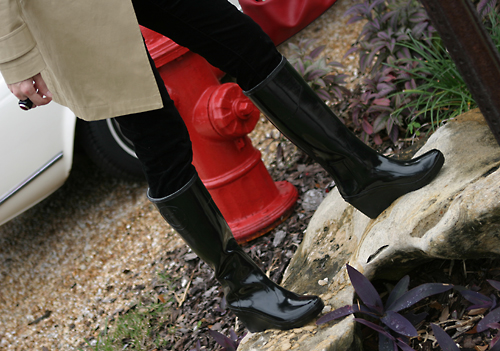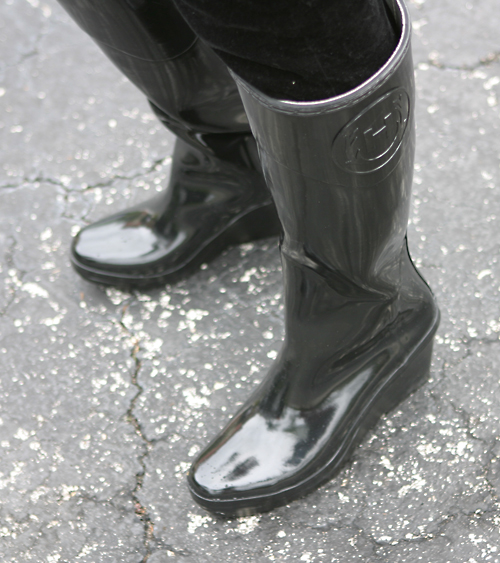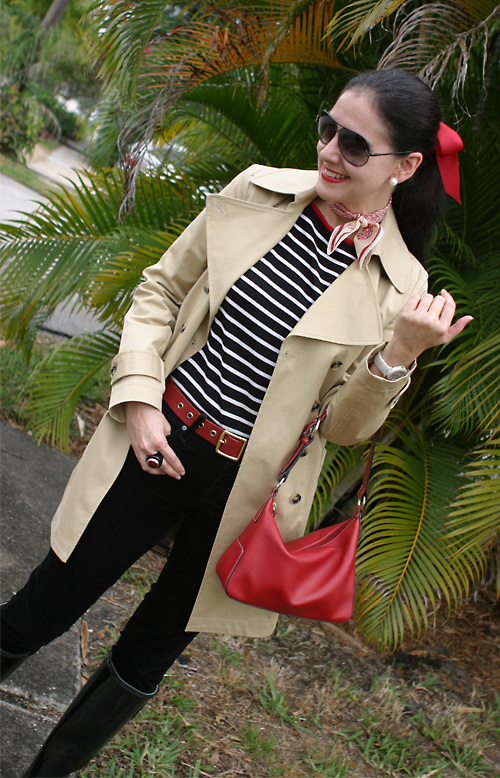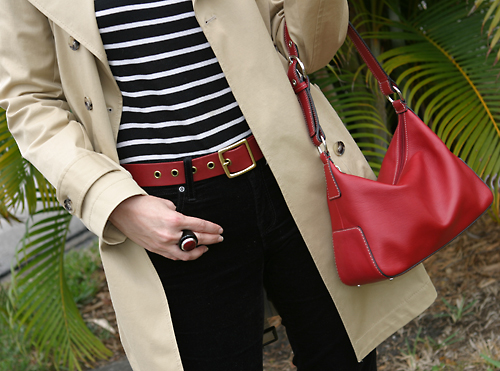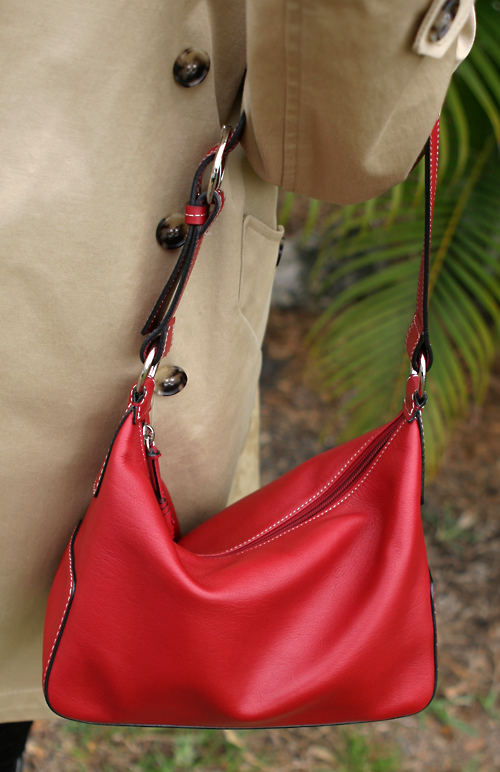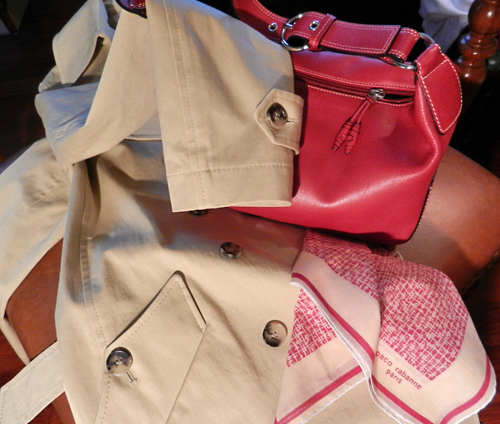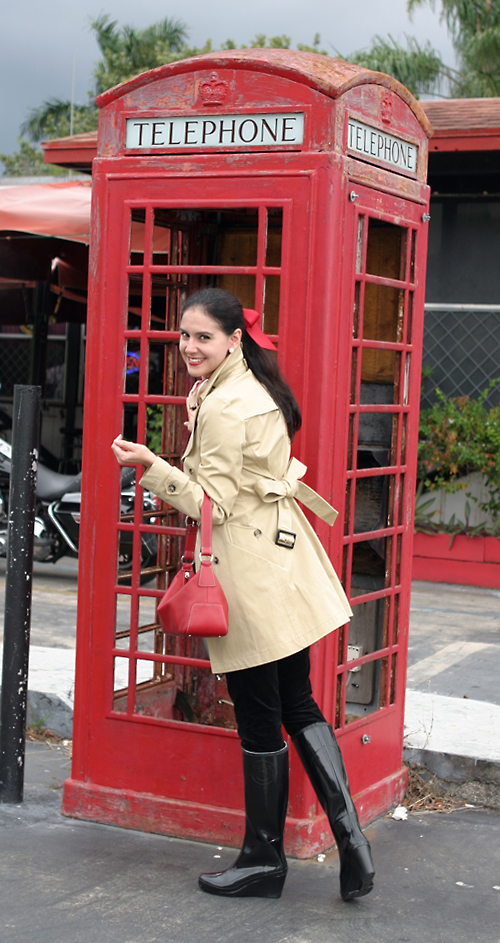 Me encantan los dias lluviosos, pero no es que me guste mucho tener que vestirme para salir bajo la lluvia. Sin embargo, cuando esta semana me levanté con un dia lluvioso, simplemente agradecí tener una oportunidad de usar mis botas de agua Hunter otra vez.
Era un dia perezoso, asi que las combiné con algo bien sencillo: pantalones negros pitillo y un suéter de rayas con cuello barco. La gabardina y el pañuelo al cuello mas o menos eran de esperar en un dia de lluvia, pero en conjunto quedé bastante contenta con la combinación!
Me Puse: 
Suéter de Algodón de Rayas con Cuello Barco: Lauren by Ralph Lauren

Pantalones Pitillo de Terciopelo de Algodón: Gap, Always Skinny

Pañuelo de Algodón: Paco Rabanne

Gabardina de Algodón: Theory

Botas de Agua: Hunter, Champery (aqui)

Bolso/Cartera de Piel: Ann Taylor

Cinturón de Piel: Coach

Pendientes/Zarcillos: Perlas cultivadas

Anillo/Sortija: De jade negro, rojo y plata esterlina

Reloj de Cerámica, Brillantes y Madreperla: Anne Klein New York

Lentes/Gafas de Sol: Vivienne Westwood

Perfume: So de la Renta, (

aqui

) Mucha gente me pregunta qué perfume uso. Ésta ha sido mi fragancia por bastante tiempo. Encuentro que es fresca y coqueta, ligera y femenina, y muy clásica. Cuando busqué la descripción en la página de Oscar de la Renta, quedé gratamente identificada con lo que decía: "Para la mujer espontánea y energética que reparte su entusiasmo dondequiera que va. Una fragancia radiante y chispeante." Y también, "So de la Renta se deleita en el lado elegante, inesperado y divertido del tipo de mujer que representa Oscar de la Renta."

  
Share it in your...
Compártelo en tu...
Want to leave me a comment? | ¿Quieres dejarme un comentario? [+]
Comments | Comentarios