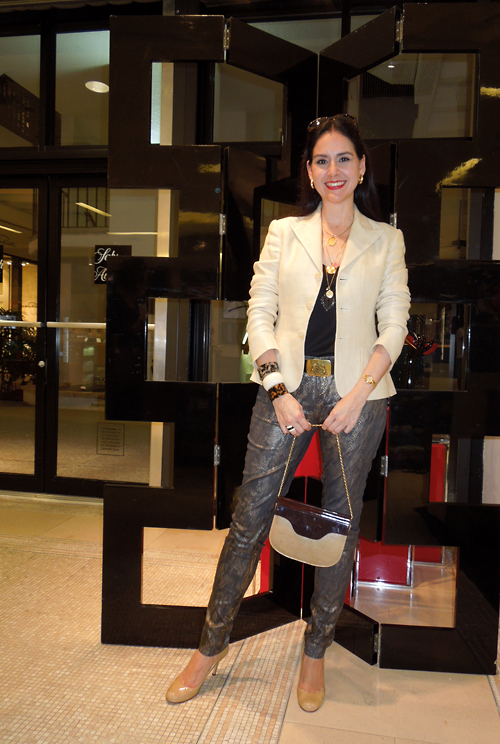 I received an e-mail from Saks Fifth Avenue announcing that Christian Louboutin was going to be in-person at their Bal Harbour Shops store signing shoes. Since I didn't have class, I decided to go meet him…
The store was completely packed with people, and Mr. Louboutin was seated signing one pair after the other in colorful sharpies.  The party scene was great: mojitos, ceviche, plantains with sour cream and black bean sauce, and a table for rolling Cuban cigars while a group sang lively tunes.
For this last-minute event, I wore snakeskin jeans, which would be easy to style in a more "rocker" way, but which I tried to make more classic by pairing with a cream herringbone blazer and ladylike tortoise and ivory accessories. Since I don't own any Louboutins, I wore my trusty Kate Spade Karolinas that, quite frankly, are very, very similar in shape and even color to his version, but only cost a fraction.
I Wore: 
Linen Herringbone Blazer: Ralph Lauren Black Label

Lacquered Snakeskin Skinny Jeans: J Brand

Cotton-Silk Camisole: Ann Taylor

Leather Belt: Lauren by Ralph Lauren

Bag: Vintage, tortoise shell and lizard

Earrings: Gold hoops

Rings: Antique ivory and tortoise shell

Cuffs: Antique ivory from the 30s and faux tortoise shell

Necklaces: Various chains and medals in gold

Gold and Mother-of-Pearl Watch: Fendi

Sunglasses: Ralph Lauren Collection

Perfume: So de la Renta, (

here

) Many people ask me the kind of perfume I wear. This has been my signature scent for quite a while. I find that it is both fresh and flirty, light and feminine, and very classic. When I looked online, I was pleasantly identified by the description in the Oscar de la Renta site: "For the spontaneous, energetic woman who spreads her enthusiasm everywhere she goes. A radiant, sparkling scent." And also, "So de la Renta revels in the elegant, unexpected, playful side of the Oscar woman."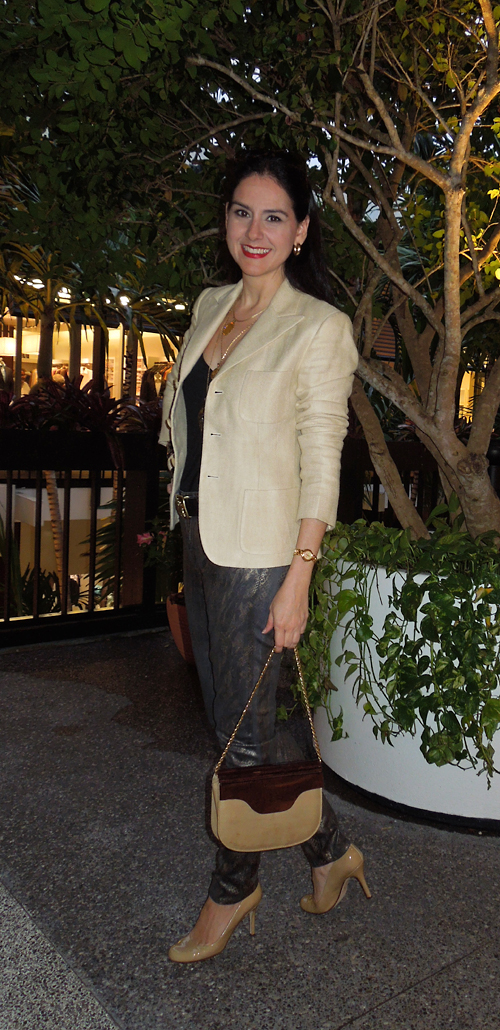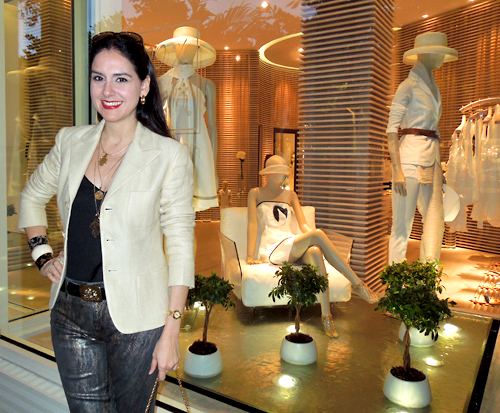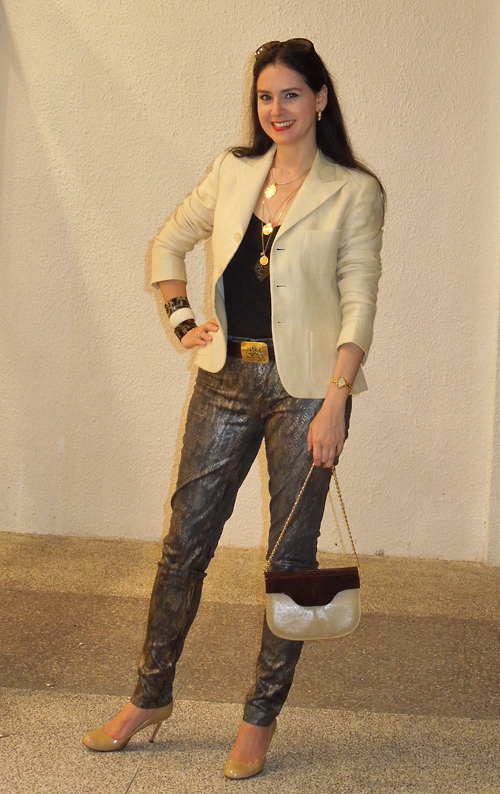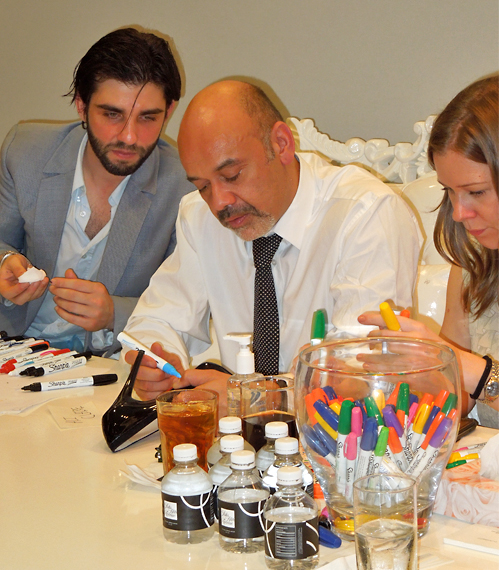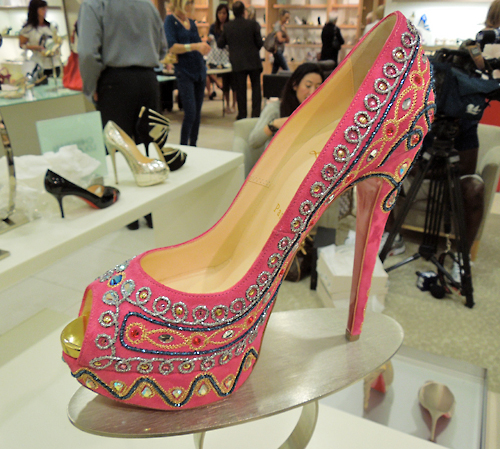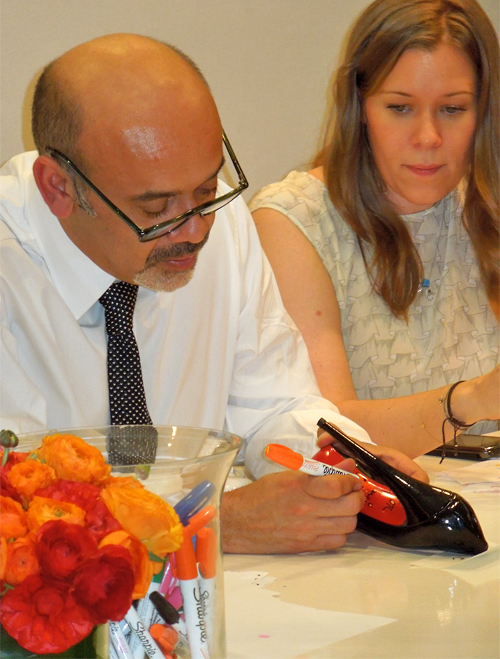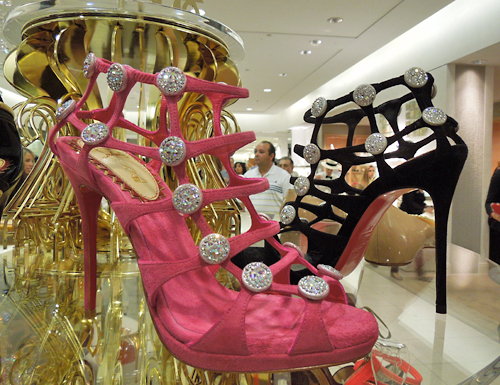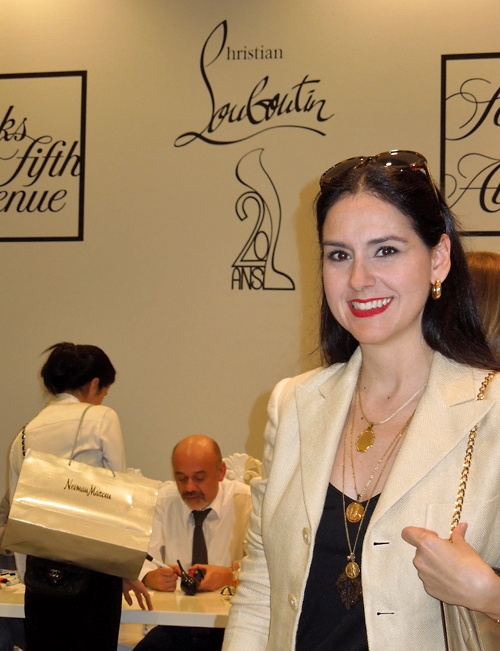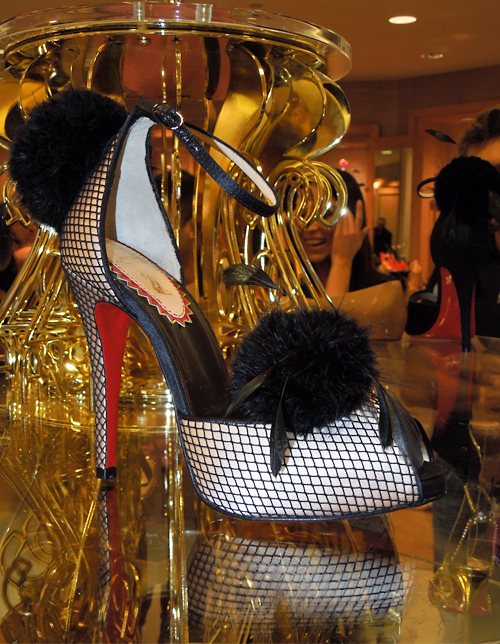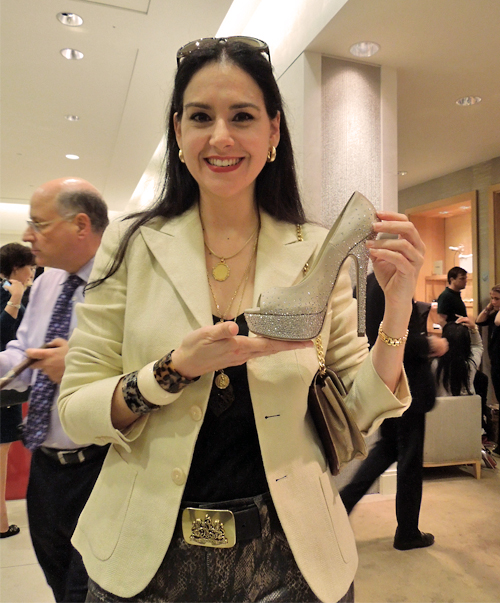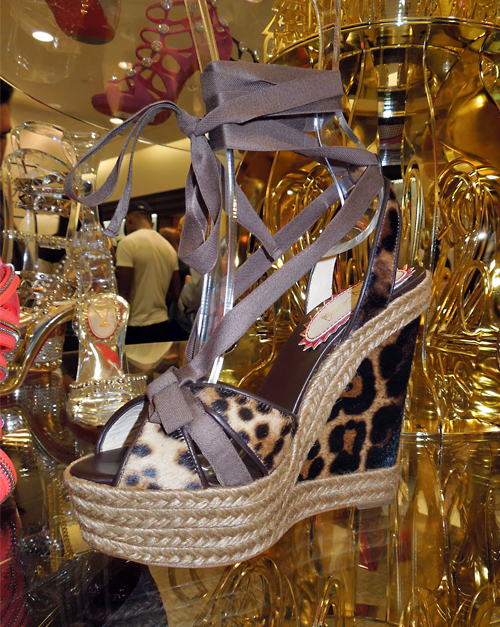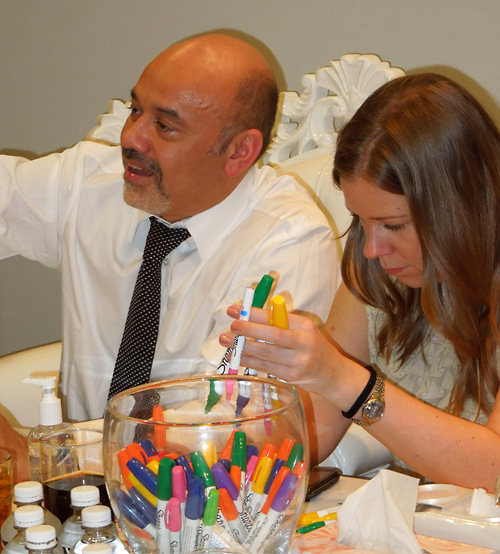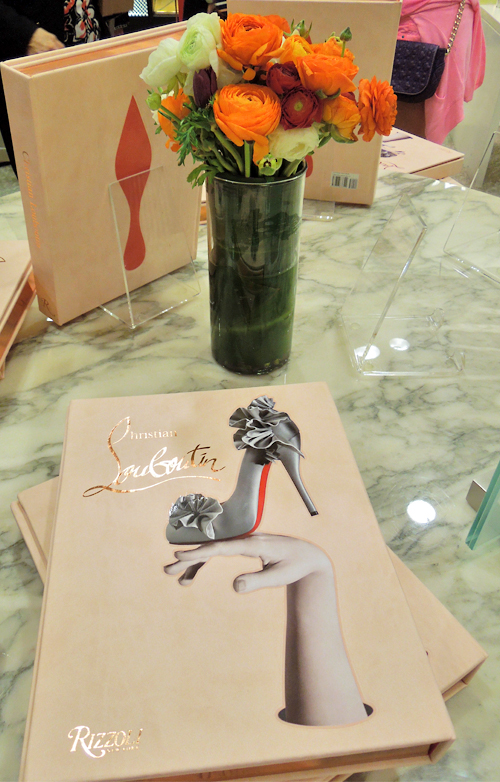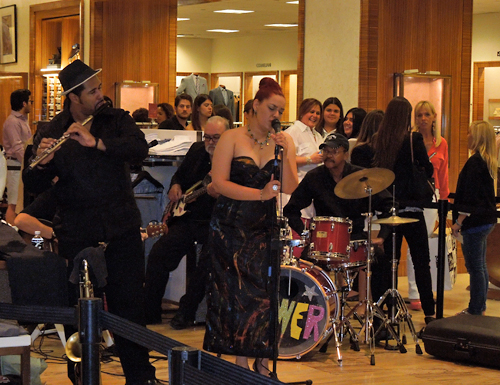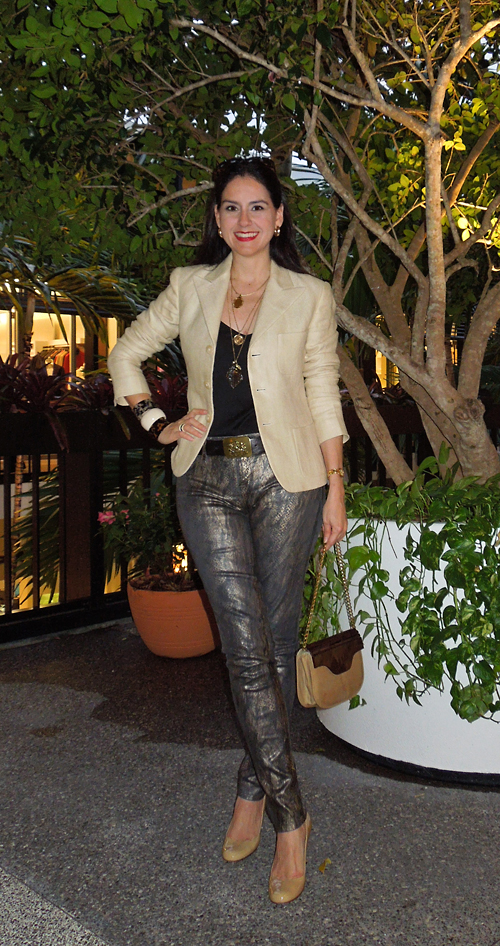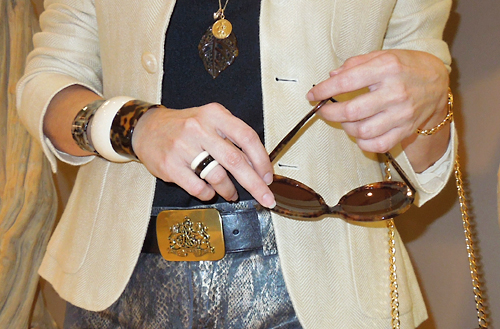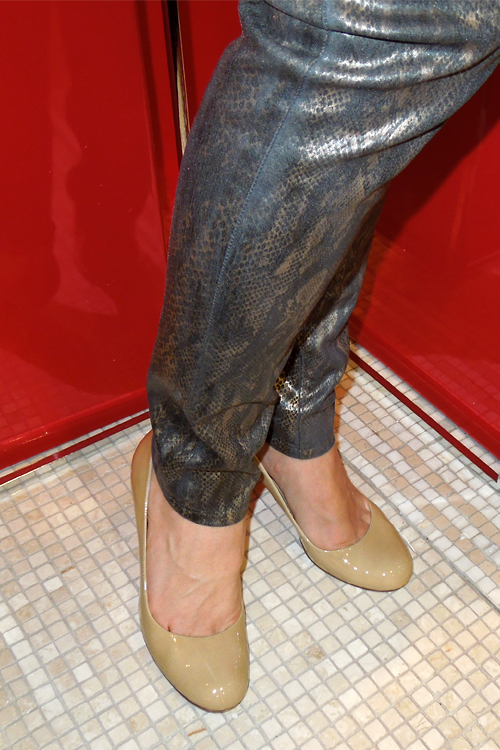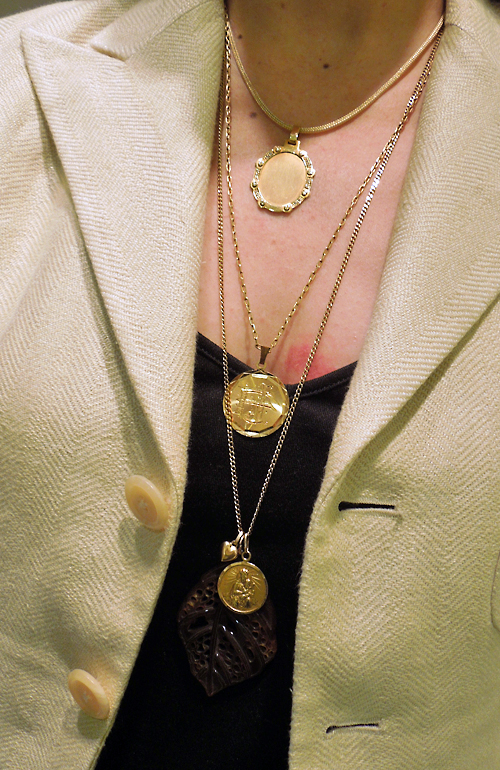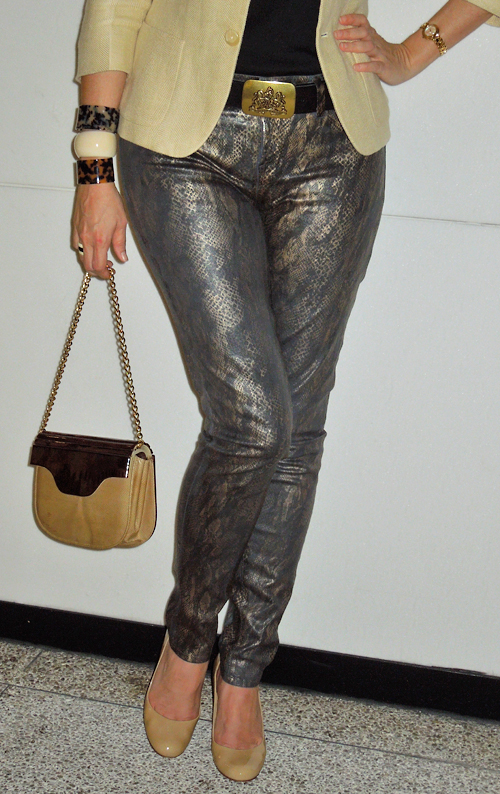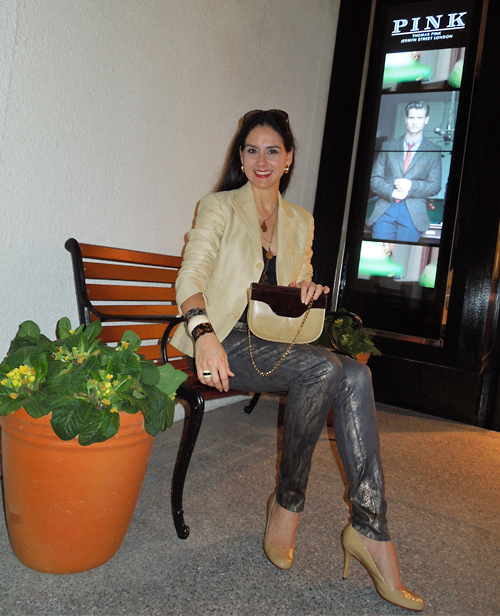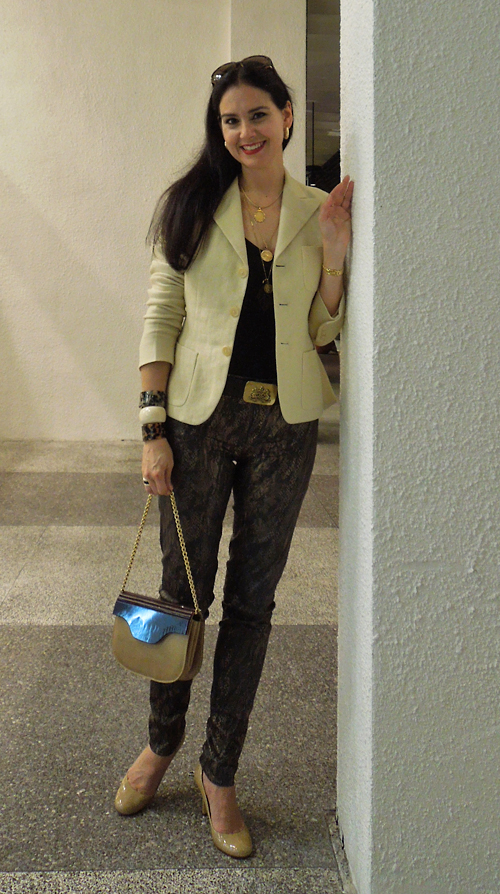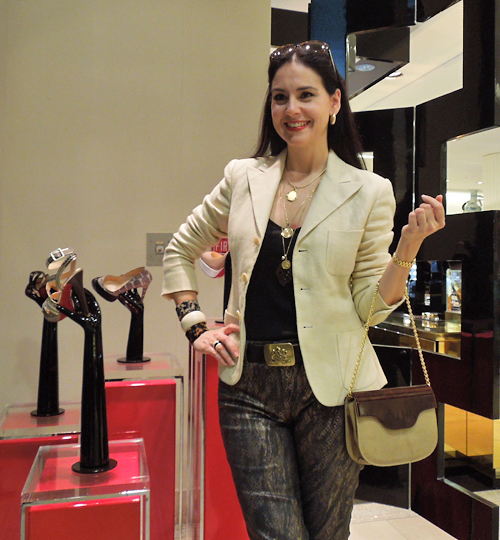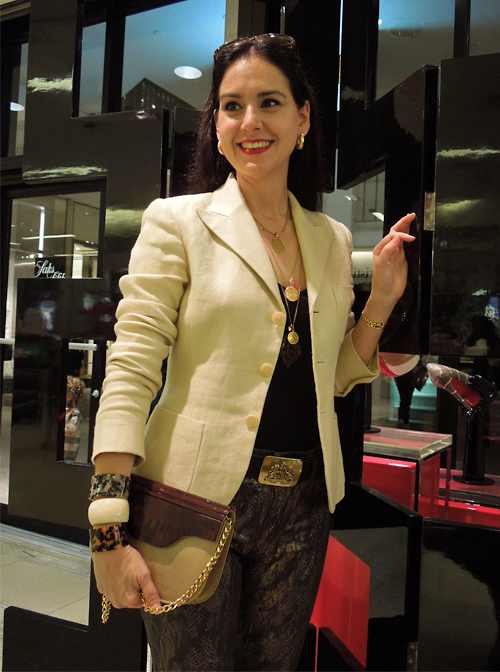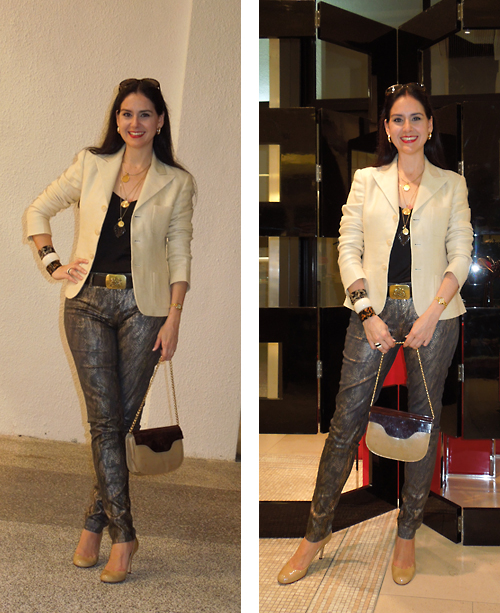 Recibí un mensaje por correo electrónico de Saks Fifth Avenue anunciando que Christian Louboutin estaría en persona firmando zapatos en la tienda de Bal Harbour Shops. Como no tenía clase, decidí ir a conocerlo…
La tienda estaba completamente abarrotada de gente, y el Sr. Louboutin estaba sentado firmando pares y pares de zapatos con marcadores Sharpies de colores. La escena era muy festiva: mojitos, ceviche, platanitos con crema agria y salsa de caraotas negras, y una mesa para enrollar puros habanos, mientras un grupo cantaba canciones muy movidas.
Para este evento de último minuto, me puse unos jeans que serían fáciles de combinar en un estilo mas "rockero", pero que traté de hacer más clásicos combinándolos con una chaqueta de espiguilla y accesorios bastante femeninos en carey y marfil. Como no tengo ningún zapato de Louboutin, me puse mis Karolinas de Kate Spade que, si soy sincera, son muy, pero que muy similares en silueta, e incluso en color, a su versión, pero costando sólo una fracción de lo que cuestan los suyos.
Me Puse: 
Chaqueta Tipo Sastre de Lino en Espiguilla: Ralph Lauren Black Label

Pantalones Lacados en Estampado de Serpiente: J Brand

Camisola de Seda y Algodón: Ann Taylor

Cinturón de Piel: Lauren by Ralph Lauren

Bolso/Cartera: Antigua, carey y piel de lagarto

Pendientes/Zarcillos: Aros/Argollas de oro

Anillos/Sortijas: De marfil y carey antiguo

Pulseras/Brazaletes: De falso carey y marfil antiguo de los años 30

Collares: Cadenas y medallas de oro variadas

Reloj de Oro y Madreperla: Fendi

Lentes/Gafas de Sol: Ralph Lauren Collection

Perfume: So de la Renta, (

aqui

) Mucha gente me pregunta qué perfume uso. Ésta ha sido mi fragancia por bastante tiempo. Encuentro que es fresca y coqueta, ligera y femenina, y muy clásica. Cuando busqué la descripción en la página de Oscar de la Renta, quedé gratamente identificada con lo que decía: "Para la mujer espontánea y energética que reparte su entusiasmo dondequiera que va. Una fragancia radiante y chispeante." Y también, "So de la Renta se deleita en el lado elegante, inesperado y divertido del tipo de mujer que representa Oscar de la Renta."

  
Share it in your...
Compártelo en tu...
Want to leave me a comment? | ¿Quieres dejarme un comentario? [+]
Comments | Comentarios