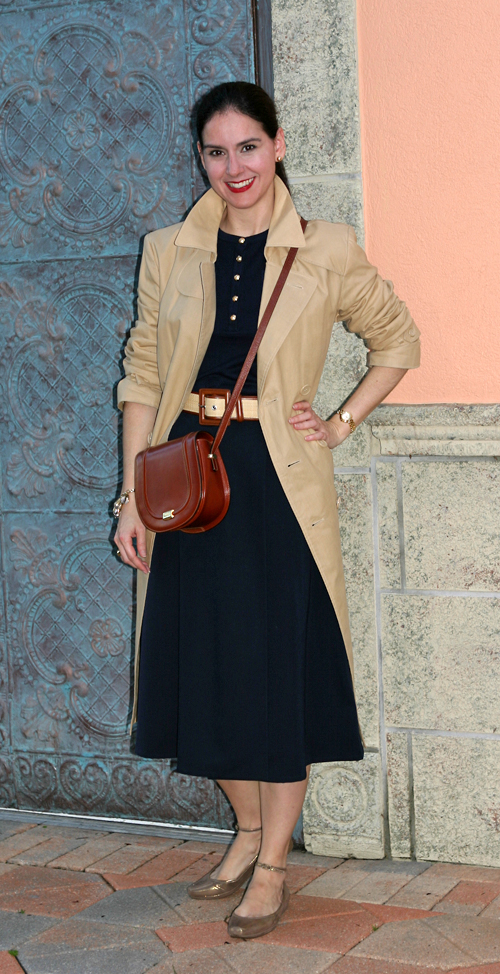 Getting dressed is going to be hard this week, as we are scheduled to have lots and lots of rain every day. Today, for example, it was 10 am and it looked like it was 7 pm, so taking pictures is also hard. Oh, well! It's great to be able to wear trench coats in the manner in which they were meant to be worn!
This outfit reminded me of the fashions of the 40s. I have plenty of pictures of my grandparents wearing trench coats; the lasses with their longish skirts and bags worn cross-body, and the gents with their big-shouldered and big-lapeled suits. And then, of course, I think of Nancy Drew.
I LOVED Nancy Drew and anything by Enid Blyton as a child (I think I've read ALL of Enid Blyton's books!), and since these books take place between the 30s and 40s, this post-war style was always featured in the drawings of the books I so adored. I also wanted to be a detective, and founded many "secret societies" during my childhood.  Actually, I even had a "detective agency" I ran from my room with "secret files" about all of the neighbors…yeah, sleuthing was very much my thing!
I usually wear this skirt with high heels, but I had to teach and be on my feet all day, so that was not an option, especially on a rainy day. These ankle-tie flats looked cute with the skirt and were certainly a much more comfortable option. Besides, they picked up the gold of the buttons in the Henley sweater. This is a very covered outfit, and yet, I find it carries quite a bit of subtle sex-appeal, mostly because the wrap skirt opens up a bit when you walk, featuring glimpses of a leg here and there. Sometimes less is more, because imagination is great at any age!
I Wore: 
Linen Trench Coat: Vintage Teller Coat, from England and belonged to my dad

Wool Gabardine Wrap Skirt: Anne Klein II

Cotton Henley Sweater: Lauren by Ralph Lauren

Gold Lamé Ankle-Tie Flats: Frye

Leather and Woven Straw Belt: Ralph Lauren Collection

Leather Bag: Bally

Earrings: Gold studs

Ring: Gold

Charm Bracelet: Crystal charms and brass by Lenora Dame

Gold and Mother-of-Pearl Watch: Fendi

Sunglasses: Ralph Lauren Collection

Perfume: So de la Renta, (

here

) Many people ask me the kind of perfume I wear. This has been my signature scent for quite a while. I find that it is both fresh and flirty, light and feminine, and very classic. When I looked online, I was pleasantly identified by the description in the Oscar de la Renta site: "For the spontaneous, energetic woman who spreads her enthusiasm everywhere she goes. A radiant, sparkling scent." And also, "So de la Renta revels in the elegant, unexpected, playful side of the Oscar woman."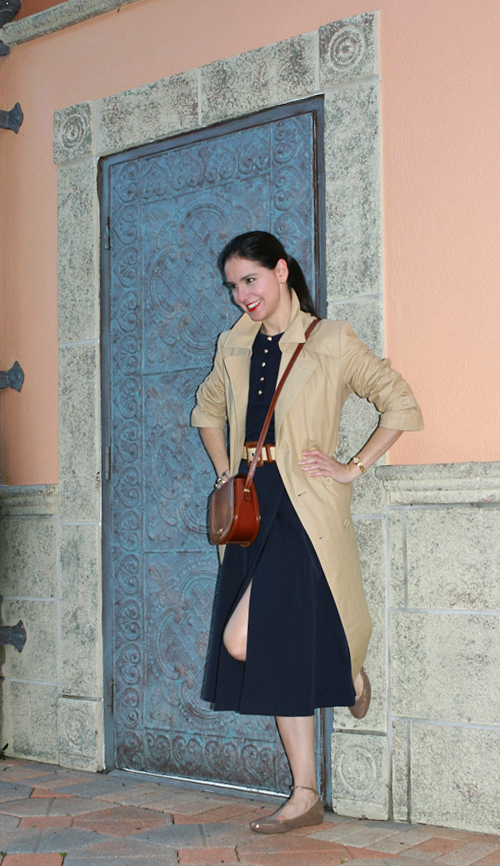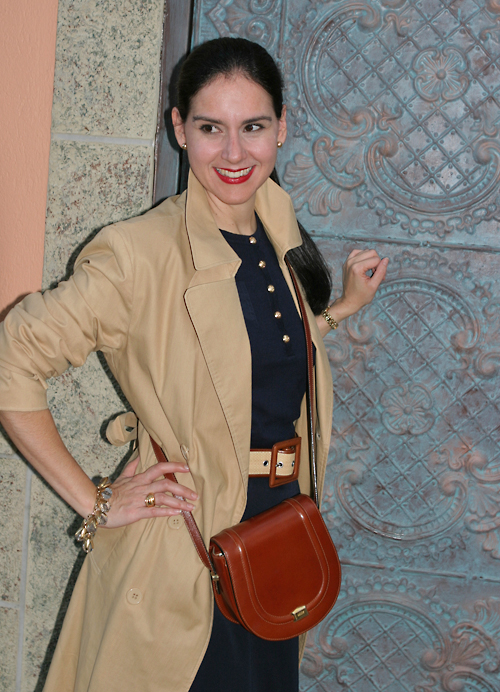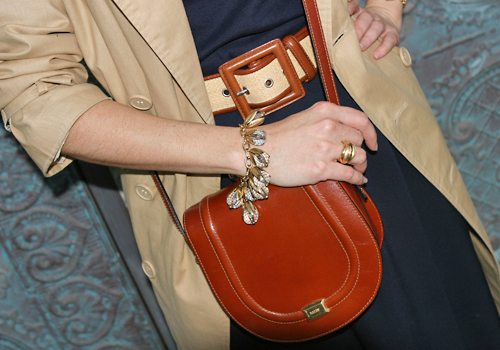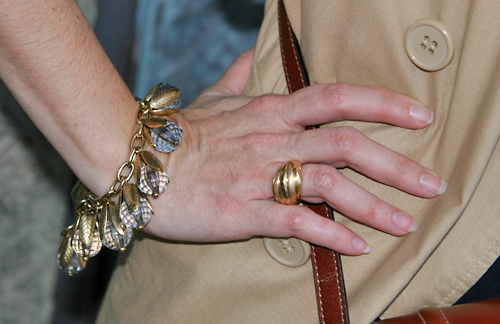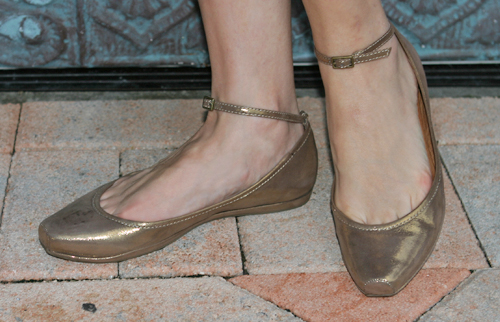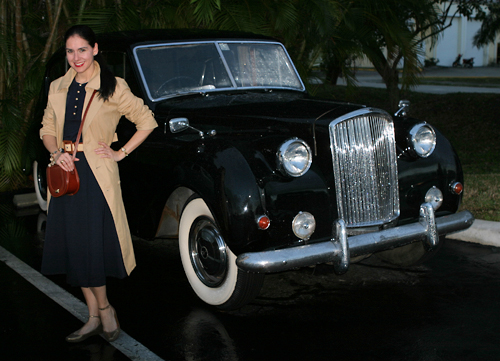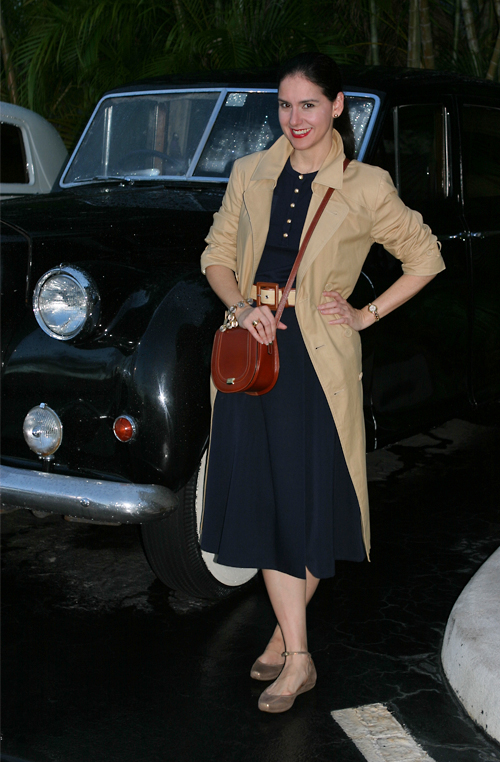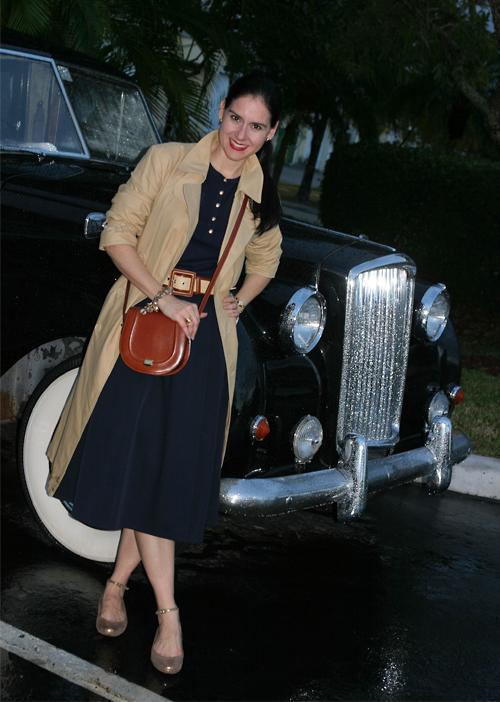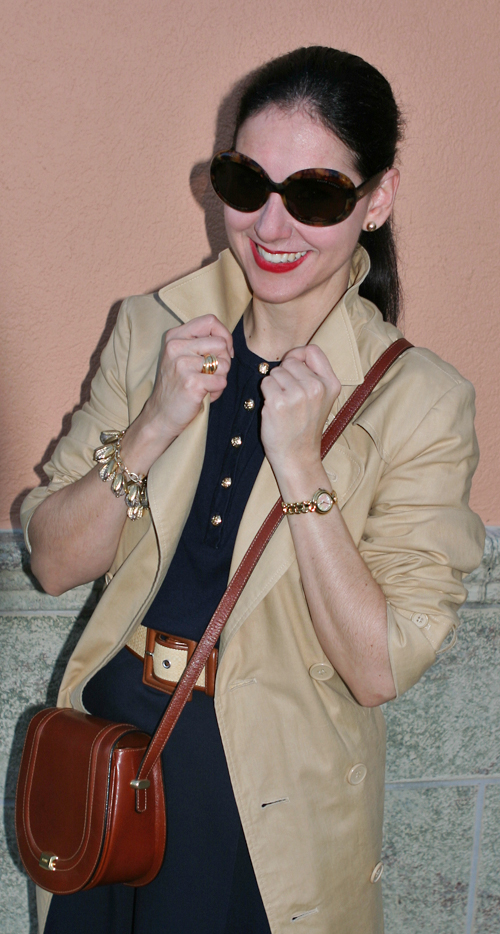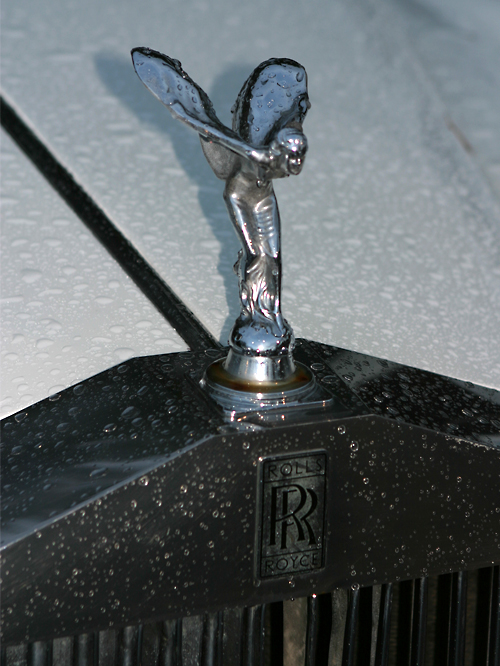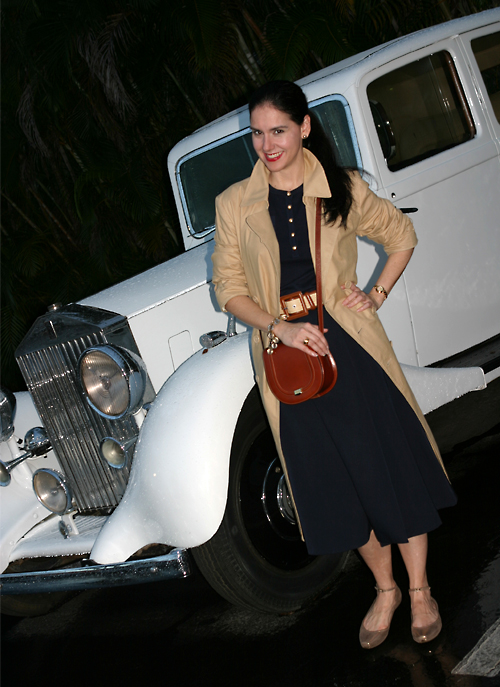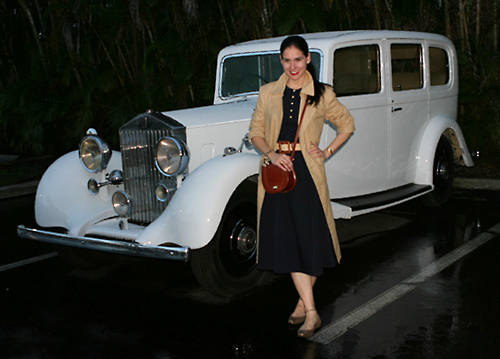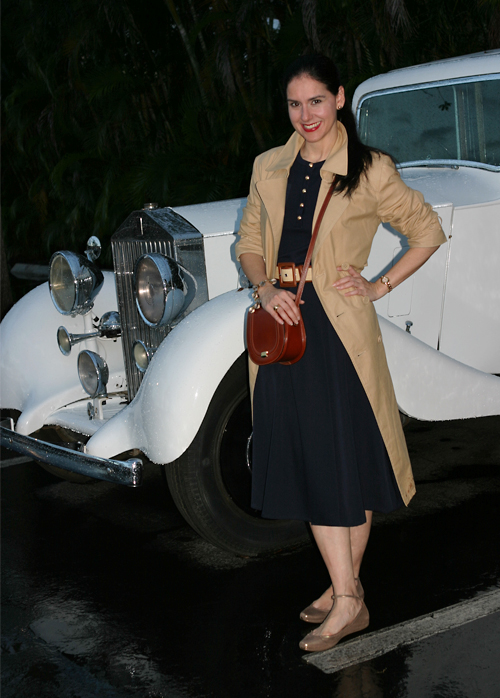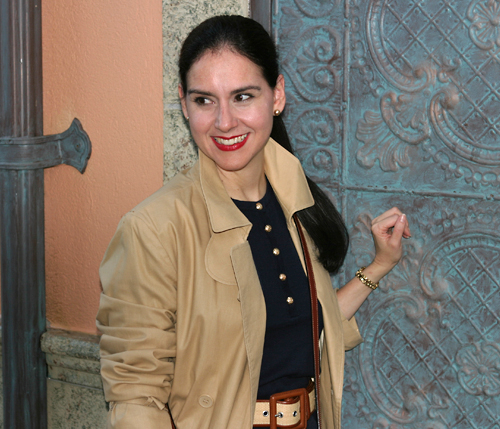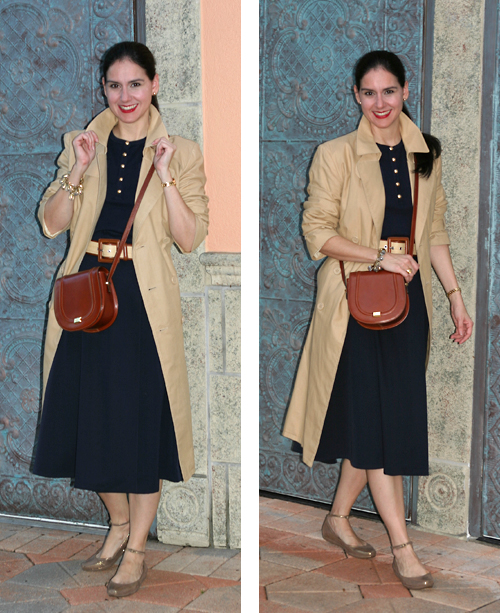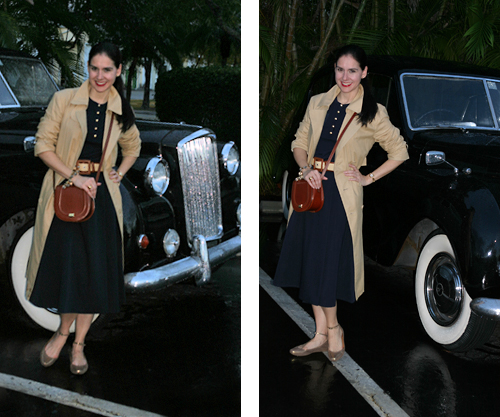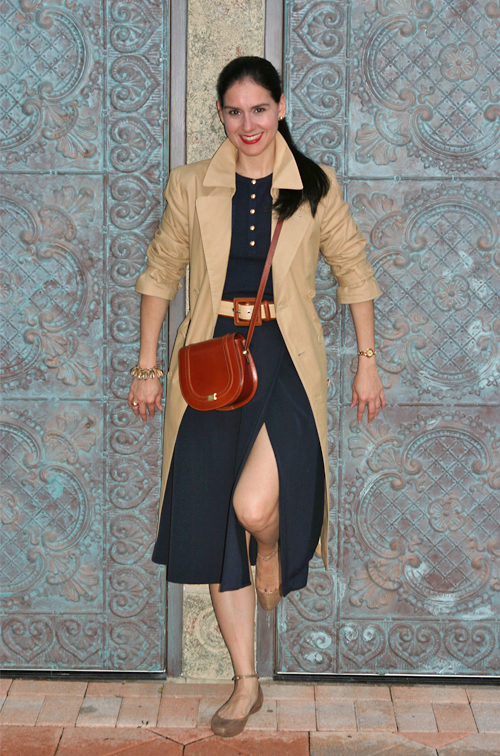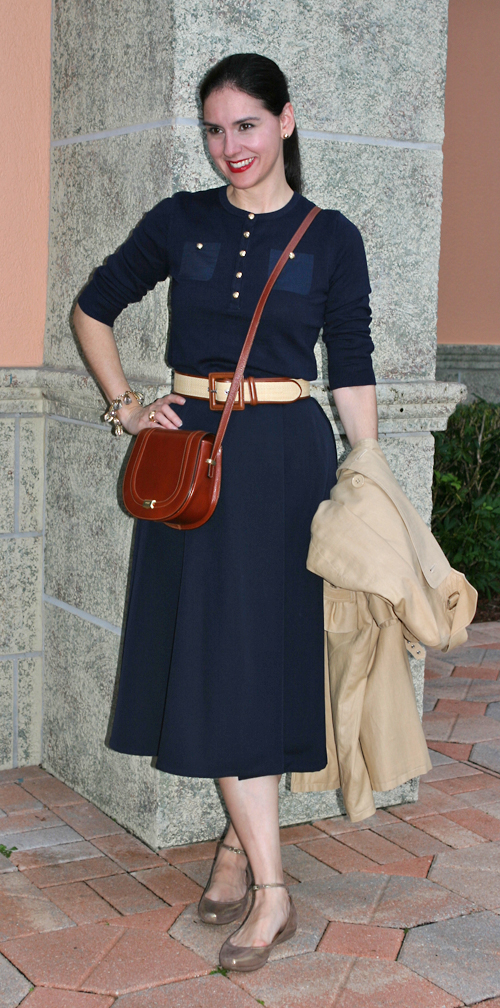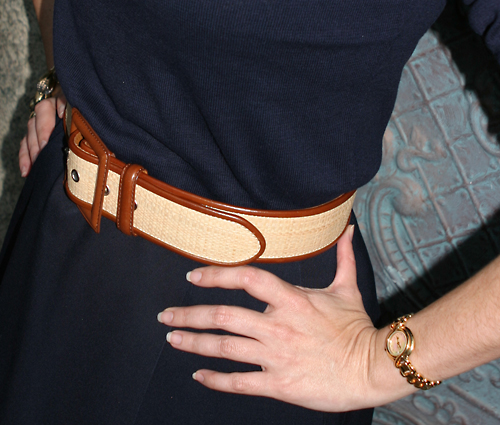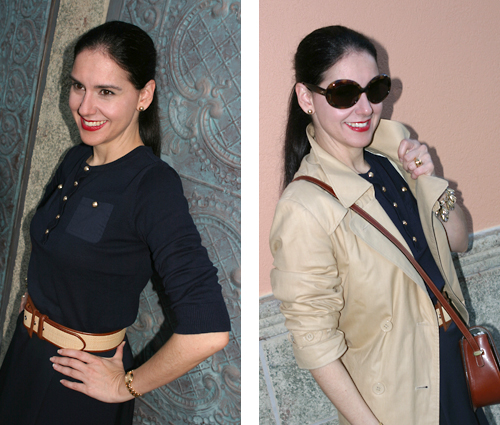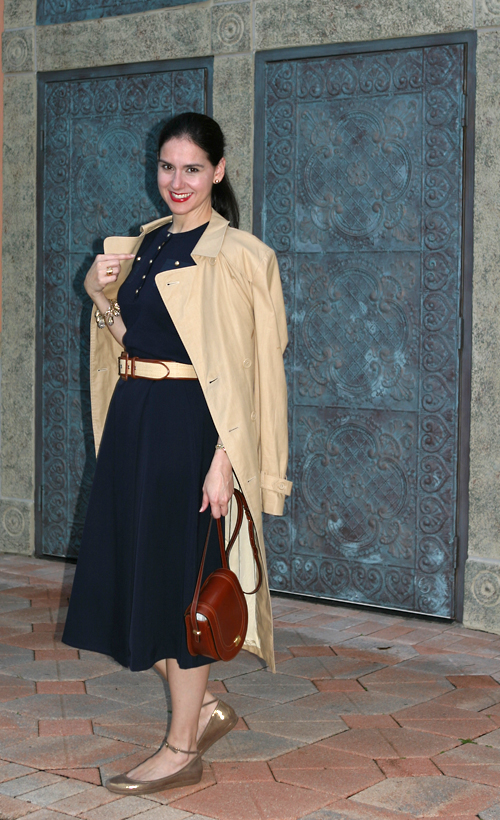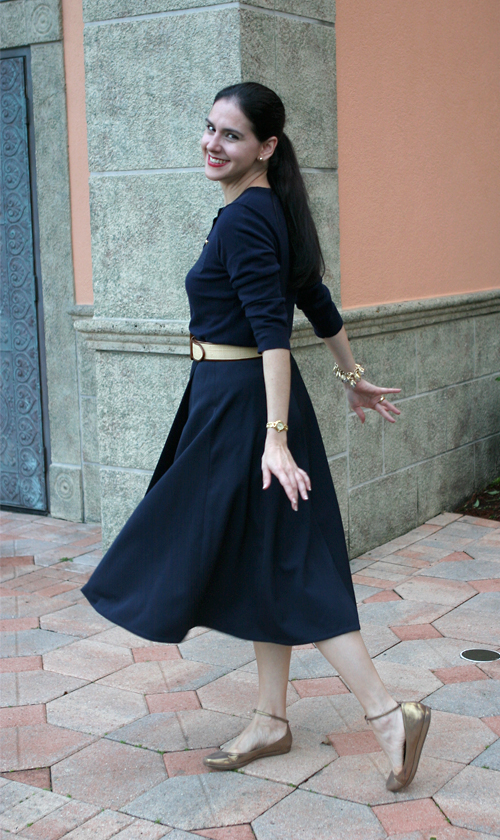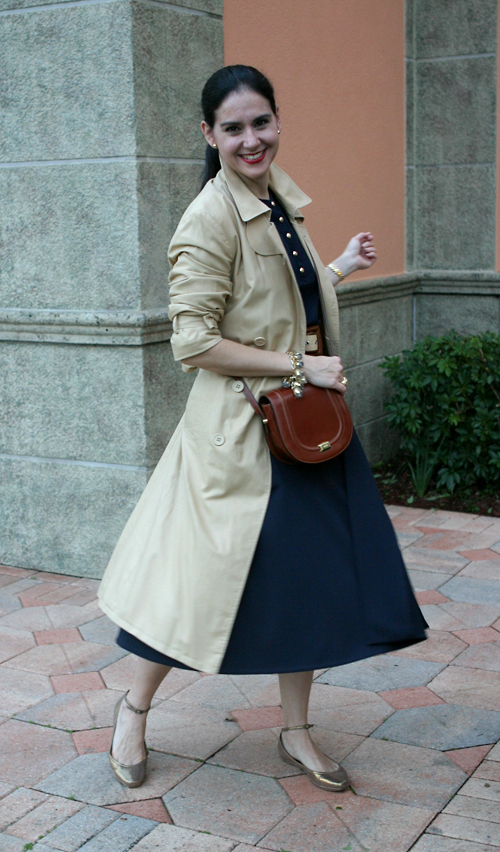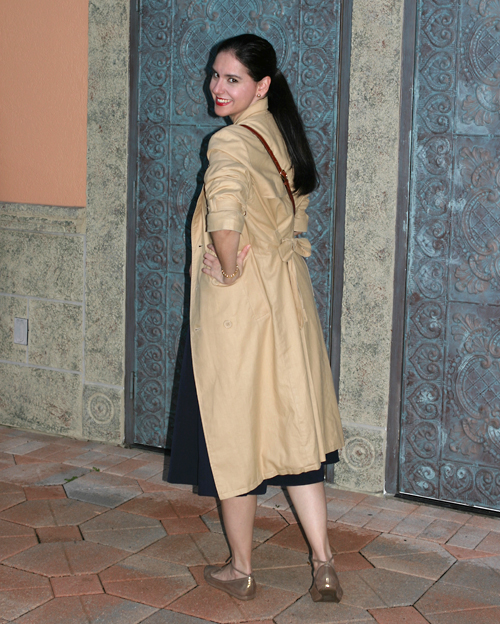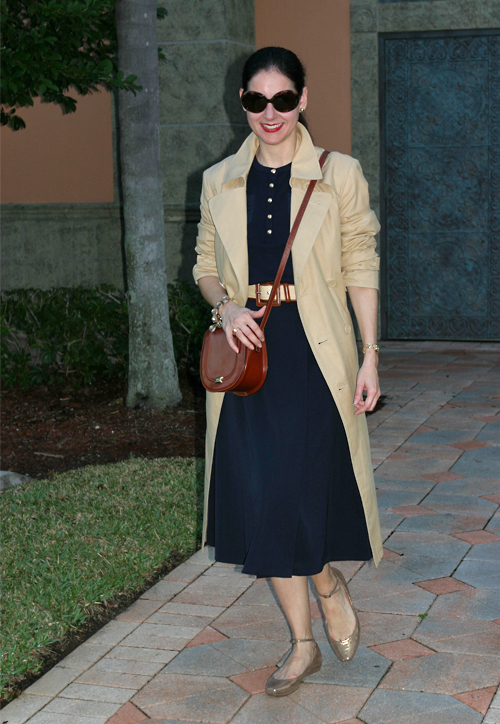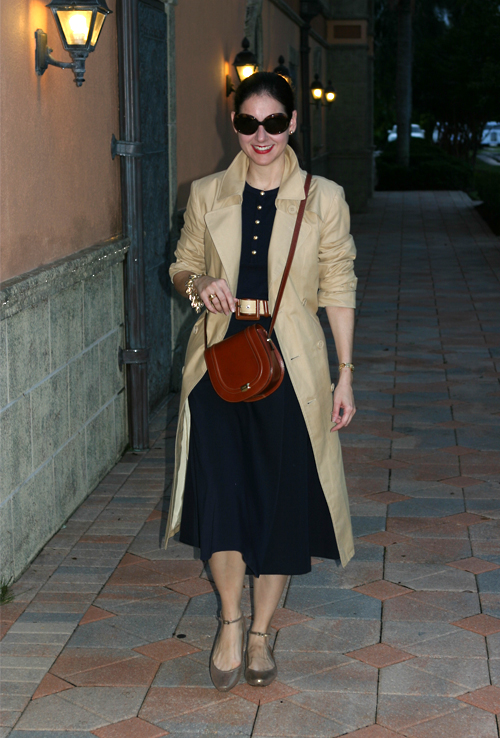 Vestirse esta semana va a ser un poco difícil, ya que el pronóstico nos augura mucha lluvia todos los dias. Hoy, por ejemplo, eran las 10 am y parecía que eran las 7 pm, asi que tomar fotos también va a ser un poco complicado. Bueno, que se le va a hacer! Es fantástico poder usar una gabardina para lo que fue realmente creada!
Este conjunto me recuerda la moda de los años 40. Tengo muchas fotos de mis abuelos llevándolas; las chicas con sus faldas largas y sus bolsitos cruzados sobre el cuerpo y los chicos con sus trajes de hombreras y solapas anchas. Y cuando pienso en esa época, automáticamente también pienso en Nancy Drew.
Yo AMABA todo lo que tuviera que ver con Nancy Drew y también cualquier cosa de Enid Blyton cuando era pequeña (creo que me he leido TODOS los libros de Enid Blyton!), y como las aventuras en esos libros suceden en los años 30 y 40, este estilo de la post-guerra siempre salía en los dibujos de mis adorados libros. Y es que yo siempre quise ser detective, y fundé muchas "sociedades secretas" durante mi infancia. De hecho, incluso tenía una "agencia de detectives" que manejaba desde mi habitación, en donde guardaba "informes secretos" sobre todos los vecinos…sí, investigar siempre fue lo mio!
Usualmente me pongo esta falda con tacones altos, pero como tenía que dar clase todo el dia, esa no era una opción viable y menos en un dia lluvioso. Estas zapatillas planas atadas al tobillo se veian bonitas con la falda y eran una opción mucho mas cómoda. Además, también destacaban lo dorado de los botones del suéter estilo Henley. Esta combinación es bastante recatada y, sin embargo, encuentro que logra crear un efecto atractivo muy sutil, principalmente porque la falda cruzada se abre un poco al caminar dejando ver las piernas aqui y alla. A veces menos es mas, porque la imaginación es maravillosa a cualquier edad!
Me Puse: 
Gabardina de Lino: Teller Coat de Inglaterra, antigua y "robada" a mi papa

Falda Cruzada de Gabardina de Lana: Anne Klein II

Suéter de Algodón Tipo Henley: Lauren by Ralph Lauren

Zapatos Planos de Lamé Atados al Tobillo: Frye

Cinturón de Piel y Pajilla Tejida: Ralph Lauren Collection

Bolso/Cartera de Piel: Bally

Pendientes/Zarcillos: Botones de oro

Anillo/Sortija: De oro

Brazalete/Pulsera de Dijes: Dijes de cristal y bronce de Lenora Dame

Reloj de Oro y Madreperla: Fendi

Lentes/Gafas de Sol: Ralph Lauren Collection

Perfume: So de la Renta, (

aqui

) Mucha gente me pregunta qué perfume uso. Ésta ha sido mi fragancia por bastante tiempo. Encuentro que es fresca y coqueta, ligera y femenina, y muy clásica. Cuando busqué la descripción en la página de Oscar de la Renta, quedé gratamente identificada con lo que decía: "Para la mujer espontánea y energética que reparte su entusiasmo dondequiera que va. Una fragancia radiante y chispeante." Y también, "So de la Renta se deleita en el lado elegante, inesperado y divertido del tipo de mujer que representa Oscar de la Renta."

  
Share it in your...
Compártelo en tu...
Want to leave me a comment? | ¿Quieres dejarme un comentario? [+]
Comments | Comentarios