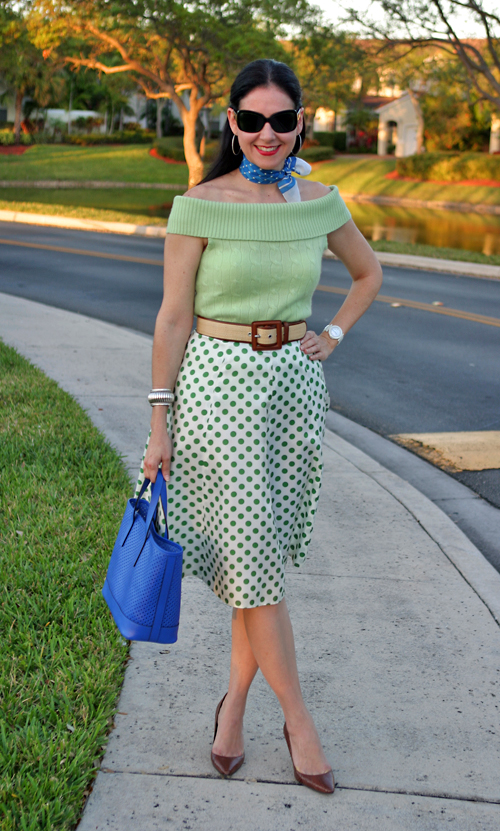 What better month to wear green than March, right? Although I was a bit early for St. Patrick's Day, I decide to wear this tone-on-tone green outfit for an afternoon out.
This is a very short post because I'm swamped with a project as well as grading, but I didn't want to end without sending a positive thought to all the people affected by the storms and tornadoes we had these past few days. I hope both you, and your families stay safe! 
I Wore: 
Silk Polka Dot Skirt: Belonged to my mom when she was my age!

Cashmere Off-the-Shoulder Sweater: Ralph Lauren Black Label

Cotton Neckerchief: A man's pocket square, Paco Rabanne

Straw and Leather Belt: Ralph Lauren Collection

Snakeskin Shoes: Lauren by Ralph Lauren

Pierced Leather Bag: Innué

Earrings: White gold and diamond hoops

Ring: Murano glass

Bracelet: Sterling silver cuff

Ceramic, Diamond, and Mother-of-Pearl Watch: Anne Klein New York

Sunglasses: Burberry

Perfume: So de la Renta, (

here

) Many people ask me the kind of perfume I wear. This has been my signature scent for quite a while. I find that it is both fresh and flirty, light and feminine, and very classic. When I looked online, I was pleasantly identified by the description in the Oscar de la Renta site: "For the spontaneous, energetic woman who spreads her enthusiasm everywhere she goes. A radiant, sparkling scent." And also, "So de la Renta revels in the elegant, unexpected, playful side of the Oscar woman."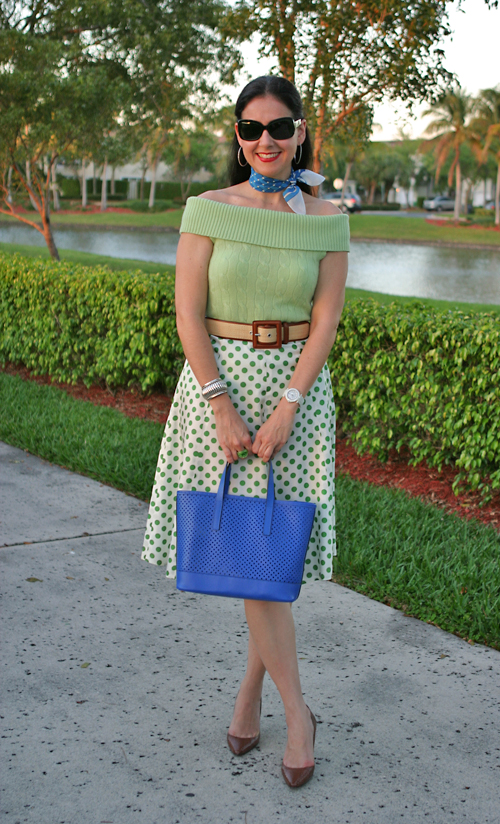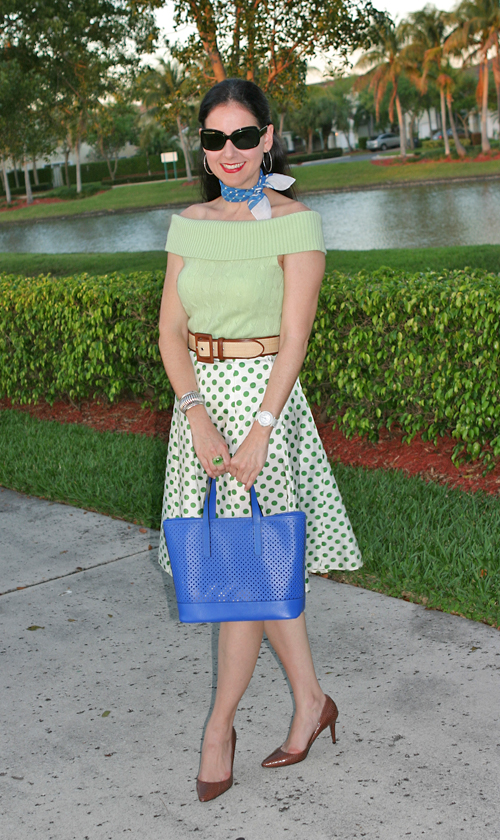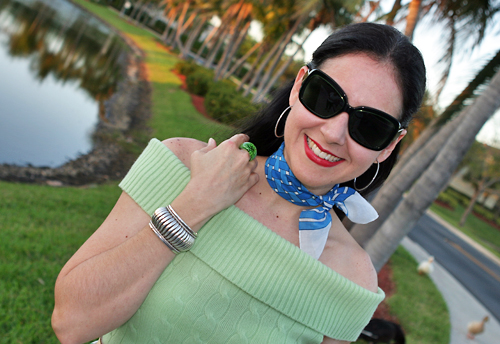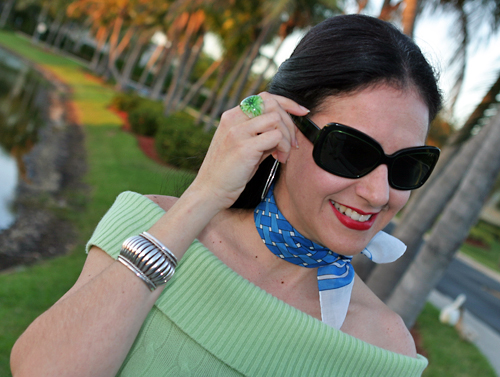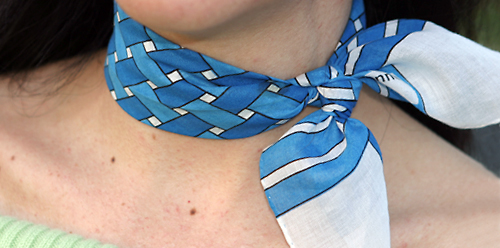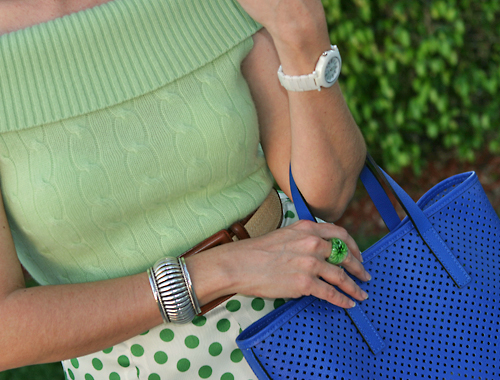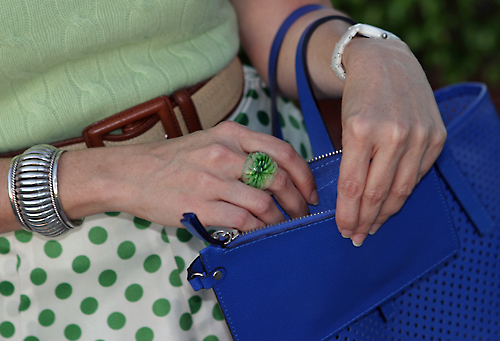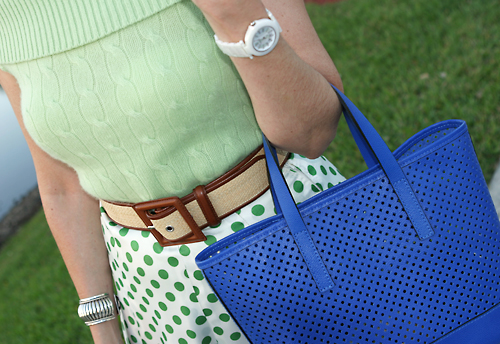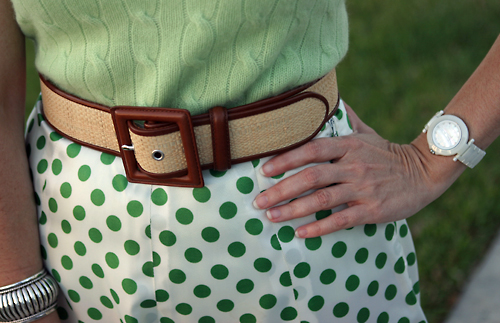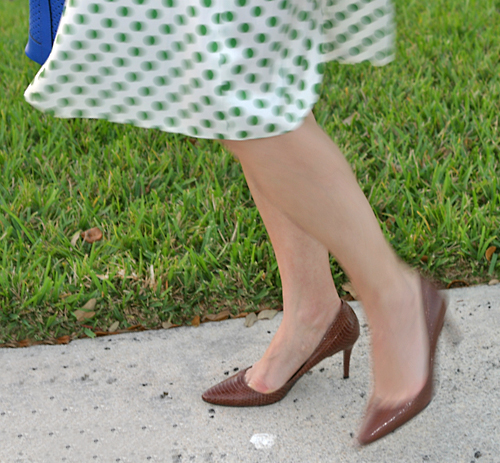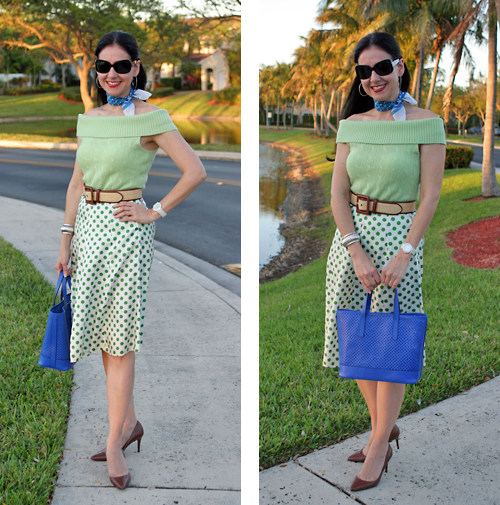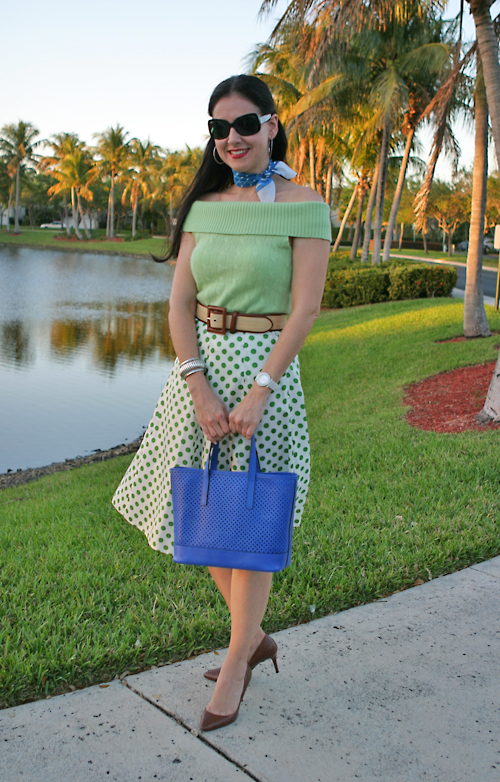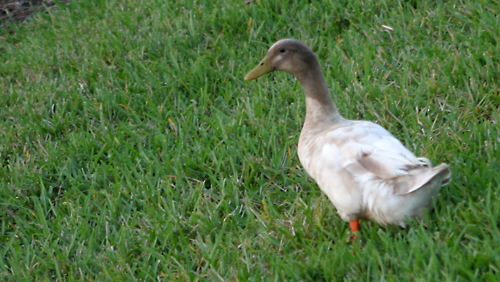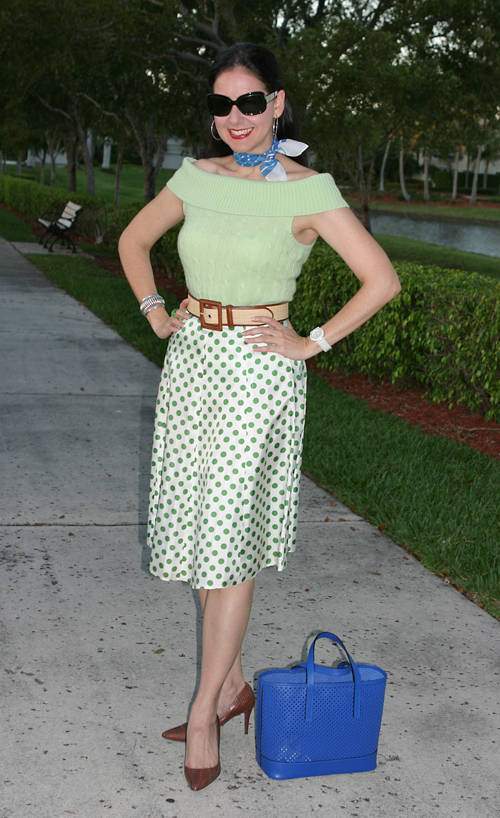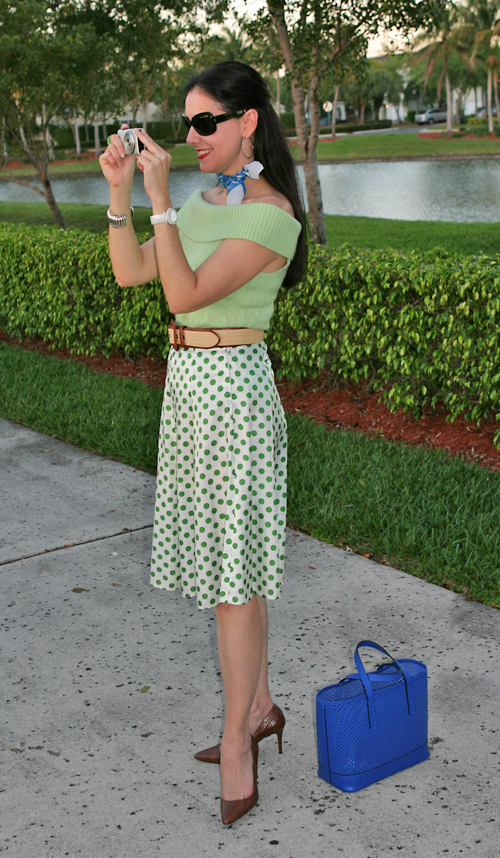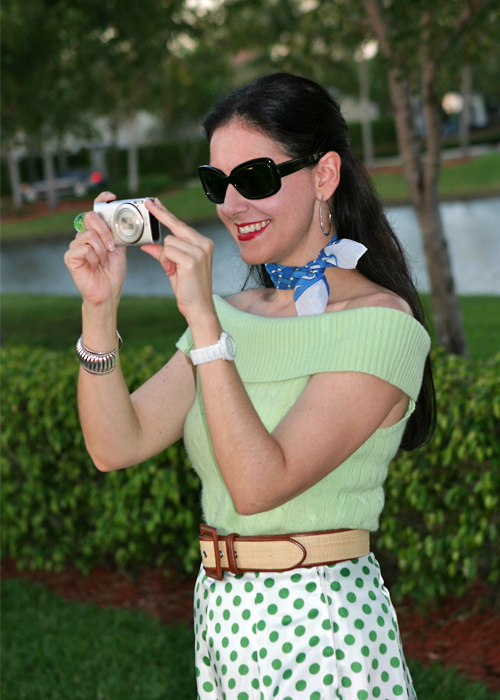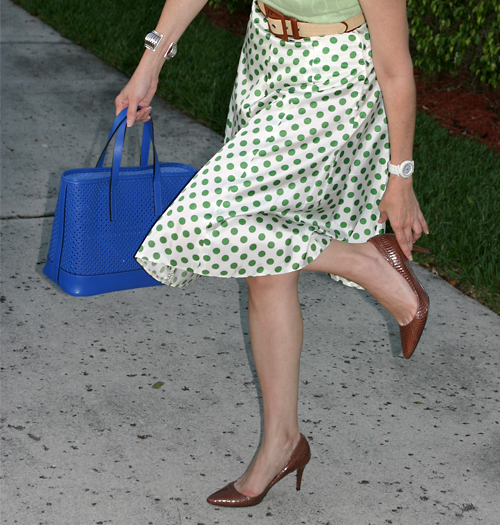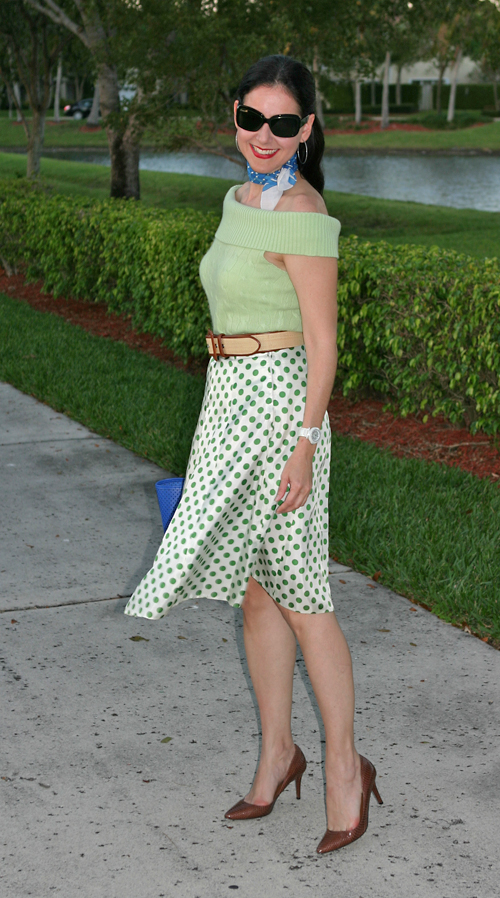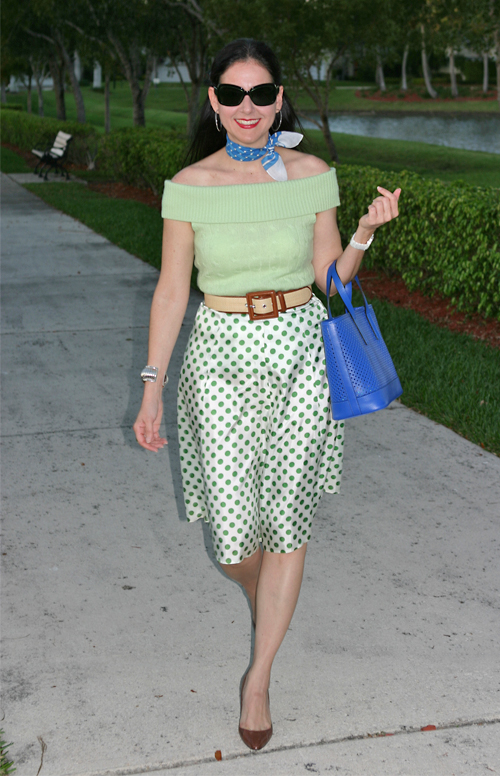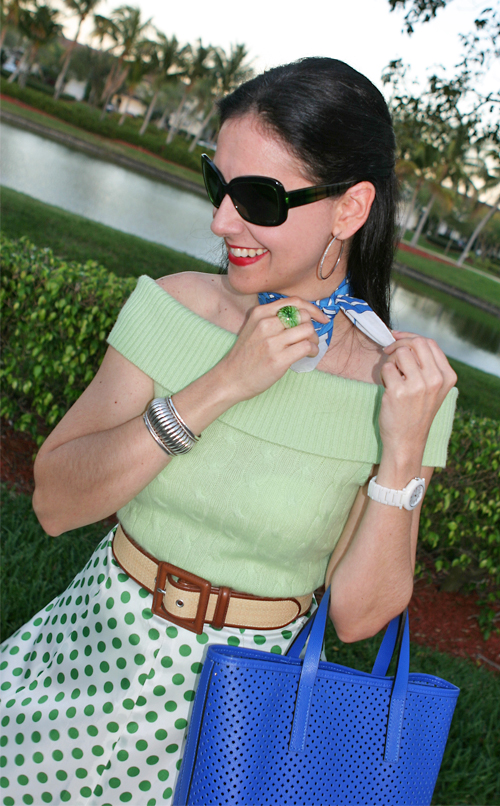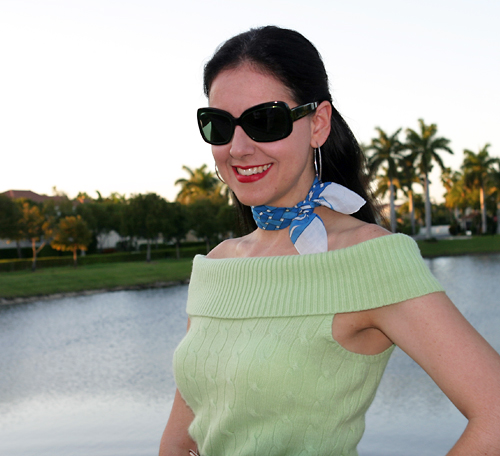 Qué mejor mes para lucir el color verde que marzo, verdad? Aunque todavía faltan dias para la celebración de San Patricio, decidí lucir este conjunto de verde sobre verde para un paseo de tarde.
Esta entrada es muy cortita porque estoy ocupadísima con un proyecto, asi como corrigiendo, pero no quería terminarlo sin mandarle un pensamiento positivo a toda la gente afectada por las tormentas y los tornados que hemos tenido en estos dias. Espero que todos estén bien!
Me Puse: 
Falda de Seda: Fue de mi mamá cuando ten

í

a mi edad!

Su

é

ter de Cashmere: Ralph Lauren Black Label

Pa

ñ

uelo de Algod

ó

n: Pa

ñ

uelo de hombre para la chaqueta, Paco Rabanne

Cintur

ó

n de Pajilla y Piel: Ralph Lauren Collection

Zapatos de Piel de Serpiente: Lauren by Ralph Lauren

Bolso/Cartera de Piel: Innué

Pendientes/Zarcillos: Aros/Argollas de oro blanco y diamantes

Anillo/Sortija: De cristal de Murano

Brazalete/Pulsera: De plata esterlina

Reloj de Cerámica, Brillantes y Madreperla: Anne Klein New York

Lentes/Gafas de Sol: Burberry

Perfume: So de la Renta, (

aqui

) Mucha gente me pregunta qué perfume uso. Ésta ha sido mi fragancia por bastante tiempo. Encuentro que es fresca y coqueta, ligera y femenina, y muy clásica. Cuando busqué la descripción en la página de Oscar de la Renta, quedé gratamente identificada con lo que decía: "Para la mujer espontánea y energética que reparte su entusiasmo dondequiera que va. Una fragancia radiante y chispeante." Y también, "So de la Renta se deleita en el lado elegante, inesperado y divertido del tipo de mujer que representa Oscar de la Renta."
Share it in your...
Compártelo en tu...
Want to leave me a comment? | ¿Quieres dejarme un comentario? [+]
Comments | Comentarios