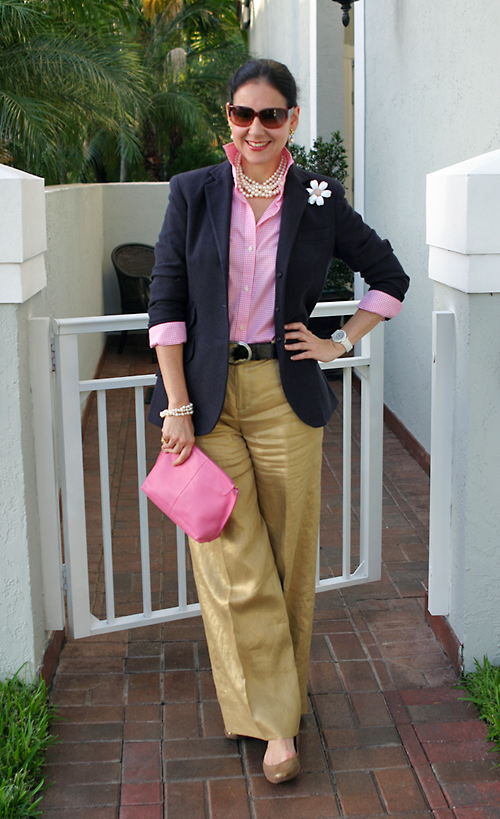 This outfit has a very nautical flavor with its summery gingham, navy hacking jacket, and gold details and pants. All of the pieces are by Ralph Lauren, which, as you know, is a favorite designer of mine, hence the title…except, I'd only wish to be sailing with Ralph…!
I have already shared my love for this pink gingham shirt. Gingham, or Vichy checks, as it is also known in some countries, is a checkered fabric most often woven in cotton, that has no right side since it looks the same on both. Nowadays, it is often seen in utilitarian designs (tablecloths, napkins, umbrellas, aprons, etc.), children's clothing (like my school pinafore mentioned and seen here), or in 50s-and-60s-style clothing.
The word "gingham" comes from the Malay word "genggang", which means "striped" because, believe it or not, originally, gingham was a striped fabric, mostly in blue and white. From Malaysia and Indonesia, the production of cotton gingham passed to Europe in the 17th century, where cities such as Manchester in England produced it in large quantities. So did the city of Vichy in France, from where its other name originates. From Europe, it crossed the Atlantic and settled in the southeastern American colonies, where cotton production was a booming industry.
During Victorian times, gingham was commonly used in both its striped and checkered versions, and in a wide combination of colors. It wasn't until the 20th century that we came to associate gingham exclusively with checks. As time went by, gingham became so cheap to produce that it fell out of fashion, and was relegated to utilitarian pieces or play clothes for children. That was until Brigitte Bardot got married to Jacques Charriol in 1959 wearing a pink gingham dress by designer Jacques Esterel. She single-handedly made the fabric fashionable again the world over, and that is why it is often associated with the dresses of the 50s and 60s.
I find gingham to be an adorable fabric. It looks innocent yet polished, and can always add an unexpected pop of color in a classic and preppy way. Do you like gingham? How do you combine it? Feel free to share your comments and links!
I Wore: 
Linen-Silk Herringbone Hacking Jacket: Lauren by Ralph Lauren

Pink Cotton Gingham Shirt: Lauren by Ralph Lauren

Lacquered Gold Linen Wide-Leg Pants: Lauren by Ralph Lauren

Snakeskin Belt with Horn-Like Resin Buckle: Anne Klein

Lam

é

Ankle-Strap Flats: Frye

Leather Clutch Cosmetic pouch without brand

Earrings: Gold and cultured pearl

Necklace: Cultured pearl rope-length necklace worn in torsade

Ring: Carved crystal and gold-plate, Lalique

Bracelet: Twisted cultured pearls

Flower Brooch: Mother-of-pearl and pink quartz, Banana Republic

Ceramic, Diamond, and Mother-of-Pearl Watch: Anne Klein New York

Sunglasses: Ralph by

 

Ralph Lauren

Perfume: So de la Renta, (

here

) Many people ask me the kind of perfume I wear. This has been my signature scent for quite a while. I find that it is both fresh and flirty, light and feminine, and very classic. When I looked online, I was pleasantly identified by the description in the Oscar de la Renta site: "For the spontaneous, energetic woman who spreads her enthusiasm everywhere she goes. A radiant, sparkling scent." And also, "So de la Renta revels in the elegant, unexpected, playful side of the Oscar woman."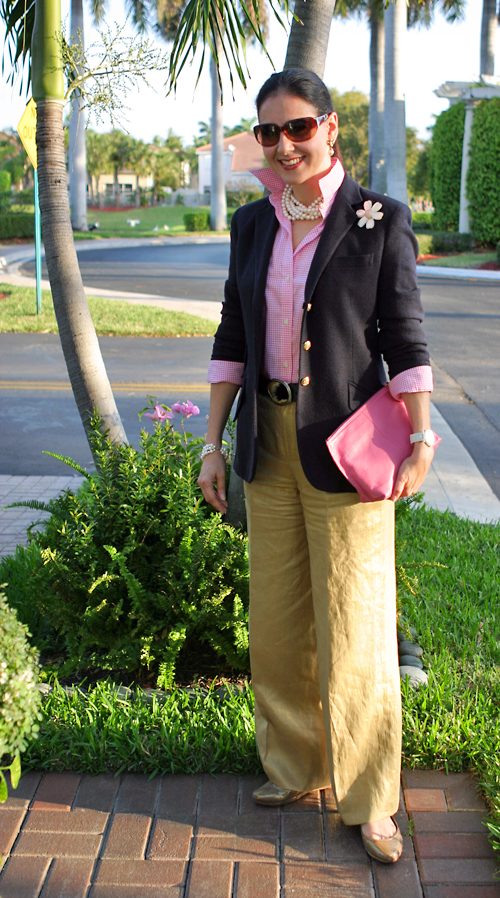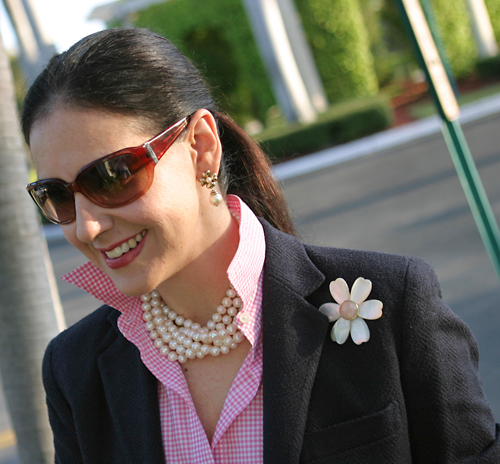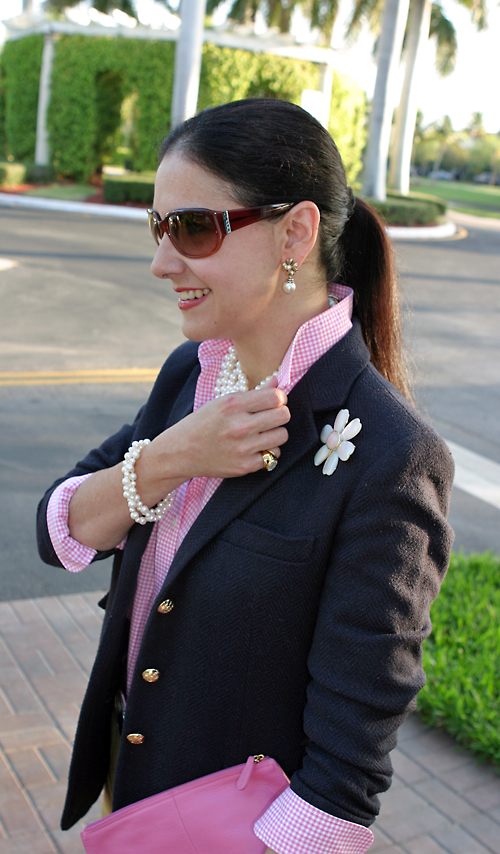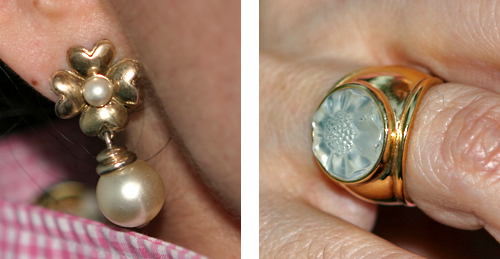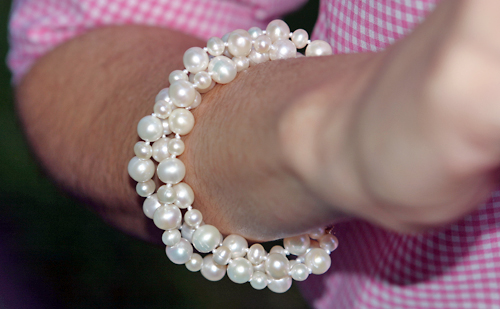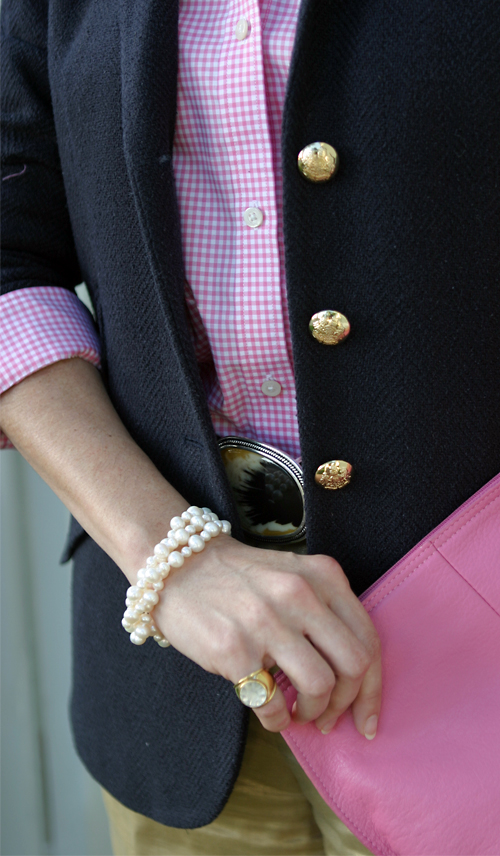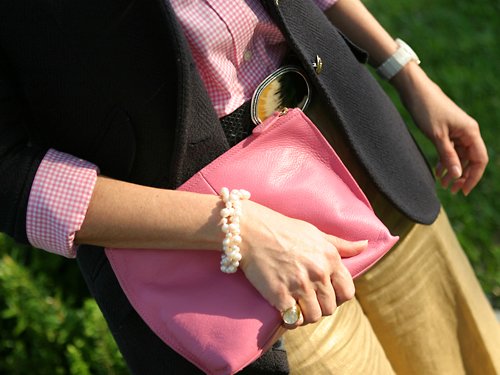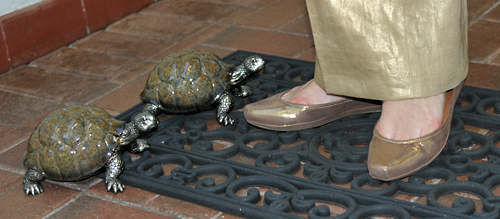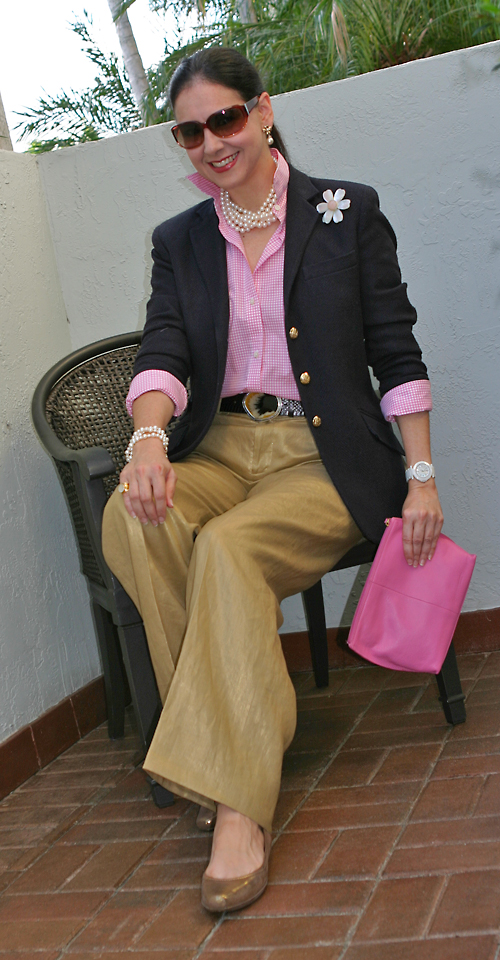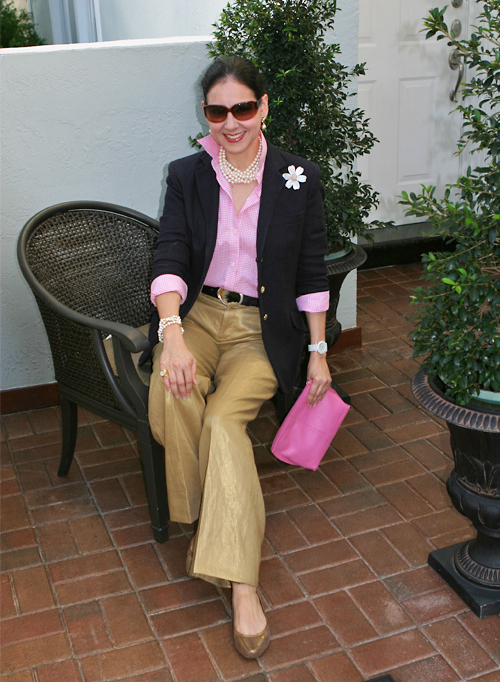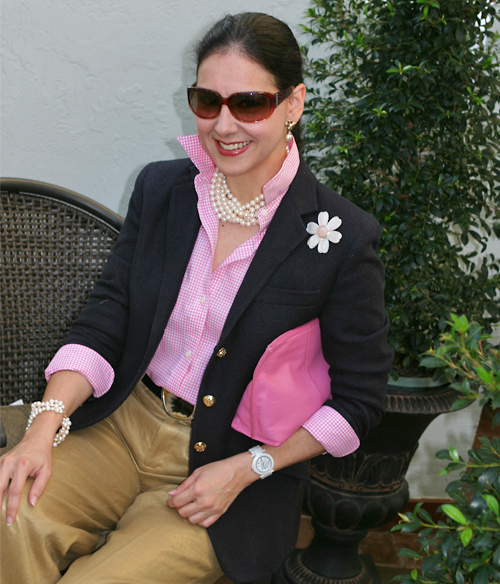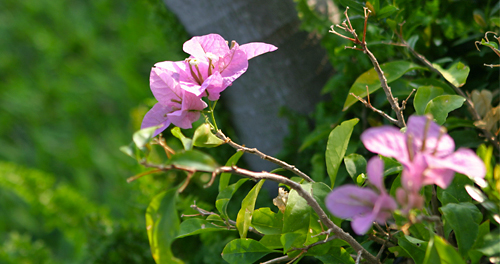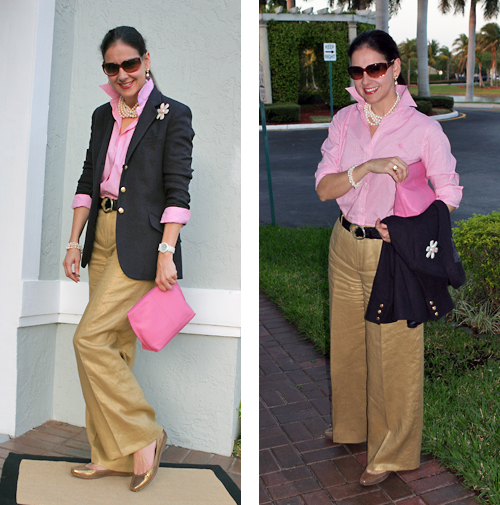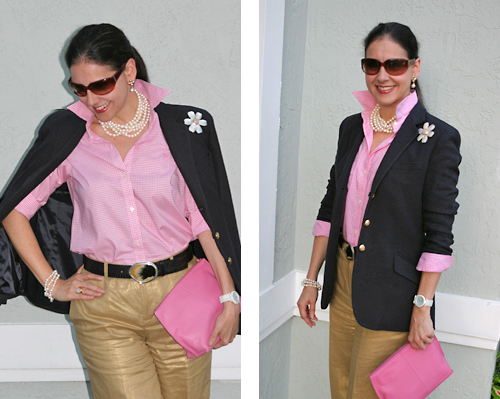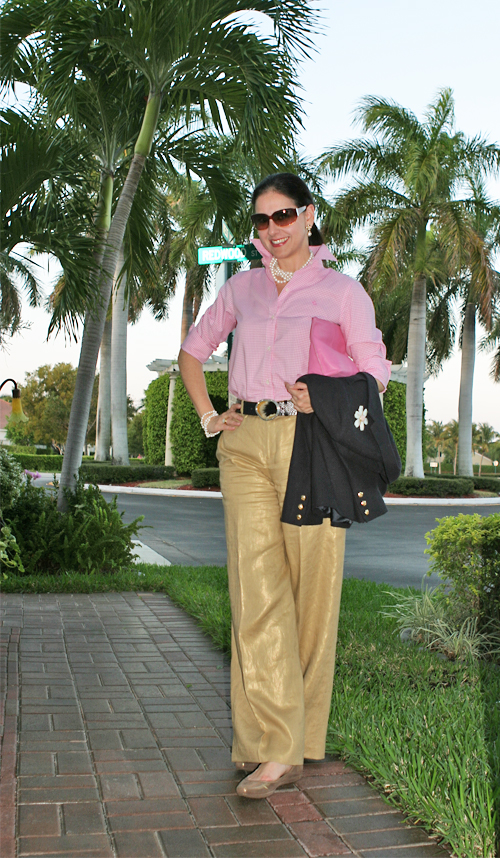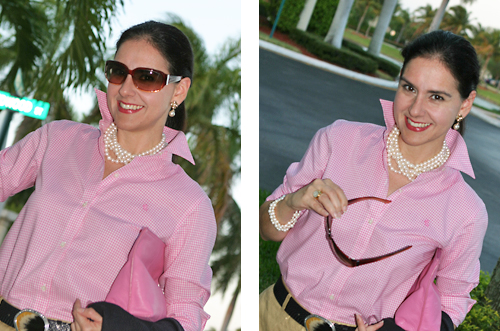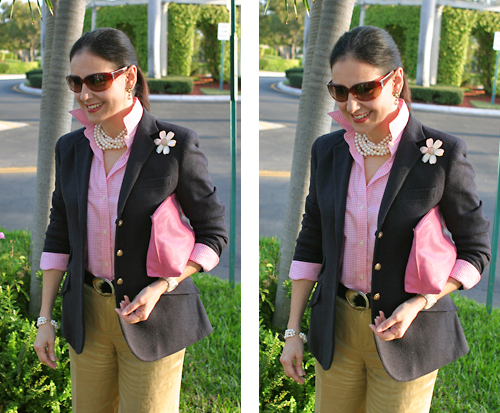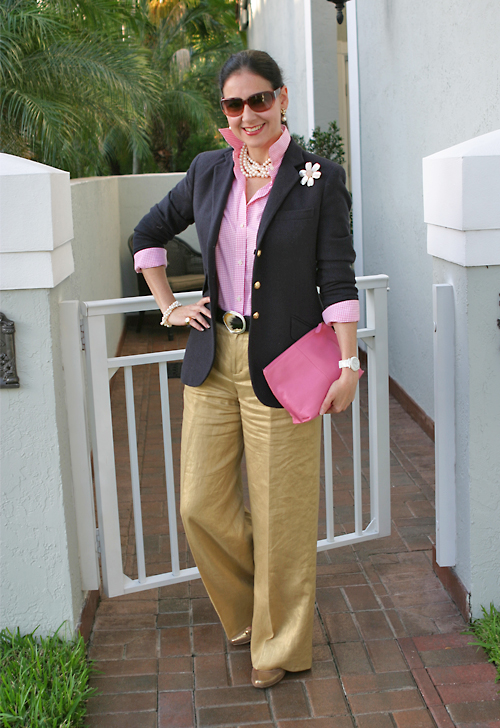 Este conjunto tiene un aire muy marinero con sus cuadritos Vichy, la chaqueta azul marino, y los detalles y pantalones, dorados. Todas las piezas son de Ralph Lauren, que como saben, es uno de mis diseñadores favoritos, de ahí el título de esta entrada…excepto que…ya me gustaría que fuera cierto eso de salir a navegar a vela con Ralph…!
Ya he compartido cuanto me gusta esta camisa de cuadros rosados. Los cuadros de Vichy o gingham, como se conocen en otros paises, es una tela a cuadros principalmente tejida en algodón, sin derecho ni revés ya que es igual por ambos lados. Hoy en dia, se utiliza frecuentemente en diseños de tipo utilitario (manteles, servilletas, paragüas, delantales, etc.), ropa de niños (como el delantal del uniforme de mi colegio que mencioné y que pueden ver aqui) y en ropa estilo años 50 y 60.
La palabra "gingham" (se pronuncia guingam), proviene de la palabra malaya "genggang" que significa "rayas" o "rayado" porque, aunque no lo creas, originalmente esta tela era a rayas, usualmente azules y blancas. De Malasia e Indonesia, la producción de gingham de algodón pasó a Europa durante el siglo 17, donde ciudades como Manchester en Inglaterra comenzaron a producir grandes cantidades. También la ciudad de Vichy en Francia se caracterizó por la producción de esta tela, de ahí que se le llame cuadros de Vichy en muchos sitios. De Europa cruzó el Atlántico para asentarse en la colonias del sureste de Estados Unidos, donde la producción de algodón era una industria en voga.
Durante la época Victoriana, esta tela se usó en sus dos variantes, rayada y a cuadros, en una amplia gama de combinaciones de colores. No fue hasta el siglo 20 que empezamos a asociar exclusivamente el gingham con los cuadros. Al pasar del tiempo, la producción de esta tela se abarató muchísimo y con ello bajó su popularidad, relegando su uso a piezas de tipo utilitario o a ropa de juegos infantiles. Eso fue hasta que Brigitte Bardot se casó con Jacques Charriol en 1959 luciendo un vestido de novia en cuadros Vichy rosados diseñado por Jacques Esterel. Con ese solo gesto, Bardot volvió a poner de moda la tela en todo el mundo, y es por eso que usualmente se asocia con los vestidos de los años 50 y 60.
Encuentro que los cuadros de Vichy son una tela encantadora. Luce inocente y elegante a la vez, y con ella siempre se puede añadir un toque inesperado de color de manera clásica y preppy. Te gustan los cuadros de Vichy? Cómo los combinas? Puedes compartir tus comentarios y enlaces aqui abajo, si quieres!
Me Puse: 
Chaqueta Tipo Sastre de Lino y Seda en Espiga: Lauren by Ralph Lauren

Camisa de Algod

ó

n de Cuadritos Rosados Vichy: Lauren by Ralph Lauren

Pantalones Anchos de Lino Lacados en Dorado: Lauren by Ralph Lauren

Cinturón en Piel de Serpiente y Hebilla de Resina Tipo Hueso: Anne Klein

Zapatos Planos de Tela de Lam

é Atados al Tobillo

: Frye

Bolso/Cartera de Piel: Bolsito de cosméticos sin marca usado como bolso de mano

Pendientes/Zarcillos: De oro y perlas cultivadas

Collar: De perlas cultivadas tamaño cuerda retorcidas en torsade

Anillo/Sortija: De cristal tallado y metal con baño de oro de Lalique

Brazalete/Pulsera: De perlas cultivadas

Broche de Flor: De madreperla y cuarzo rosado de Banana Republic

Reloj de Cerámica, Brillantes y Madreperla: Anne Klein New York

Lentes/Gafas de Sol: Ralph by Ralph Lauren

Perfume: So de la Renta, (

aqui

) Mucha gente me pregunta qué perfume uso. Ésta ha sido mi fragancia por bastante tiempo. Encuentro que es fresca y coqueta, ligera y femenina, y muy clásica. Cuando busqué la descripción en la página de Oscar de la Renta, quedé gratamente identificada con lo que decía: "Para la mujer espontánea y energética que reparte su entusiasmo dondequiera que va. Una fragancia radiante y chispeante." Y también, "So de la Renta se deleita en el lado elegante, inesperado y divertido del tipo de mujer que representa Oscar de la Renta."
Share it in your...
Compártelo en tu...
Want to leave me a comment? | ¿Quieres dejarme un comentario? [+]
Comments | Comentarios