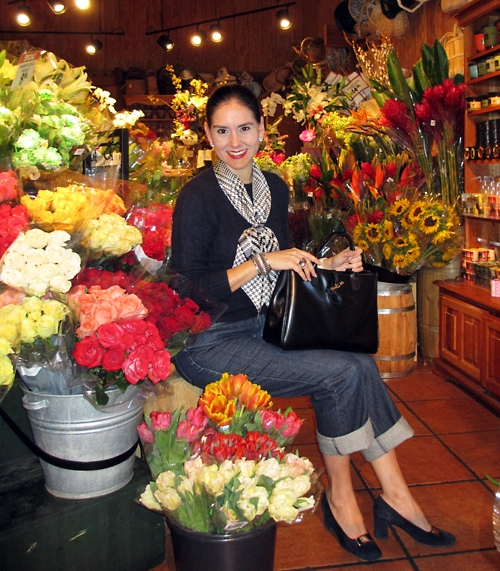 "Earth laughs in flowers…" Ralph Waldo Emerson
Overall, this has been a pretty casual week in terms of outfits. And here comes another one. I don't really like to "dress up" for the blog, so you'll always see things that I really wear day to day. Yes, sure, maybe I'll wear something that would have looked better with, say, heels, but if I'm wearing it for teaching all day, and heels are not an option, I won't wear them for the pictures and then take them off. I simply want to keep it real.
And it doesn't get any more real than grocery shopping and errands, does it? With that said, though, I always try to add a touch of glamour to any outfit, even if it's something simple like jeans and a sweater. In this case, I added the vintage earrings, which I found at an antique store nearby, and a silk scarf. Comfy old jeans, sweater, and heels, and a bun to keep me polished on an extremely windy day.
I Wore: 
Cable-Knit Cashmere Sweater: Ralph Lauren Black Label

Jeans: Ann Taylor

Suede Shoes with Silver Tab: Van-Eli

Leather Bag: Longchamp, Rouseau

Earrings: Vintage sterling silver and cubic zirconia studs

Silk Houndstooth Scarf: Oscar by Oscar de la Renta

Ring: Carved crystal by Swarovski

Bracelet: Sterling silver cuff

Ceramic, Diamond, and Mother-of-Pearl Watch: Anne Klein New York

Sunglasses: Giorgio Armani

Perfume: So de la Renta, (

here

) Many people ask me the kind of perfume I wear. This has been my signature scent for quite a while. I find that it is both fresh and flirty, light and feminine, and very classic. When I looked online, I was pleasantly identified by the description in the Oscar de la Renta site: "For the spontaneous, energetic woman who spreads her enthusiasm everywhere she goes. A radiant, sparkling scent." And also, "So de la Renta revels in the elegant, unexpected, playful side of the Oscar woman."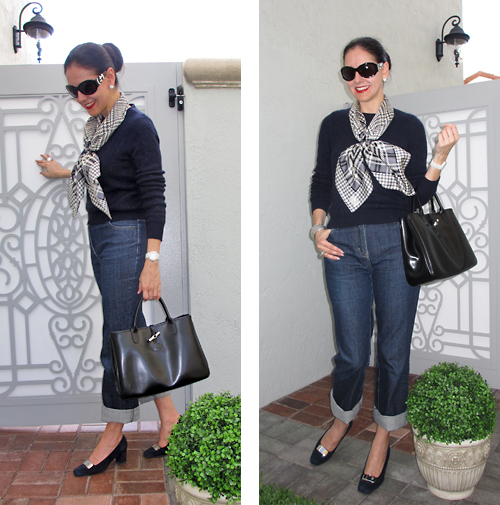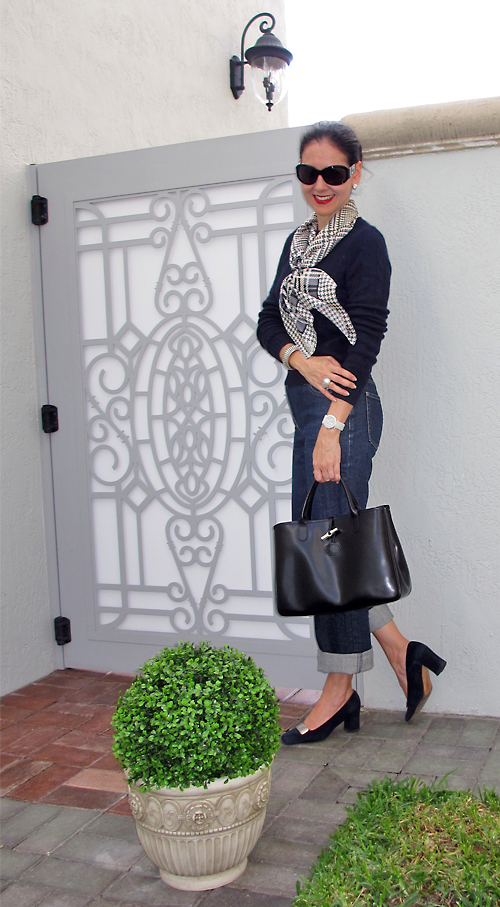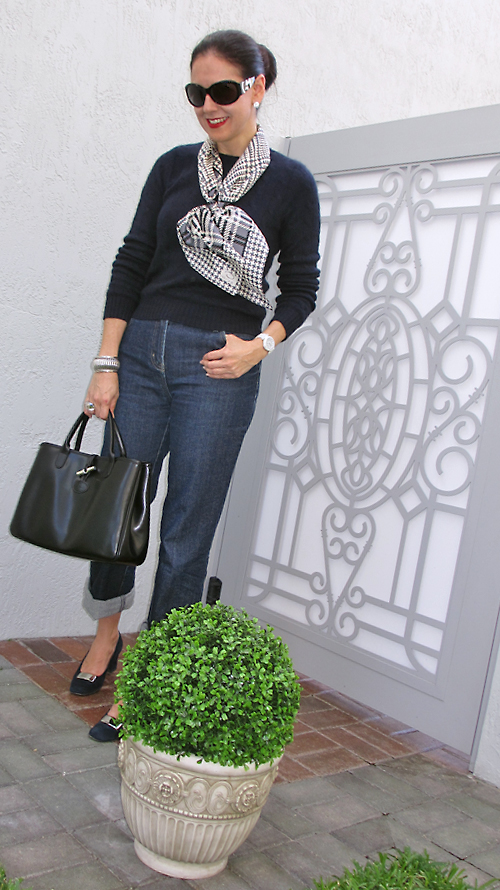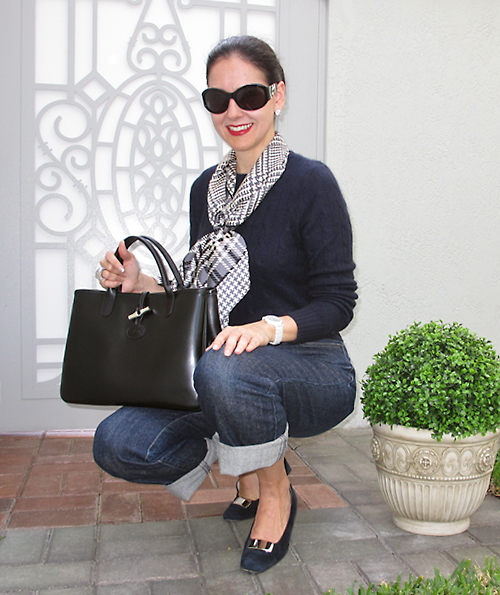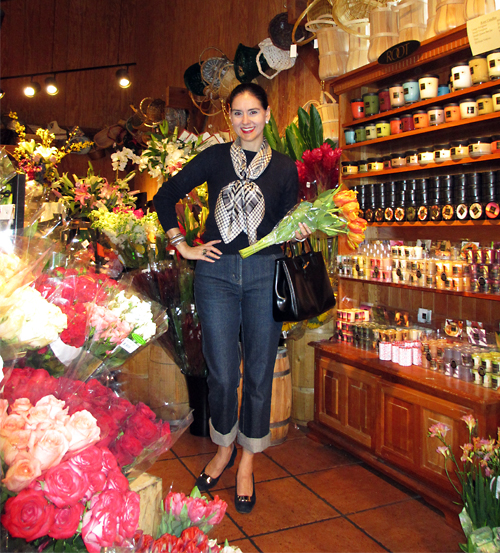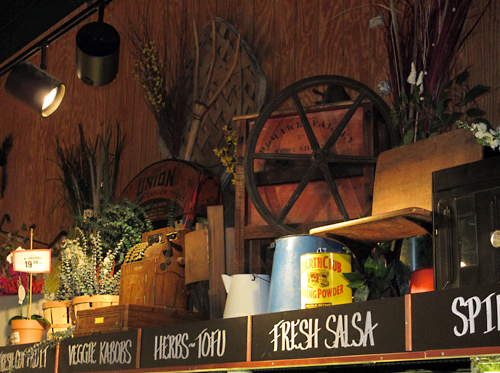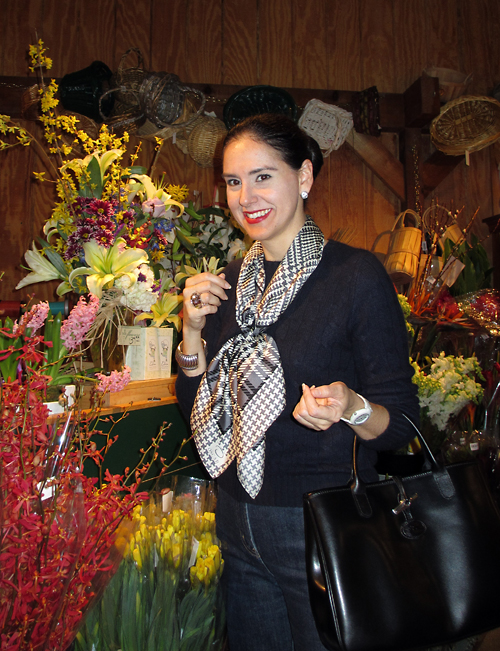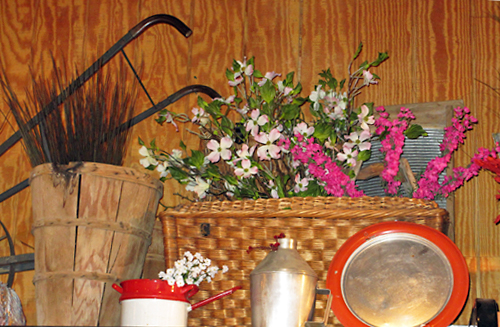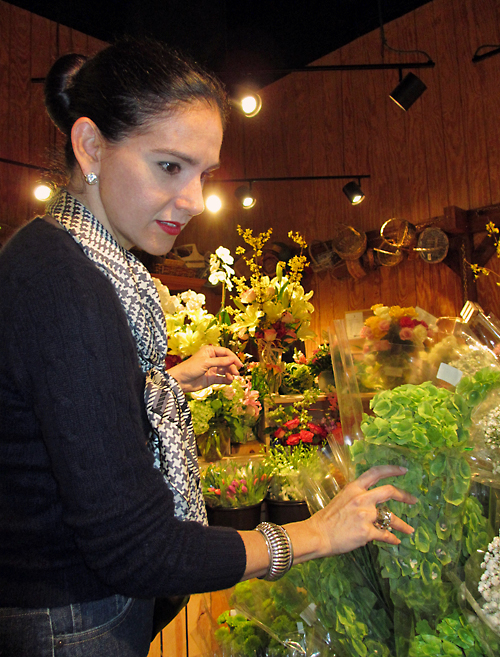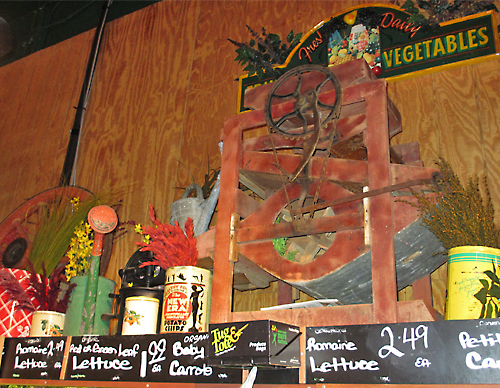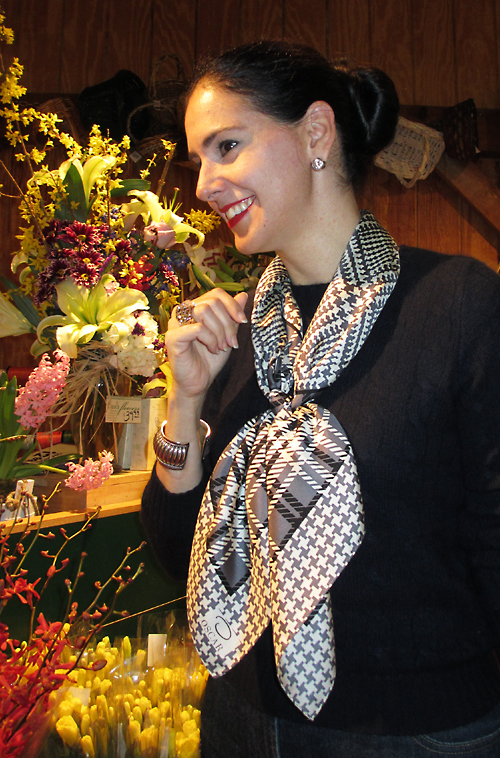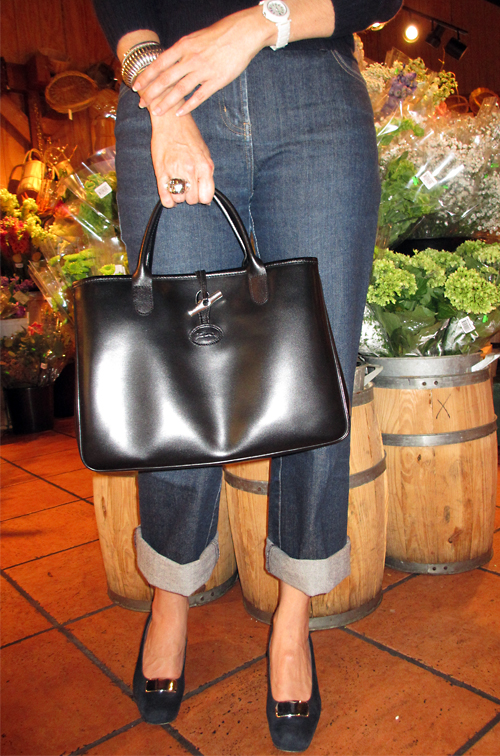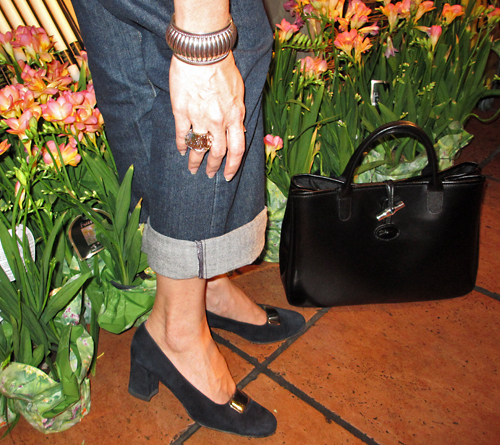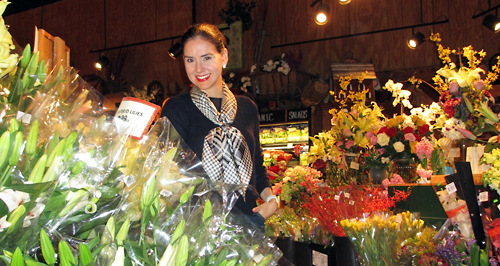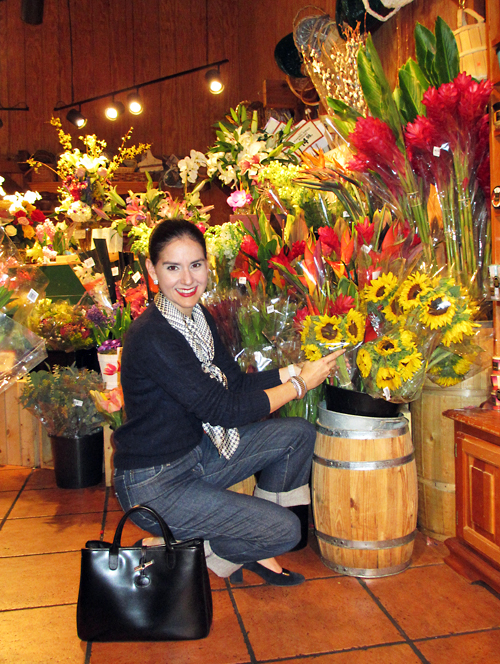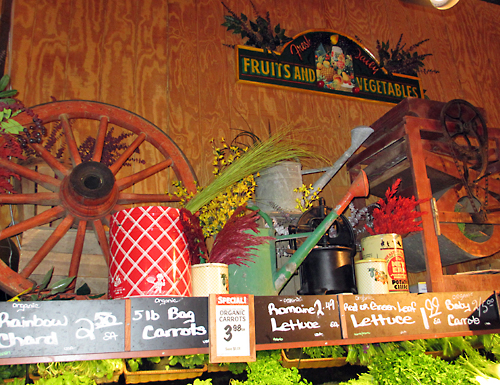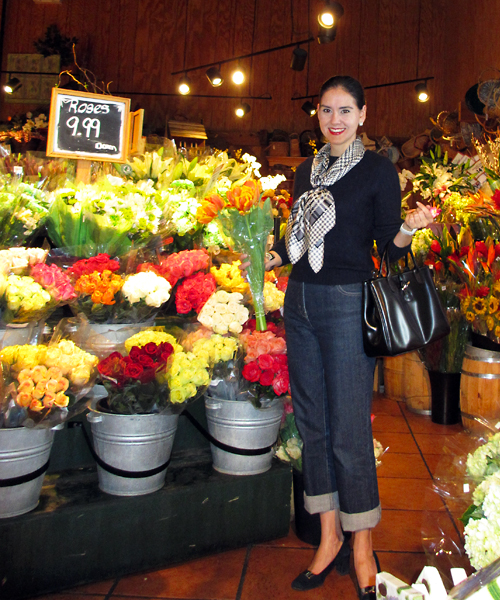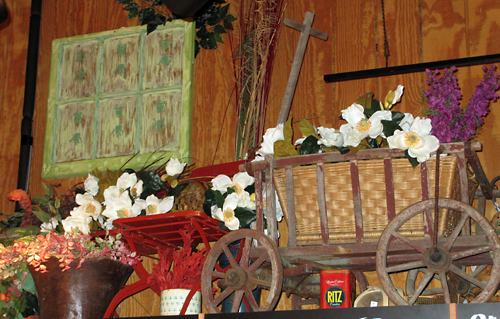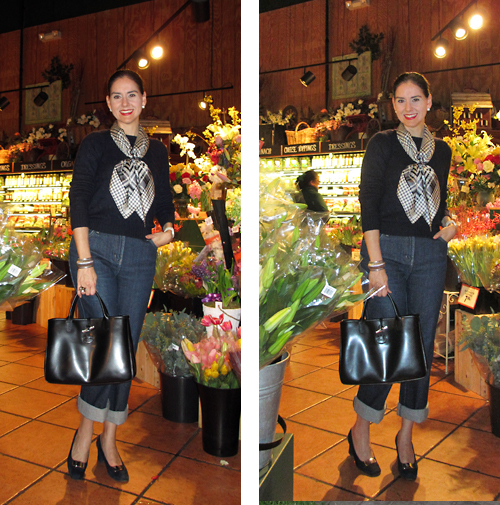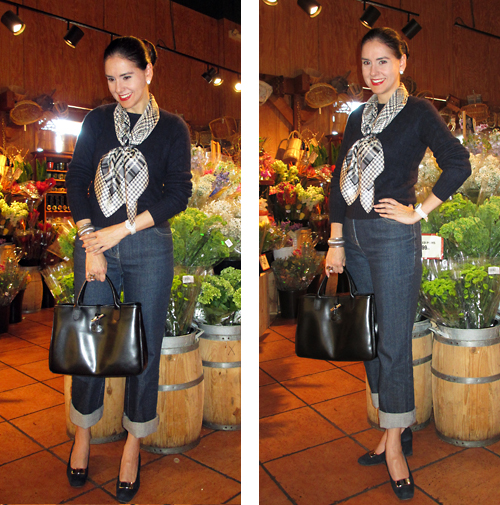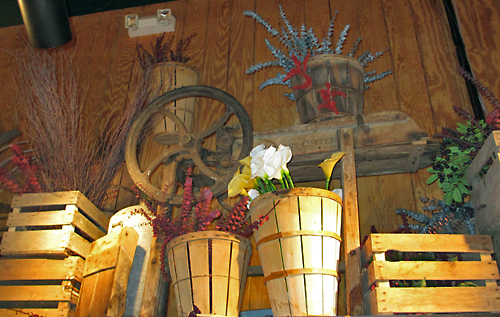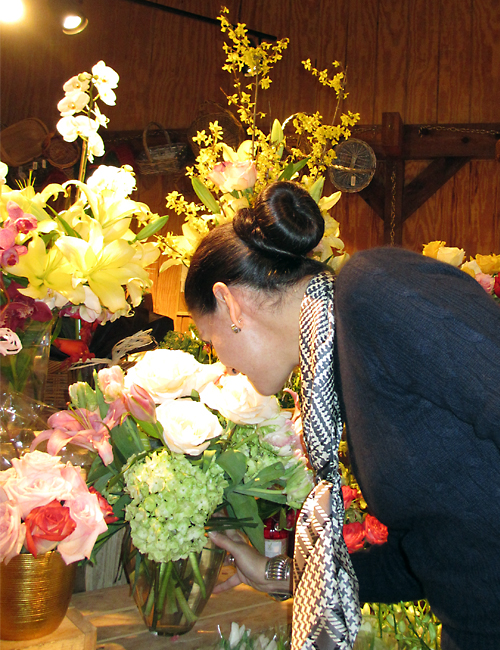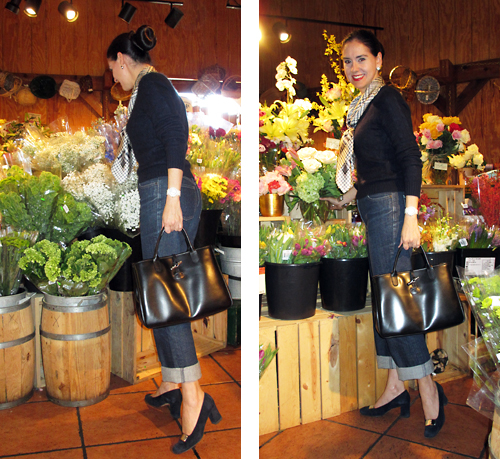 "La tierra rie flores…" Ralph Waldo Emerson
En conjunto, ésta ha sido una semana bastante casual con respecto a la ropa que me he puesto. Y aqui viene otra combinación mas en el mismo estilo. Realmente no me gusta "vestirme" para el blog, asi que siempre me verás con ropa que de verdad me pongo en mi dia a dia. Si, claro, a lo mejor un dia ves algo que quizás se hubiera visto mejor con tacones, por ejemplo, pero si lo que llevo puesto es para dar clase todo el dia y los tacones no son una opción, no me los pongo para la foto si después me los voy a quitar. Quiero que lo que salga aqui sea real.
Y no hay nada mas real que hacer la compra y algunos recados, no? Aún asi, siempre trato de añadir un toque glamuroso a cualquier atuendo, incluso cuando es algo tan sencillo como unos jeans y un suéter. En este caso, añadí unos pendientes/zarcilllos antiguos que encontré en una tiendita de angüedades que queda cerca de mi casa, y un pañuelo de seda. La comodidad reinó con mis jeans, suéter y zapatos, y con el moño que me hice para mantenerme peinada en un dia extremadamente ventoso.
 Me Puse: 
Su

é

ter de Ochos de Cashmere: Ralph Lauren Black Label

Jeans: Ann Taylor

Zapatos de Ante/Gamuza con Hebilla Plateada: Van-Eli

Bolso/Cartera de Piel: Longchamp, Rouseau

Pendientes/Zarcillos: Antiguos, de plata esterlina y zirconita

Pañuelo de Pata de Gallo de Seda: Oscar by Oscar de la Renta

Anillo/Sortija: De cristal tallado de Swarovski

Brazalete/Pulsera: De plata esterlina

Reloj de Cerámica, Brillantes y Madreperla: Anne Klein New York

Lentes/Gafas de Sol: Giorgio Armani

Perfume: So de la Renta, (

aqui

) Mucha gente me pregunta qué perfume uso. Ésta ha sido mi fragancia por bastante tiempo. Encuentro que es fresca y coqueta, ligera y femenina, y muy clásica. Cuando busqué la descripción en la página de Oscar de la Renta, quedé gratamente identificada con lo que decía: "Para la mujer espontánea y energética que reparte su entusiasmo dondequiera que va. Una fragancia radiante y chispeante." Y también, "So de la Renta se deleita en el lado elegante, inesperado y divertido del tipo de mujer que representa Oscar de la Renta."
Share it in your...
Compártelo en tu...
Want to leave me a comment? | ¿Quieres dejarme un comentario? [+]
Comments | Comentarios