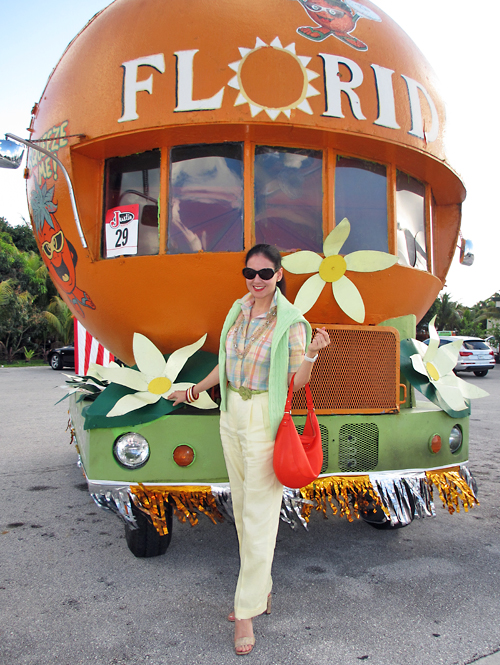 One of the first memories I have of my first time coming to the United States when I was 8 years old is driving to Orlando to go to Disney World. The poor driver must have ended up with an enormous headache because my brother and I sang the entire Disney repertoire (especially all of the Mary Poppins songs!) the whole way! Back in the day, there were lots of places to stop and taste Florida's "freshly squeezed orange juice", and the stands looked as kitschy as the one where I took these pictures.
As I'm sure you've seen, citrusy colors are very popular for spring, so when I put together this outfit, the orange stands immediately came to mind. Thankfully, this one was not too far from the university, and I was able to snap a few pictures before going to work. Have you incorporated citrus colors into your wardrobe? How are you pairing them?
I Wore: 
Cable-Knit Cashmere Sweater: Ralph Lauren Black Label

Linen Plaid Shirt: Lauren by Ralph Lauren

Linen Pants: Ellen Tracy

Snakeskin Flower Belt: Calvin Klein

Leather Sandals: BCBG Max Azria (refashioned with ribbons like I showed in the video here)

Leather Bag: Kate Spade

Earrings: Gold studs

Necklaces: Vintage gold-plated brass, rope-length chain; brass, crystal, and resin chain by J. Crew

Ring: Gold-plated stainless steel and enamel; two vintage gold bands with cubic zirconia

Bracelet: Vintage, two antique blown pink glass, two antique ivory from the 30s, one antique Bakelite from the 30s

Ceramic, Diamond, and Mother-of-Pearl Watch: Anne Klein New York

Sunglasses: Dolce & Gabbana

Perfume: So de la Renta, (

here

) Many people ask me the kind of perfume I wear. This has been my signature scent for quite a while. I find that it is both fresh and flirty, light and feminine, and very classic. When I looked online, I was pleasantly identified by the description in the Oscar de la Renta site: "For the spontaneous, energetic woman who spreads her enthusiasm everywhere she goes. A radiant, sparkling scent." And also, "So de la Renta revels in the elegant, unexpected, playful side of the Oscar woman."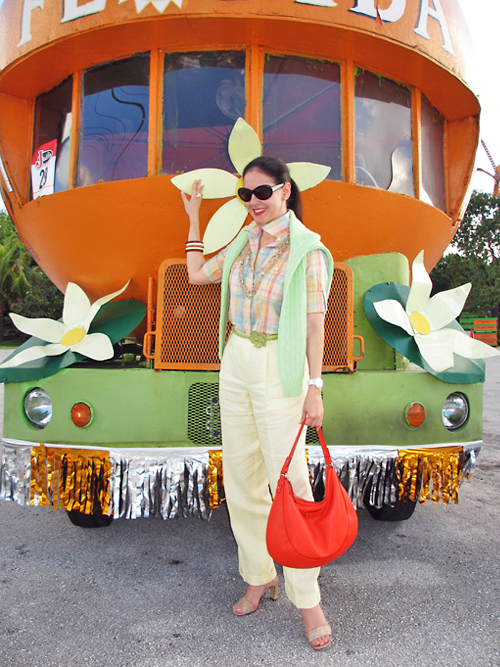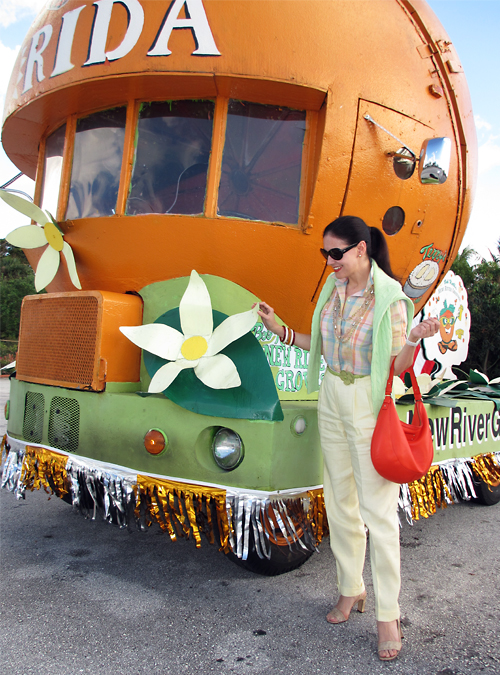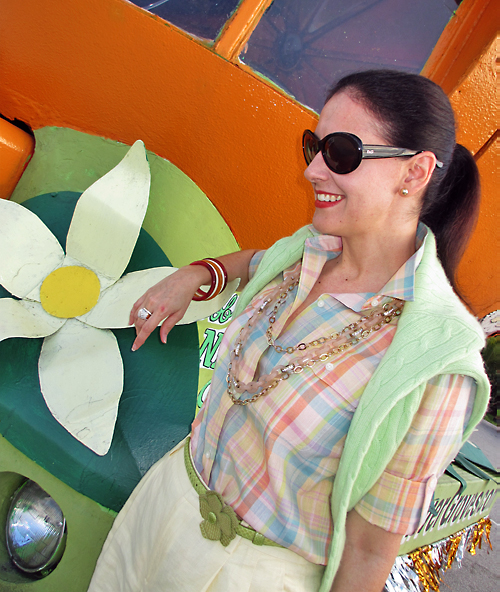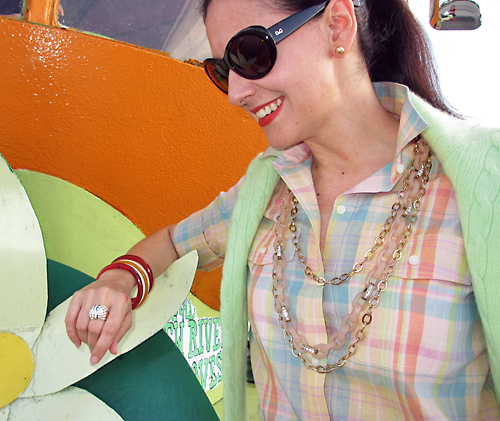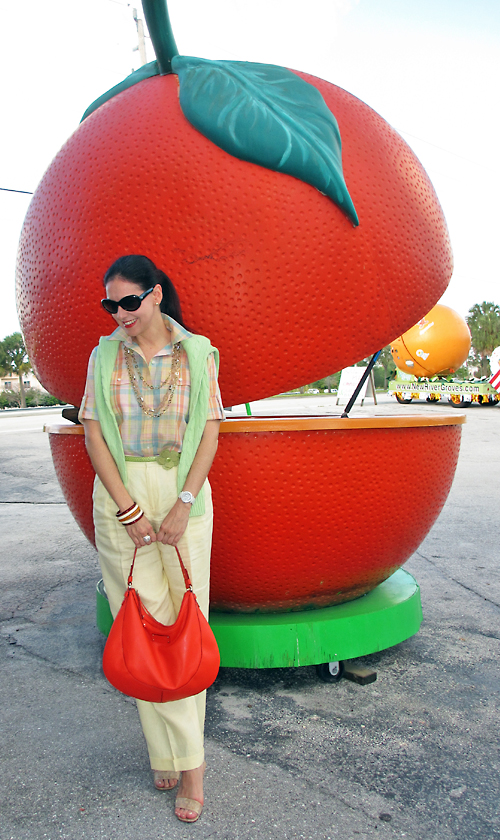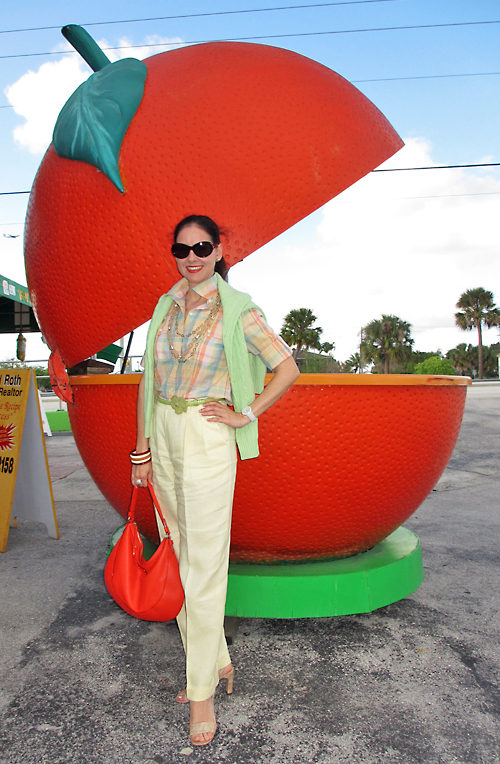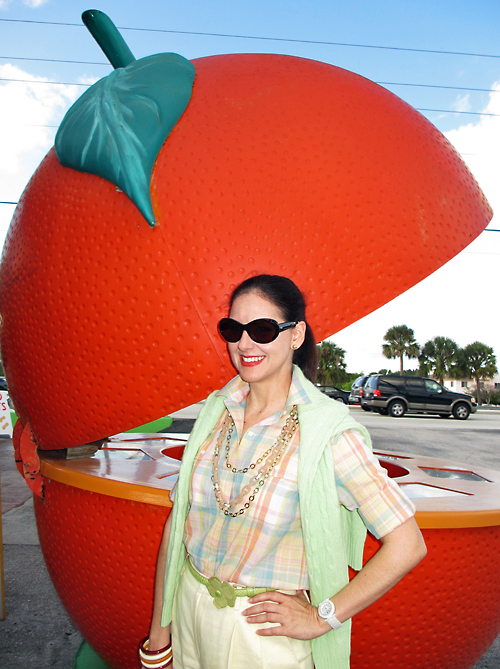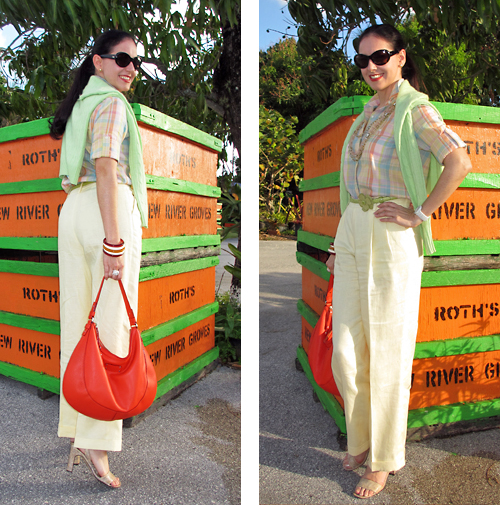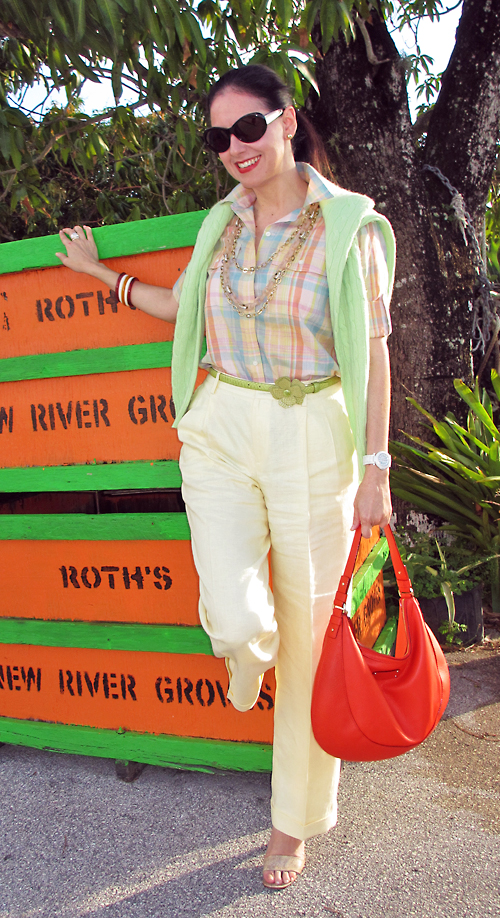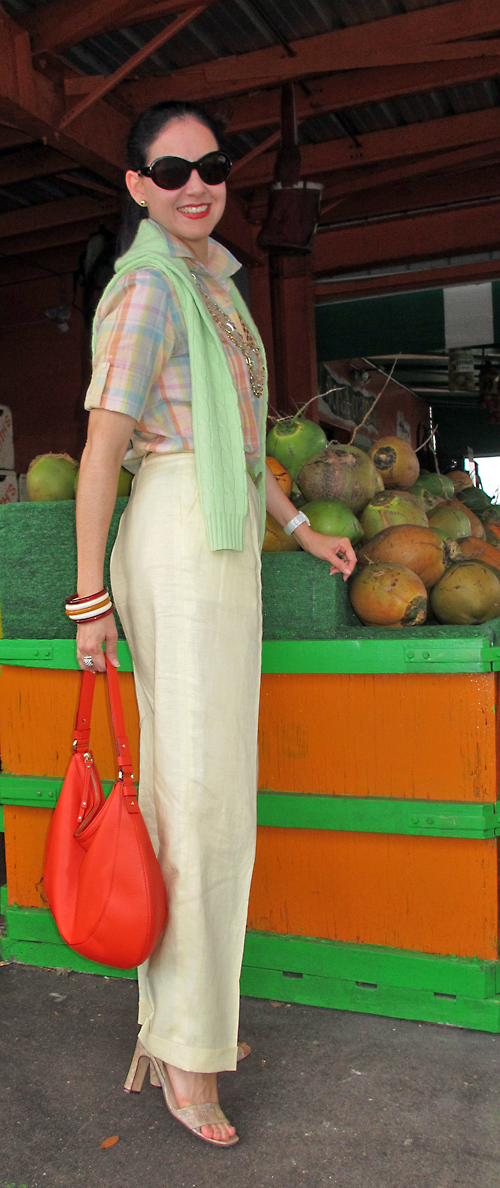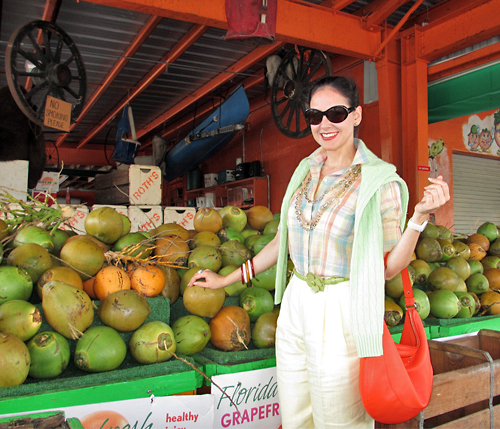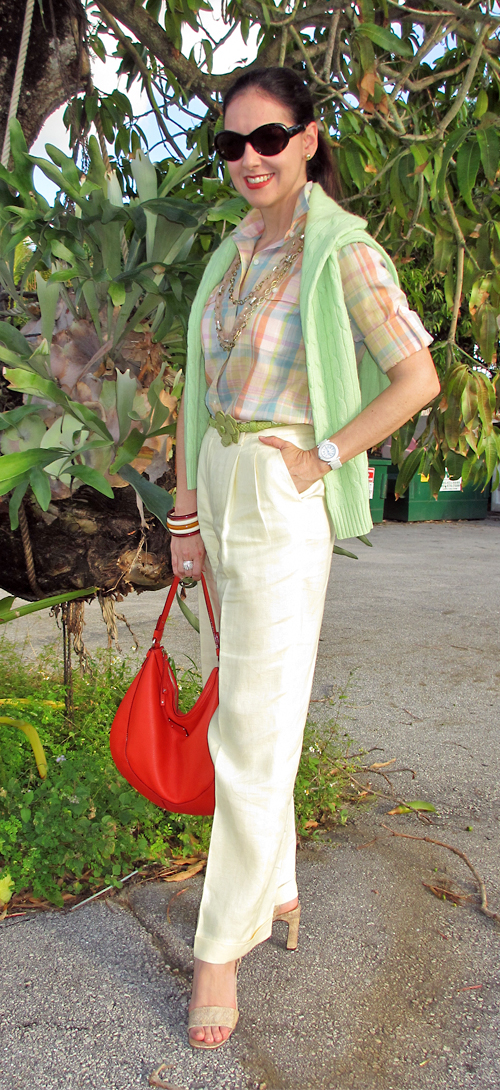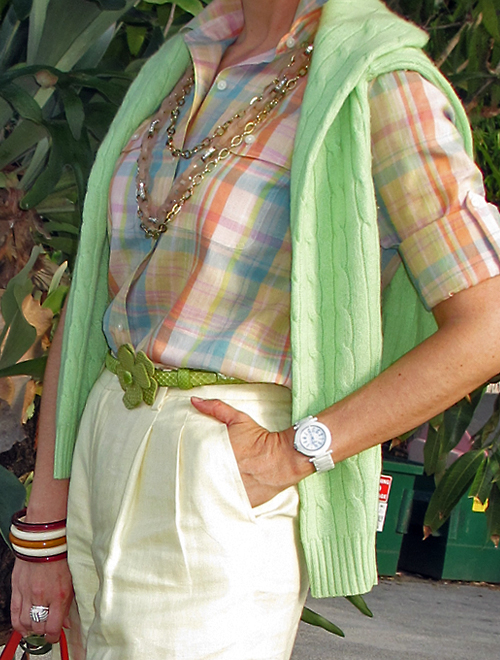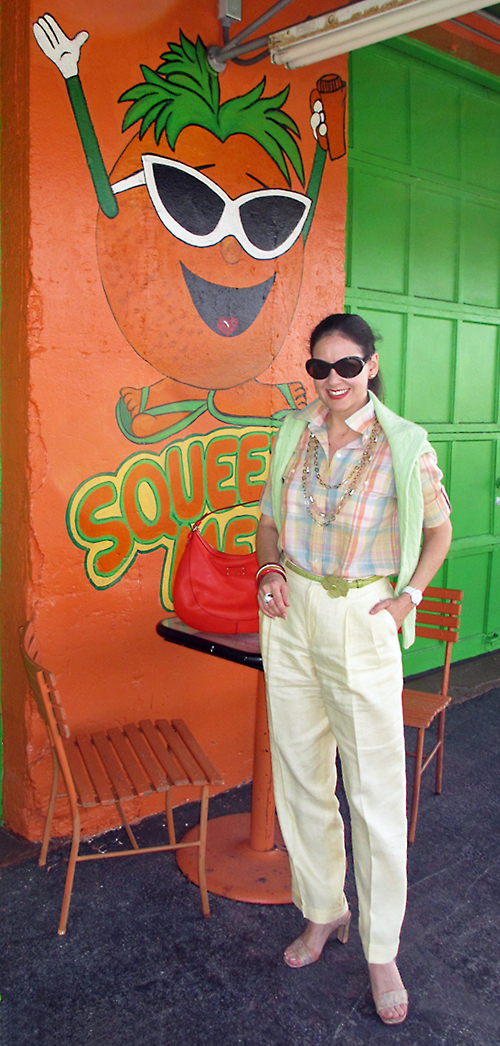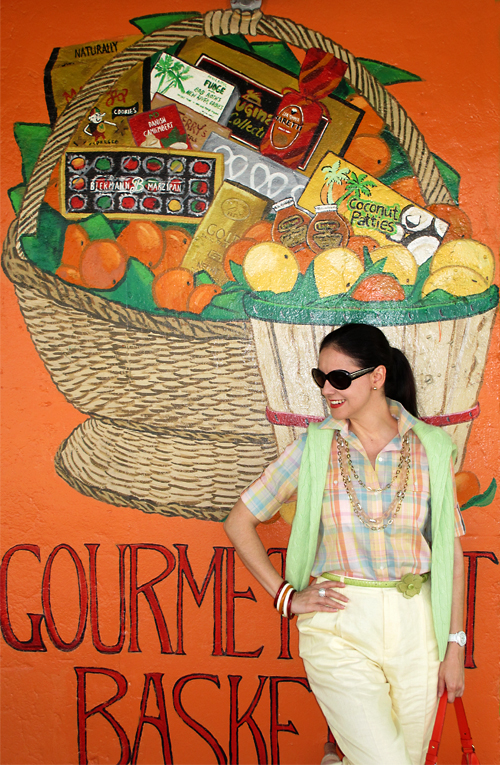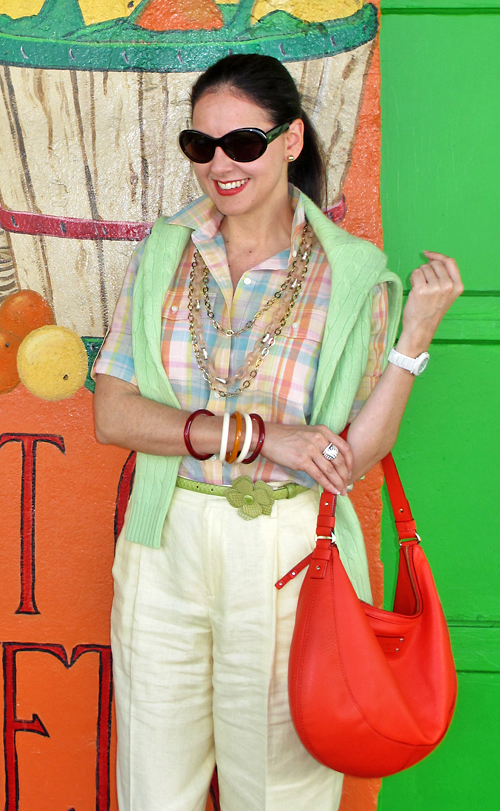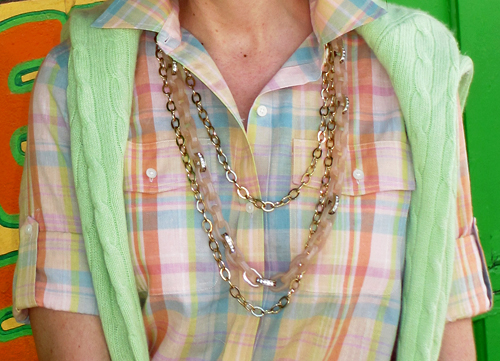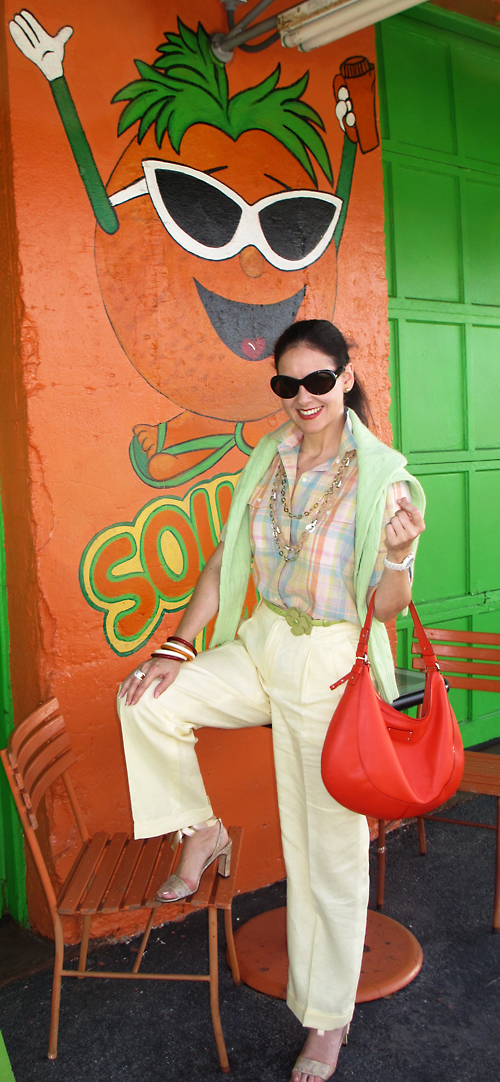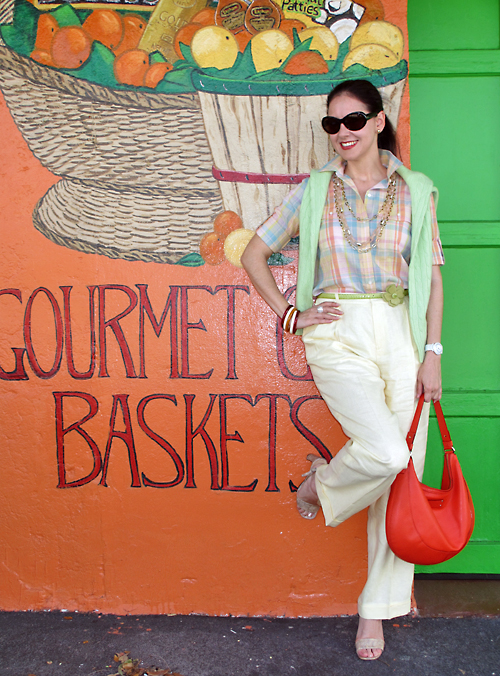 Una de las primeras memorias que tengo de cuando vine a Estados Unidos por primera vez a los 8 años es ir a Orlando por carretera para visitar Disney World. El pobre chofer debió de terminar con un enorme dolor de cabeza porque mi hermano y yo cantamos absolutamente todo el repertorio musical de Disney (especialmente todas las canciones de Mary Poppins!) durante todo el camino! En aquella época había muchos puestos en el camino para pararse a probar grátis el "jugo de naranja recién exprimido" tan famoso en el estado de la Florida, y los puestos eran tan pintorescos como el que sale en estas fotos.
Como seguramente habrán visto, los colores cítricos son muy populares para la primavera, asi que cuando pensé en esta combinación, los puestos de naranjas fue lo primero que me vino a la mente. Afortunadamente, éste no está muy lejos de la Universidad, asi que pude pararme a tomar algunas fotos antes de ir a trabajar. Y tu, has incorporado colores cítricos en tu armario? Cómo los estás combinando?
Me Puse: 
Su

é

ter de Ochos de Cashmere: Ralph Lauren Black Label

Camisa de Lino a Cuadros: Lauren by Ralph Lauren

Pantalones de Lino: Ellen Tracy

Cintur

ó

n de Piel de Serpiente con Flor: Calvin Klein

Sandalias de Piel: BCBG Max Azria (arregladas con lazos como ense

ñé

aqui)

Bolso/Cartera de Piel: Kate Spade

Pendientes/Zarcillos: De oro

Collares: Antiguo, de bronce bañado en oro tamaño cuerda; de resina, bronce y cristales de J. Crew

Anillo/Sortija: De acero bañado en oro con esmalte; y dos bandas antiguas de oro con zirconita

Brazalete/Pulsera: Antiguas, dos de cristal rosado; dos de marfil de los a

ñ

os 30; una de baquelita de los a

ñ

os 30

Reloj de Cerámica, Brillantes y Madreperla: Anne Klein New York

Lentes/Gafas de Sol: Dolce & Gabbana

Perfume: So de la Renta, (

aqui

) Mucha gente me pregunta qué perfume uso. Ésta ha sido mi fragancia por bastante tiempo. Encuentro que es fresca y coqueta, ligera y femenina, y muy clásica. Cuando busqué la descripción en la página de Oscar de la Renta, quedé gratamente identificada con lo que decía: "Para la mujer espontánea y energética que reparte su entusiasmo dondequiera que va. Una fragancia radiante y chispeante." Y también, "So de la Renta se deleita en el lado elegante, inesperado y divertido del tipo de mujer que representa Oscar de la Renta."
Share it in your...
Compártelo en tu...
Want to leave me a comment? | ¿Quieres dejarme un comentario? [+]
Comments | Comentarios