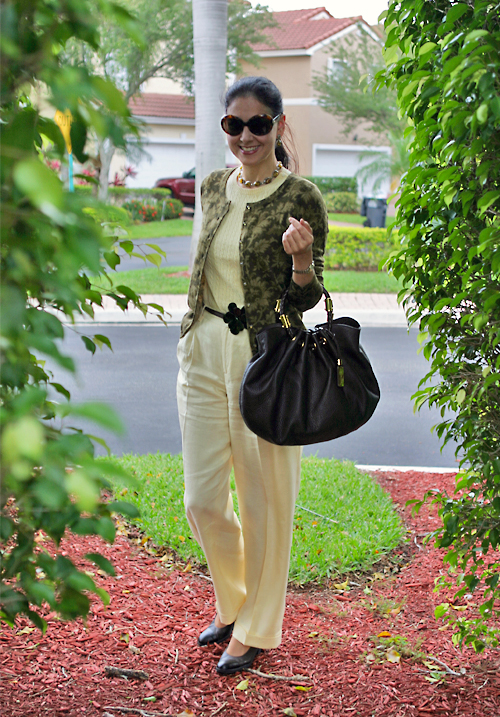 Can you tell from these pictures how windy and gray it was out there? Yes, I'm sure you can, since my hair is all over the place…oh, well! These things happen!
I wore this outfit to go teach. I guess unconsciously I chose the yellow to brighten the day a bit. Since I was going to wear a patterned cardigan, I kept the rest of the outfit monochromatic in order to highlight it. I debated to wear the belt outside the jacket, but ultimately decided not to do it because it was easier to appreciate its color against the yellow.  
Are you wondering why this title? If you read this, you'll understand why, but let me give you a clue, it has to do with the green amber I'm wearing. I love amber jewelry, and have a few pieces that I've collected throughout the years. When I read about the origins of the word, the mythical elements seemed to match perfectly the colors of this post, hence the title.
Do you have a color that brightens your spirits? Which is it? By the way, here is another way in which I have styled these pants.
I Wore: 
Cashmere Short Sleeve Sweater: Geneva

Cashmere Cardigan: Talbots

Linen Pants: Ellen Tracy

Leather and Green Resin Belt: Raf

é

Leather Cap-Toe Shoes: Ferragamo

Leather Bag: Michael Kors Skorpios, here

Earrings: Sterling silver and green amber

Necklace: Sterling silver and green amber

Ring: Sterling silver and orange amber

Bracelet: Sterling silver and green, yellow, and orange amber

Gold and Stainless Steel Watch: Raymond Weil, Toccata

Sunglasses: Ralph Lauren Collection

Perfume: So de la Renta, (

here

) Many people ask me the kind of perfume I wear. This has been my signature scent for quite a while. I find that it is both fresh and flirty, light and feminine, and very classic. When I looked online, I was pleasantly identified by the description in the Oscar de la Renta site: "For the spontaneous, energetic woman who spreads her enthusiasm everywhere she goes. A radiant, sparkling scent." And also, "So de la Renta revels in the elegant, unexpected, playful side of the Oscar woman."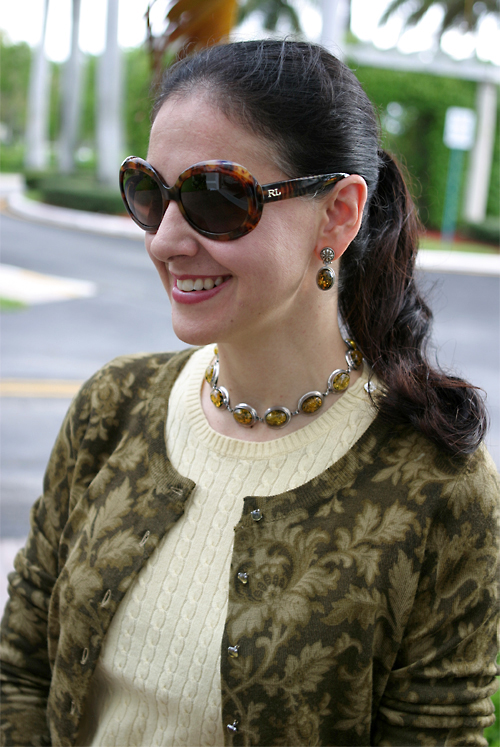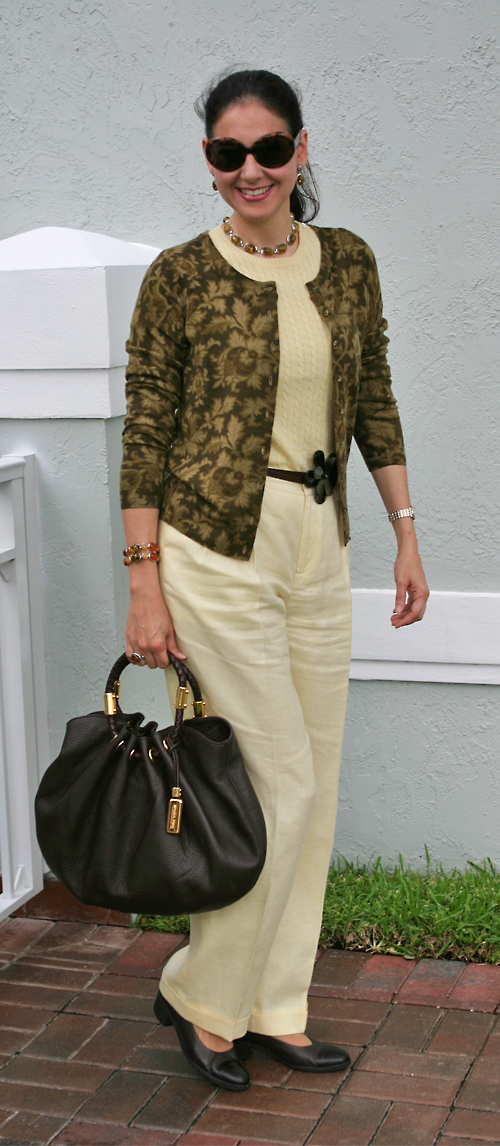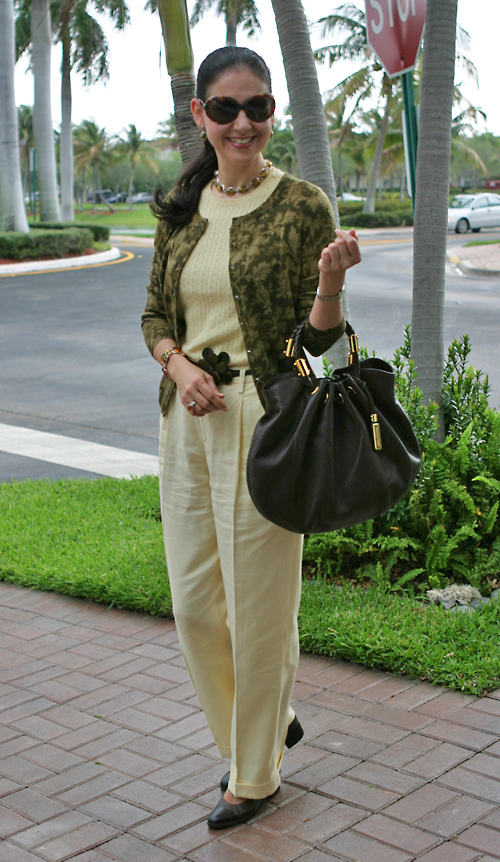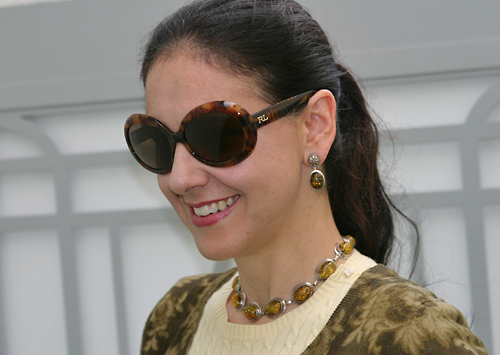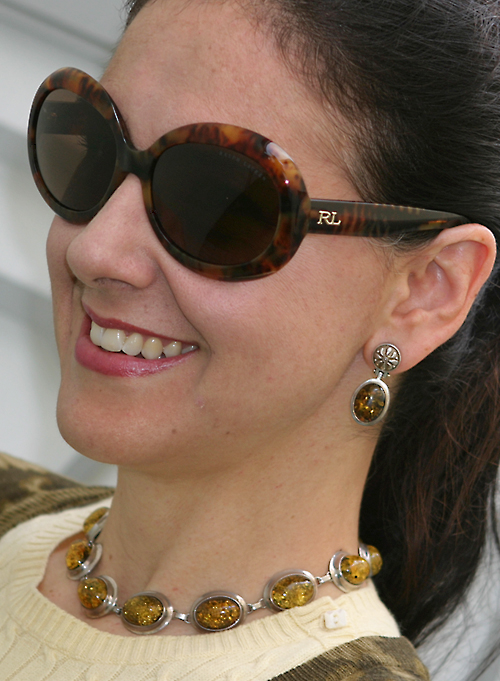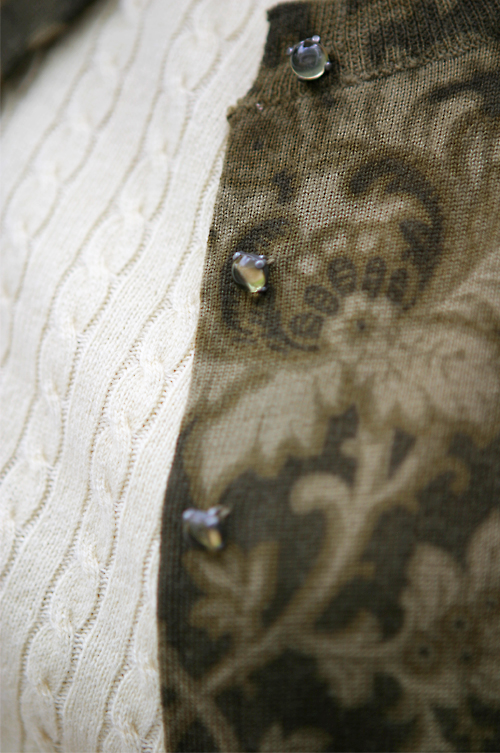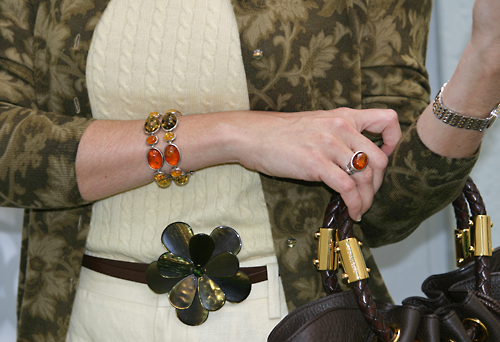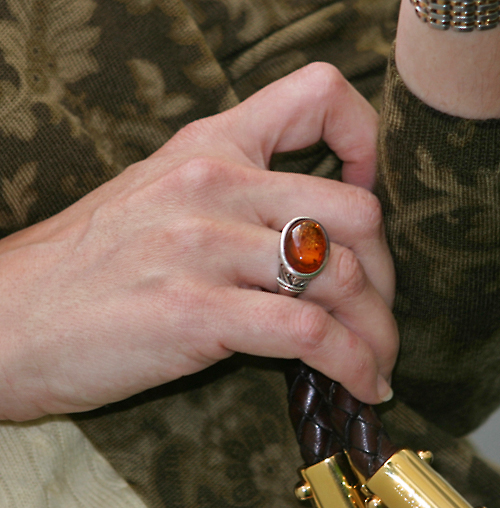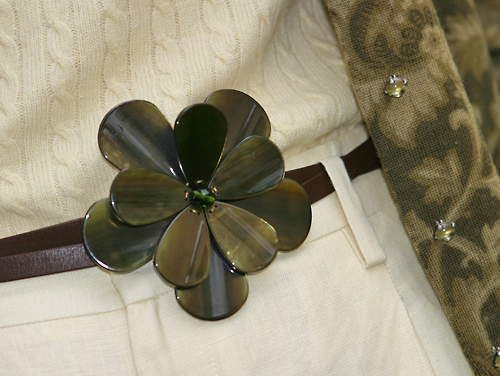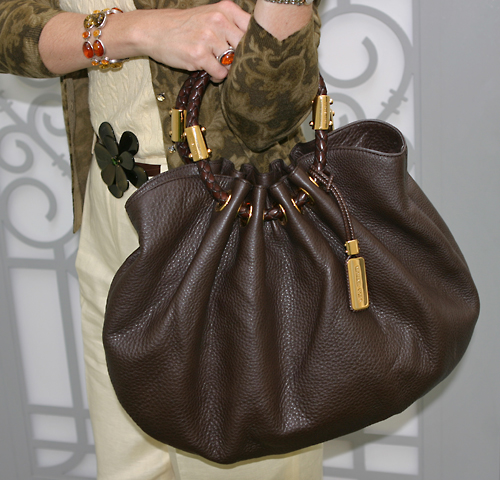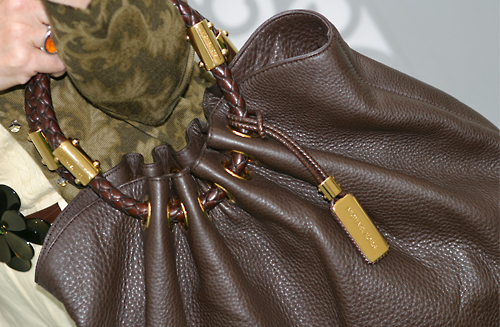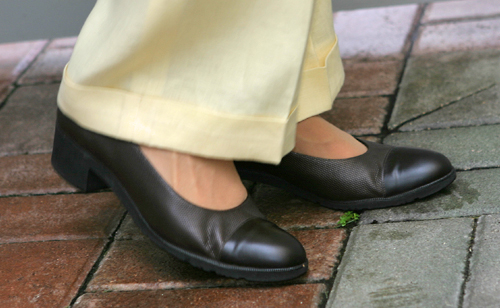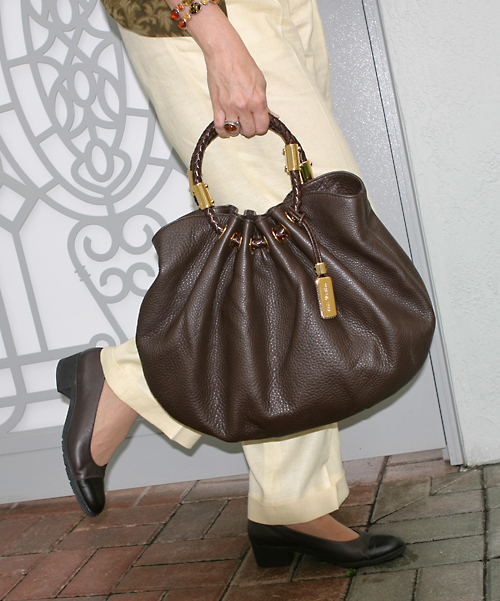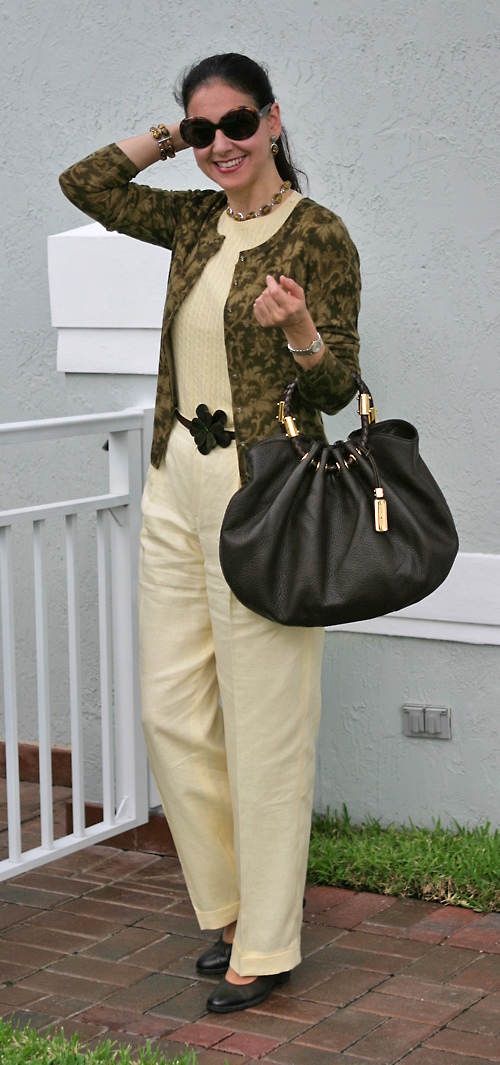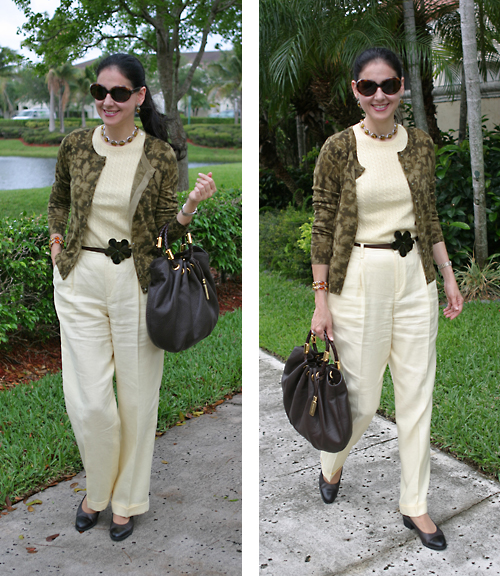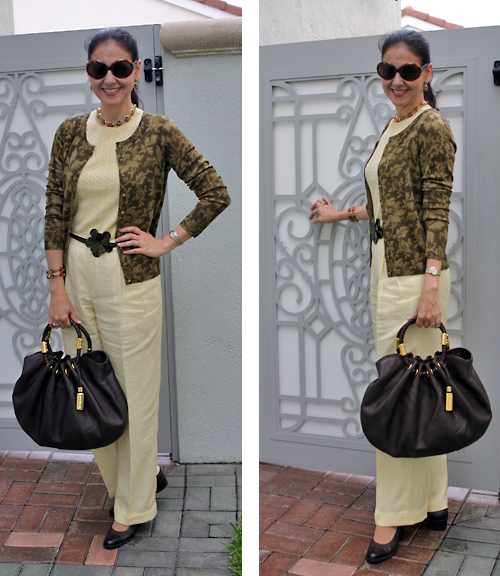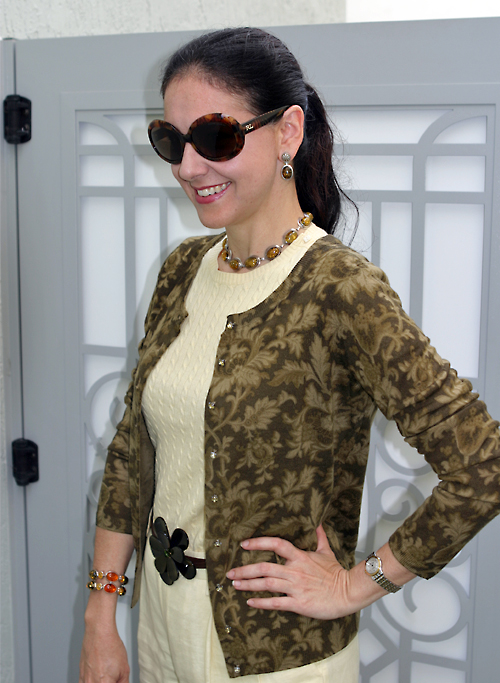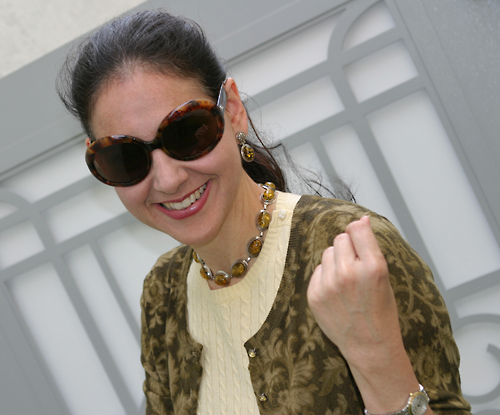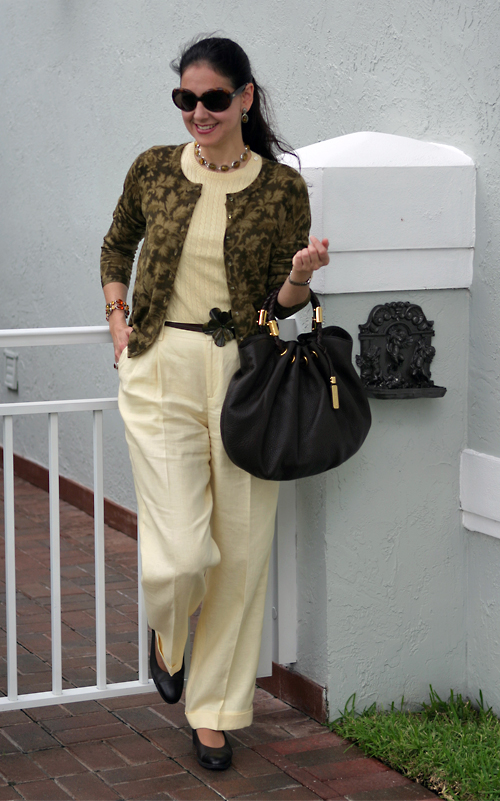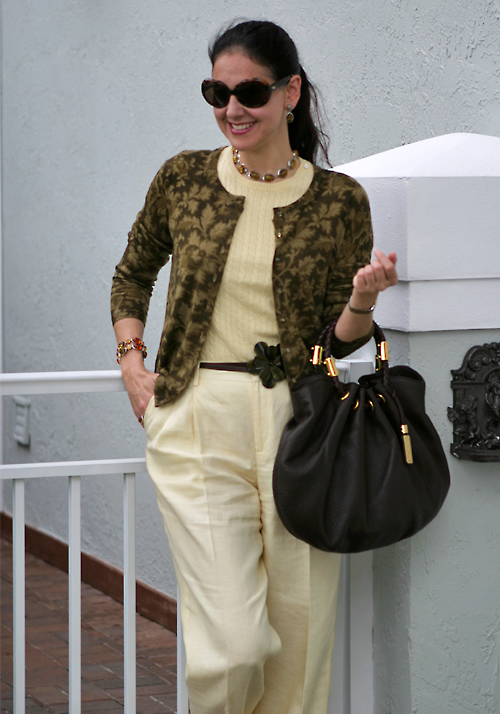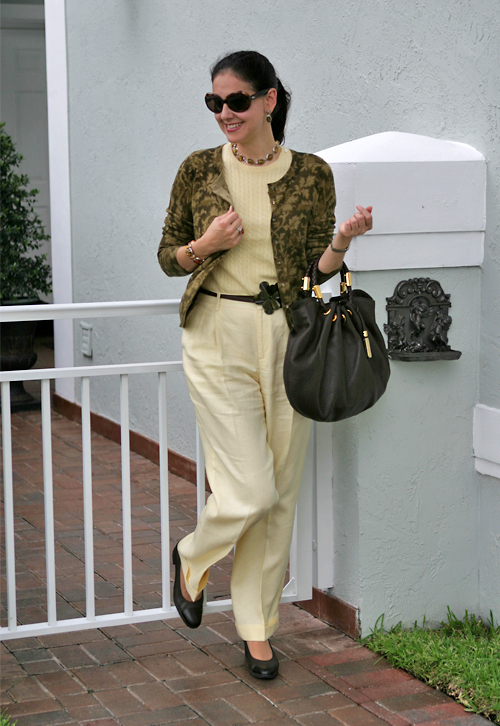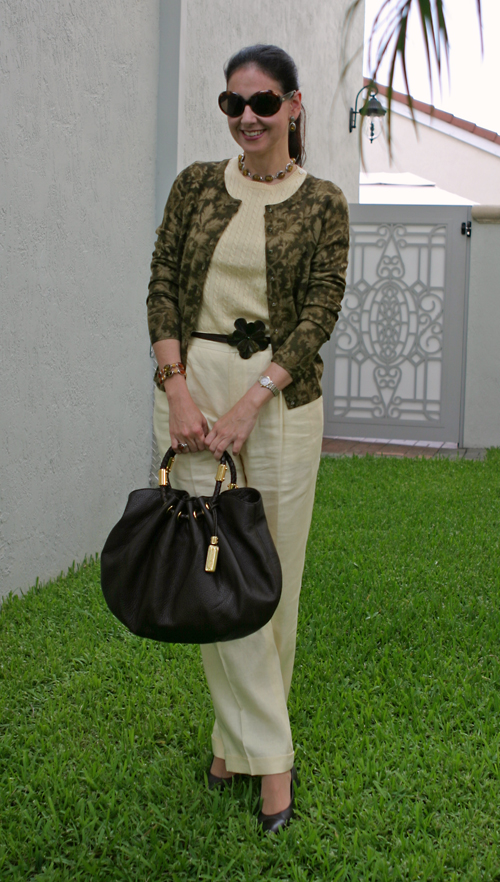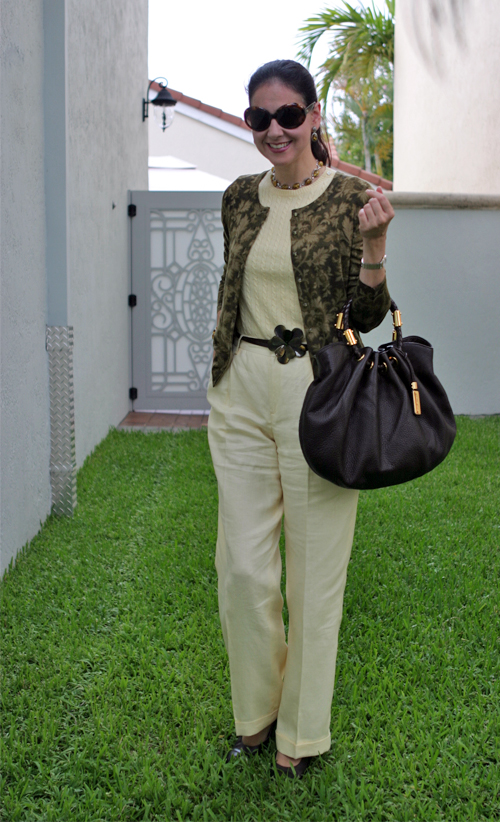 Se dan cuenta por las fotos lo gris y ventoso que estaba el dia? Si, seguro que se dan cuenta, especialmente porque mi pelo está todo desordenado…bueno, que se le va a hacer! Estas cosas pasan!
Me puse este conjunto para dar clase. Creo que inconscientemente escogí este amarillo para alegrar un poco el dia. Como iba a ponerme una chaqueta estampada, mantuve el resto del conjunto de un solo color para que pudiera resaltar mejor. Debatí si ponerme el cinturón por fuera de la chaqueta, pero al final decidí no hacerlo porque era mas fácil apreciar su color en contra del amarillo.
Se preguntan el por qué de este título? Si leen ésto (aunque está en inglés) lo entenderán, pero déjenme darles una pista: tiene que ver con el ámbar verde que llevo puesto. Me encantan las joyas de ámbar y tengo varias piezas que he ido coleccionando a través de los años. Cuando leí sobre los orígenes de la palabra, los elementos míticos me parecieron que pegaban perfectamente con los colores de esta entrada, así que de ahí salió todo.
Tienes algún color que te alegre el espíritu? Qué color es? Por cierto, aqui tienen otra forma en la cual combiné estos pantalones.
Me Puse: 
Su

é

ter de Cashmere de Manga Corta: Geneva

Chaqueta de Punto de Cashmere: Talbots

Pantalones de Lino: Ellen Tracy

Cintur

ó

n de Piel y Resina Verde: Raf

é

Zapatos de Piel con Puntera: Ferragamo

Bolso/Cartera de Piel: Michael Kors Skorpios, aqui

Pendientes/Zarcillos: De plata esterlina y ambar verde

Collar: De plata esterlina y ambar verde

Anillo/Sortija: De plata esterlina y ambar naranja

Pulsera/Brazalete: De plata esterlina y ambar verde, Amarillo y naranja

Reloj de Oro y Acero: Raymond Weil, Toccata

Lentes/Gafas de Sol: Ralph Lauren Collection

Perfume: So de la Renta, (

aqui

) Mucha gente me pregunta qué perfume uso. Ésta ha sido mi fragancia por bastante tiempo. Encuentro que es fresca y coqueta, ligera y femenina, y muy clásica. Cuando busqué la descripción en la página de Oscar de la Renta, quedé gratamente identificada con lo que decía: "Para la mujer espontánea y energética que reparte su entusiasmo dondequiera que va. Una fragancia radiante y chispeante." Y también, "So de la Renta se deleita en el lado elegante, inesperado y divertido del tipo de mujer que representa Oscar de la Renta."
Share it in your...
Compártelo en tu...
Want to leave me a comment? | ¿Quieres dejarme un comentario? [+]
Comments | Comentarios