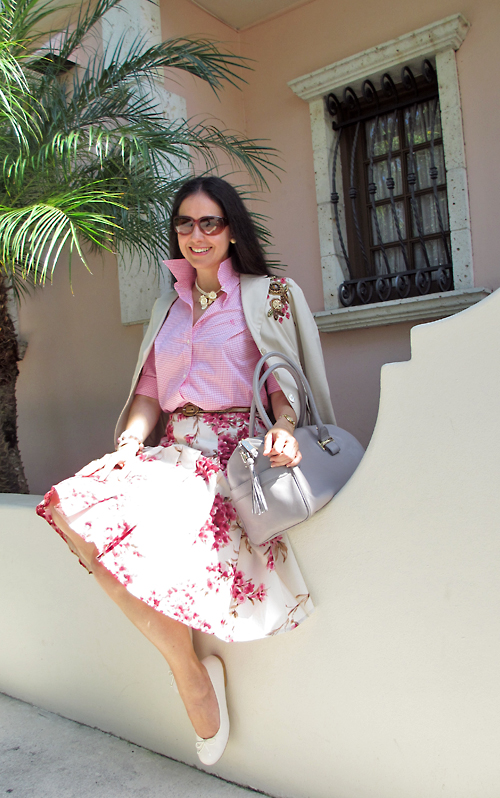 This feels like the quintessential spring outfit! Last week, a lovely friend invited my mom and me to a beautiful lunch at her house. It was quite warm, so I mostly stayed without the blazer, but not before I took some pictures with it on. Of course, when I saw the pink historic house, I knew I wouldn't find a better backdrop!
There're a couple of things that I want to mention about this outfit. The first one is that it was fun to mix the flower print of the skirt with the pink gingham of the blouse. I think it looked sweet together because everything was kept in the same family. At first, I thought it would be too much with the embroidery, but it blended nicely as well. Therefore, don't be afraid to mix prints and checks or stripes! If there's something tying the two, they'll work!
Another thing I want to point out is the bag. It's lavender, and there is nothing lavender in the outfit, I know, yet it works! I could have worn a cream or pink, even a brown bag, but ultimately, and on a whim, I took this one out and decided that the color brought an unexpected twist in color, yet complemented the overall pastel shades nicely.
Finally, I wanted to mention the shoes. Sometimes, it is as important to pay attention to colors and shapes as it is to functionality, place, and time of day. I could have worn heels, but instead I chose these ballerina flats because this was an informal lunch among friends early in the day. Heels would have made the outfit too formal and less relaxed.
Here and here are two other outfits where I have worn this blouse!
I Wore: 
Cotton Gingham Blouse: Lauren by Ralph Lauren

Ribbon and Wooden Beads Embroidered Cotton Sateen Blazer: Ann Taylor

Cotton Pleated Skirt: Ann Taylor

Leather Faux Snakeskin Belt: Lauren by Ralph Lauren

Leather Ballerina Flats: Brotes from El Corte Ingl

é

s in Spain

Leather Bag: Cole-Haan

Earrings: Antique ivory studs from the 1930s

Necklace: Antique ivory beads and hand-carved flower pendant from the 1930s

Ring: Gold, garnet, yellow topaz, and diamonds; two antique ivory bands from the 1930s

Bracelet: Two antique ivory cuffs from the 1930s; pink crystal ball bracelet from Ann Taylor

Gold and Mother-of-Pearl Watch: Fendi

Sunglasses: Ralph by Ralph Lauren

Perfume: So de la Renta, (

here

) Many people ask me the kind of perfume I wear. This has been my signature scent for quite a while. I find that it is both fresh and flirty, light and feminine, and very classic. When I looked online, I was pleasantly identified by the description in the Oscar de la Renta site: "For the spontaneous, energetic woman who spreads her enthusiasm everywhere she goes. A radiant, sparkling scent." And also, "So de la Renta revels in the elegant, unexpected, playful side of the Oscar woman."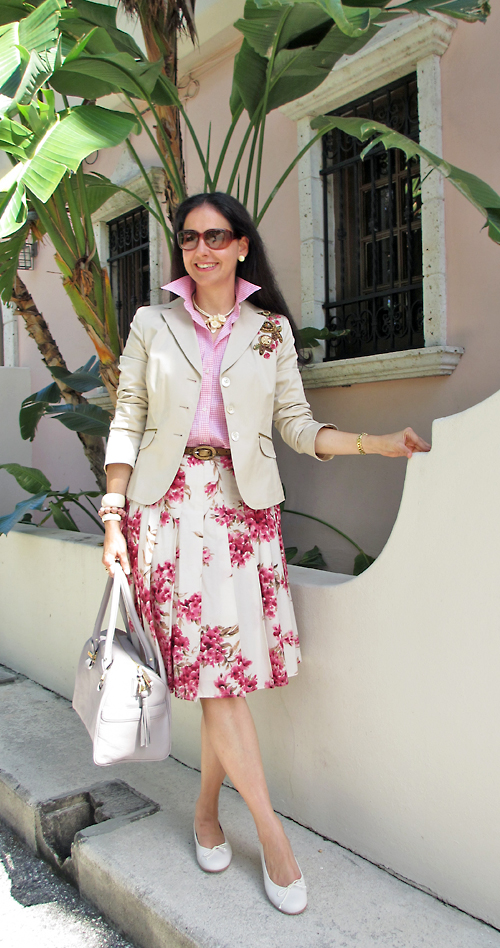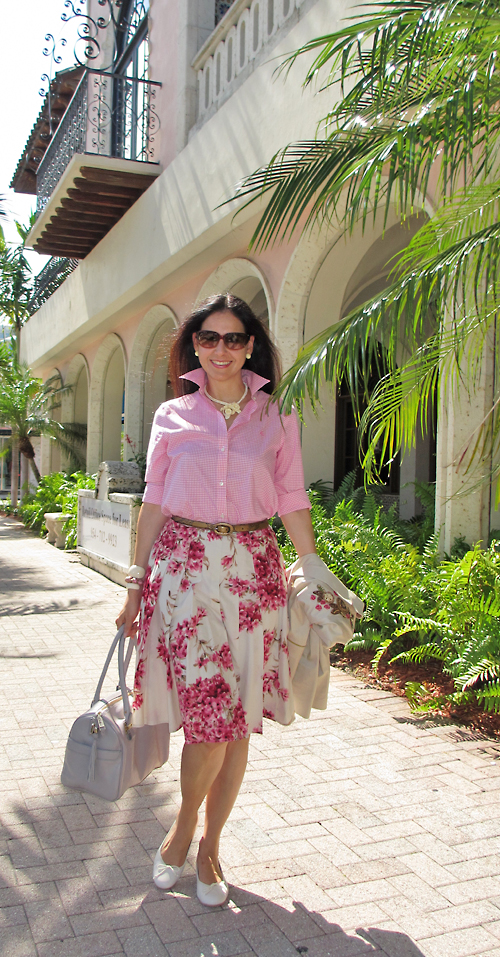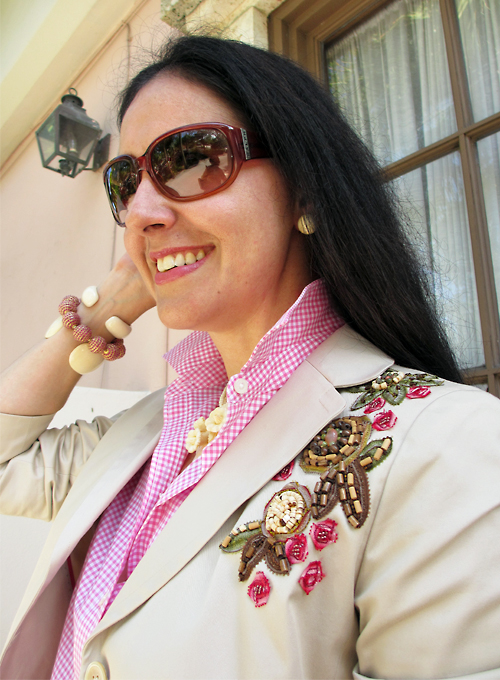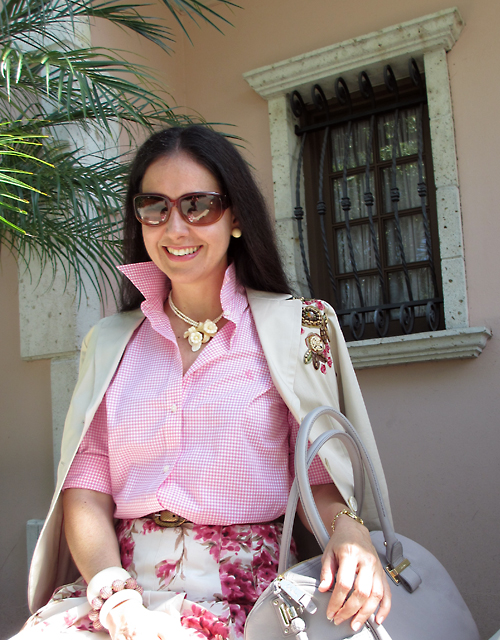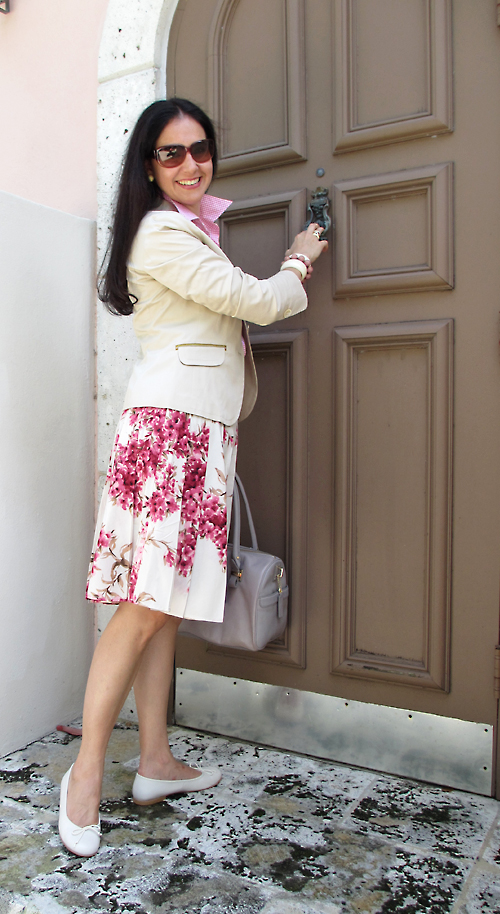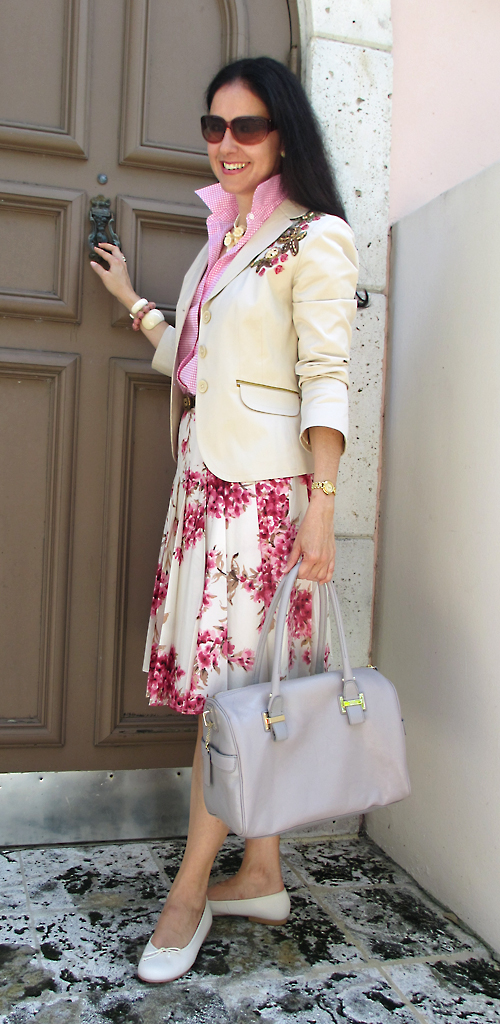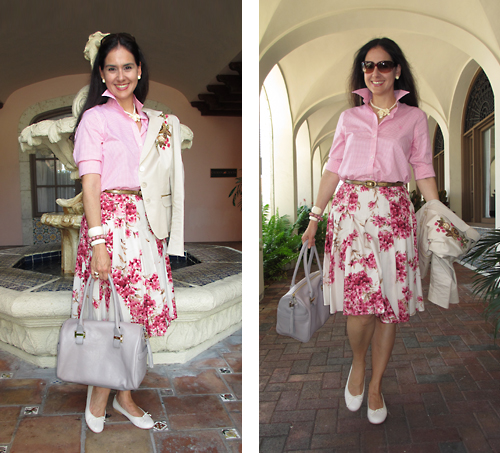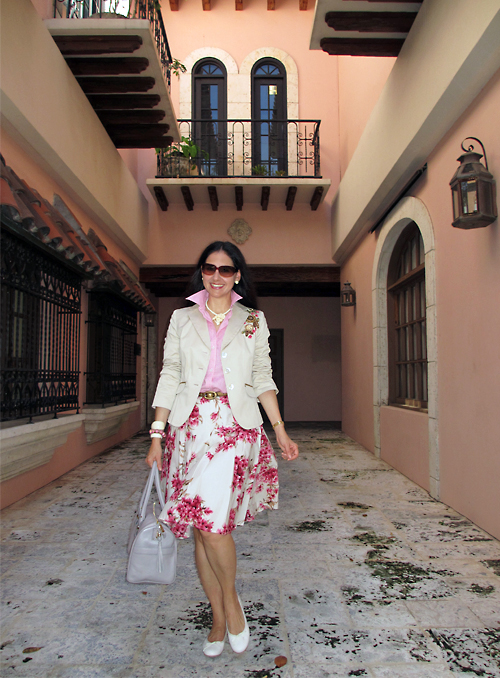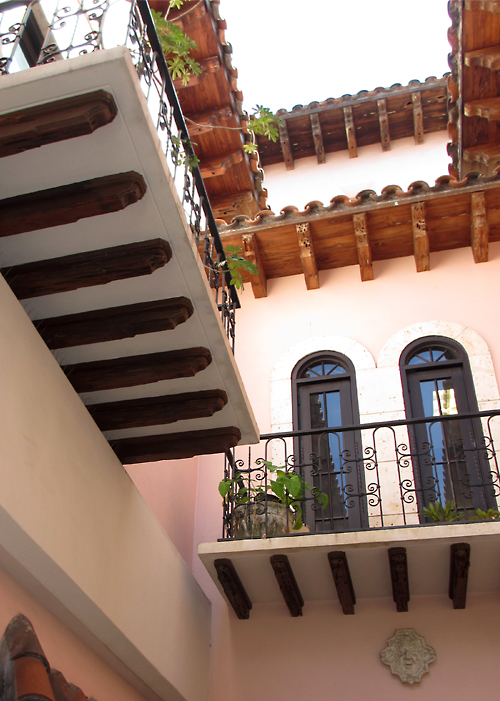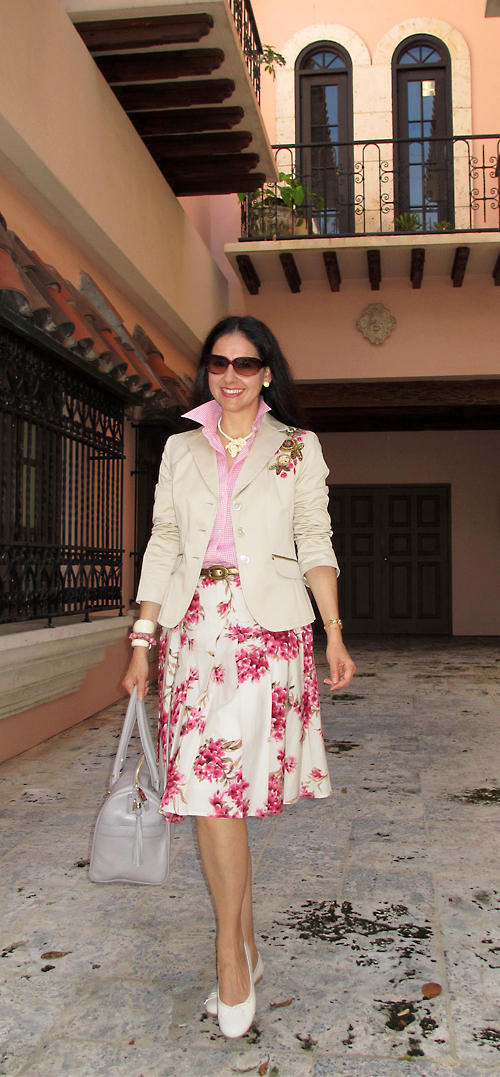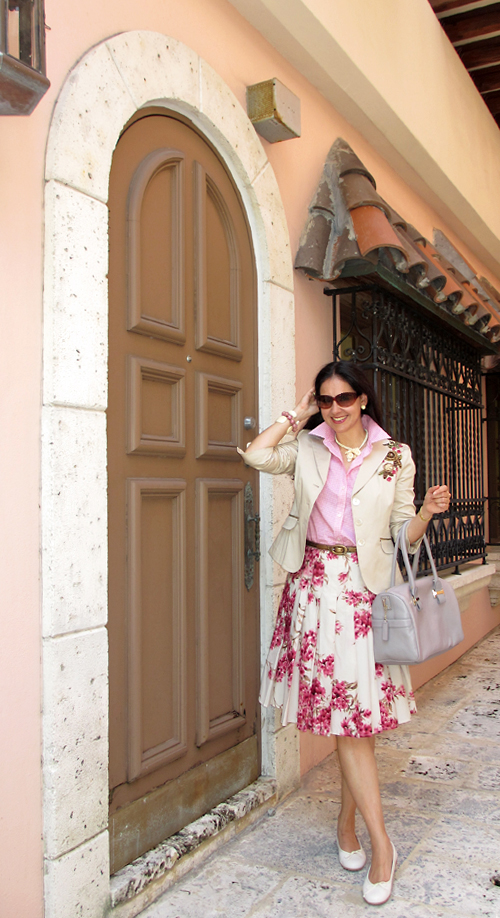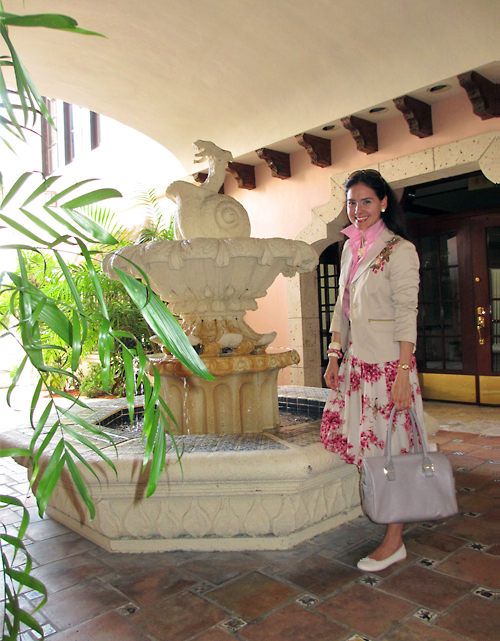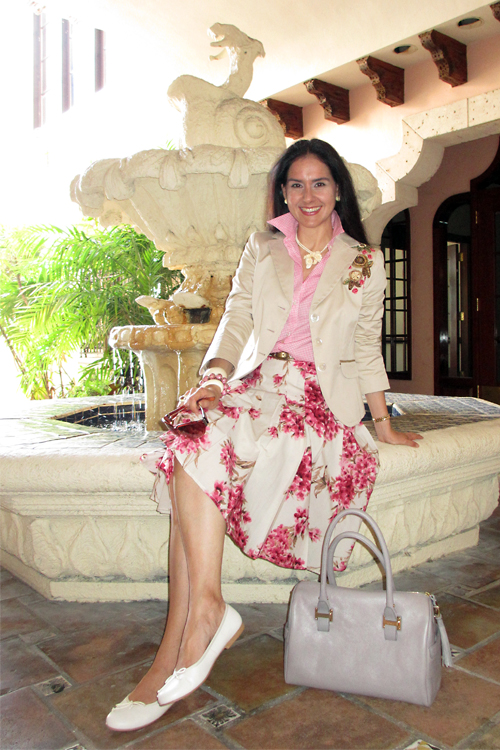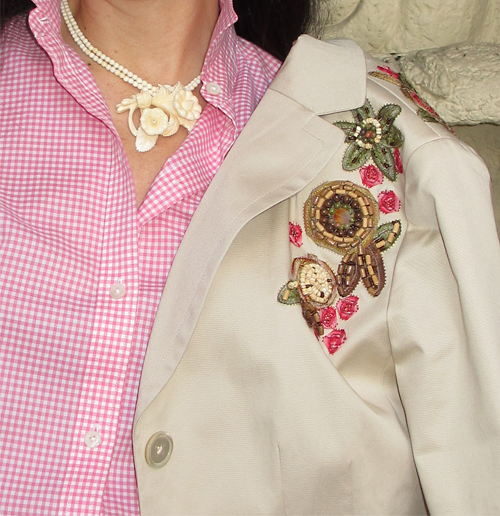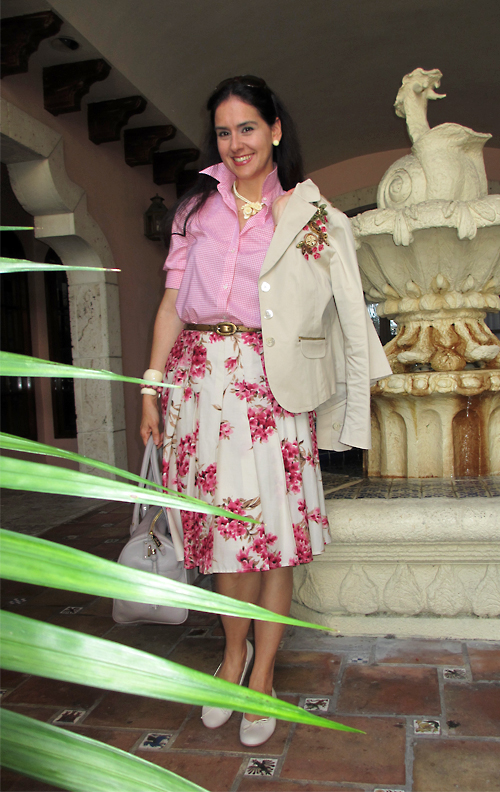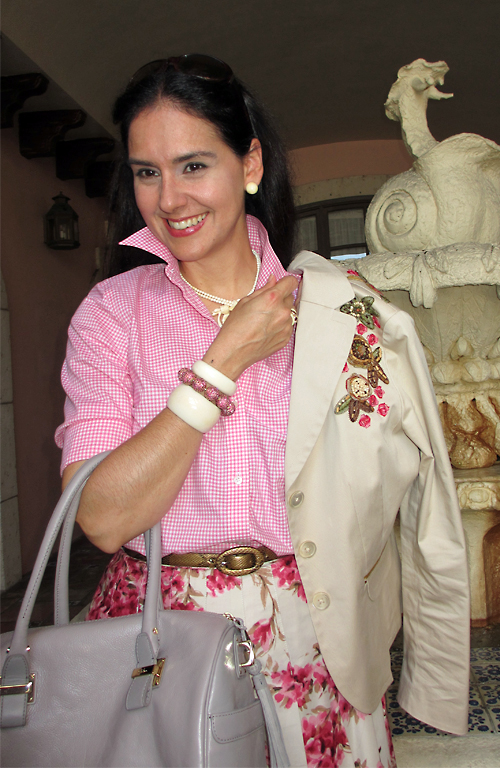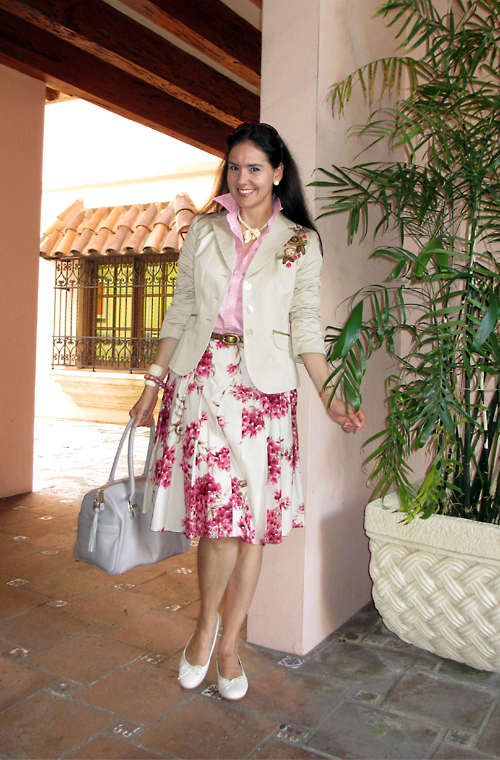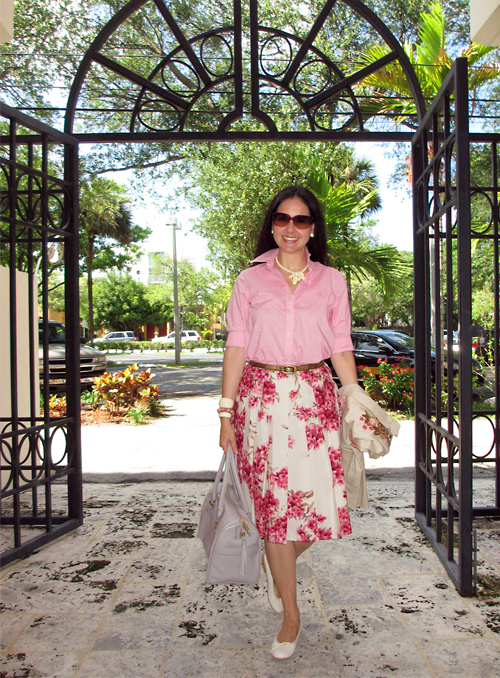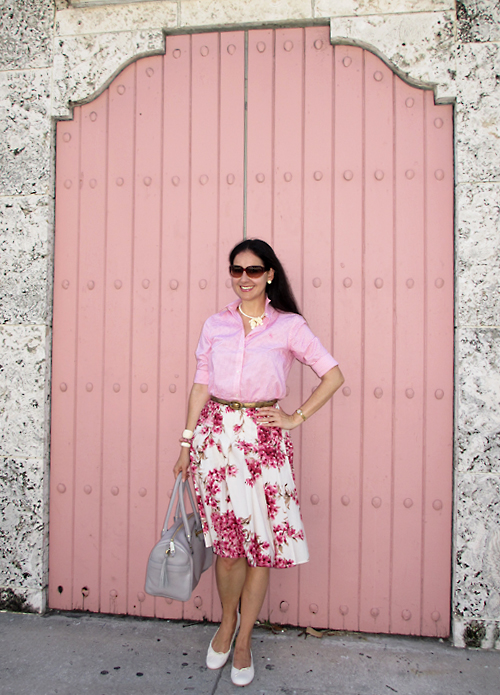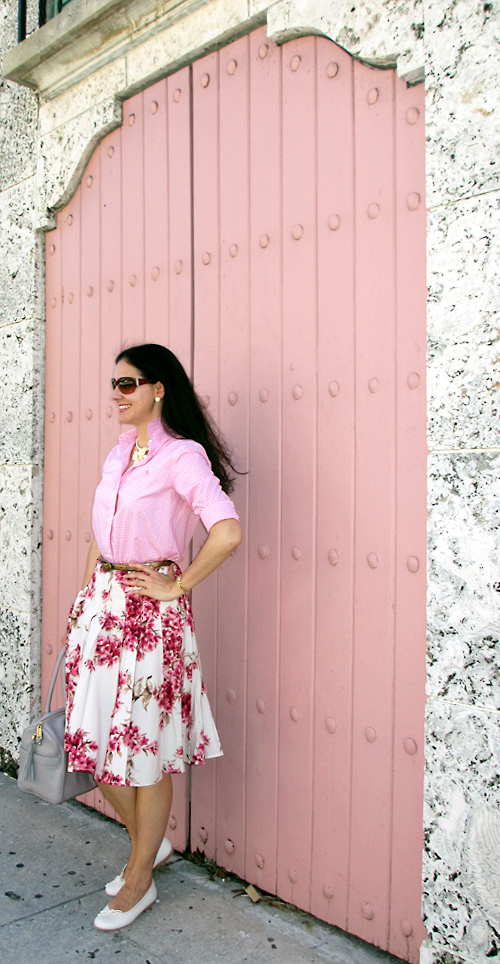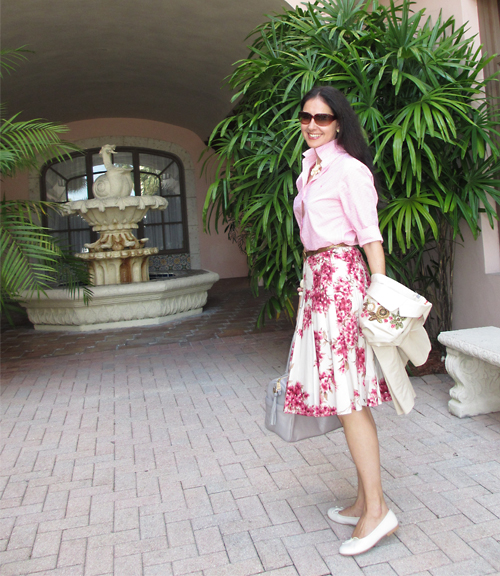 Este conjunto es indudablemente primaveral! La semana pasada una encantadora amiga nos invitó a mi mamá y a mi a un delicioso almuerzo en su casa. El dia estuvo bastante cálido, asi que estuve la mayor parte del tiempo sin la chaqueta, pero no antes de tomarme algunas fotos con ella. Por supuesto que cuando pasé por esta casa histórica que es rosada, supe que no encontraría mejor sitio para sacarlas!
Hay un par de cosas que quiero mencionar sobre este conjunto. La primera es que fue divertido mezclar el estampado de flores de la falda con los cuadritos Vichy de la blusa. Creo que la combinación se veía bastante dulce porque todo estaba dentro de la misma familia de colores. Al principio pensé que la blusa no se vería bien con el bordado de la chaqueta pero, al final, también combinó de manera agradable. Por eso no duden en combinar estampados con cuadros o con rayas! Mientras haya algo que una a las dos cosas, funcionarán bien!
Otra cosa que quería resaltar es el bolso/cartera. Es de color lavanda, y ya se que no llevo nada puesto de ese color, pero aún asi, funciona! Pude haberme puesto un bolso crema o rosado, incluso marrón, pero en un arrebato de inspiración me decidí al final por éste, y decidí que este color traía un toque inesperado de color y, sin embargo, complementaba los tonos pasteles del conjunto.
Finalmente quería mencionar los zapatos. Algunas veces es tan importante poner atención a los colores y siluetas, como a la funcionalidad del conjunto, el sitio donde va a lucirse y la hora. Me pude haber puesto tacones, pero preferí usar bailarinas planas  porque era un almuerzo informal entre amigas temprano en el dia. Haber usado tacones hubiera hecho el conjunto mucho mas formal y menos sencillo/casual.
Aqui y aqui tienes otros dos conjuntos para los cuales me puse esta blusa.

Me Puse: 
Blusa de Cuadros Vichy en Algod

ó

n: Lauren by Ralph Lauren

Chaqueta Tipo Sastre de Algod

ó

n Bordada con Cintas de Seda y Cuentas de Madera: Ann Taylor

Falda Plisada de Algod

ó

n: Ann Taylor

Cintur

ó

n de Piel de Falsa Pit

ó

n: Lauren by Ralph Lauren

Bailarinas de Piel: Brotes de El Corte Ingl

é

s en Espa

ñ

a

Bolso/Cartera de Piel: Cole-Haan

Pendientes/Zarcillos: De marfil antiguo de los años 30

Collar: Cuentas de marfil antiguo de los años 30 y colgante tallado a mano, también de marfil de los años 30

Anillo/Sortija: De oro, granate, topacio Amarillo y diamantes; dos bandas de marfil antiguo de los años 30

Pulsera/Brazalete: Dos son de marfil antiguo de los años 30 y la otra es de bolitas de estrás rosado de Ann Taylor

Reloj de Oro y Madreperla: Fendi

Lentes/Gafas de Sol: Ralph by Ralph Lauren

Perfume: So de la Renta, (

aqui

) Mucha gente me pregunta qué perfume uso. Ésta ha sido mi fragancia por bastante tiempo. Encuentro que es fresca y coqueta, ligera y femenina, y muy clásica. Cuando busqué la descripción en la página de Oscar de la Renta, quedé gratamente identificada con lo que decía: "Para la mujer espontánea y energética que reparte su entusiasmo dondequiera que va. Una fragancia radiante y chispeante." Y también, "So de la Renta se deleita en el lado elegante, inesperado y divertido del tipo de mujer que representa Oscar de la Renta."
Share it in your...
Compártelo en tu...
Want to leave me a comment? | ¿Quieres dejarme un comentario? [+]
Comments | Comentarios