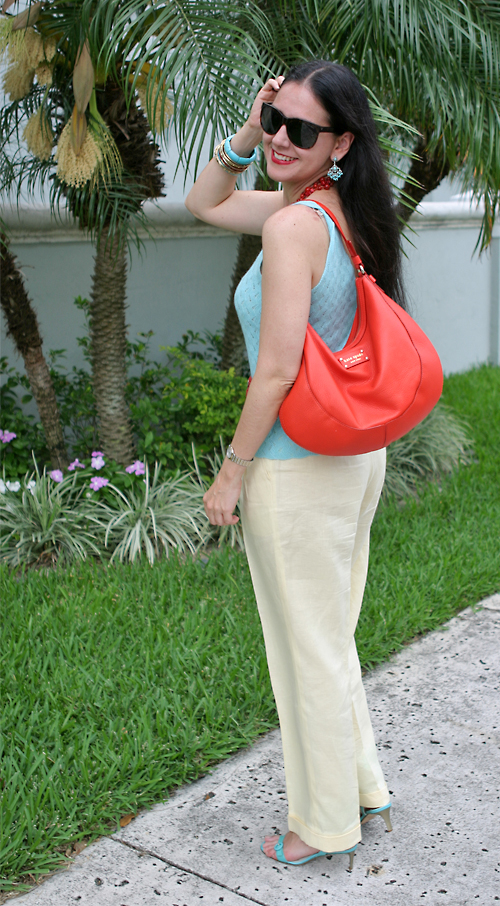 I have gotten to use these pants quite a bit lately, as you can see here and here. Their lemony color reminds me of all sorts of cocktail color combinations. Today, I'm mixing it with turquoise blue and punchy orangey-red.
You probably have noticed that I wear turquoise a lot. I find its hue very easy to incorporate as an accent in many outfits. It is a stone I love for a variety of reasons, and I consider it a true American gem because it is so linked to Native Americans. Interestingly, one of the countries producing some of the best turquoise in the world is Iran. Nature connects countries and cultures in unexpected ways, doesn't it? Its name is a Gallicism from the word Turkey, and although there are no turquoises in Turkey, Turkish merchants were the first to get it from Iran and introduce it in Europe, where it garnered much demand.
On the other hand, I'm wearing coral too, which is often combined with turquoise. Coral is very important in Spanish culture, and the most typical jewelry in Spain has often been carved from fiery red corals. Mixing the two feels very "me". That is why, when I found this belt years ago, I needed to purchase it. It is not only a piece of art, but a conversation piece all in one!
I Wore: 
Cashmere Sweater: John Laing of Hawick

Linen Pants: Ellen Tracy

Patent Leather Sandals: Talbots (refashioned by me with ribbons as seen in this video)

Leather Bag: Kate Spade

Coral Beads and Inlaid Turquoise Belt: No brand, bought many years ago

Chandelier Earrings: Sterling silver and turquoise

Necklaces: Graduated, three-tier sterling silver and coral

Ring: Sterling silver, turquoise, and azurite; two jade bands

Bracelets: Turquoise; some brass bangles from a set by Amrita Singh; carved red jade bangle

Gold and Stainless Steel Watch: Raymond Weil, Toccata

Sunglasses: Ralph Lauren Collection

Perfume: So de la Renta, (

here

) Many people ask me the kind of perfume I wear. This has been my signature scent for quite a while. I find that it is both fresh and flirty, light and feminine, and very classic. When I looked online, I was pleasantly identified by the description in the Oscar de la Renta site: "For the spontaneous, energetic woman who spreads her enthusiasm everywhere she goes. A radiant, sparkling scent." And also, "So de la Renta revels in the elegant, unexpected, playful side of the Oscar woman."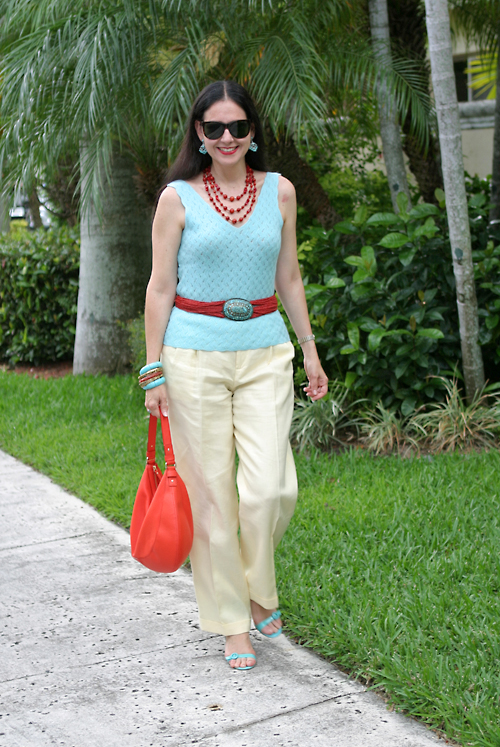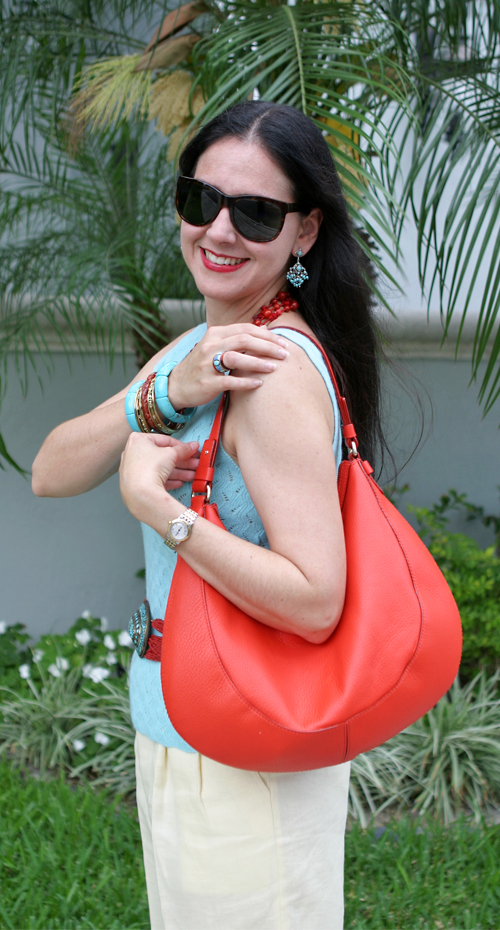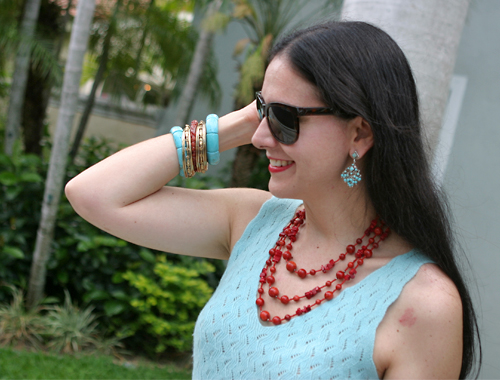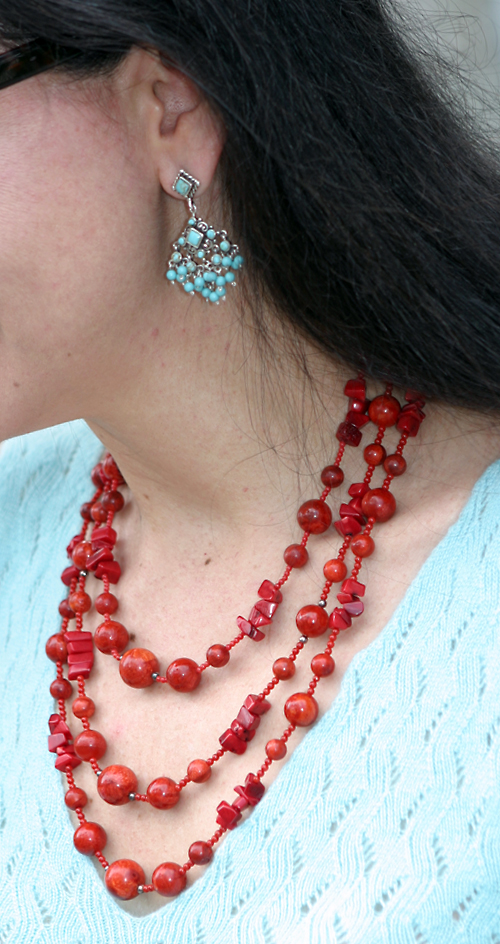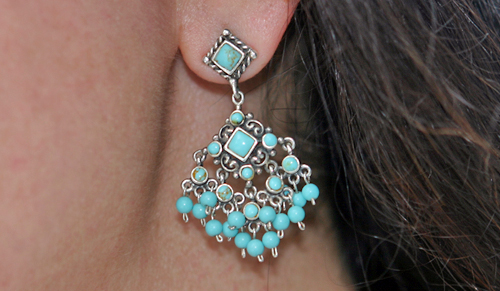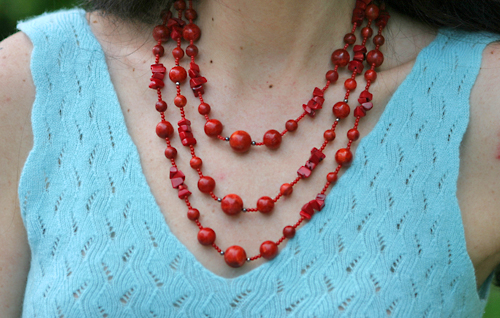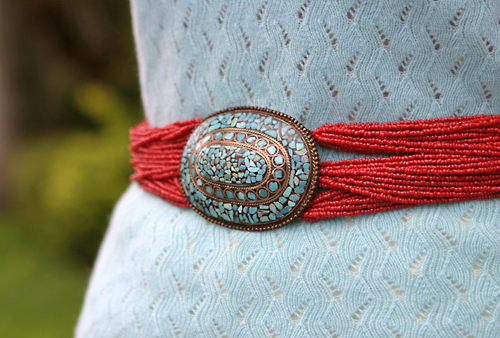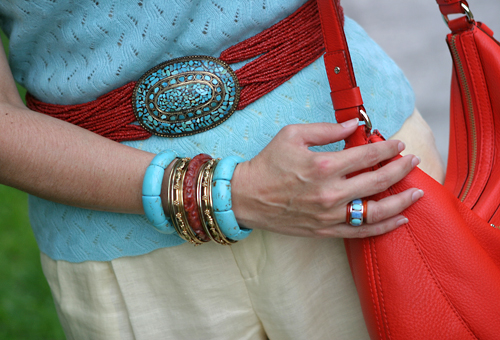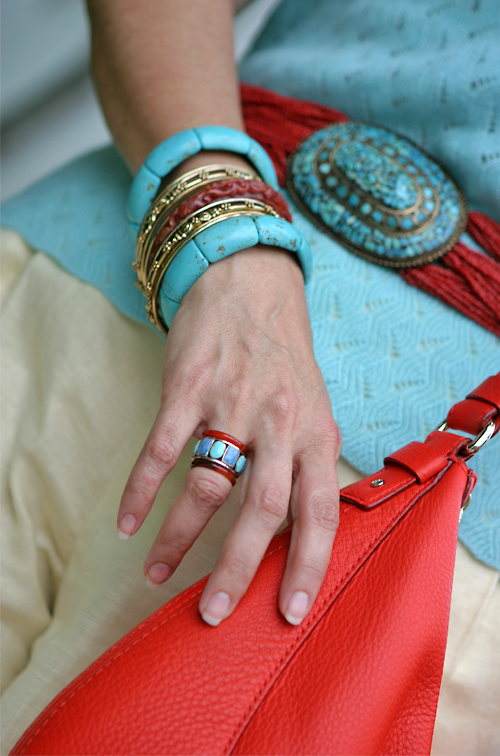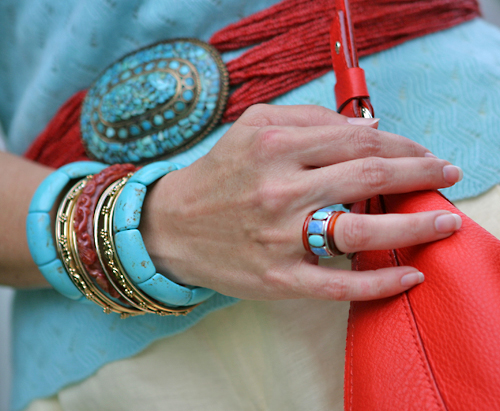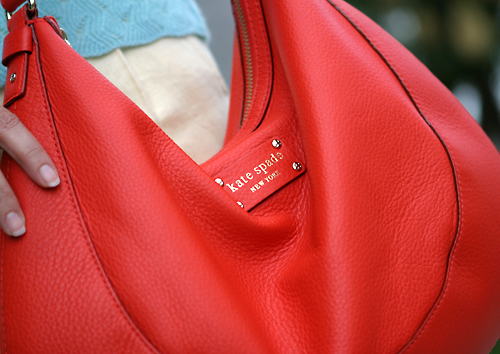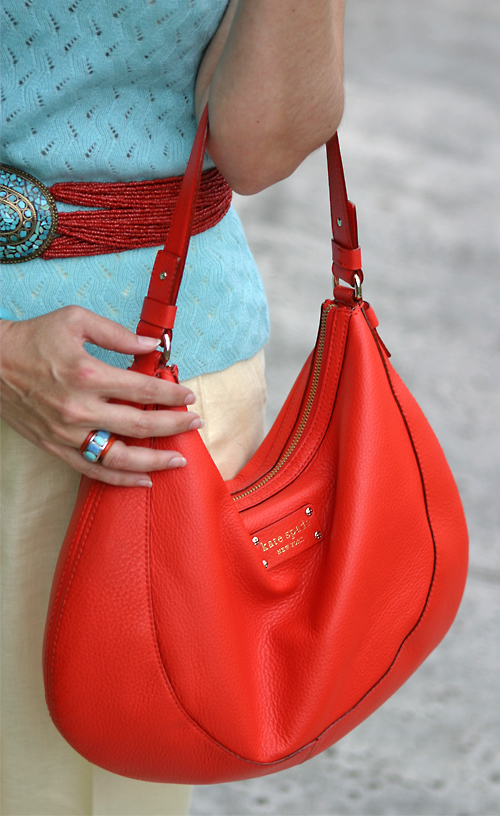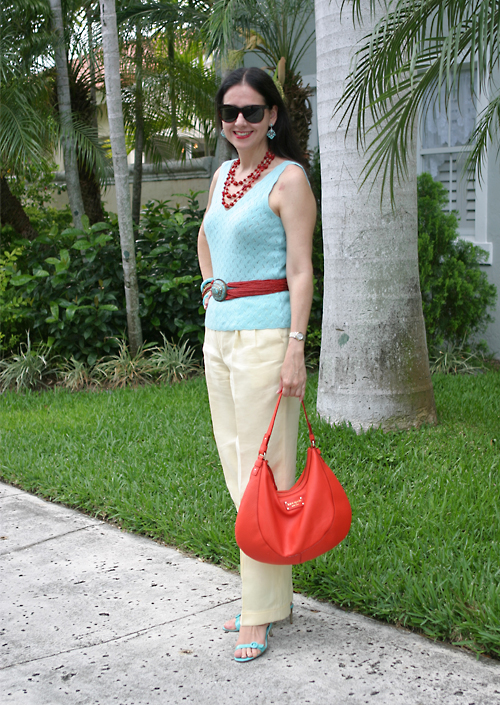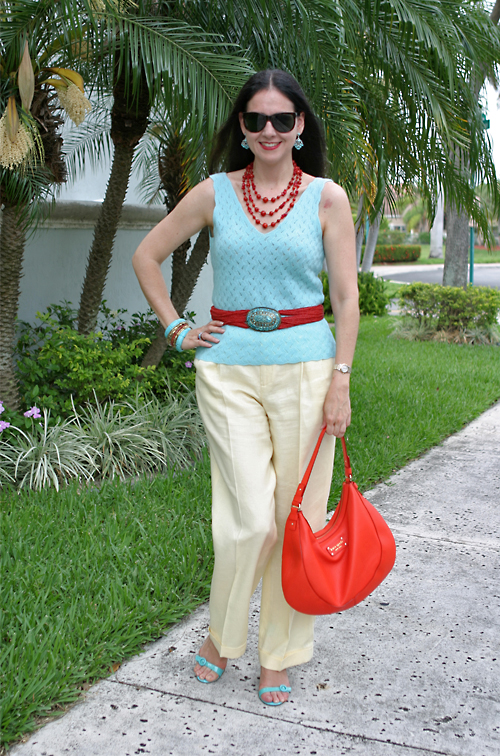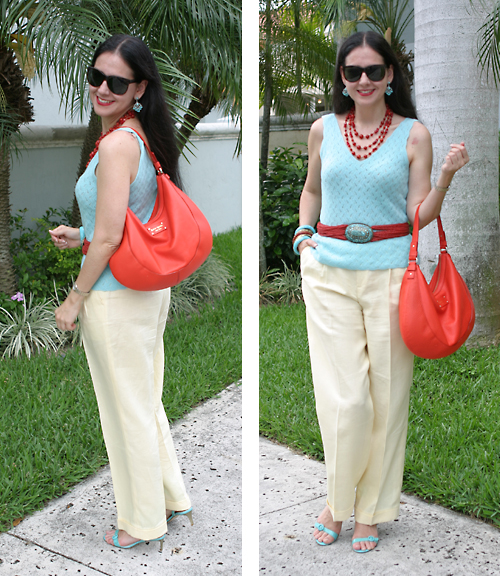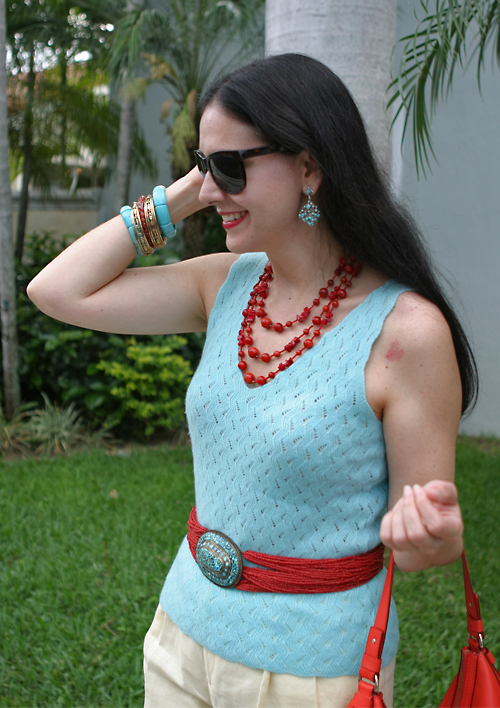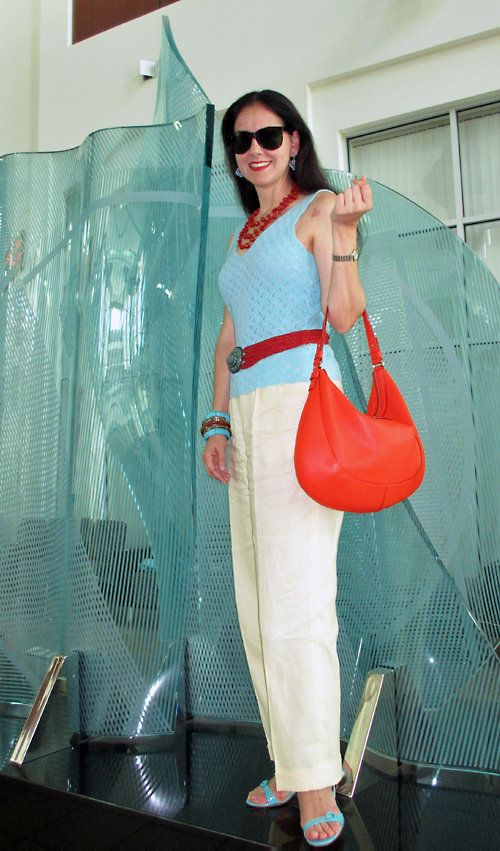 Me he encontrado luciendo estos pantalones bastante últimamente, como pueden ver aqui y aqui. Su color limón pálido me recuerda a un montón de combinaciones cocteleras. Hoy, los estoy mezclando con azul turquesa y rojo anaranjado.
Probablemente hayan notado que suelo utilizar bastantes turquesas. Encuentro que su color es fácil de incorporar como acento en muchas combinaciones. Es una piedra que me encanta por muchas razones, y que considero verdaderamente americana por estar tan ligada a los indios americanos. Interesantemente, uno de los paises que producen las mejores turquesas del mundo es Irán. La naturaleza conecta paises y culturas de la manera mas inesperada, verdad? Su nombre es un galicismo de la palabra Turquía, y aunque en Turquía no hay turquesas, fueron los comerciantes turcos los primeros en vender turquesas de Irán en Europa, donde alcanzaron mucha demanda.
Por otro lado, también luzco coral, que frecuentemente se combina con turquesa. El coral es muy importante para la cultura española, y las joyas mas típicas de España frecuentemente estan talladas en coral. Mezclar ambos es como muy "yo". Es por eso que cuando encontré este cinturón hace muchos años, tuve que comprarlo. No sólo es una obra de arte, sino que también termina siendo siempre tema de conversación!
Me Puse: 
Su

é

ter de Cashmere: John Laing of Hawick

Pantalones de Lino: Ellen Tracy

Sandalias de Piel de Patente: Ann Taylor (arregladas por mi con lazos como muestro en este video)

Bolso/Cartera de Piel: Kate Spade

Cintur

ó

n de Corales y Hebilla con Incrustaciones de Turquesa: Sin marca, comprados hace muchos a

ñ

os

Pendientes/Zarcillos: De plata esterlina y turquesa

Collares: De plata y coral, de tres vueltas graduadas

Anillo/Sortija: De plata esterlina, turquesa y azurite; dos bandas de jade rojo

Pulseras/Brazaletes: De turquesa; de bronce que son parte de un set de Amrita Singh; de jade tallado

Reloj de Oro y Acero: Raymond Weil, Toccata

Lentes/Gafas de Sol: Ralph Lauren Collection

Perfume: So de la Renta, (

aqui

) Mucha gente me pregunta qué perfume uso. Ésta ha sido mi fragancia por bastante tiempo. Encuentro que es fresca y coqueta, ligera y femenina, y muy clásica. Cuando busqué la descripción en la página de Oscar de la Renta, quedé gratamente identificada con lo que decía: "Para la mujer espontánea y energética que reparte su entusiasmo dondequiera que va. Una fragancia radiante y chispeante." Y también, "So de la Renta se deleita en el lado elegante, inesperado y divertido del tipo de mujer que representa Oscar de la Renta."
Share it in your...
Compártelo en tu...
Want to leave me a comment? | ¿Quieres dejarme un comentario? [+]
Comments | Comentarios