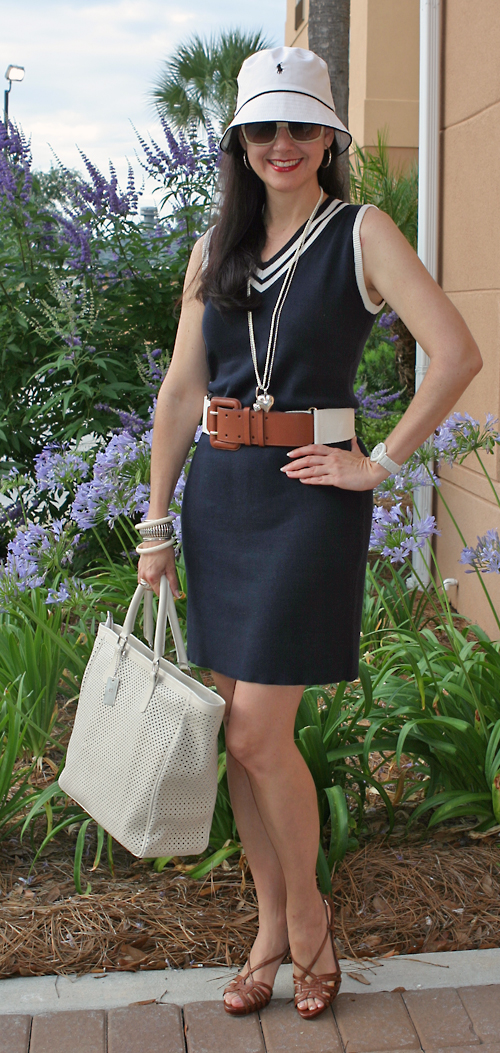 As I mentioned yesterday, this weekend I went on a road trip, so I am posting the outfits I wore, which are all relaxed, weekend-perfect combinations that are casual, yet still look put together.
This navy and white cricket sweater dress is very old, comfortable, and seldom worn, but as I found out, perfect for travel! Because it is a knit, it doesn't really wrinkle (which is great for long car rides!) and can stylishly transition from day to evening. That is why knits are such a great choice for travel.
Because it is a piece that can look less than modern by itself, I tried to update it with the wide, summery belt; the quirky bucket hat; and the antique ivory and sterling silver jewelry. Although I wore high-heeled sandals, it would have looked equally cute with flats or even with basic white sneakers without socks, which were two options I considered (and tried!). Ultimately, however, I decided to move away from emphasizing the "sporty" associations by choosing the heels instead.
How would you have styled it: with heels, like I did, or with ballerina flats or white sneakers? Tell me in the comments!
Unsure how to wear a bucket hat? Here and here are two other ways in which I've worn mine!
I Wore: 
Cotton and Silk Cricket Knit Dress: Very old, label fell off

Cotton and Leather Belt: Cole-Haan

Leather Sandals: Cole-Haan

Cotton Bucket Hat: Ralph Lauren Blue Label

Pierced Leather Bag: Innu

é

Earrings: Sterling silver hoops

Ring: Two antique ivory bands from the 30s and a sterling silver one

Bracelets: Sterling silver cuff; two antique ivory bangles from the 30s

Necklaces: Antique sterling silver heart on chain; two sterling silver hearts on antique ivory bead chain from the 30s

Ceramic, Diamond, and Mother-of-Pearl Watch: Anne Klein New York

Sunglasses: Kate Spade

Perfume: So de la Renta, (

here

) Many people ask me the kind of perfume I wear. This has been my signature scent for quite a while. I find that it is both fresh and flirty, light and feminine, and very classic. When I looked online, I was pleasantly identified by the description in the Oscar de la Renta site: "For the spontaneous, energetic woman who spreads her enthusiasm everywhere she goes. A radiant, sparkling scent." And also, "So de la Renta revels in the elegant, unexpected, playful side of the Oscar woman."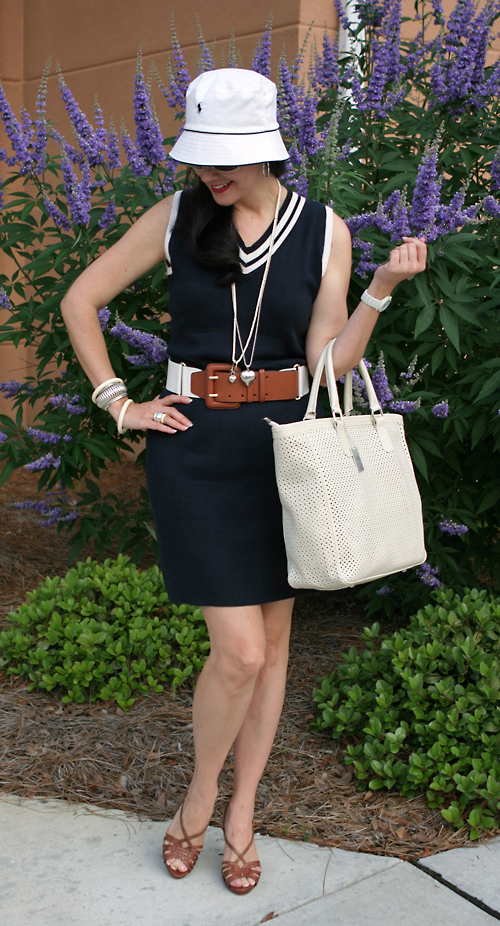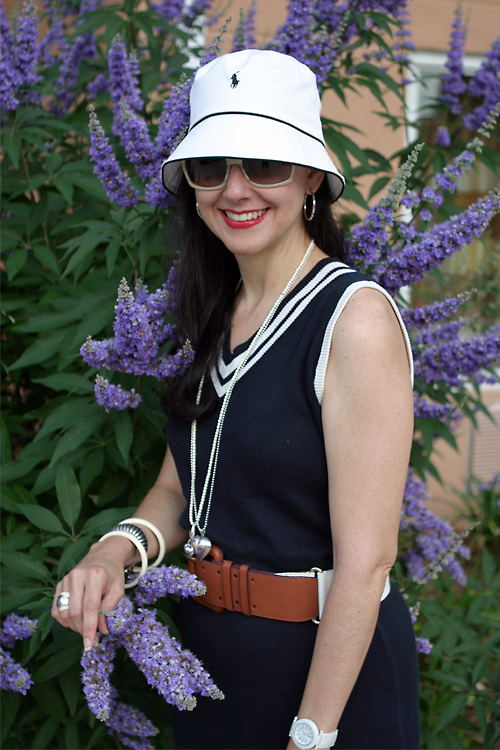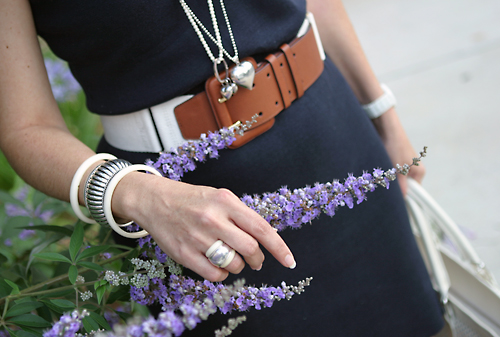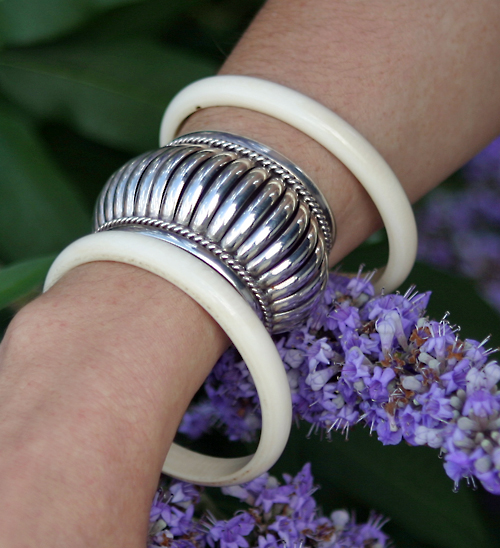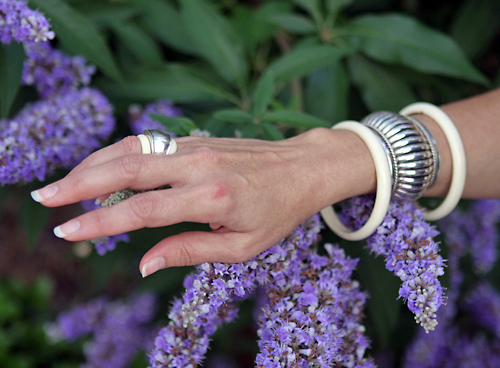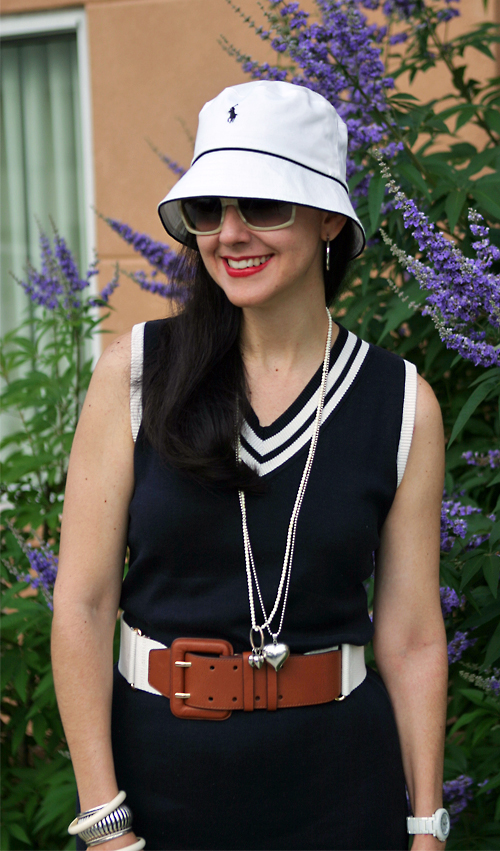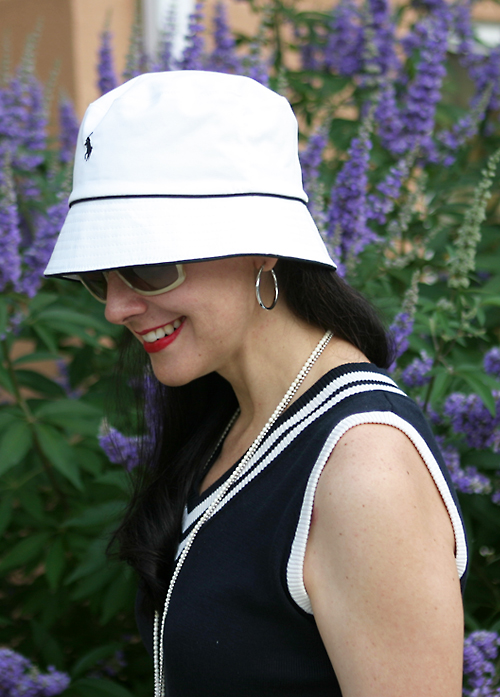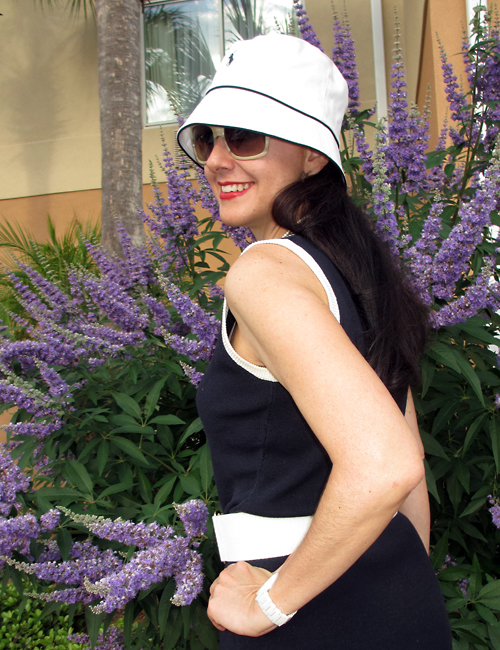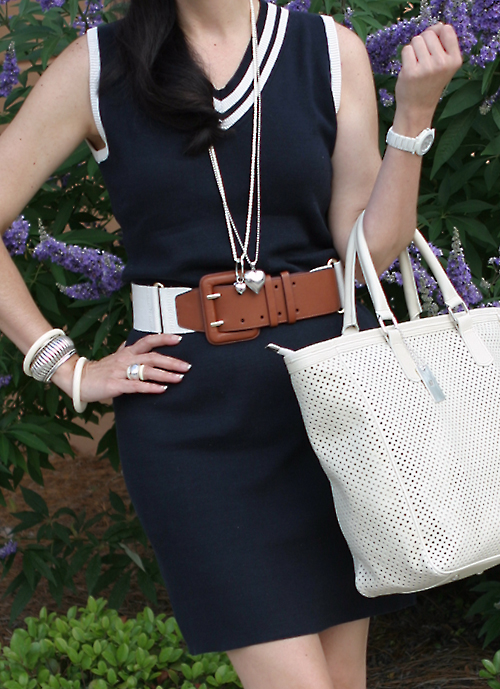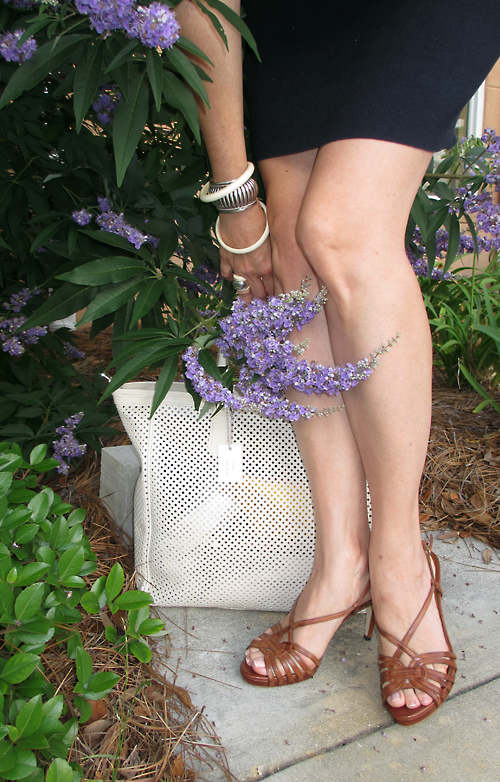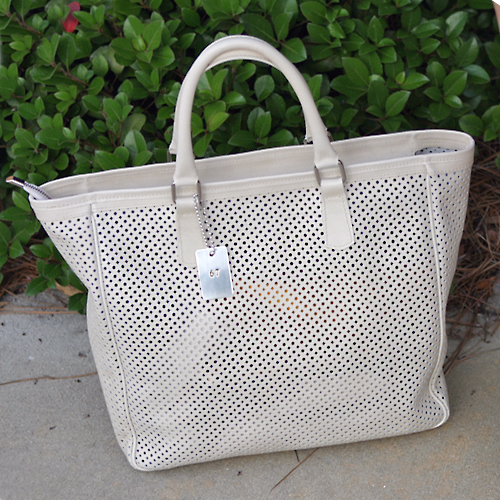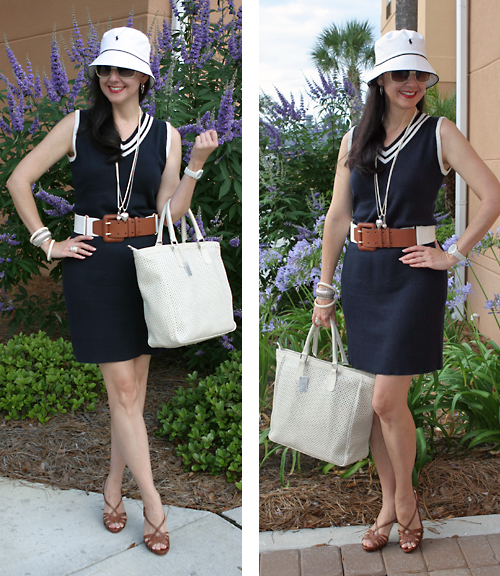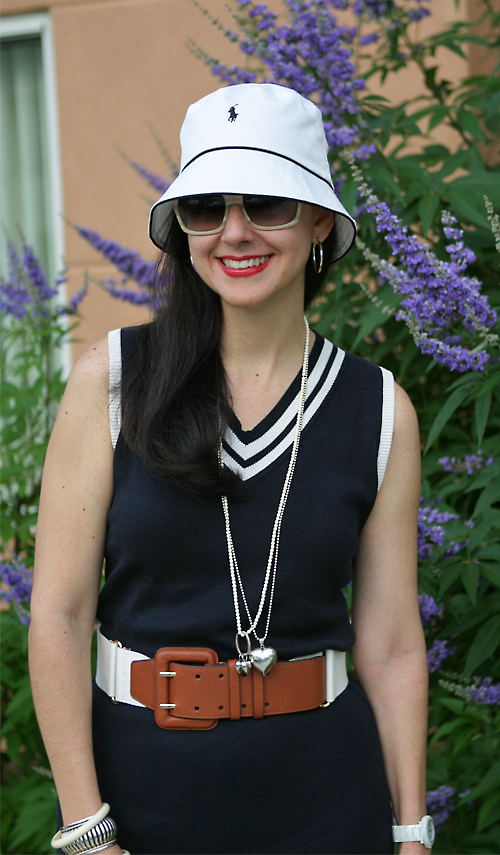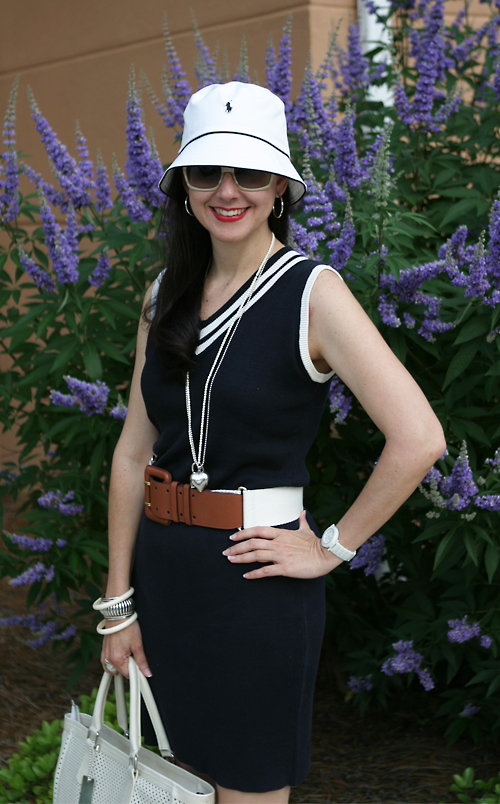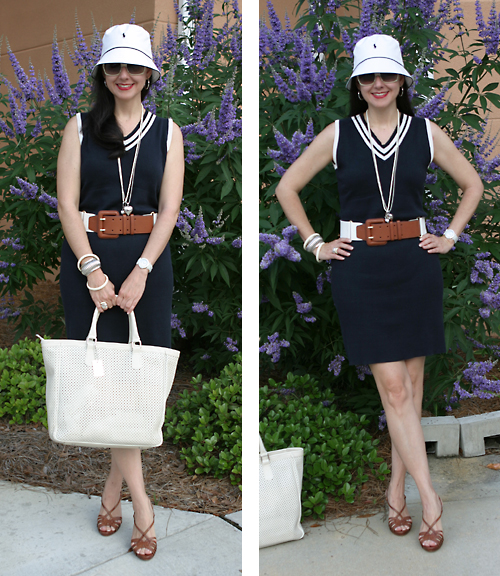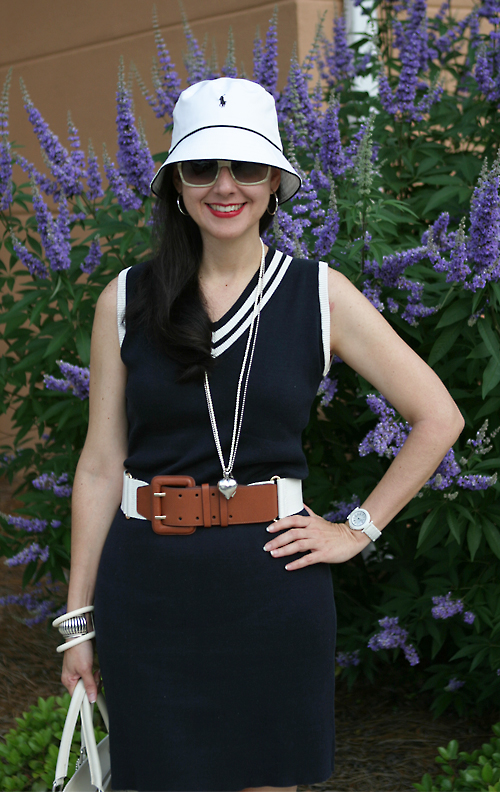 Como mencioné ayer, este fin de semana me fui de viaje por carretera, asi que estoy poniendo los conjuntos que me puse esos dias. Todas son combinaciones relajadas, perfectas para un fin de semana y, aunque son casuales, también se ven arregladas.
Este vestido tejido estilo cricket en blanco y azul marino me lo pongo muy poco, aunque es cómodo, de hace muchísimo tiempo y, como descubrí estos dias, perfecto para viajar! Como es tejido, realmente no se arruga (lo cual es fantástico para viajes largos en automóvil!) y pasa elegantemente del dia a la noche. Es por eso que las prendas tejidas son tan indicadas para los viajes.
Debido a que ésta es una pieza que por si misma puede verse poco moderna, la traté de actualizar con un cinturón ancho muy veraniego; el sombrero tipo pescador; y las joyas de plata esterlina y marfil antiguo. Aunque me puse sandalias de tacón, se hubiera visto igualmente bien con zapatillas planas o incluso con zapatos de goma deportivos blancos (no de deporte!) sin medias/calcetines. Éstas fueron dos opciones que consideré (y me probe!) pero al final me decidí por las sandalias de tacón porque no quería enfatizar mucho las asociaciones "deportivas" del vestido.
Cómo lo hubieras combinado tu: con tacones, como yo, o con zapatillas planas o zapatos de goma? Déjame saber en los comentarios!
Tienes dudas sobre cómo lucir un sombrero de estilo pescador? Aqui y aqui puedes ver como he combinado yo el mio en otras ocasiones!
Me Puse: 
Vestido Tejido de Algod

ó

n y Seda Estilo Cricket: De hace mucho y sin marca

Cintur

ó

n de Algod

ó

n y Piel: Cole-Haan

Sandalias de Piel: Cole-Haan

Sombrero Tipo Pescador de Algod

ó

n: Ralph Lauren Blue Label

Bolso/Cartera de Piel Perforada: Innu

é

Pendientes/Zarcillos: Aros/Argollas de plata esterlina

Anillo/Sortija: De plata esterlina y dos bandas de marfil antiguo de los años 30

Pulseras/Brazaletes: Una de plata esterlina y dos de marfil antiguo de los años 30

Collares: Corazón antiguo de plata esterlina en cadena de plata esterlina; dos corazones de plata esterlina en cadena de cuentas de marfil antiguo de los años 30

Reloj de Cerámica, Brillantes y Madreperla: Anne Klein New York

Lentes/Gafas de Sol: Kate Spade

Perfume: So de la Renta, (

aqui

) Mucha gente me pregunta qué perfume uso. Ésta ha sido mi fragancia por bastante tiempo. Encuentro que es fresca y coqueta, ligera y femenina, y muy clásica. Cuando busqué la descripción en la página de Oscar de la Renta, quedé gratamente identificada con lo que decía: "Para la mujer espontánea y energética que reparte su entusiasmo dondequiera que va. Una fragancia radiante y chispeante." Y también, "So de la Renta se deleita en el lado elegante, inesperado y divertido del tipo de mujer que representa Oscar de la Renta."
Share it in your...
Compártelo en tu...
Want to leave me a comment? | ¿Quieres dejarme un comentario? [+]
Comments | Comentarios