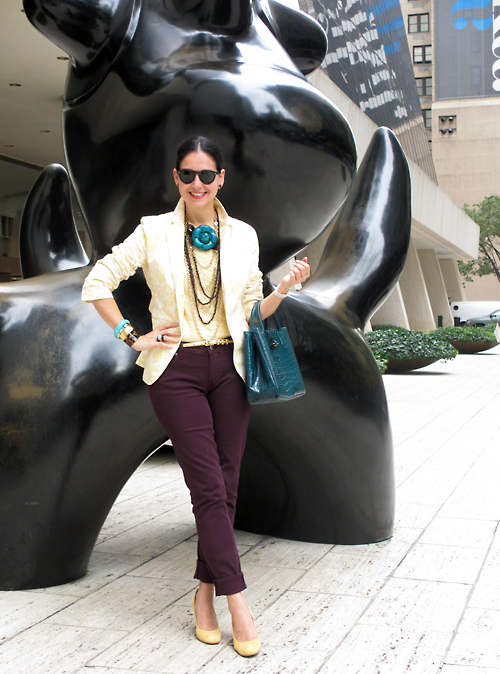 This is a transitional outfit, mostly because of the colors. The textures are still light, but the sunny yellow, paired with the deep burgundy of the jeans, and the turquoise touches, hint to fall.
This is also what I wore to visit Ground Zero. Every time I have gone to visit it, it never ceases to touch me deeply. It's a place where you can feel the worst and the best of humanity at the same time. Every time I go, I pray that we never get to experience such tragedy again.
The new towers are underway, and the memorial, of course is finished. I wonder whether the workers (seen in the picture during their lunch break) realize how much they are a part of history. The church that appears in the pictures is the one that was next to the towers and was miraculously unharmed. It served as refuge for the thousands of rescue troops, and is filled with keepsakes from that terrible time. The other church, the oldest Catholic parish in New York state, was also unharmed, except for the cross on top. Another eerily touching record of that day.
For a much-needed pick-me-up after Ground Zero, I went to Bergdorf Goodman for lunch, which looked amazingly beautiful in preparation for Fashion's Night Out. The Plaza, as usual, also was beautiful.
You can also see how I styled this blazer before here.
Coming up tomorrow: the historic city of Cape May in the coast of Atlantic City!
I Wore: 
Cotton Twill Blazer: J. Crew
Cashmere Cable-Knit Sweater: Geneva Cashmere
Leather Flower Brooch with Grosgrain Ribbon: No brand
Cotton Jeans: Paige
Snakeskin Embossed Leather Wrap Belt: Lauren by Ralph Lauren
Suede Shoes: Ann Taylor
Crocodile-Embossed Leather Bag: Longchamp, Roseau (here) 
Earrings: Gold and smoky topaz
Rings: Two antique tortoise shell bands; sterling silver and turquoise
Bracelets: Gold; gold and turquoise; faux tortoise shell cuff; turquoise
Necklaces: Antique gold-plated brass chain; garnet rope
Ceramic, Diamond, and Mother-of-Pearl Watch: Anne Klein New York
Sunglasses: Ralph Lauren Purple Label (here)
Perfume: So de la Renta, (here) Many people ask me the kind of perfume I wear. This has been my signature scent for quite a while. I find that it is both fresh and flirty, light and feminine, and very classic. When I looked online, I was pleasantly identified by the description in the Oscar de la Renta site: "For the spontaneous, energetic woman who spreads her enthusiasm everywhere she goes. A radiant, sparkling scent." And also, "So de la Renta revels in the elegant, unexpected, playful side of the Oscar woman."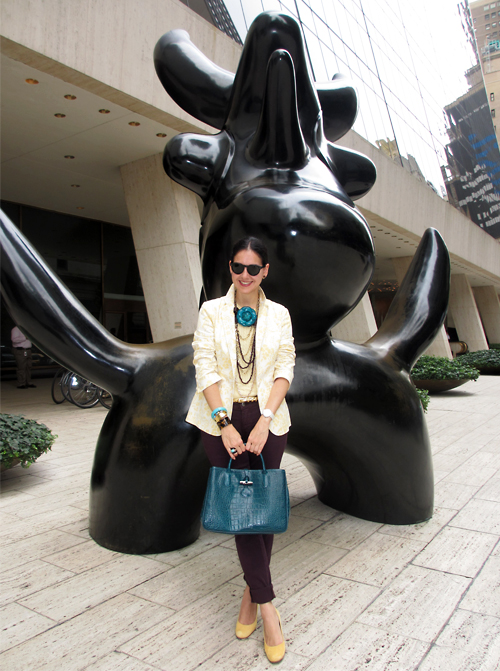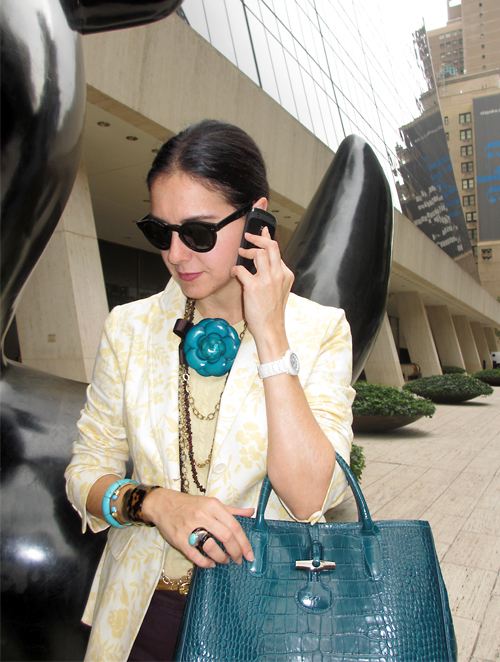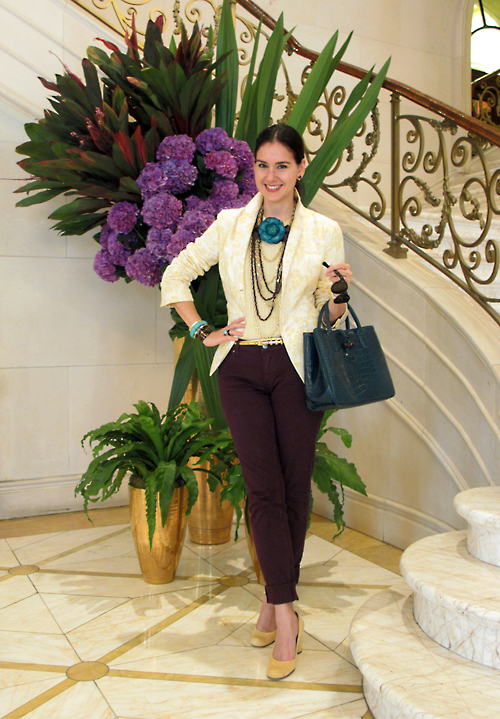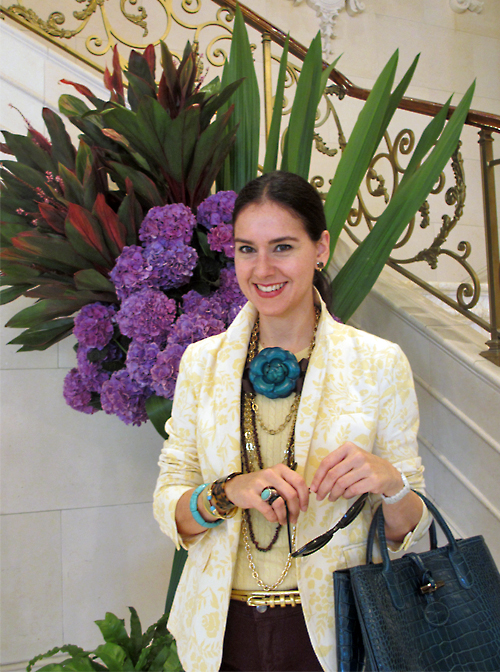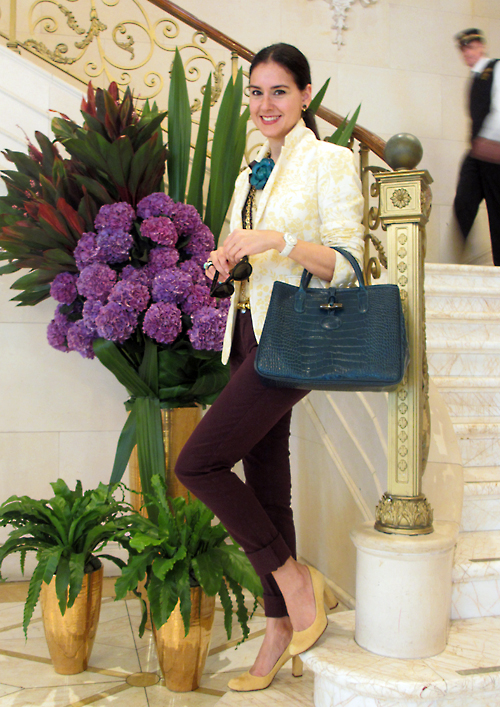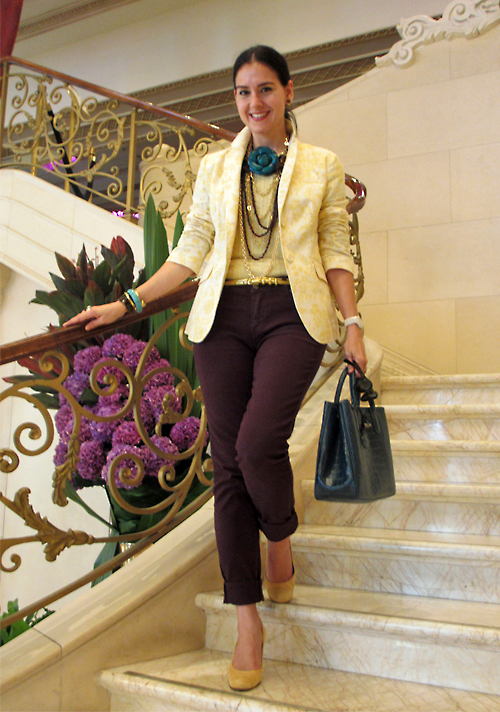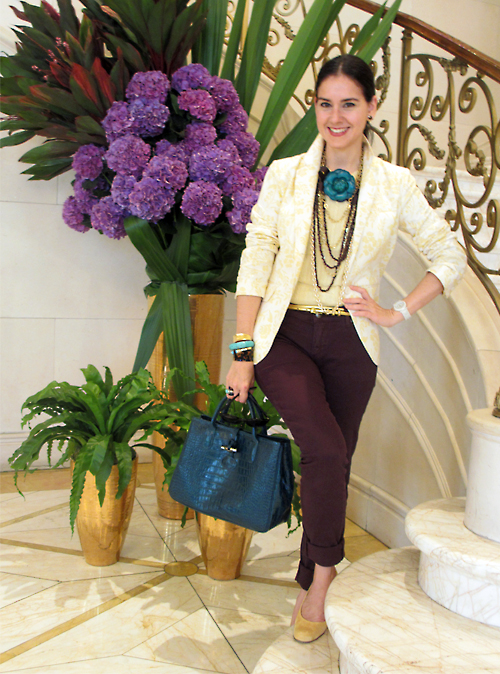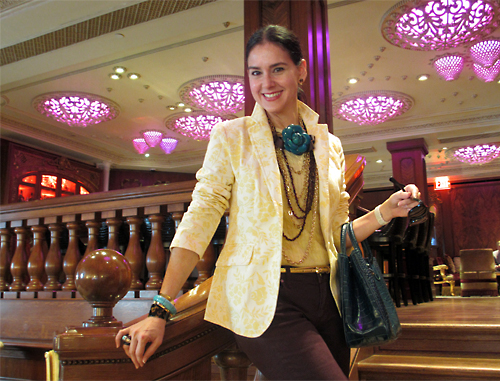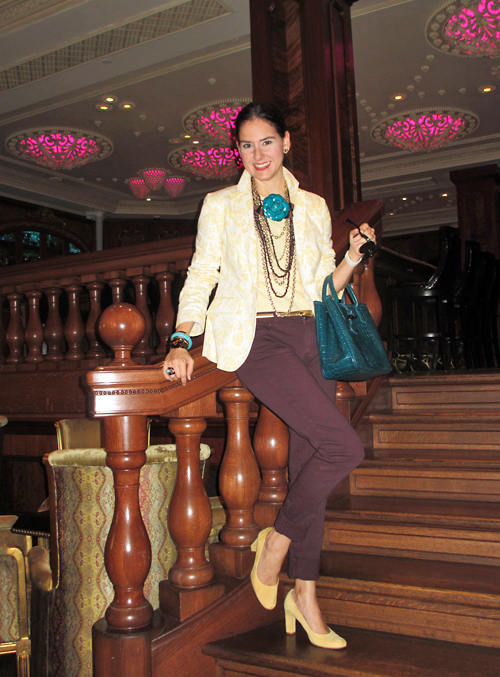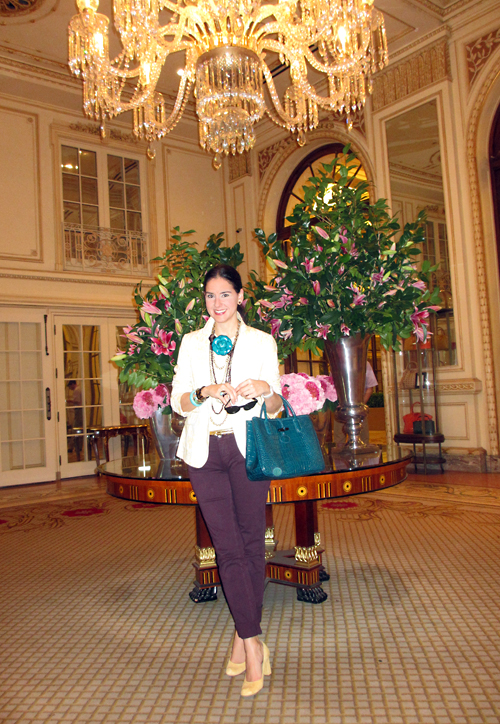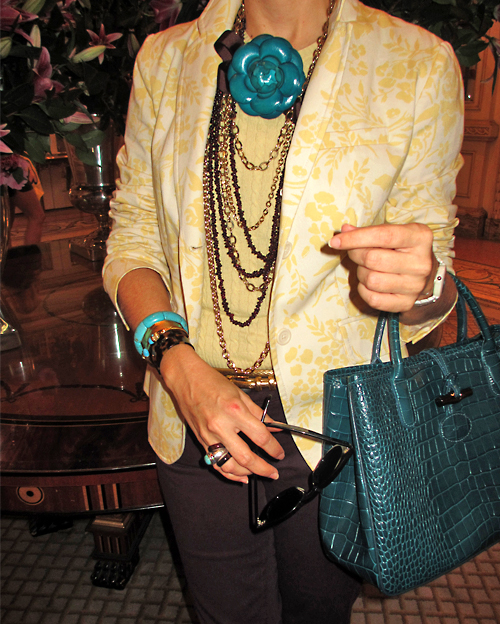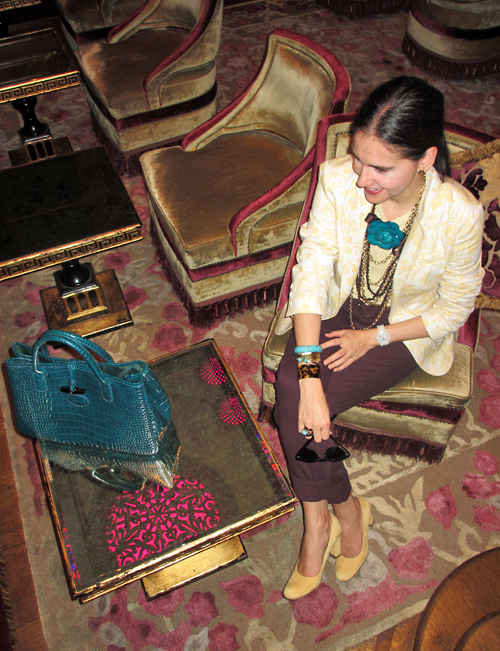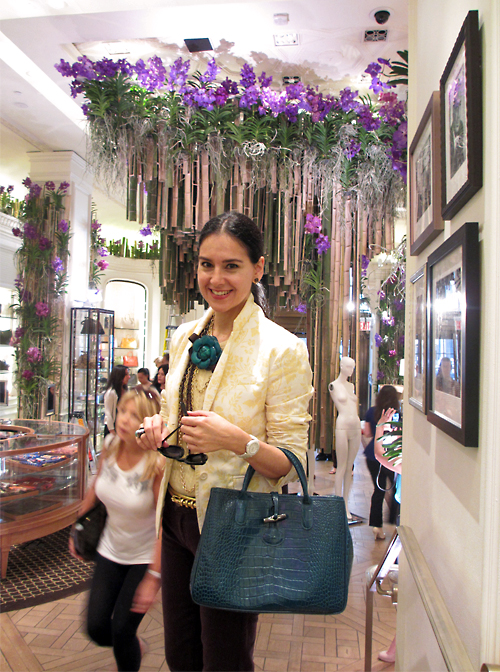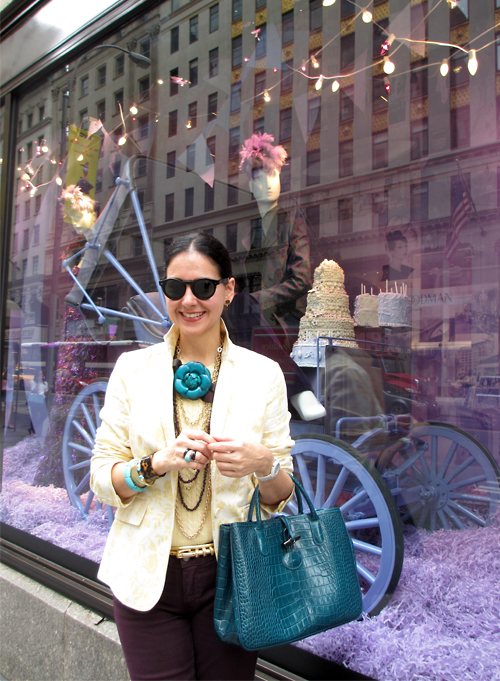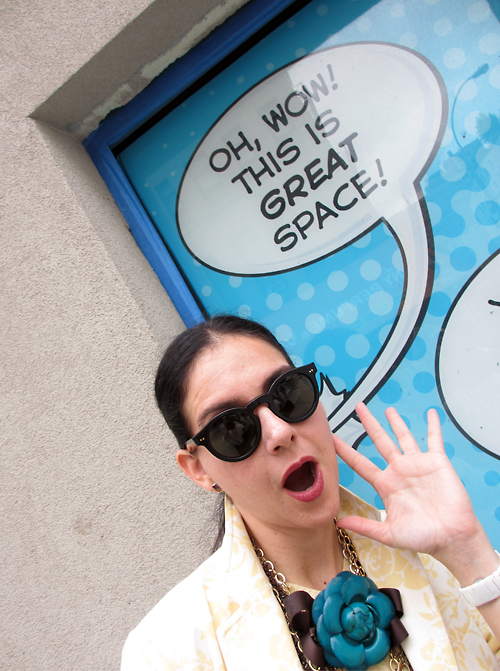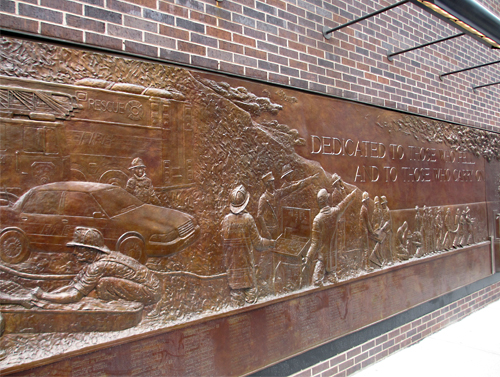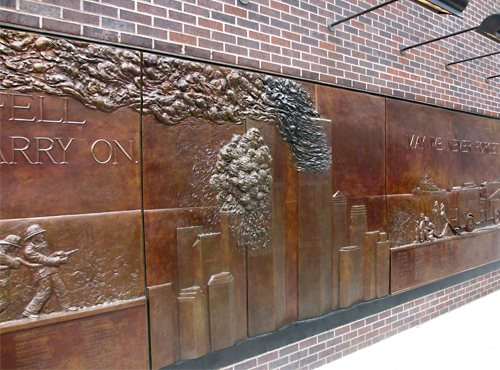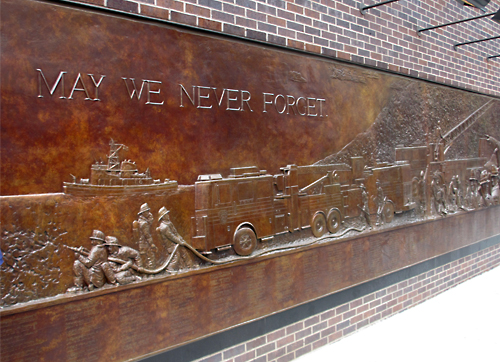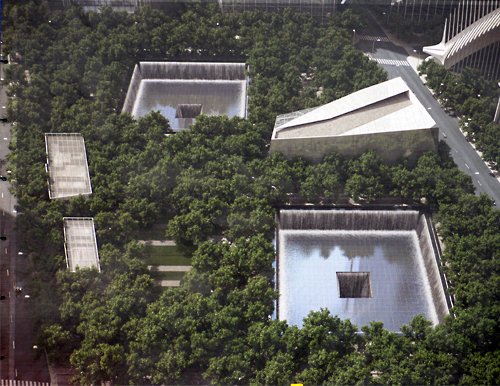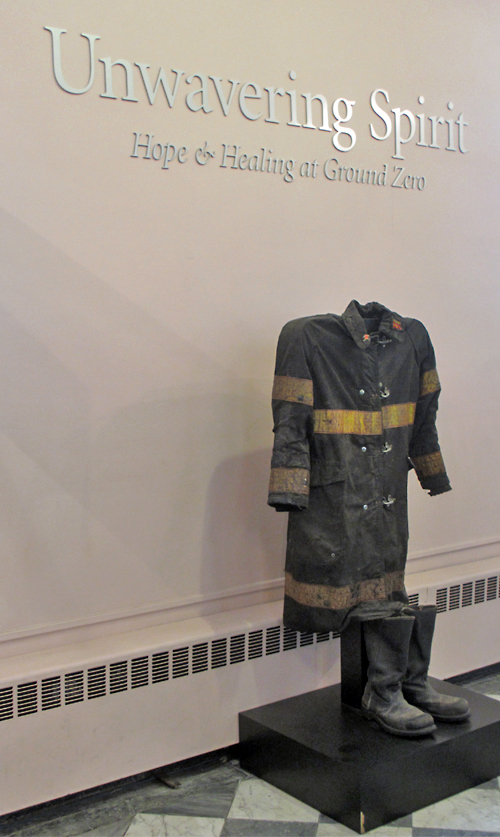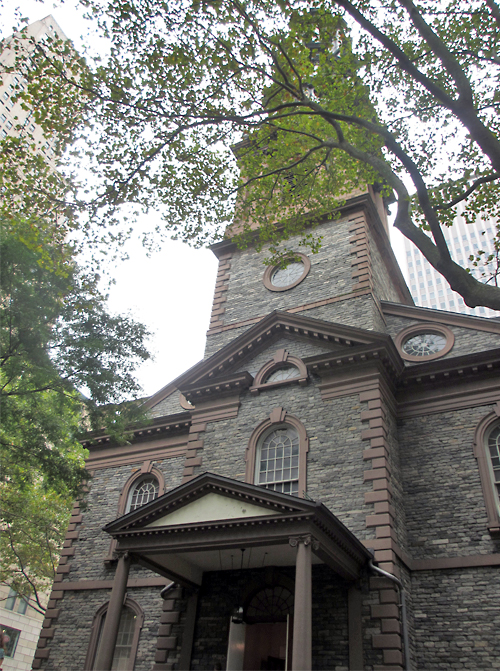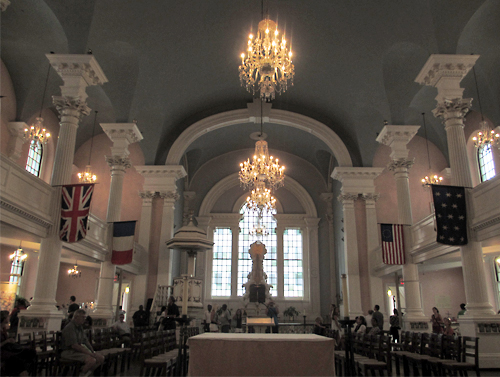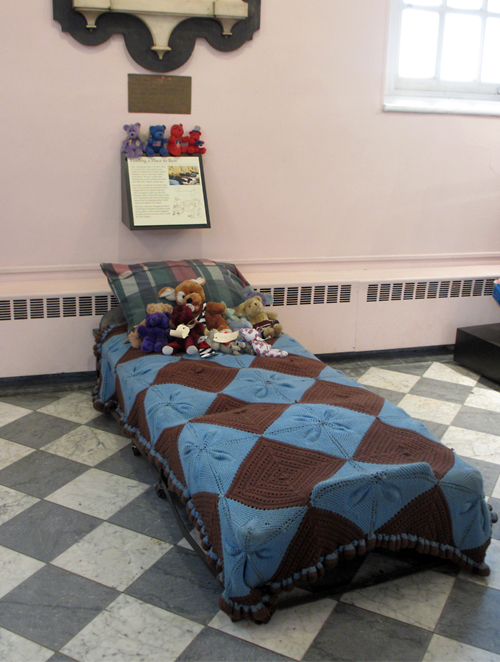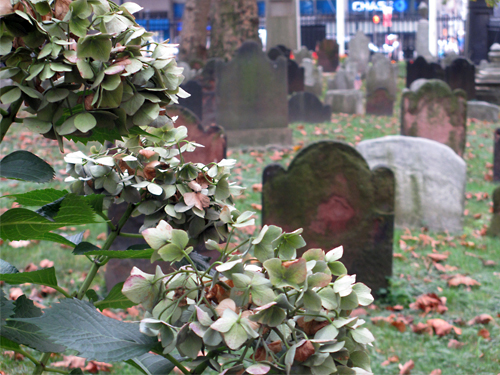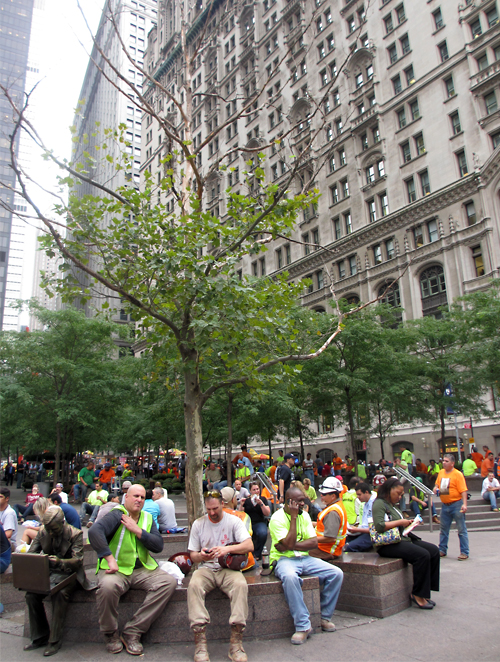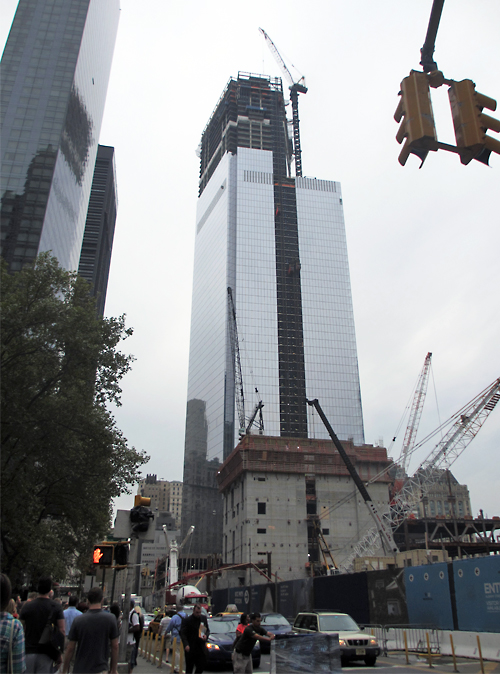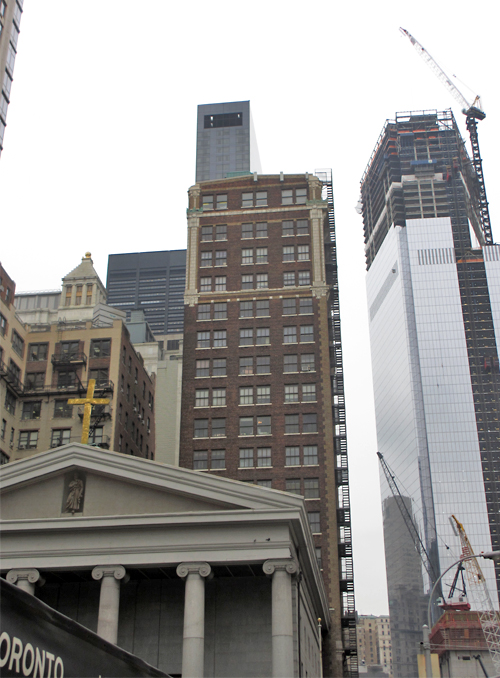 Éste es un conjunto de transición, principalmente por los colores. Las texturas todavía son ligeras, pero el luminoso amarillo combinado con el vinotinto intenso de los jeans, y los toques turquesa, sugieren que el otoño ya está a la vuelta de la esquina.
Ésto es también lo que me puse para visitar la Zona Cero. Cada vez que he ido a visitarla, nunca ha dejado de llegarme a lo mas profundo. Es un sitio donde se siente lo peor y lo mejor de la humanidad al mismo tiempo. Cada vez que voy, rezo porque nunca volvamos a experimentar una tragedia como esa de nuevo.
Las nuevas torres ya están bastante adelantadas, y el monumento conmemorativo, lógicamente ya está terminado. Me pregunto si los trabajadores (que salen en la foto durante su hora de almuerzo) se dan cuenta del papel histórico que juegan. La iglesia que aparece en las fotos, es la que estaba al lado de las torres y que, milagrosamente, no sufrió ningún daño. Sirvió de refugio a los miles de tropas de rescatistas, y está llena de recuerdos de aquellos momentos terribles. La otra iglesia, la parroquia católica mas antigua del estado de Nueva York, también resultó ilesa excepto por la cruz en lo alto del techo. Otro detalle escalofriantemente conmovedor del aquel dia.
Después de la visita a la Zona Cero, y como parte de un muy necesario respiro para subirnos el ánimo, fuimos a almorzar a Bergdorf Goodman, que se veía impresionantemente bonito en preparación para Fashion's Night Out, o Noche de la Moda. El hotel Plaza también estaba bellísimo.
Pueden ver como combiné esta chaqueta en otra ocasión aqui.
Adelanto de lo que les mostraré mañana: la histórica ciudad de Cape May en la costa de Atlantic City!
Me Puse: 
Chaqueta Tipo Sastre de Algodón: J. Crew
Suéter de Cashmere de Ochos: Geneva Cashmere
Broche de Flor en Piel con Lazo de Gró: Sin marca
Jeans de Algodón: Paige
Cinturón de Piel de Serpiente Troquelada: Lauren by Ralph Lauren
Zapatos de Gamuza/Ante: Ann Taylor
Cartera/Bolso de Piel Troquelada en Cocodrilo: Longchamp, Roseau (aqui) 
Pendientes/Zarcillos: Oro y topacio marrón
Anillos/Sortijas: Dos bandas antiguas de carey; plata esterlina y turquesa
Pulseras/Brazaletes: De oro; de oro con turquesa; de turquesa; de falso carey
Collares: Cadena antigua de bronce bañado en oro; cuerda de granates
Reloj de Cerámica, Brillantes y Madreperla: Anne Klein New York
Lentes/Gafas de Sol: Ralph Lauren Purple Label (aqui)
Perfume: So de la Renta, (aqui) Mucha gente me pregunta qué perfume uso. Ésta ha sido mi fragancia por bastante tiempo. Encuentro que es fresca y coqueta, ligera y femenina, y muy clásica. Cuando busqué la descripción en la página de Oscar de la Renta, quedé gratamente identificada con lo que decía: "Para la mujer espontánea y energética que reparte su entusiasmo dondequiera que va. Una fragancia radiante y chispeante." Y también, "So de la Renta se deleita en el lado elegante, inesperado y divertido del tipo de mujer que representa Oscar de la Renta."
Share it in your...
Compártelo en tu...
Want to leave me a comment? | ¿Quieres dejarme un comentario? [+]
Comments | Comentarios