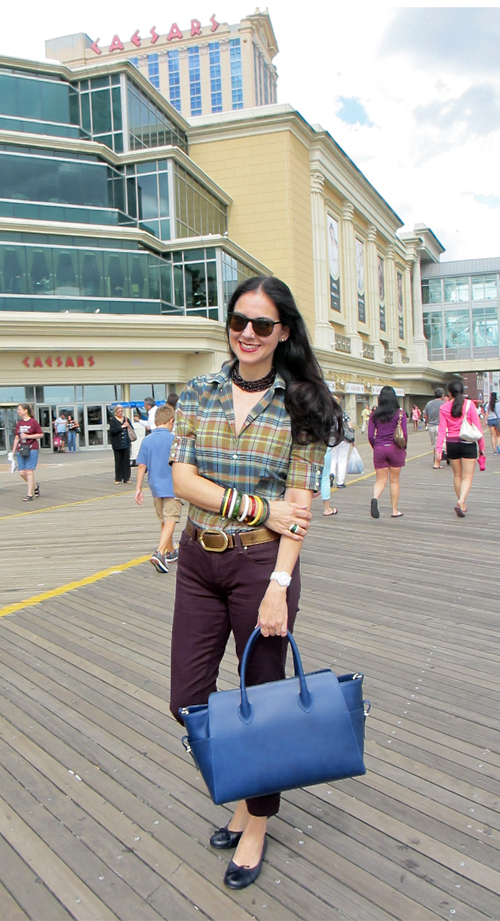 When I went to Atlantic City, I stayed in the Boardwalk, which as many of you may know, serves as the background for the show Boardwalk Empire, due to its colorful history since the 1800s.
The Boardwalk offers great views of the Atlantic Ocean on one side and casinos and hotels on the other side. Along the pier, you can find an old-fashioned amusement park.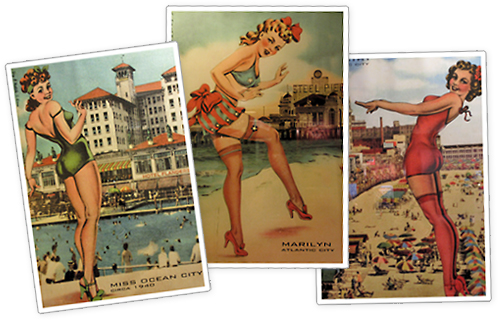 I'm not wearing anything special here, just jeans and a madras shirt that you have seen before here and here. You've also seen the jeans here. I simply added the colorful vintage Bakelite bangles to add to the festival atmosphere, and wore ballerina flats for easy walking. That Boardwalk is very long!
I Wore: 
Cotton Madras Blouse: Lauren by Ralph Lauren

Cotton Jeans: Paige

Leather Belt: Michael Kors

Ballerina Flats: Brotes from El Corte Ingl

é

s in Spain

Earrings: Gold studs

Rings:

Two antique ivory bands from the 1930s; cut crystal one from Baccarat

Bracelets: Antique ivory ones from the 1930s; Vintage Bakelite from the 1940s; Vintage rose glass from the 1940s

Necklace: Garnet rope worn as torsade

Leather Bag: Alberta di Canio

Ceramic, Diamond, and Mother-of-Pearl Watch: Anne Klein New York

Sunglasses: Ralph Lauren Purple Label

Perfume: So de la Renta, (

here

) Many people ask me the kind of perfume I wear. This has been my signature scent for quite a while. I find that it is both fresh and flirty, light and feminine, and very classic. When I looked online, I was pleasantly identified by the description in the Oscar de la Renta site: "For the spontaneous, energetic woman who spreads her enthusiasm everywhere she goes. A radiant, sparkling scent." And also, "So de la Renta revels in the elegant, unexpected, playful side of the Oscar woman."

Colored Gloss: Almost Lipstick de Clinique en Black Honey, a very easy color to wear since it complements every skin color. I love it because it gives you a deep berry color, which is very much in fashion right now. (

here

)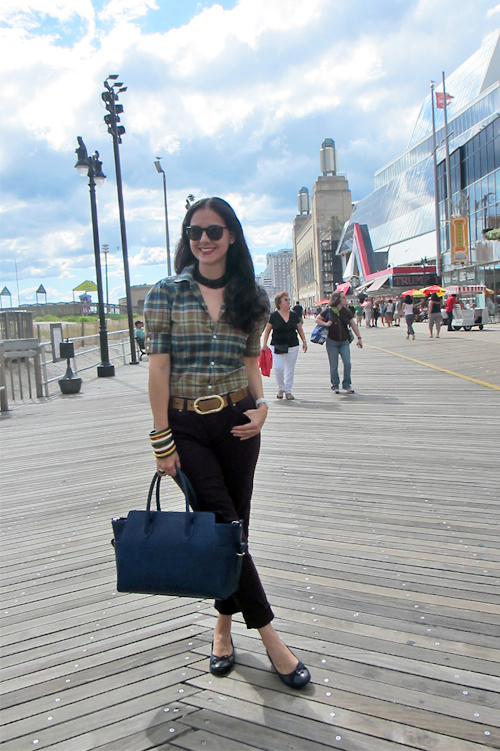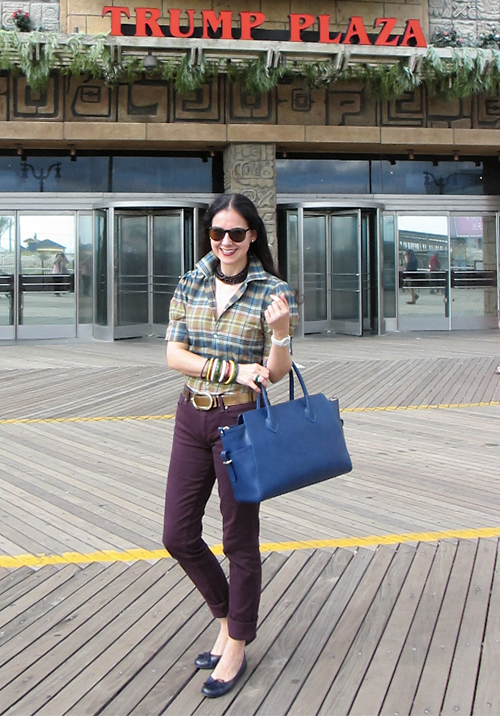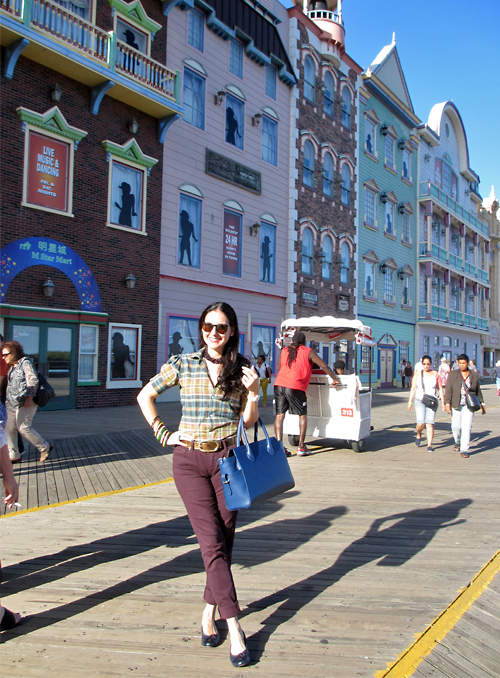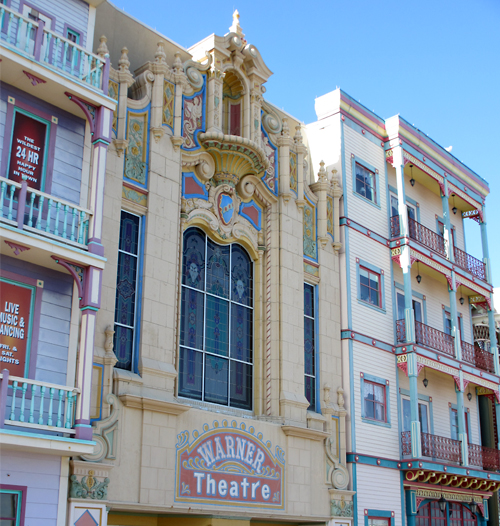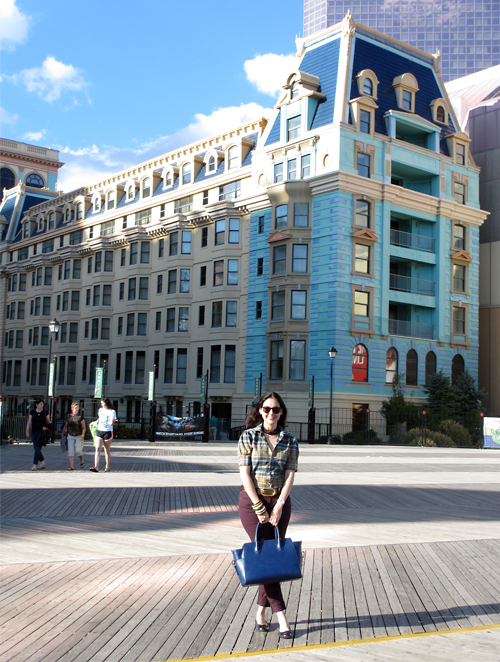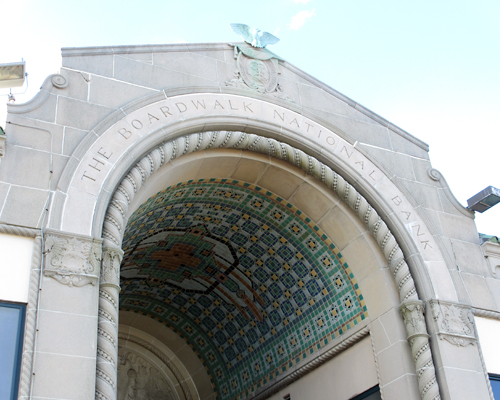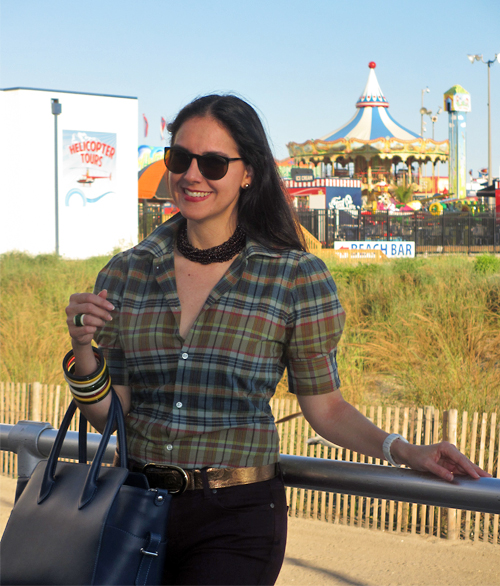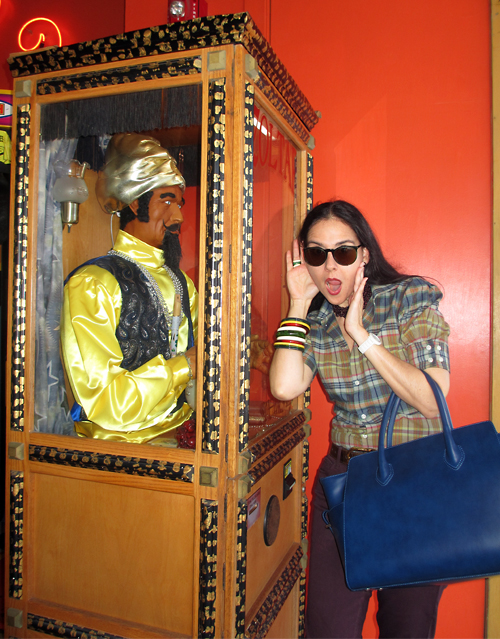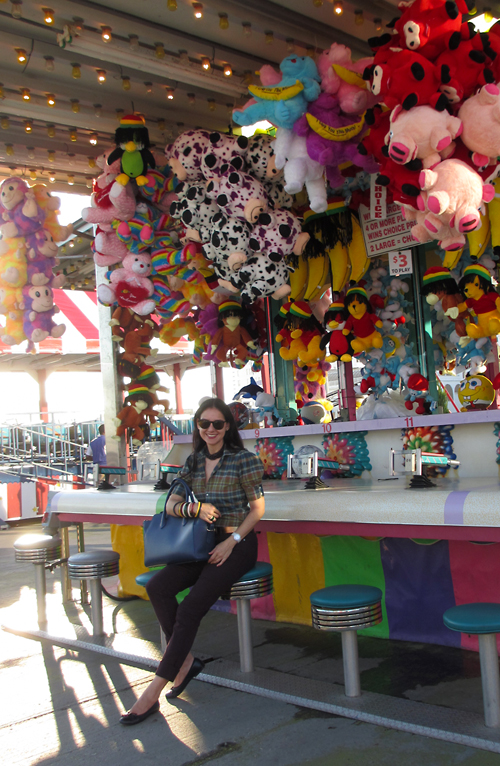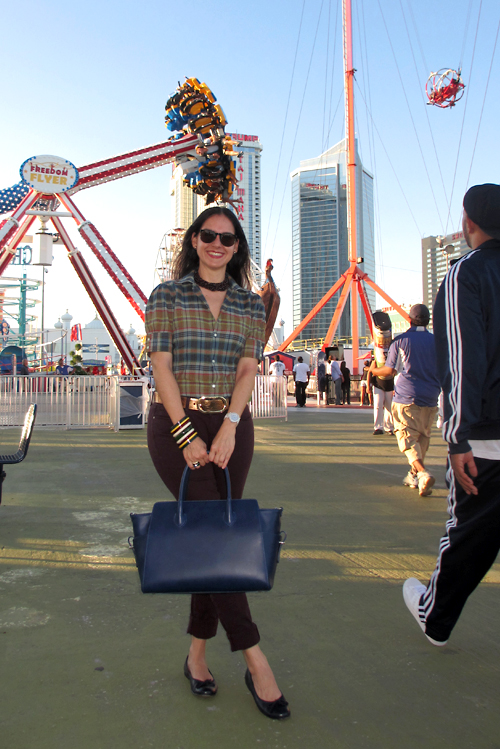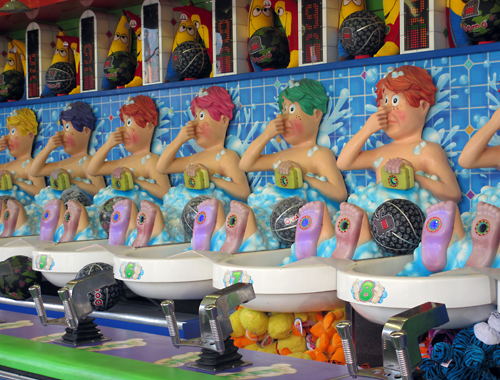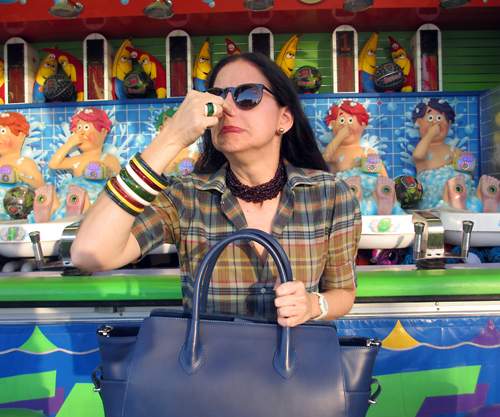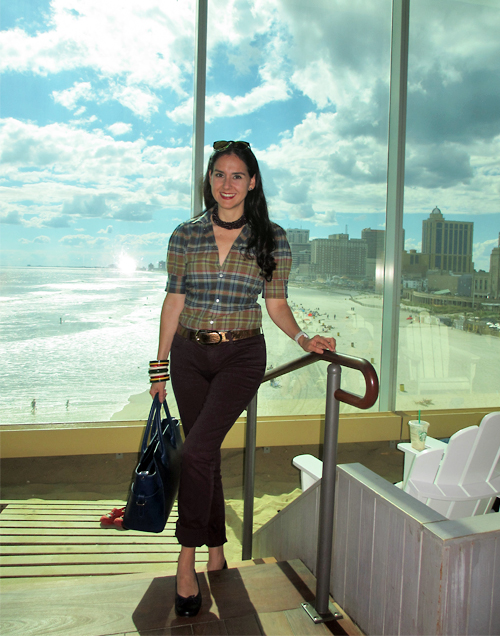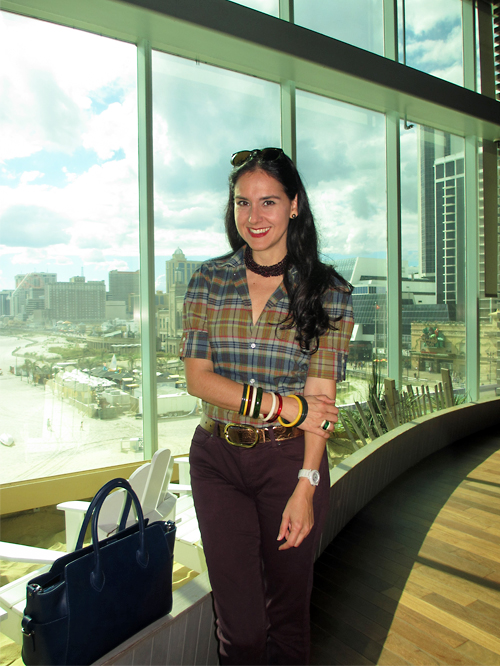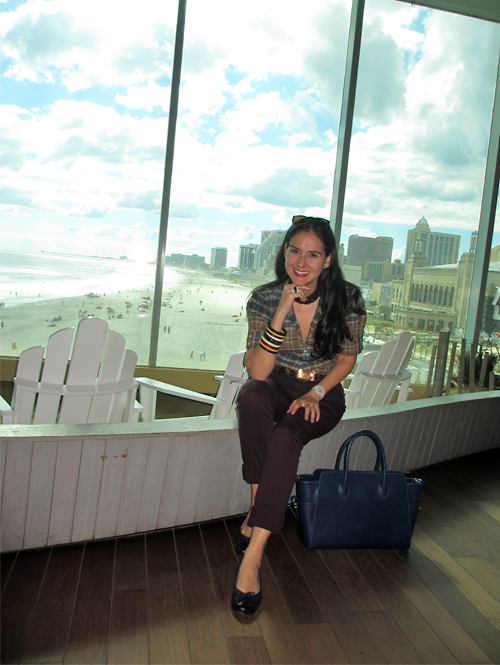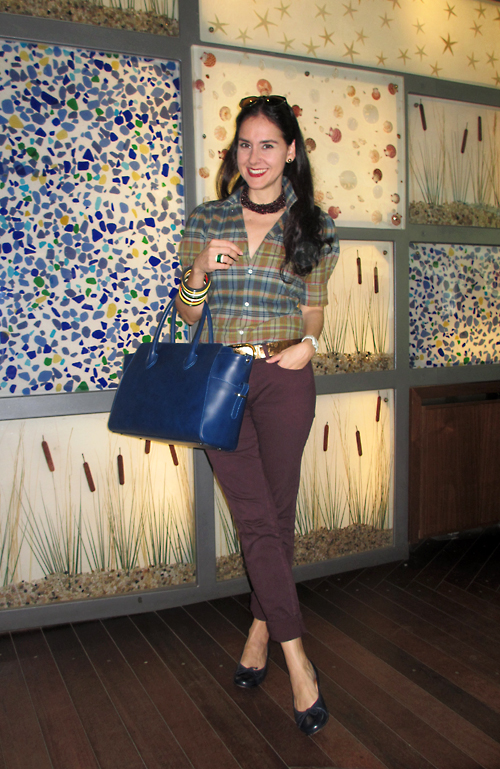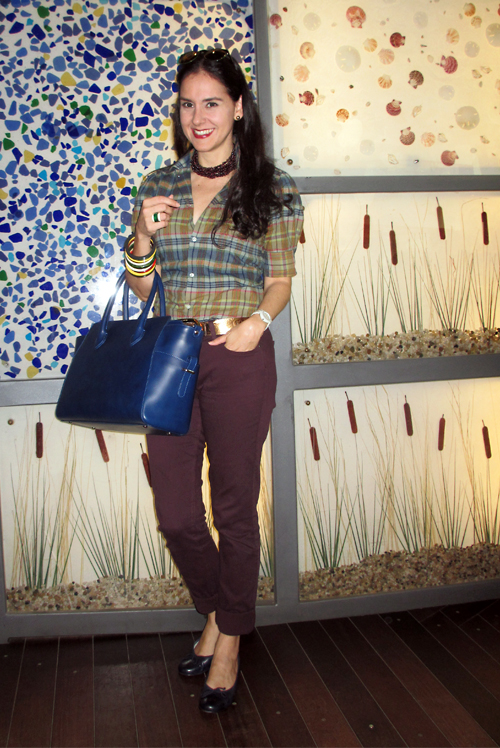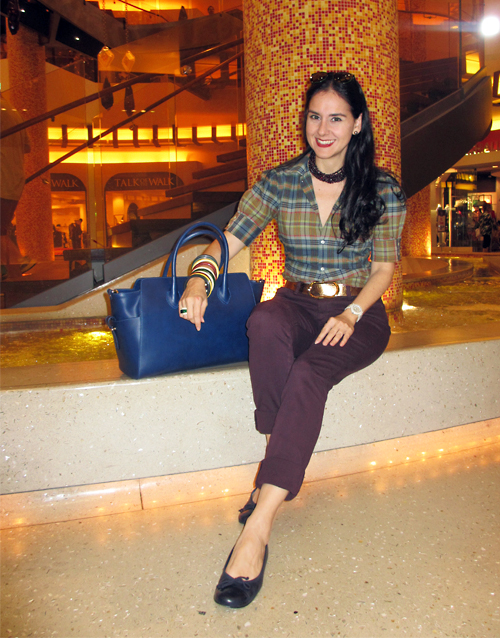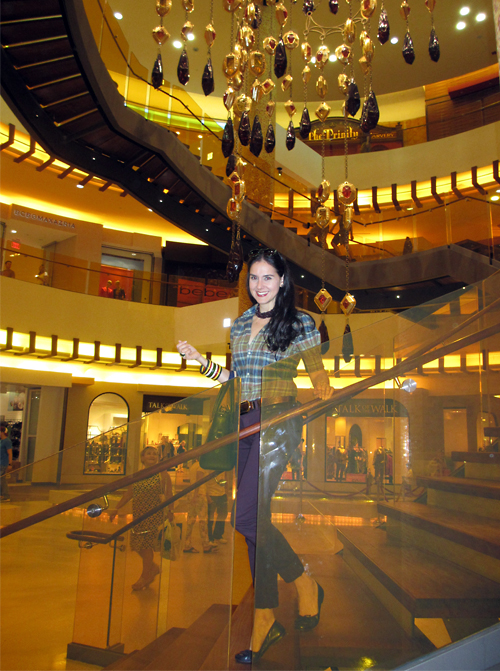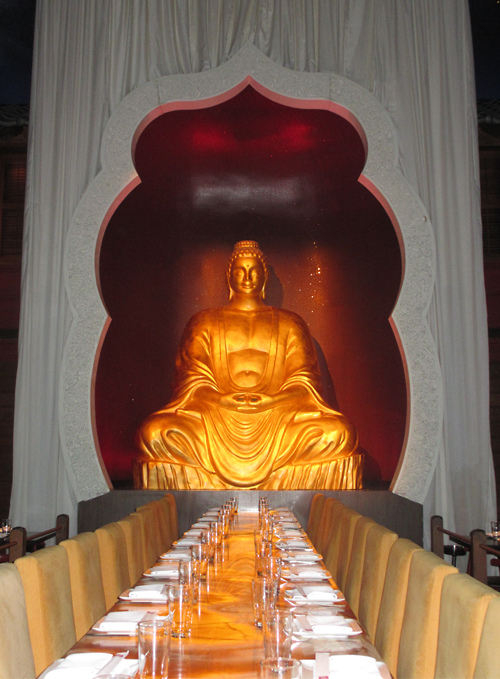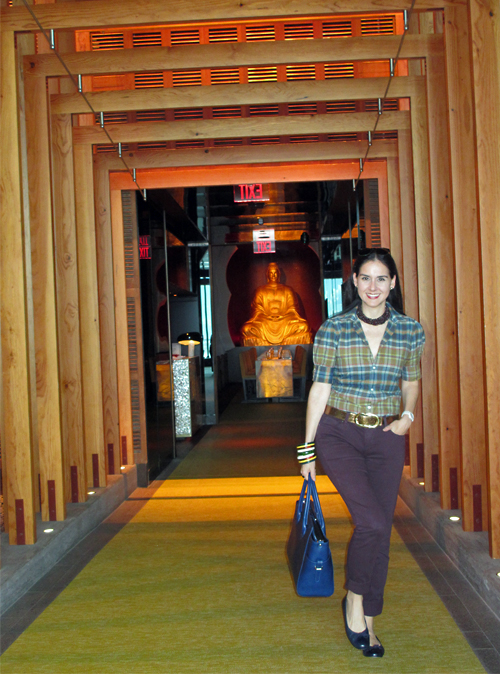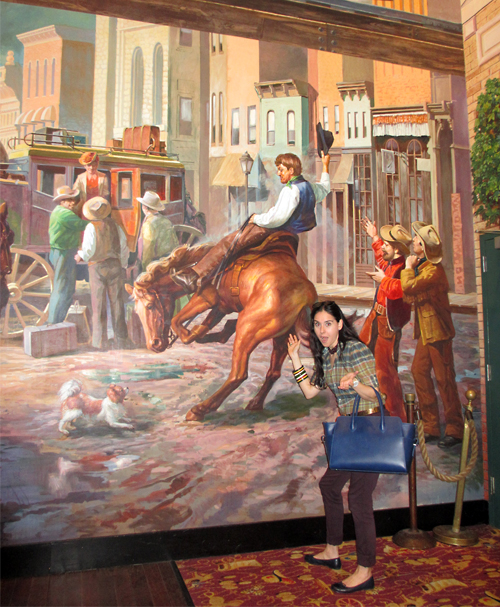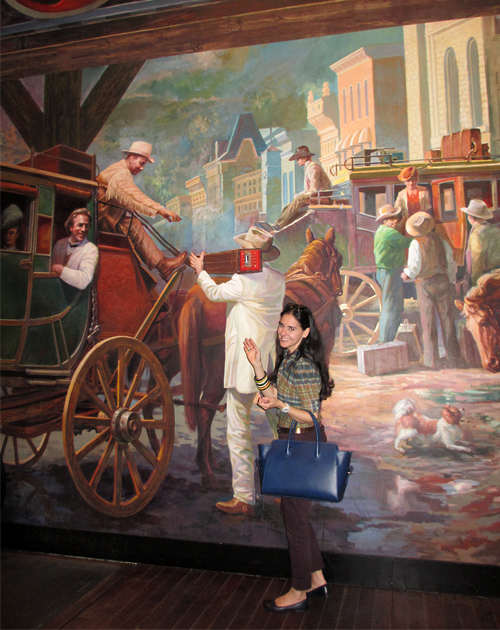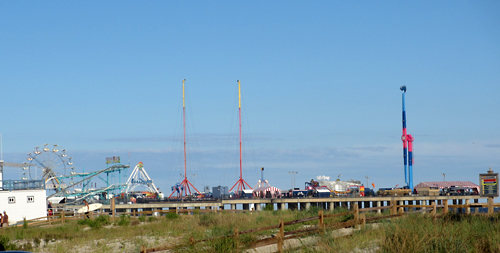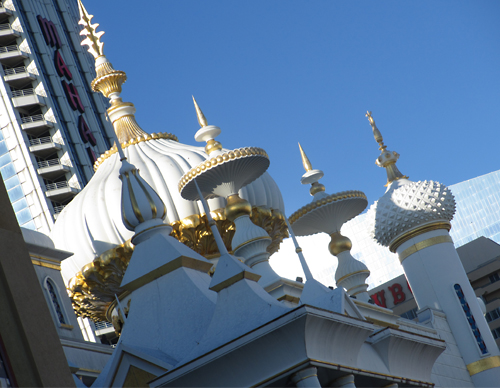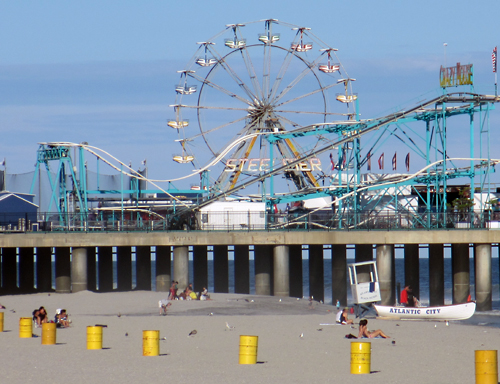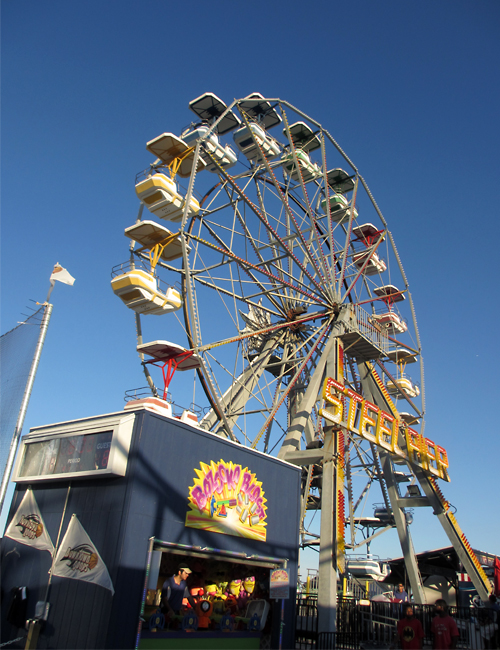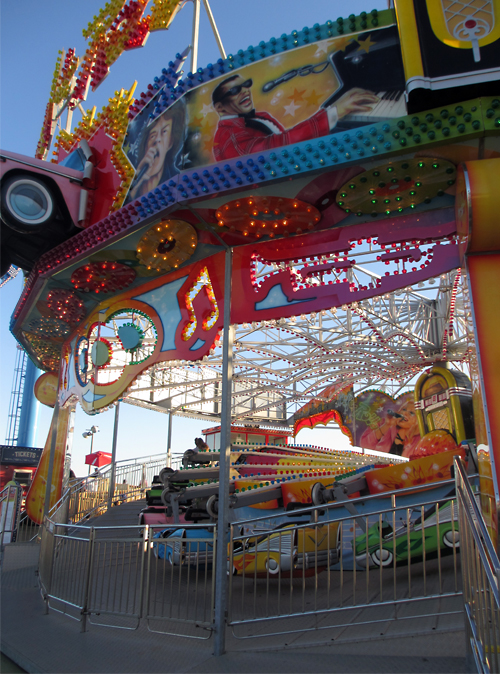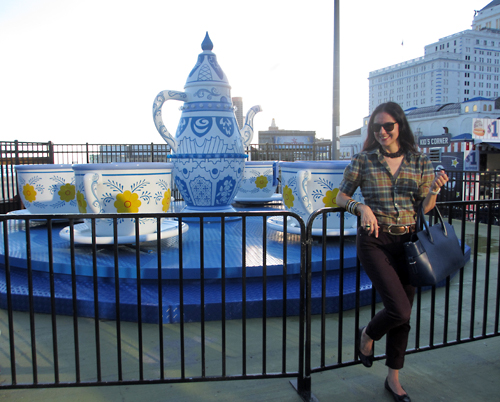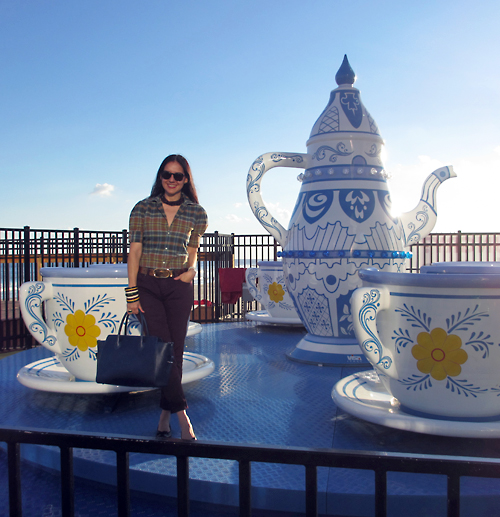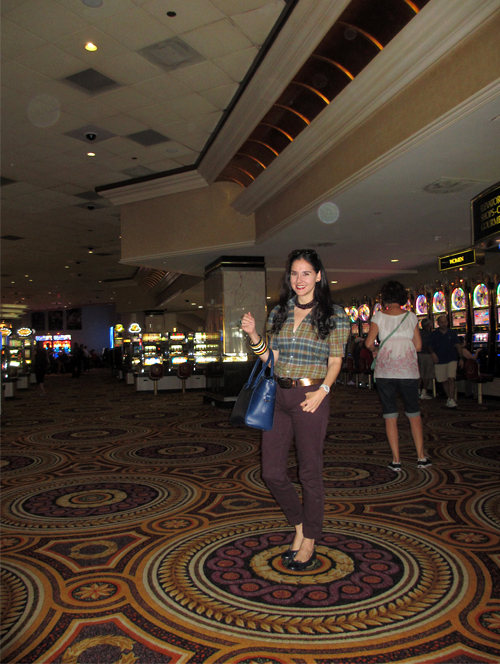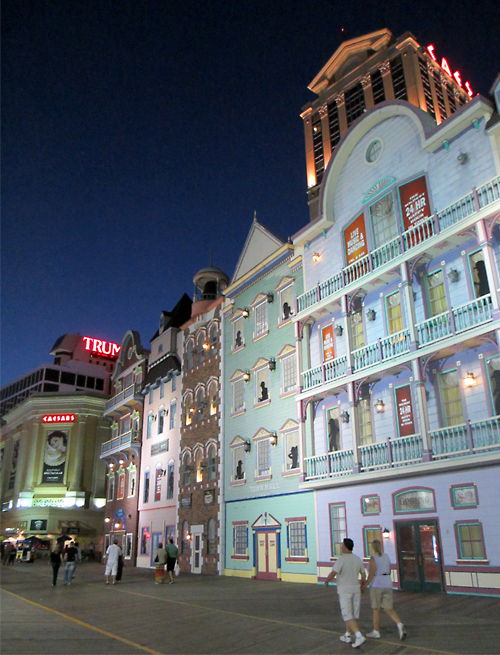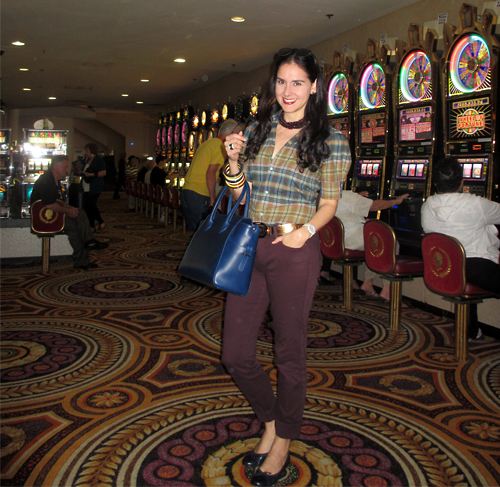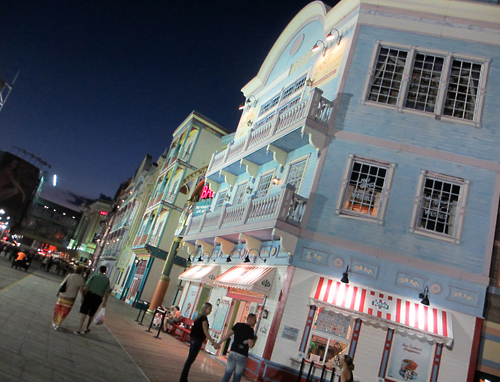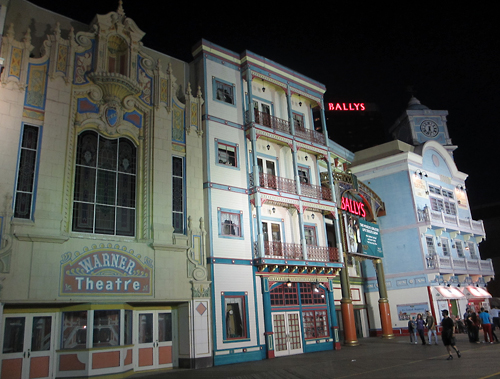 Here's a bit of the 3-D light's show, Duality, that takes place on the front entrance of the Convention Center! / Aqui les dejo un poquito del show de luces llama do Duality que hacen en la fachada del Centro de Convenciones en 3-D! 
Cuando fui a Atlantic City, me quedé en el Paseo Marítimo, que como muchos de ustedes saben, sirve de fondo para la serie de televisión Boardwalk Empire, dada su emocionante historia desde el siglo 19.
El Paseo Marítimo ofrece magníficas vistas del Océano Atlántico de un lado, y de los casinos y hoteles en el otro. En el espigón se encuentra un parque de atracciones de los de antes.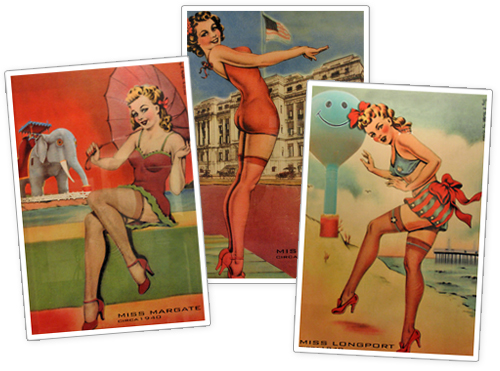 Realmente no llevo nada especial puesto en esta entrada, simplemente una blusa de madrás que ya han visto aqui y aqui. También llevo jeans que han visto aqui. Sólamente añadí las coloridas pulseras/brazaletes de Bakelita antigua para contribuir con la atmósfera festivalera, y me puse zapatillas planas para que me fuera mas cómodo caminar. El Paseo Marítimo es larguísimo!
Me Puse: 
Blusa de Madr

á

s de Algod

ó

n: Lauren by Ralph Lauren

Jeans: Paige

Zapatillas Planas de Piel: Brotes de El Corte Ingl

é

s en Espa

ñ

a

Pendientes/Zarcillos: Bolitas de oro

Anillos/Sortijas:

Dos bandas antiguas de marfil de los a

ñ

os 30; de cristal tallado de Baccarat

Pulseras/Brazaletes: De marfil antiguo de los años 30; de Bakelita antigua de los años 40; de cristal rosado antiguo de los años 40

Collar: De granates en largo cuerda, lucido en torsade

Cartera/Bolso de Piel: Alberta di Canio

Reloj de Cerámica, Brillantes y Madreperla: Anne Klein New York

Lentes/Gafas de Sol: Ralph Lauren Purple Label

Perfume: So de la Renta, (

aqui

) Mucha gente me pregunta qué perfume uso. Ésta ha sido mi fragancia por bastante tiempo. Encuentro que es fresca y coqueta, ligera y femenina, y muy clásica. Cuando busqué la descripción en la página de Oscar de la Renta, quedé gratamente identificada con lo que decía: "Para la mujer espontánea y energética que reparte su entusiasmo dondequiera que va. Una fragancia radiante y chispeante." Y también, "So de la Renta se deleita en el lado elegante, inesperado y divertido del tipo de mujer que representa Oscar de la Renta."

Brillo con Color: Almost Lipstick de Clinique en Black Honey, un color muy fácil de llevar y que funciona muy bien con todos los tipos de piel. Me encanta porque es cremoso como un bálsamo, pero aporta un toque de color rojo burdeos, que es una tendencia muy actual (

aqui

) 
Share it in your...
Compártelo en tu...
Want to leave me a comment? | ¿Quieres dejarme un comentario? [+]
Comments | Comentarios