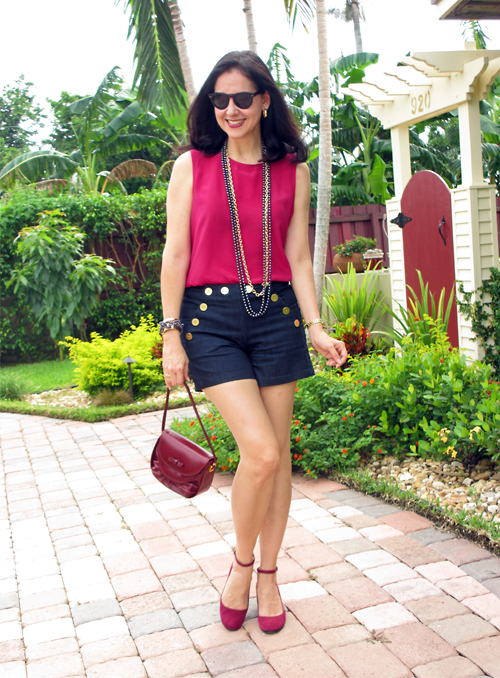 Burgundy, Bordeaux, Raspberry, Wine, Oxblood…all these are colors that you will probably see, and hear a whole lot this fall and winter. Burgundy is a color I like, probably because it reminds me of the school uniform I wore for 14 years, but not one I naturally gravitate towards very often (probably because of the same reason!). However, it's quite versatile, and a raspberry tone goes beautifully with navy blue. Kind of raspberries and blueberries…delicious, right?
Fall has definitely lowered temperatures in Florida, but it's still pretty warm, so this is my attempt at incorporating fall hues into tropical weather. I always love the contrast of dressing up shorts, which is what I did here to run some errands. I did that by adding the necklaces, which I left long for a 20s look (also popular for fall!).
Oh, yes, and the most evident change from the entry…my hair! I decided to cut 9 inches of it to donate to Locks of Love. Inside, I feel more like a long hair type of girl, but these children definitely need hair more than I do, so I'm always happy to donate it. What do you think of the change?
If you want to see how I styled these shorts the last time I wore them, you can click here.
I Wore: 
Silk Top: Oscar de la Renta

Jean Shorts: Kenar

Suede Ankle Strap Shoes: Marc by Marc Jacobs

Earrings: Gold hoops

Ring:

Two antique gold and cubic zirconia bands; gold-plate and gold cubic zirconia band by Michael Kors

Bracelet: Gold cuffs; cultured black pearl rope by Honorá

Necklace: Gold metal strap from a purse; cultured black pearls

Leather Bag: Super old, from Venezuela

Gold and Mother-of-Pearl Watch: Fendi

Sunglasses: Ralph Lauren Purple Label (

here

)

Perfume: So de la Renta, (

here

) Many people ask me the kind of perfume I wear. This has been my signature scent for quite a while. I find that it is both fresh and flirty, light and feminine, and very classic. When I looked online, I was pleasantly identified by the description in the Oscar de la Renta site: "For the spontaneous, energetic woman who spreads her enthusiasm everywhere she goes. A radiant, sparkling scent." And also, "So de la Renta revels in the elegant, unexpected, playful side of the Oscar woman."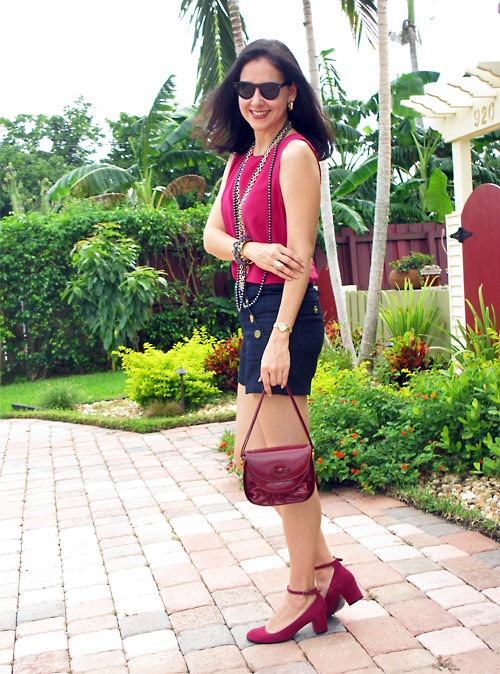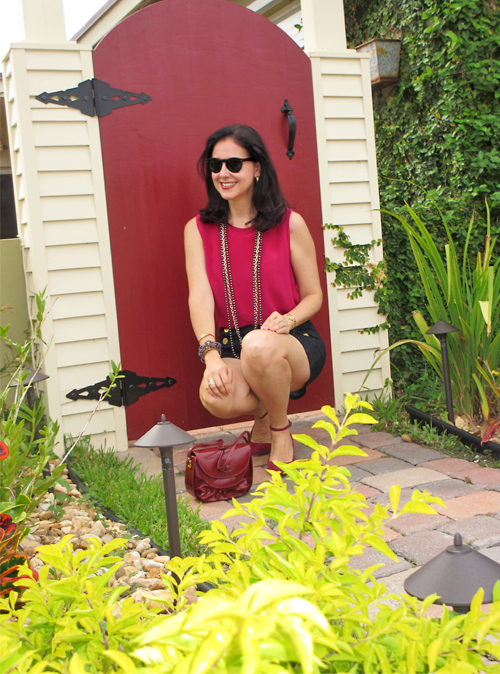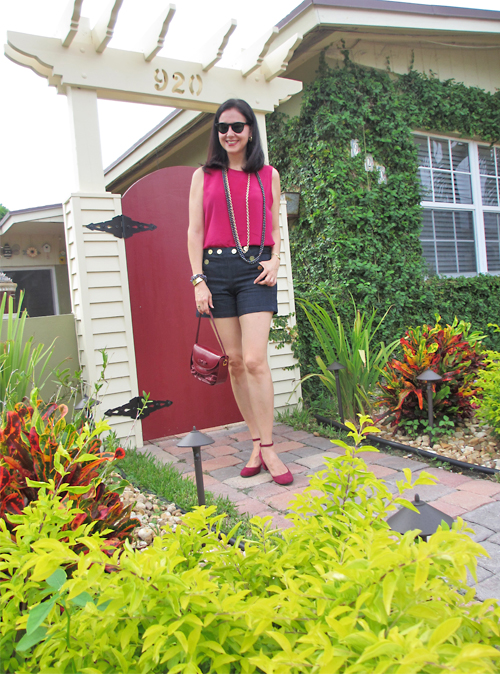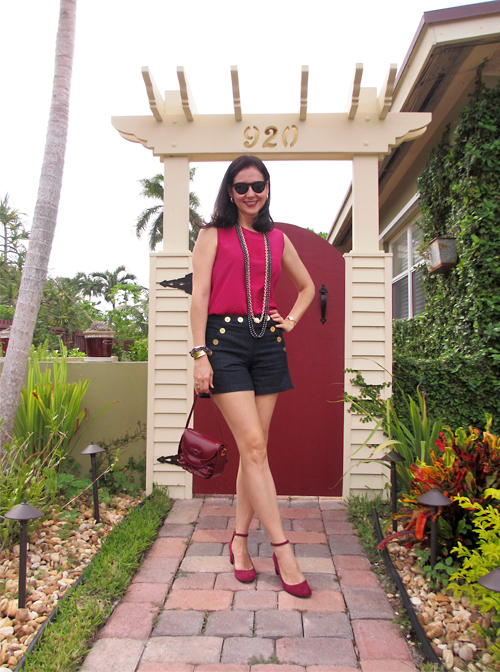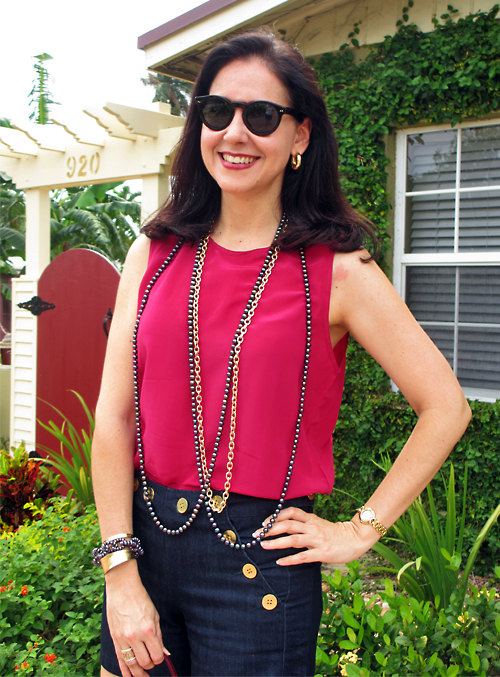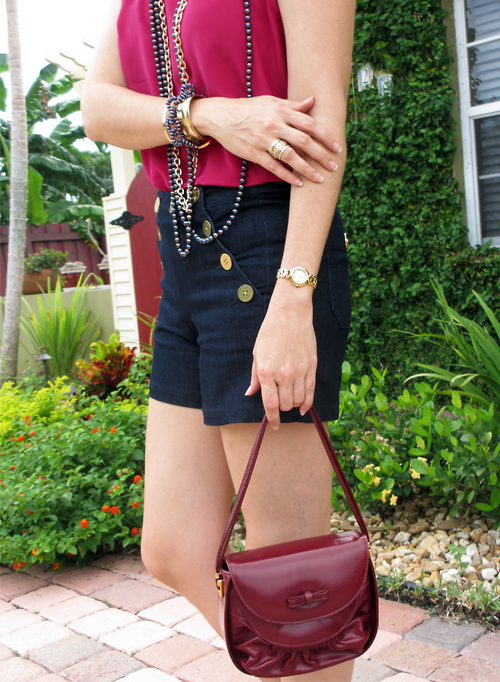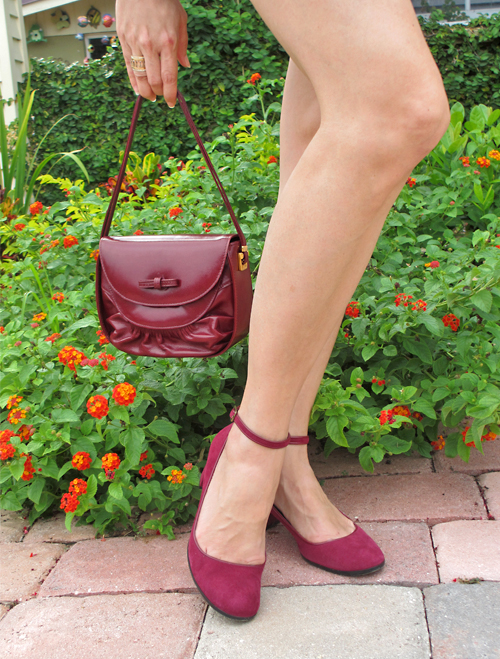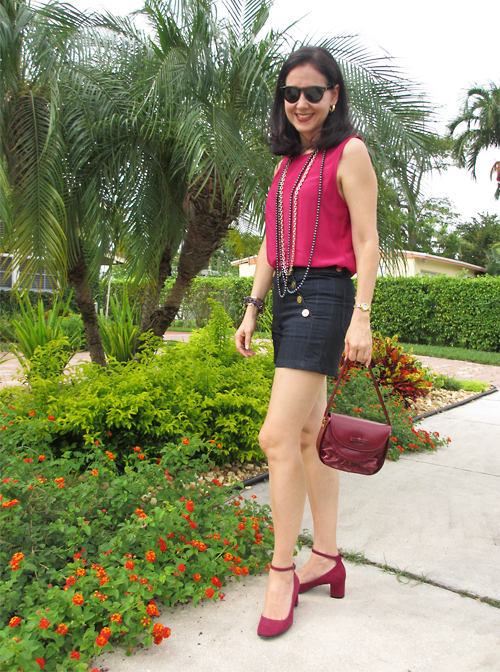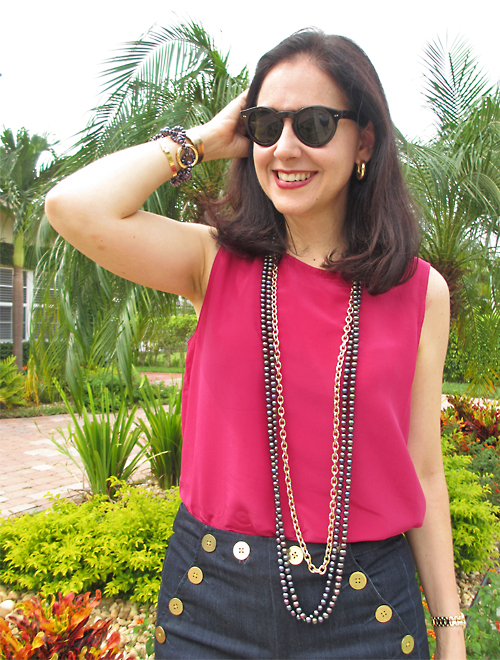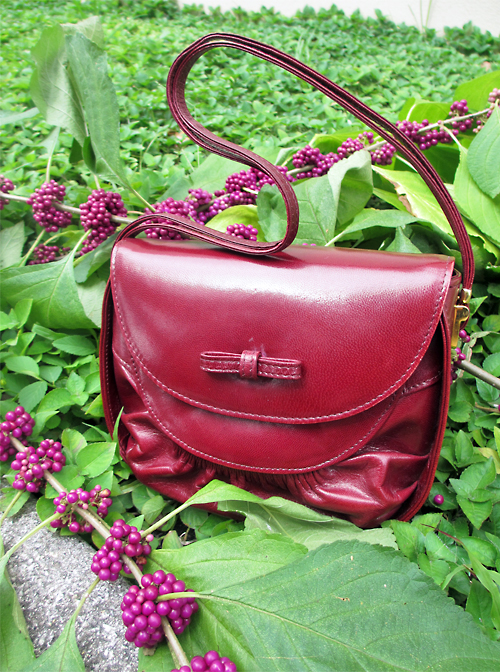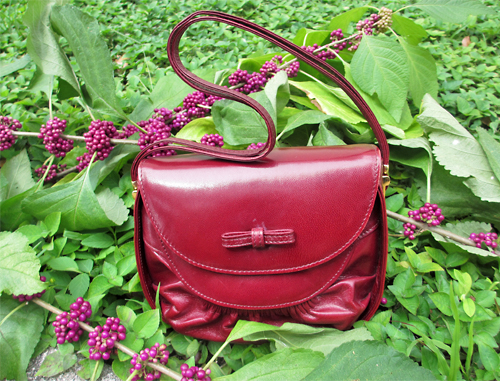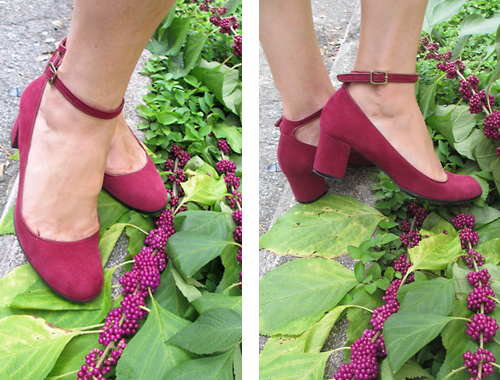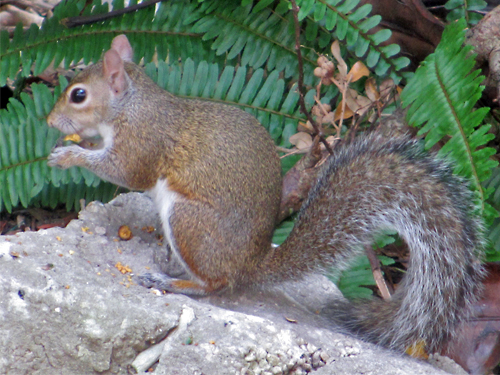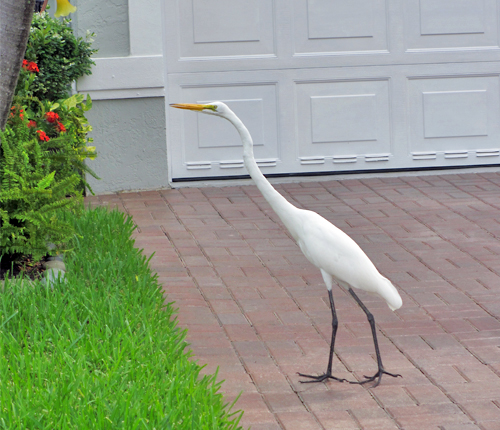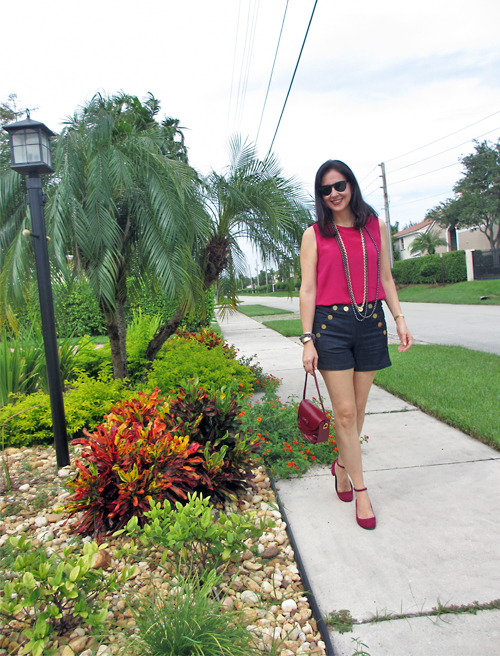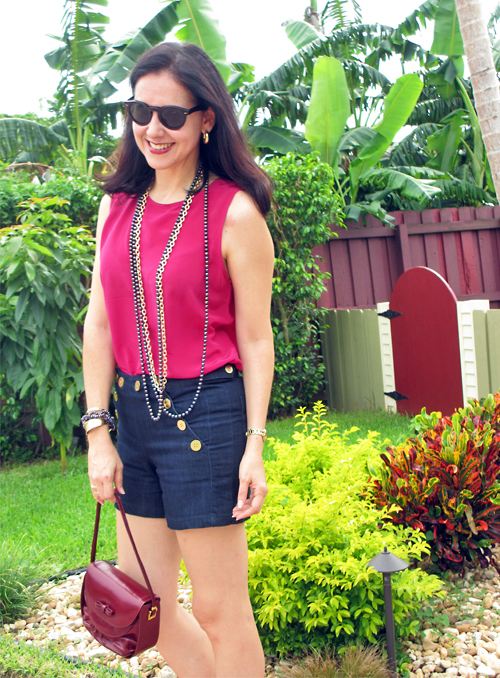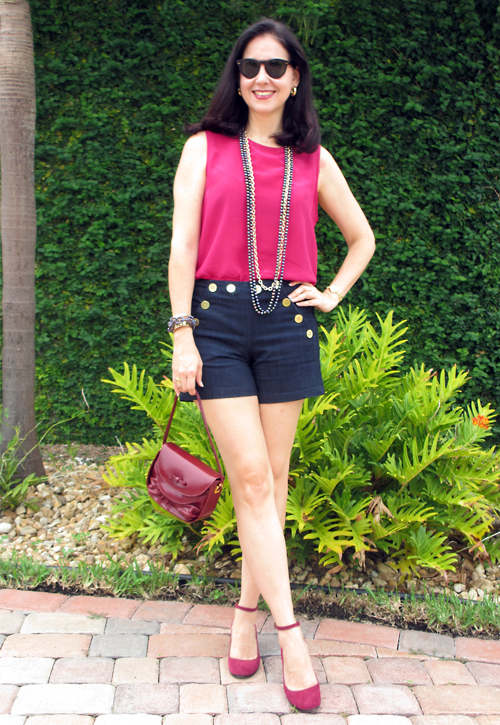 Vinotinto, Borgoña, Burdeos, Frambuesa…todos éstos son colores que probablemente verán y de los cuales oirán hablar bastante este otoño-invierno. El vinotinto es un color que me gusta, probablemente porque me recuerda el color del uniforme de mi colegio que use durante 14 años, pero no es uno hacia el cual gravite naturalmente demasiado (probablemente por la misma razón!) Sin embargo es un color muy versátil, y en el tono frambuesa, combina maravillosamente con el azul marino. Tal cual como las frambuesas y los arándanos…delicioso, no?
El otoño definitivamente ha bajado un poco las temperaturas en la Florida, pero todavía hace bastante calor, asi que ésta es mi forma de adaptar los tonos otoñales a los climas tropicales. Siempre me gusta el contraste que resulta de usar shorts de manera mas elegante y menos deportiva, que es lo que hice aqui para salir a hacer algunos recados. Añadí los collares, los cuales dejé largos tipo años 20 (que también es otra tendencia que va a estar muy de moda este otoño!)
Ah, si, y el cambio mas evidente de esta entrada…mi pelo! Decidí cortármelo 9 pulgadas para donarlo a Locks of Love (Mechones de Amor). Por dentro, siento que soy mucho mas de llevar el pelo largo, pero estos niños definitivamente necesitan el pelo mucho mas que yo, asi que siempre me siento contenta de poder donarlo. Qué opinan del cambio?
Si quieren ver como combiné estos shorts la última vez que me los puse, pueden apretar aqui.
Me Puse: 
Top de Seda: Oscar de la Renta

Shorts de Jean: Kenar

Zapatos Atados al Tobillo de Ante/Gamuza: Mar by Marc Jacobs

Pendientes/Zarcillos: Aros/Argollas de oro

Anillo/Sortija:

Dos bandas antiguas de oro con circonita; banda ba

ñ

ada en oro con circonita dorada de Michael Kors

Pulsera/Brazalete: De oro; cuerda de perlas negras cultivadas de Honorá

Collar: Cadena de dorada de una cartera; cuerda de perlas negras cultivadas

Cartera/Bolso de Piel: De hace much

í

simo tiempo, comprado en Venezuela

Reloj de Oro y Madreperla: Fendi

Lentes/Gafas de Sol: Ralph Lauren Purple Label (

aqui

)

Perfume: So de la Renta, (

aqui

) Mucha gente me pregunta qué perfume uso. Ésta ha sido mi fragancia por bastante tiempo. Encuentro que es fresca y coqueta, ligera y femenina, y muy clásica. Cuando busqué la descripción en la página de Oscar de la Renta, quedé gratamente identificada con lo que decía: "Para la mujer espontánea y energética que reparte su entusiasmo dondequiera que va. Una fragancia radiante y chispeante." Y también, "So de la Renta se deleita en el lado elegante, inesperado y divertido del tipo de mujer que representa Oscar de la Renta."
Share it in your...
Compártelo en tu...
Want to leave me a comment? | ¿Quieres dejarme un comentario? [+]
Comments | Comentarios