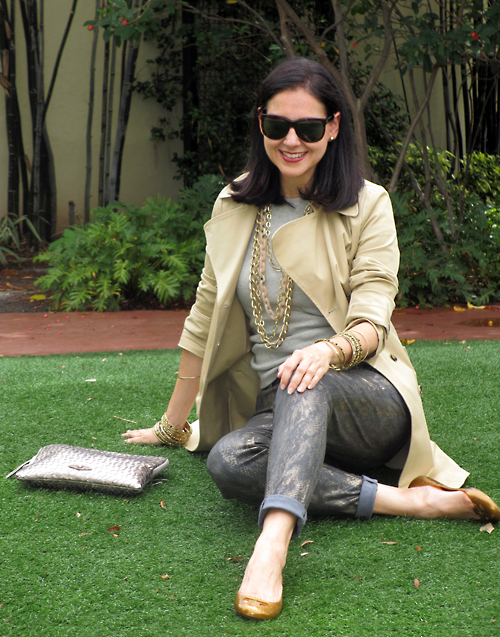 The rain subsided just enough to be able to do some things I had to do and take pictures. Of course in the afternoon it rained again, and as I was coming back from a swim, I got completely soaked and had to take refuge in the porch of a neighbor's house until someone came to rescue me. Either way, I got completely soaked!
But in the morning, and just in case, I wore my trusty trench coat and jelly flats with coated jeans and a t-shirt. I felt perfectly put together and casual enough for a weekday morning.
I Wore: 
Cotton T-Shirt: Woodlake Summit Series 3x Dry

Python Print Wax-Coated Jeans: J Brand

Cotton Twill Trench Coat: Theory

Leather and Brass Crest Belt: Lauren by Ralph Lauren

Gold Jelly Flats: From Carrefour in Spain

Earrings: Gold studs

Ring:

Two antique gold and cubic zirconia bands; gold-plate and golden cubic zirconia by Michael Kors

Bracelets: Brass bangle set by Amrita Singh

Necklaces: Antique gold-plated link chain; Vintage brass chain belt worn as necklace; Brass, resin, and crystals by J. Crew

Woven Leather iPad Case (worn as clutch): Elliott Lucca

Sunglasses: Ralph Lauren Collection

Perfume: So de la Renta, (

here

) Many people ask me the kind of perfume I wear. This has been my signature scent for quite a while. I find that it is both fresh and flirty, light and feminine, and very classic. When I looked online, I was pleasantly identified by the description in the Oscar de la Renta site: "For the spontaneous, energetic woman who spreads her enthusiasm everywhere she goes. A radiant, sparkling scent." And also, "So de la Renta revels in the elegant, unexpected, playful side of the Oscar woman."

Colored Gloss: Almost Lipstick de Clinique en Black Honey, a very easy color to wear since it complements every skin color. I love it because it gives you a deep berry color, which is very much in fashion right now. (

here

)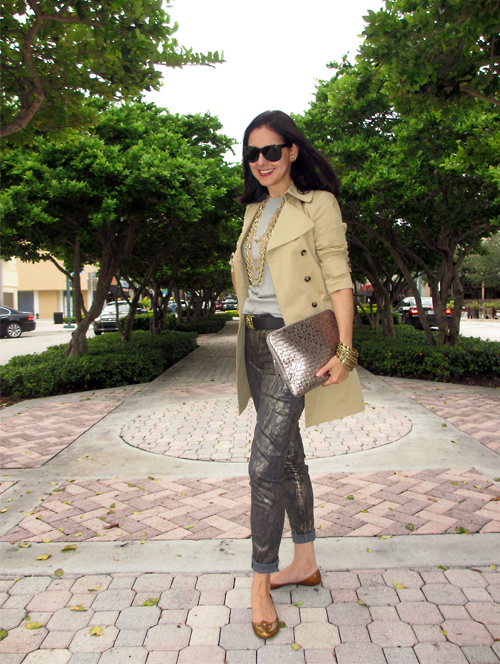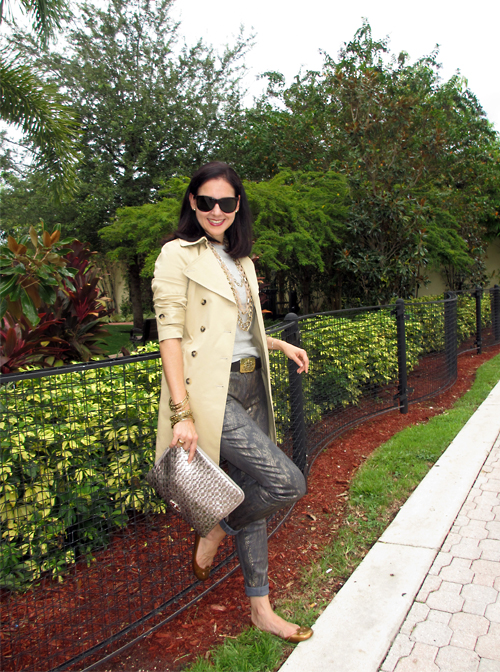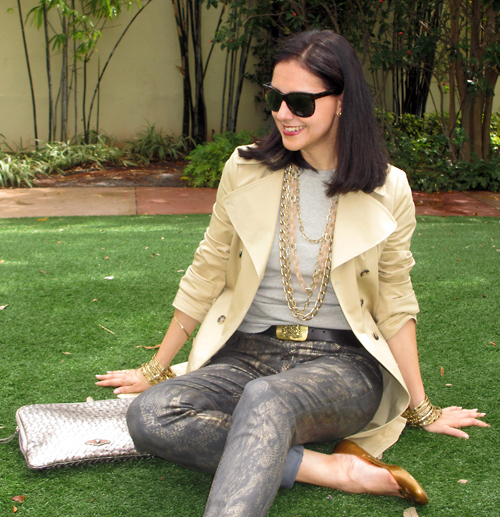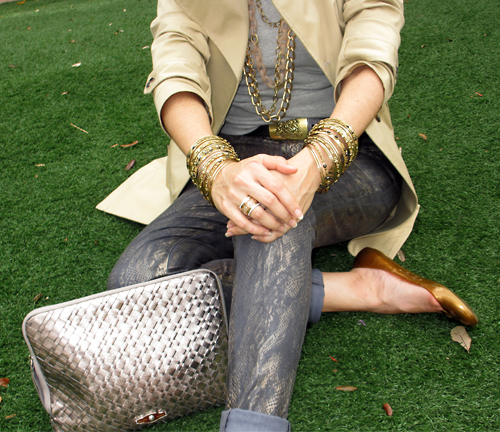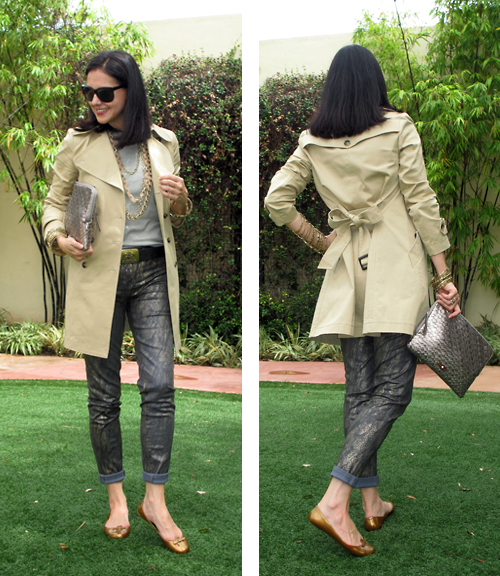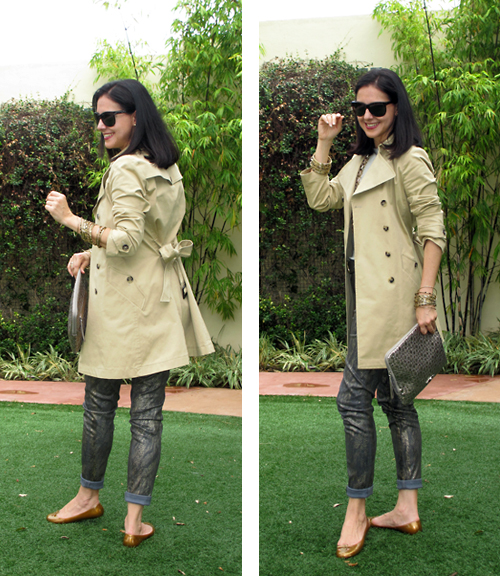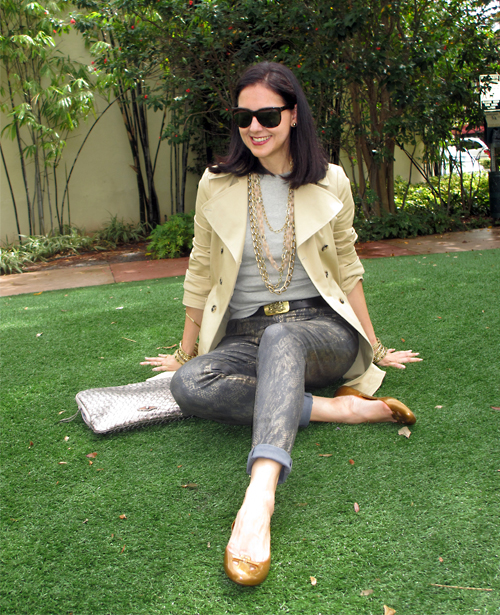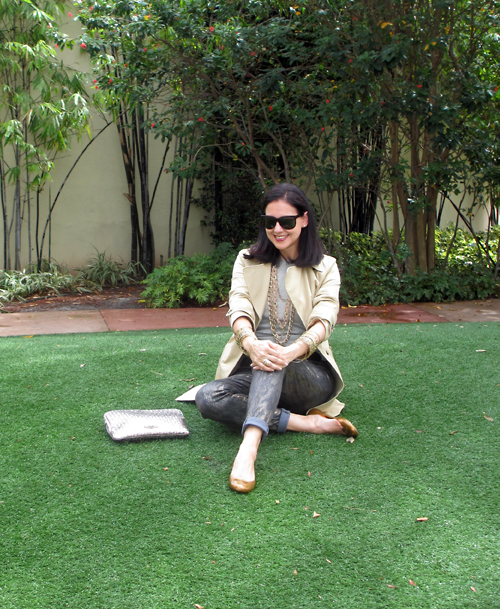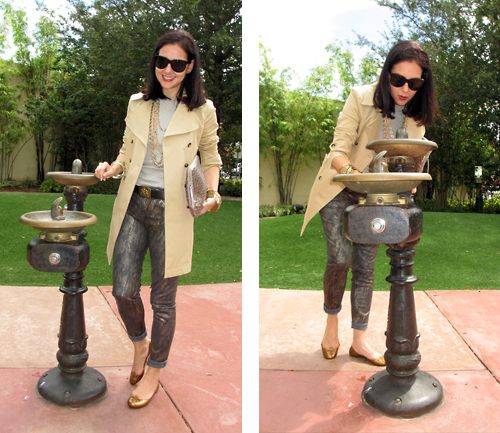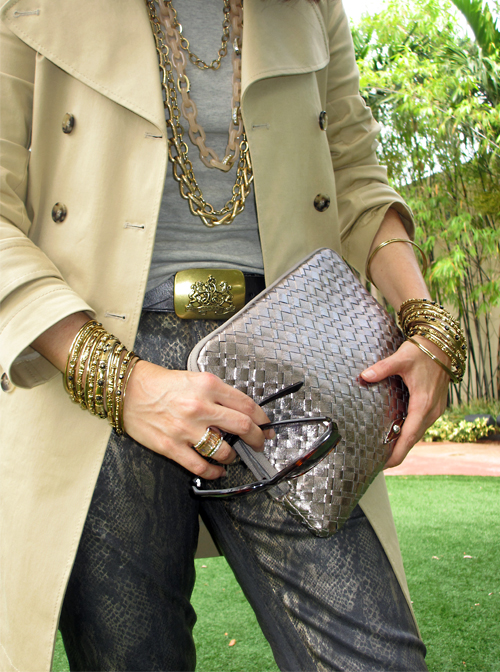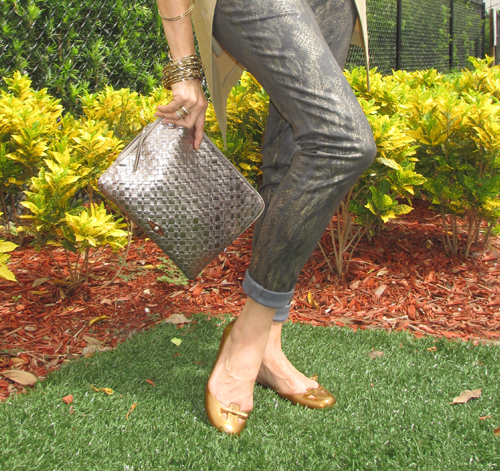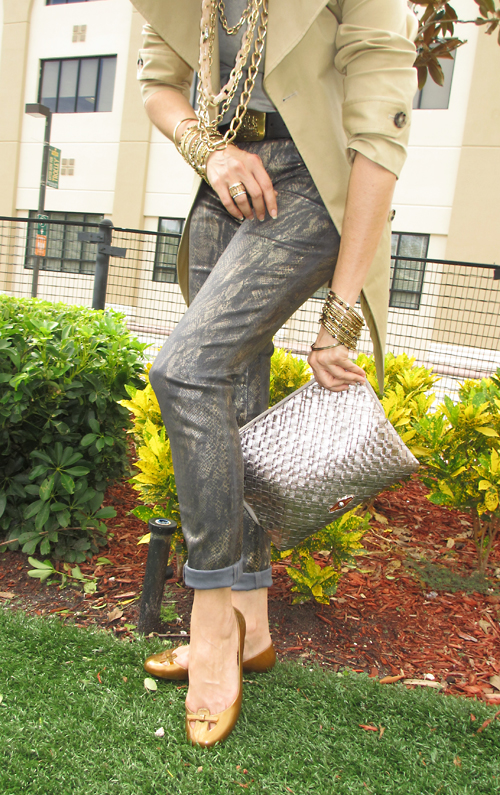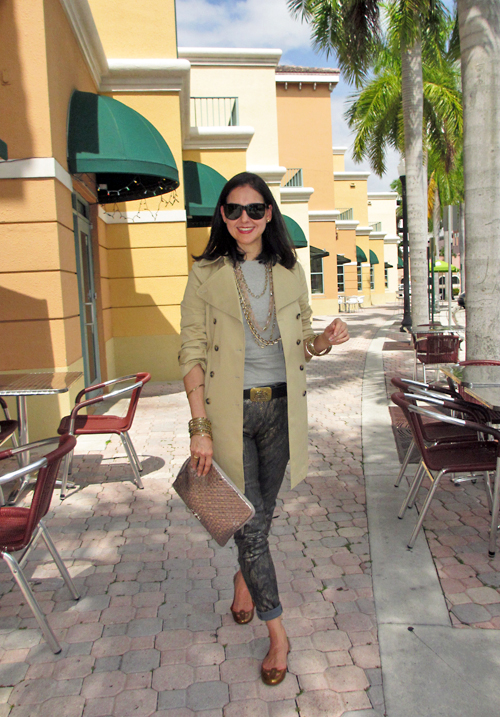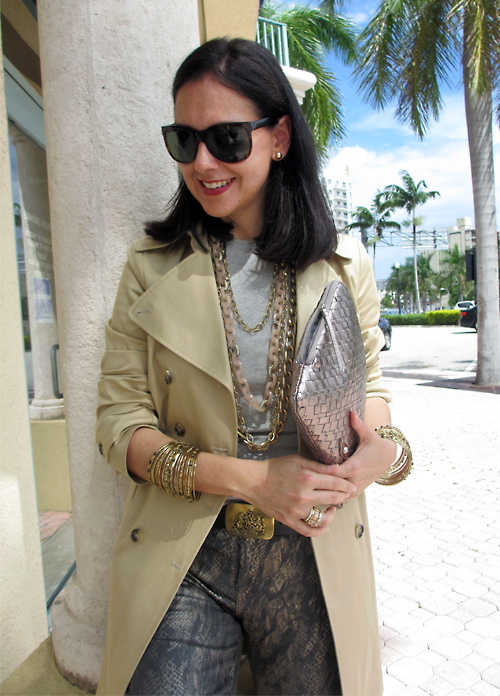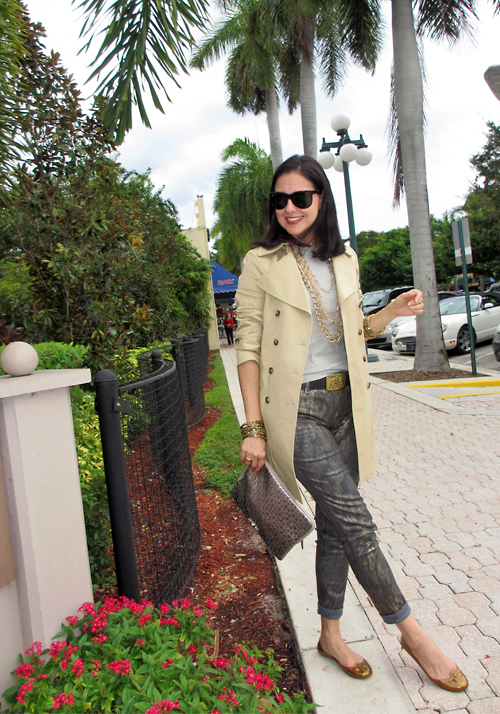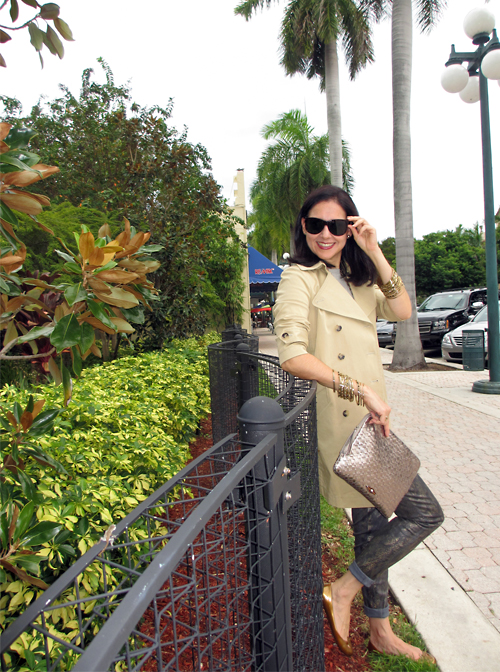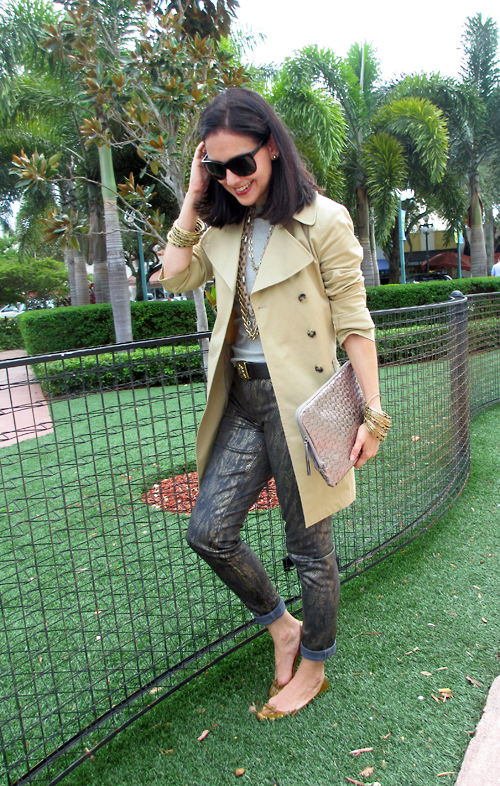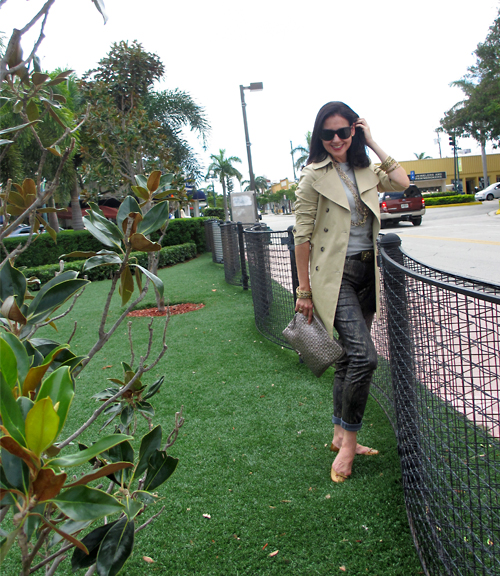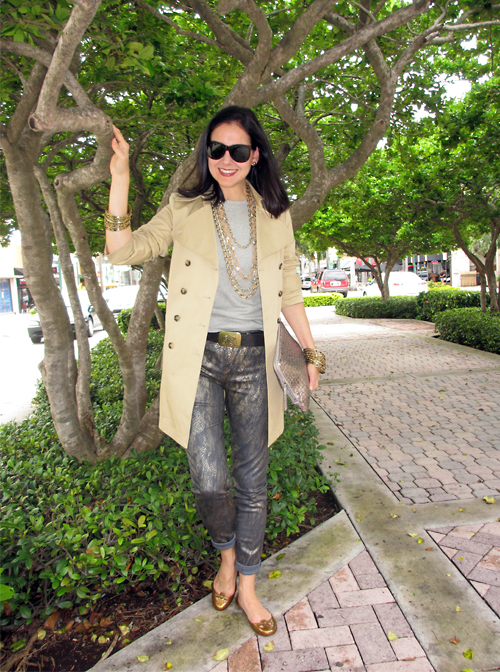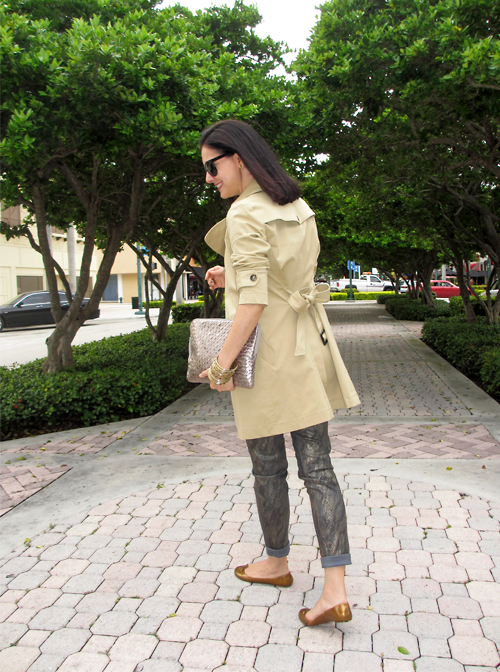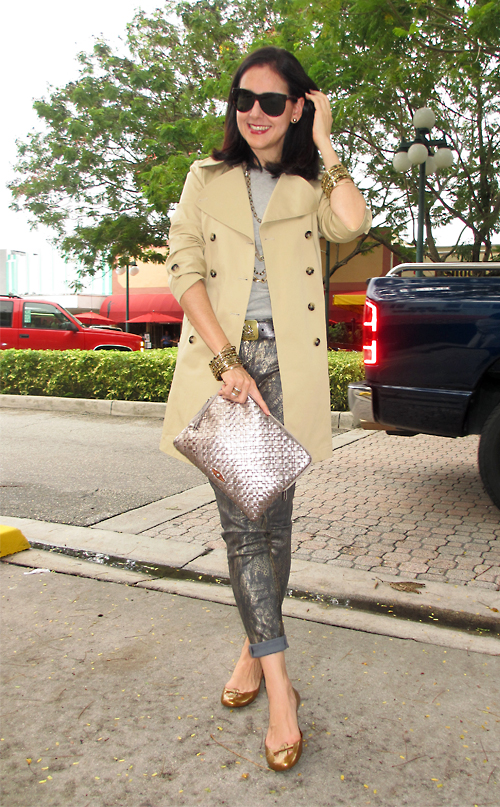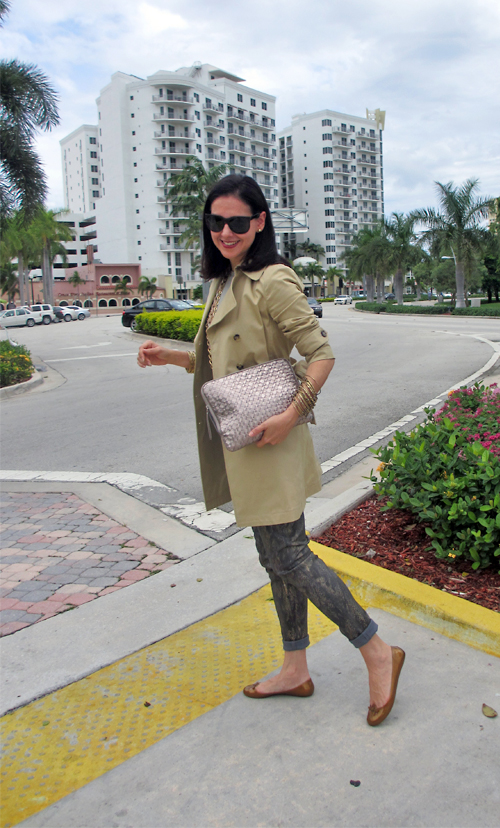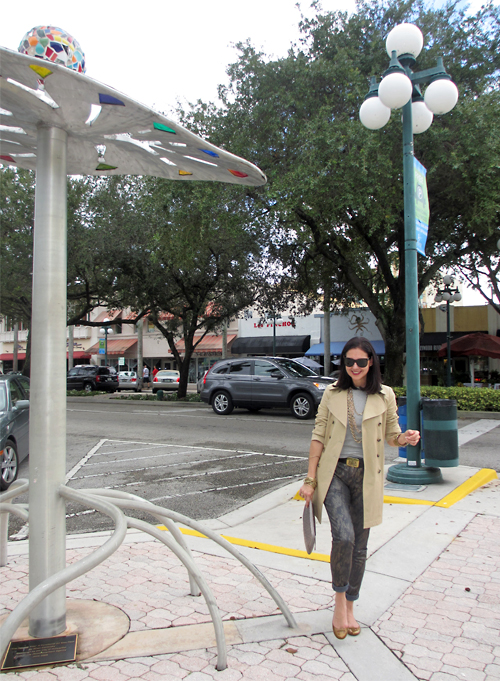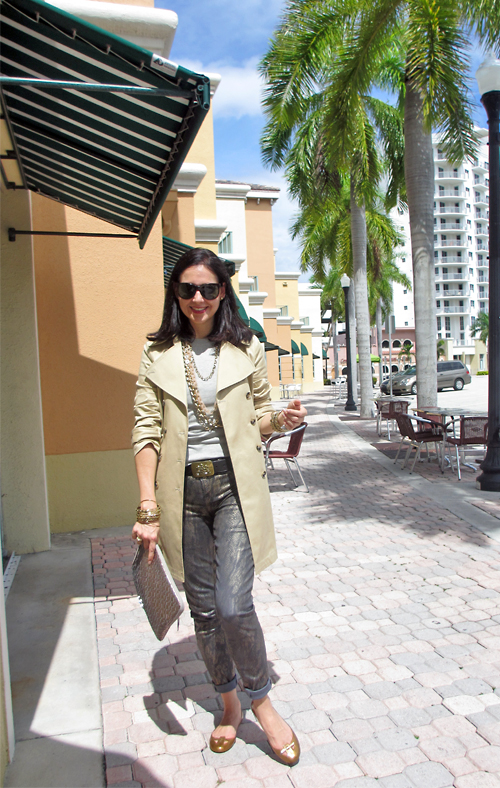 La lluvia ha paró ayer sólo lo suficiente como para poder salir a hacer algunas cosas que tenía que hacer y tomar algunas fotos. Por supuesto que en la tarde volvió a lloverde nuevo, y mientras venía de nadar, me empapé completamente y tuve que buscar refugio en el porche de unos vecinos hasta que me vinieron a rescatar. De cualquier forma quedé calada hasta los huesos!
Pero en la mañana, y sólo por si acaso, me puse mi gabardina de siempre y mis zapatillas de plástico con jeans encerados y un t-shirt. Me sentí adecuadamente vestida y lo suficientemente casual para una mañana de entre semana.
Me Puse: 
T-Shirt de Algod

ó

n: Woodlake Summit Series 3x Dry

Jeans de Estampado de Pit

ó

n Encerados: J Brand

Gabardina de Algod

ó

n: Theory

Cintur

ó

n de Piel y Hebilla de Sello en Bronce: Lauren by Ralph Lauren

Zapatillas Planas de Pl

á

stico "Jellies": De Carrefour en Espa

ñ

a

Pendientes/Zarcillos: Bolitas de oro

Anillo/Sortija:

Dos bandas antiguas de oro con circonita; ba

ñ

ado en oro con circonita dorada de Michael Kors

Pulseras/Brazaletes: De bronce de Amrita Singh

Collares: Cadena de bronce b

añada en oro antigua; Cinturón antiguo de cadena de bronce usado de collar; de bronce, resina y cristales de J. Crew

Estuche para iPad de Piel Tejida (usado como cartera/bolso de mano): Elliott Lucca

Lentes/Gafas de Sol: Ralph Lauren Collection

Perfume: So de la Renta, (

aqui

) Mucha gente me pregunta qué perfume uso. Ésta ha sido mi fragancia por bastante tiempo. Encuentro que es fresca y coqueta, ligera y femenina, y muy clásica. Cuando busqué la descripción en la página de Oscar de la Renta, quedé gratamente identificada con lo que decía: "Para la mujer espontánea y energética que reparte su entusiasmo dondequiera que va. Una fragancia radiante y chispeante." Y también, "So de la Renta se deleita en el lado elegante, inesperado y divertido del tipo de mujer que representa Oscar de la Renta."

Brillo con Color: Almost Lipstick de Clinique en Black Honey, un color muy fácil de llevar y que funciona muy bien con todos los tipos de piel. Me encanta porque es cremoso como un bálsamo, pero aporta un toque de color rojo burdeos, que es una tendencia muy actual (

aqui

) 
Share it in your...
Compártelo en tu...
Want to leave me a comment? | ¿Quieres dejarme un comentario? [+]
Comments | Comentarios