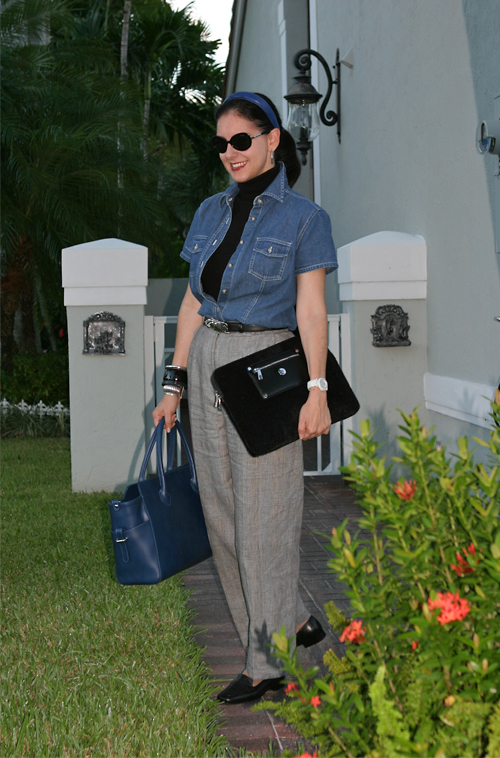 I was a bit surprised that wearing turtlenecks under shirts had become a trend for the fall, since it threw me back to the early 90s when the look was so popular. However, I have to admit that it's a comfortable way to layer up even if sometimes it becomes a bit bulky.
For this outfit, I paired navy and black by wearing a jean shirt over a black turtleneck. I kept it Florida-friendly by making both short-sleeve, and wearing Prince of Wales linen pants. Since I was going to be teaching all day, I wore loafers to make it easier on the feet.
You can click here to see another way in which I have styled this jean shirt.
I Wore: 
Cashmere Turtleneck Sweater: Lauren by Ralph Lauren

 

Jean Shirt: Guess Jeans

Prince of Wales Linen Pants: Jones New York

Leather Belt: Ralph Lauren Collection

Leather Loafers: Cole-Haan

Earrings: Sterling silver hoops

Ring: Sterling silver

Bracelets: Horn from Kenya; sterling silver cuff by Thomas Charlie; antique Bakelite from the 1940s; antique sterling silver from the 1940s

Leather Bag: Alberta di Canio

Leather and Faux Fur Laptop Case: Knomo

Ceramic, Diamond, and Mother-of-Pearl Watch: Anne Klein New York

Sunglasses: Ralph by Ralph Lauren

Leather Headband: From Spain

Perfume: So de la Renta, (

here

) Many people ask me the kind of perfume I wear. This has been my signature scent for quite a while. I find that it is both fresh and flirty, light and feminine, and very classic. When I looked online, I was pleasantly identified by the description in the Oscar de la Renta site: "For the spontaneous, energetic woman who spreads her enthusiasm everywhere she goes. A radiant, sparkling scent." And also, "So de la Renta revels in the elegant, unexpected, playful side of the Oscar woman."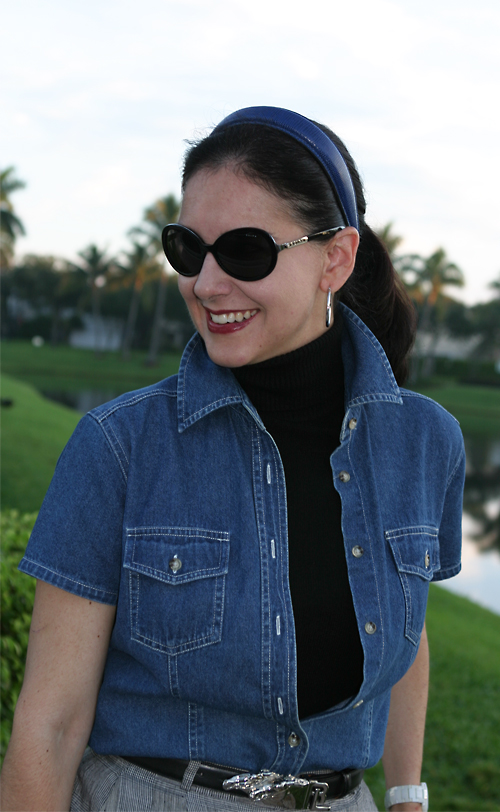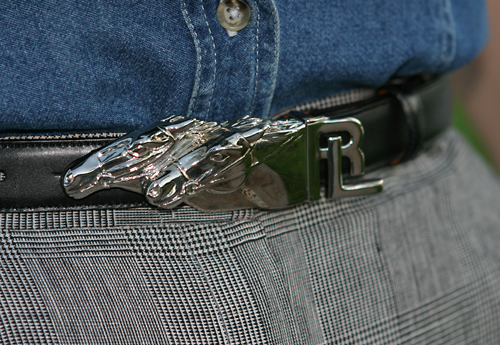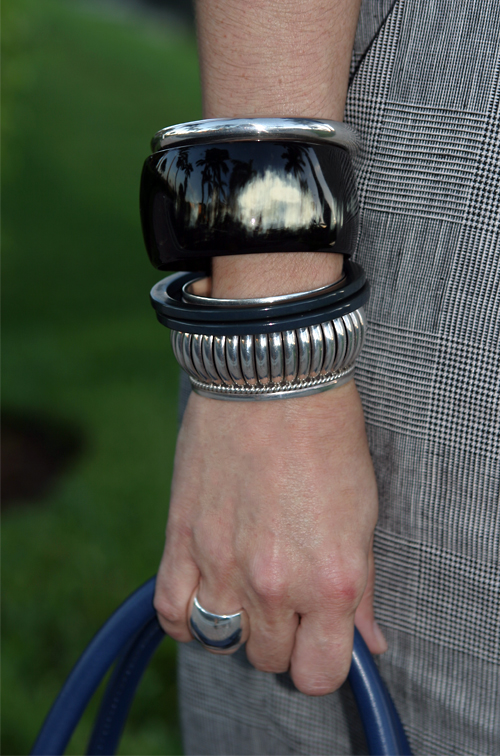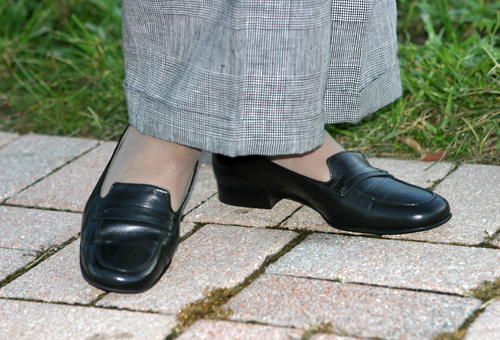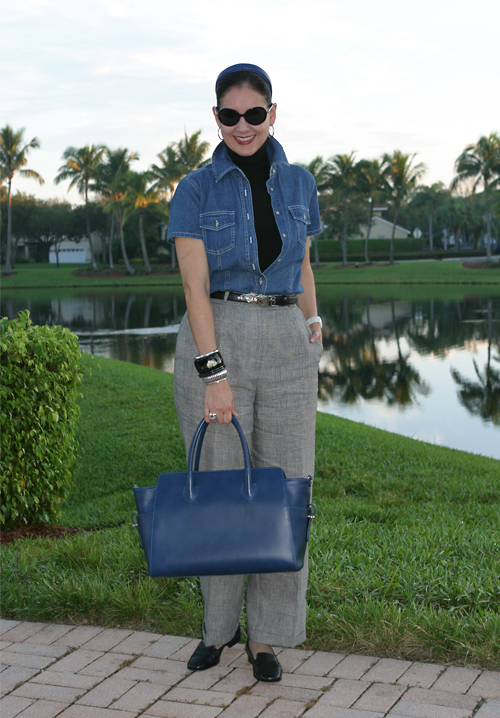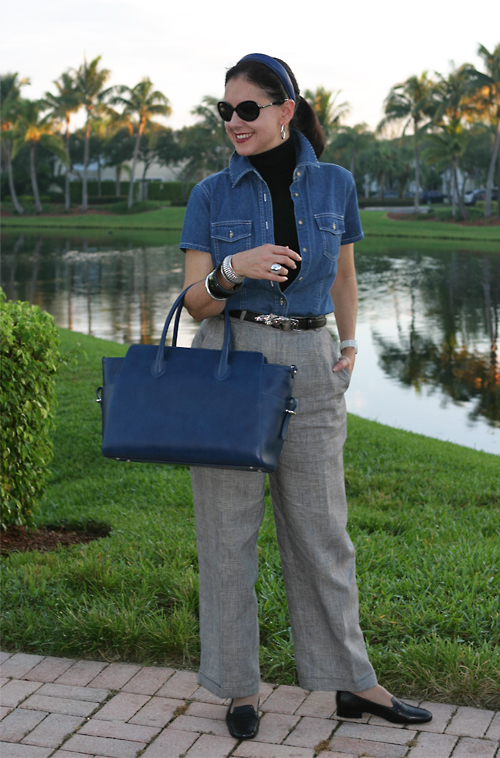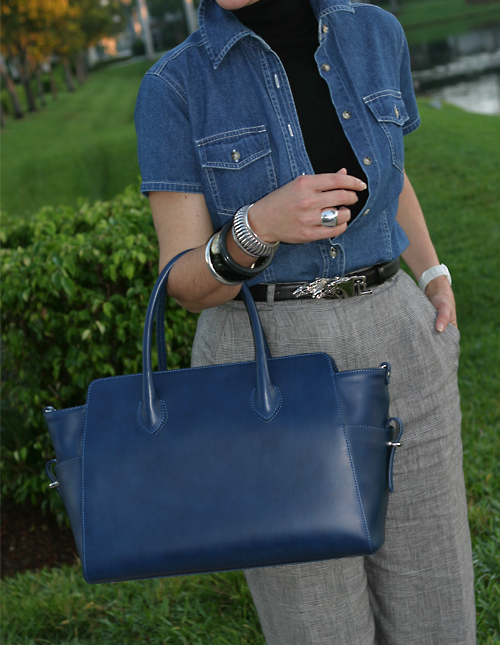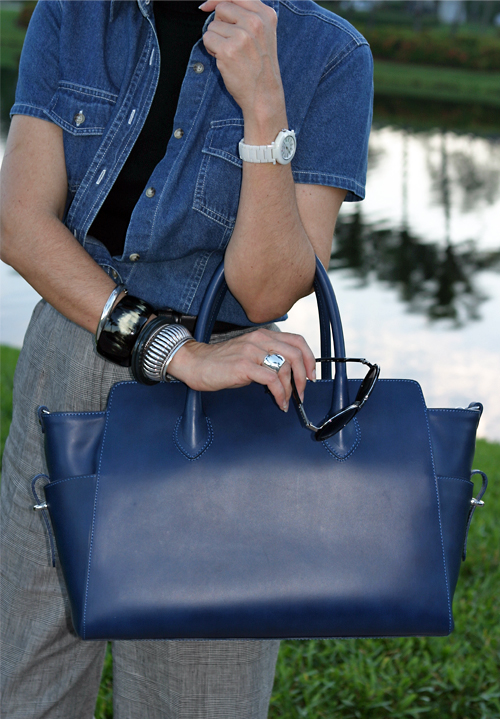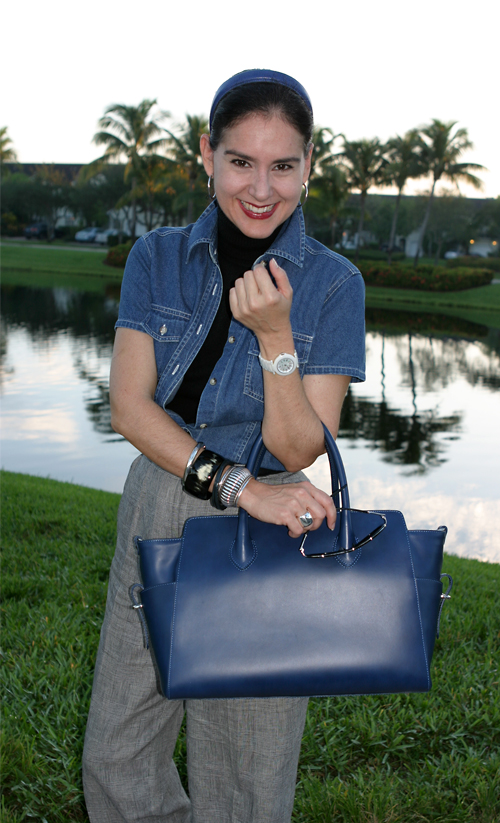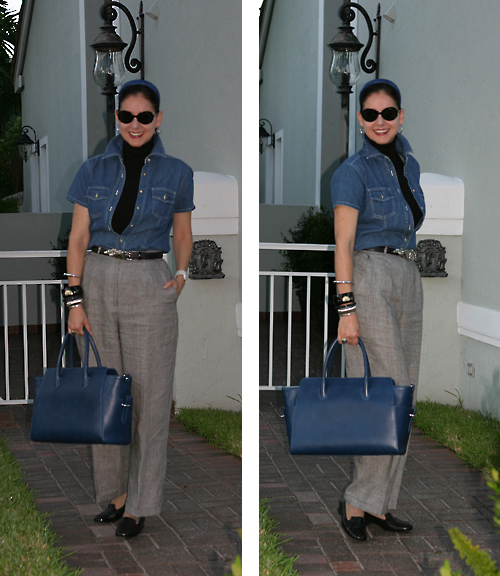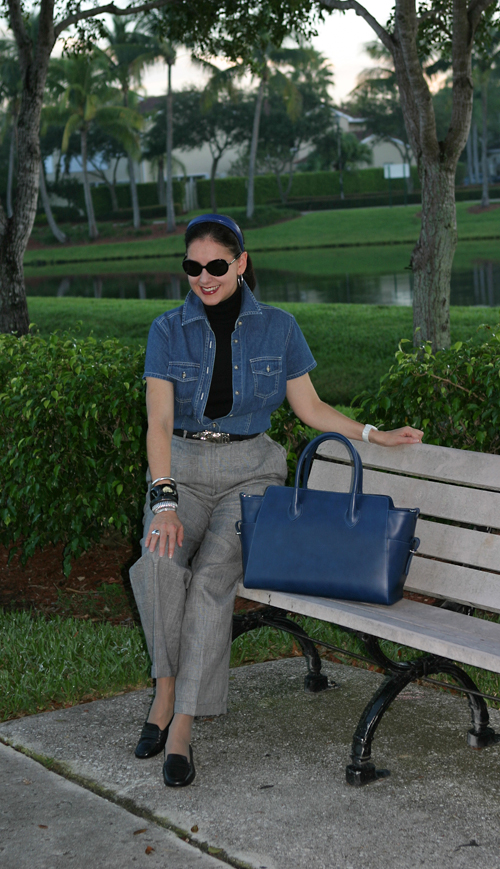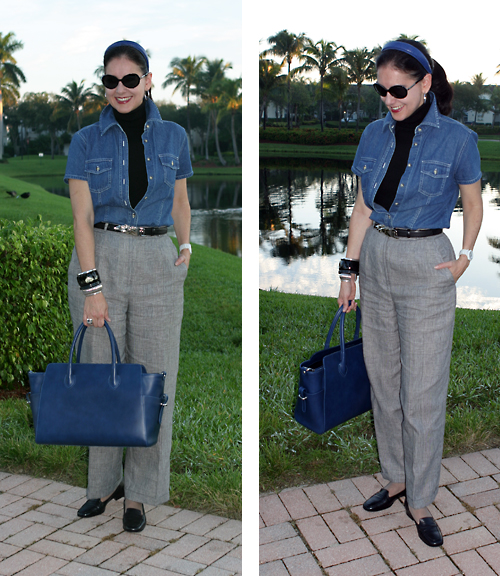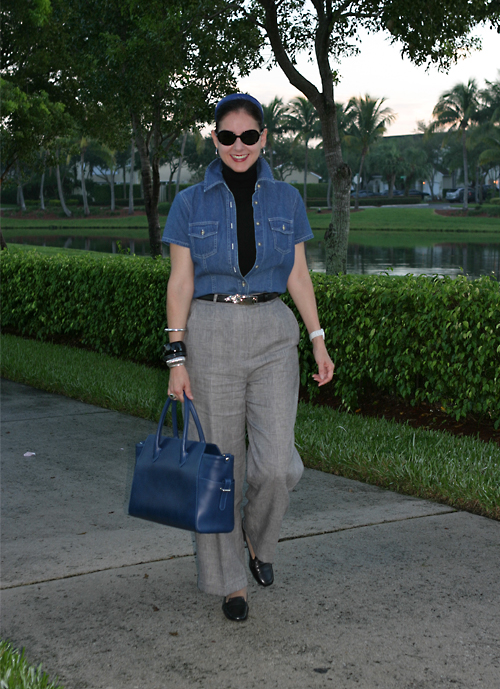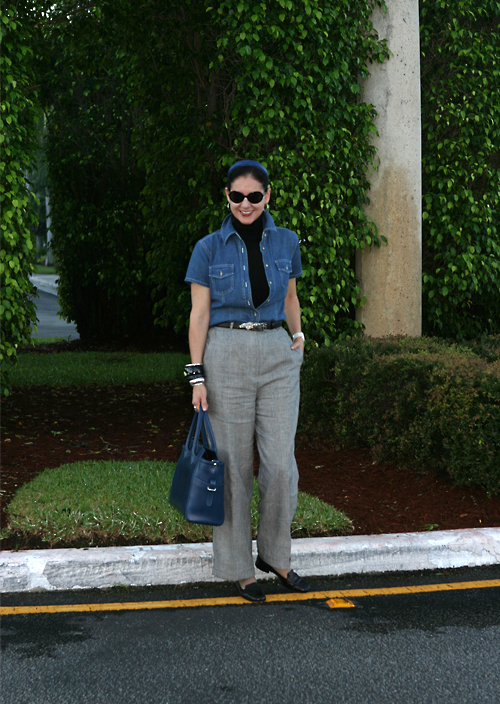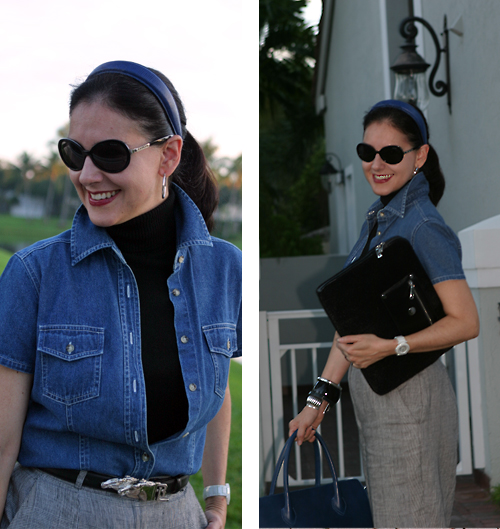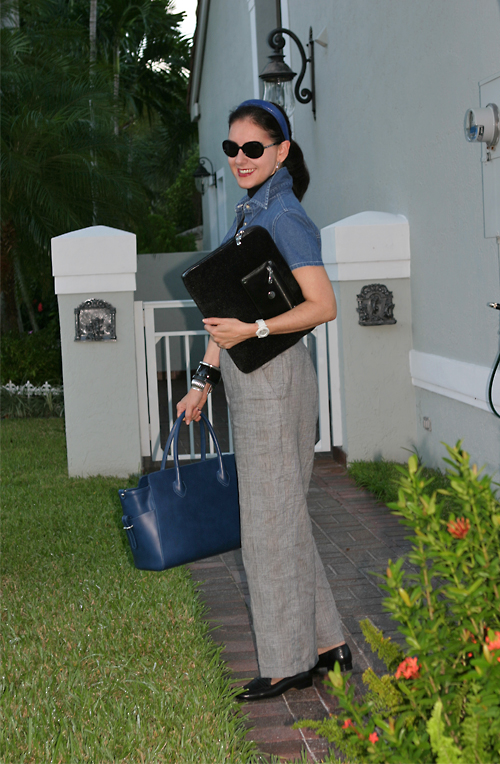 Me sorprendió un poco que el usar un cuello de tortuga debajo de la camisa haya vuelto a ser una tendencia para el otoño, ya que me recordó al principio de los 90 cuando hacerlo estuvo muy de moda. Sin embargo, tengo que admitir que es una forma muy cómoda de vestirse en capas, aunque algunas veces se vea un poco pesado.
Para este conjunto, combiné azul marino con negro al juntar una camisa de jean con un suéter cuello de tortuga negro. Lo mantuve apropiado para el clima de Florida luciendo una versión manga corta, y poniéndome unos pantalones de lino en Príncipe de Gales. Como iba a dar clase todo el dia, me puse mocasines para que me fuera mas fácil estar de pie tantas horas.
Puedes apretar aqui para ver otra forma en la cual he combinado esta camisa de jean.
Me Puse: 
Su

é

ter de Cashmere Cuello Tortuga: Lauren by Ralph Lauren

Camisa de Jean: Guess Jeans

Pantalones de Lino en Pr

í

ncipe de Gales: Jones New York

Cintur

ó

n de Piel: Ralph Lauren Collection

Pendientes/Zarcillos: Aros/Argollas de plata esterlina

Anillo/Sortija:

De plata esterlina

Pulseras/Brazaletes: De cuerno de vaca de Kenia; de plata de Thomas Charlie; de Bakelita antigua de los años 40; de plata esterlina antigua de los años 40

Cartera/Bolso de Piel: Alberta di Canio

Estuche de Computadora de Piel y Pelo Falso: Knomo

Reloj de Cerámica, Brillantes y Madreperla: Anne Klein New York

Lentes/Gafas de Sol: Ralph by Ralph Lauren

Cintillo/Diadema de Piel: De España

Perfume: So de la Renta, (

aqui

) Mucha gente me pregunta qué perfume uso. Ésta ha sido mi fragancia por bastante tiempo. Encuentro que es fresca y coqueta, ligera y femenina, y muy clásica. Cuando busqué la descripción en la página de Oscar de la Renta, quedé gratamente identificada con lo que decía: "Para la mujer espontánea y energética que reparte su entusiasmo dondequiera que va. Una fragancia radiante y chispeante." Y también, "So de la Renta se deleita en el lado elegante, inesperado y divertido del tipo de mujer que representa Oscar de la Renta."
Share it in your...
Compártelo en tu...
Want to leave me a comment? | ¿Quieres dejarme un comentario? [+]
Comments | Comentarios