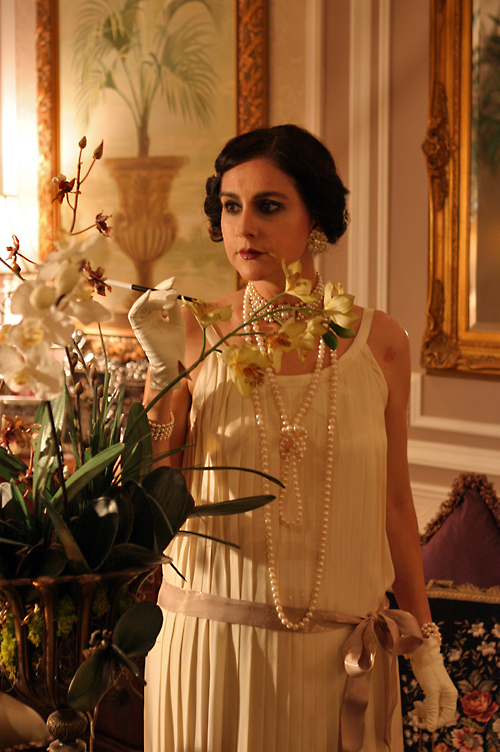 This past weekend I had a Halloween party, and this year I decided not to dress as something scary. Instead, I decided to play homage to the Jazz Age.
Normally, I always try to dress up in a scary manner for Halloween because donning non-scary costumes is something I associate with carnival instead. Lately, however, I've been quite engrossed in watching a Downton Abbey marathon (season 3 takes place in the 20s!), so I was very inclined to wear something vintage-y this year. I'm also waiting patiently for the new version of The Great Gatsby, and with shows like Boardwalk Empire, the 20s started to appeal to me more and more.
The roaring 20s are also my best friend, Bettina's favorite era, since they serve as the backdrop for her favorite novel, Ifigenia, by Teresa de la Parra, a Venezuelan writer. The novel is amazing, and if you have a chance, and can find it, you'll love reading the semi-autobiographical novel of a young woman who lived through the 20s. For a lighter look at the 20s, you can read Sophie Kinsella's delightful book, Twenties Girl.
I also did a bit of research in terms of makeup (which truly became widely used in those years) and hairstyles, and decided to go for it. I practiced the hairstyle a couple of days earlier, and even sent Bettina a picture to see what she thought. For makeup, I mimicked silent actress, Clara Bow's, famous "bow lip", and "bobbed" my hair a la Garçonne with lots of "bobby pins". I didn't necessarily wanted to be a typical flapper, just a girl from the 20s, so I mostly took inspiration from the descriptions in Ifigenia and real photographs from the era.
I had everything at home. The only thing I made was the cigarette holder, which only took a minute to make, so I didn't spend one dollar! My kind of Halloween! What will be your Halloween costume this year?
If you want to see last year's costume, you can see it here. To see how I wore this dress in a non-costume way, you can click here.
I Wore: 
Silk Dress: Episode

Paillette

Capelet: Vintage

Kid Leather Two-Button Length Gloves: Vintage

Iridescent Leather Shoes: Ferragamo

Earrings: Swarovski crystals and Majorica pearls

Bracelets: Torsade of cultured pearls; Majorica pearls with Swarovski crystals

Necklaces: Rope length cultured pearl strand; Majorica pearl choker with Swarovski crystals

Silk Embroidered Bag: Vintage

Cigarette Holder: DIY makeup brush with burned-edge piece of paper attached to the brush end

Hair Clip: Vintage rhinestone barrette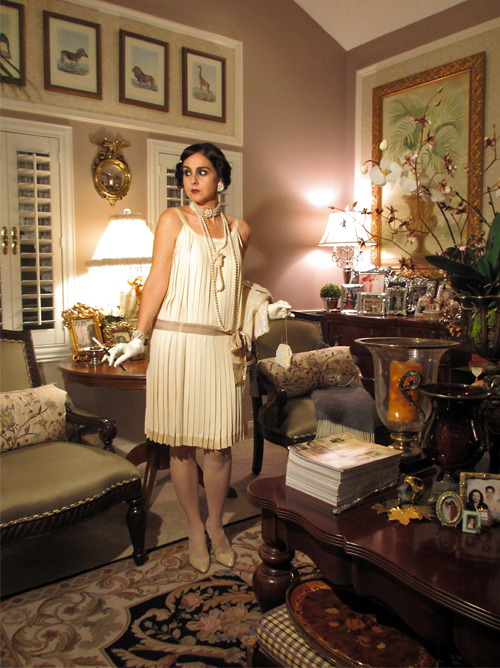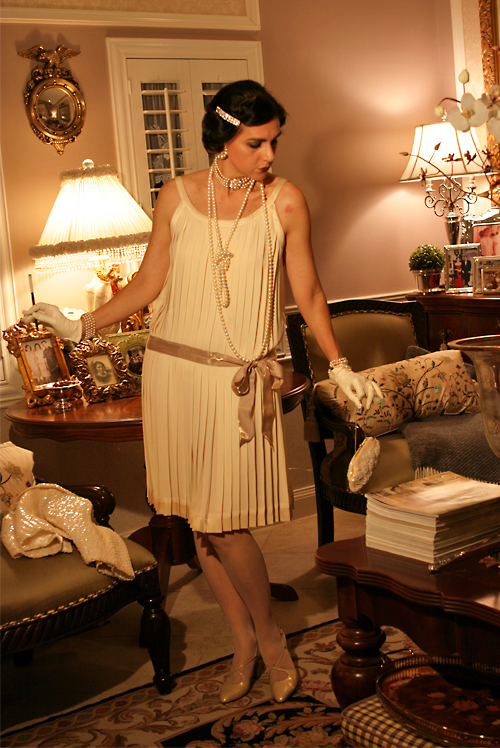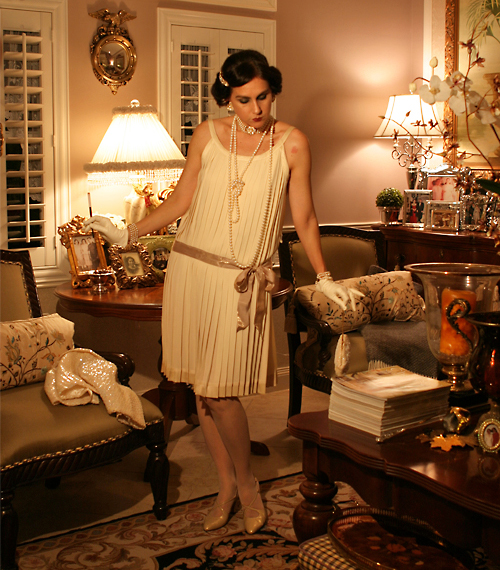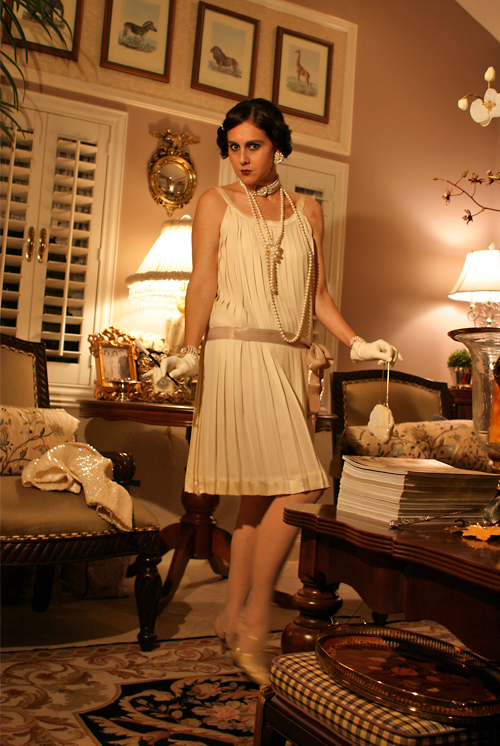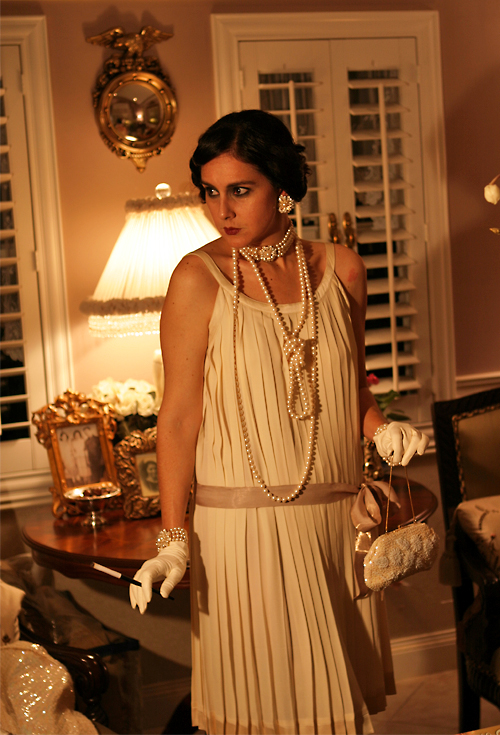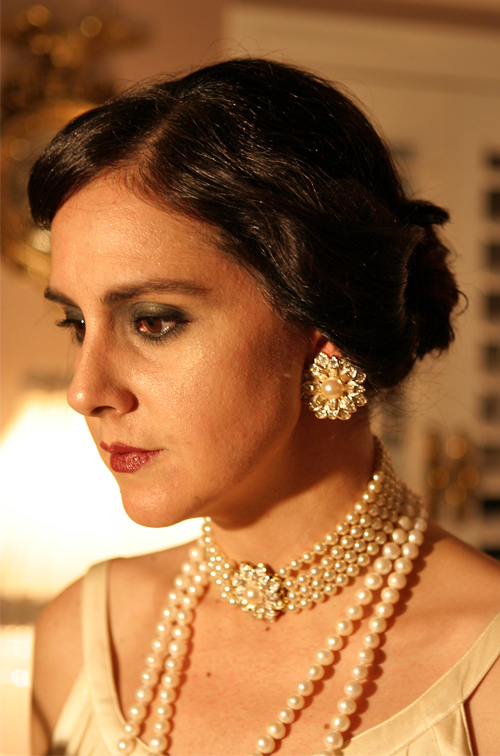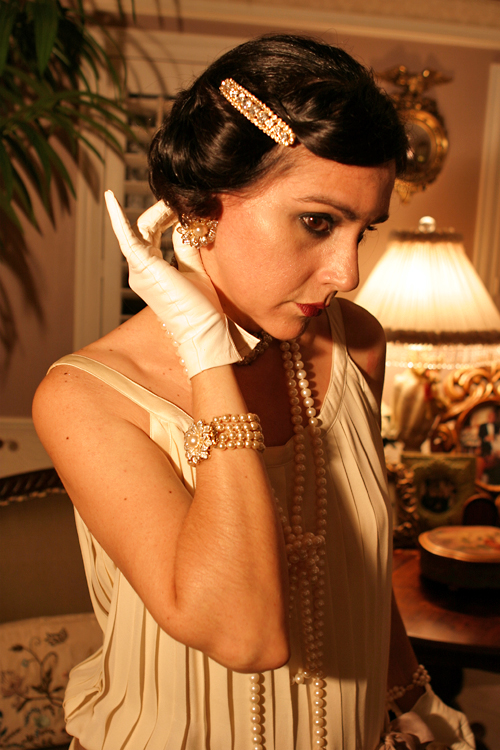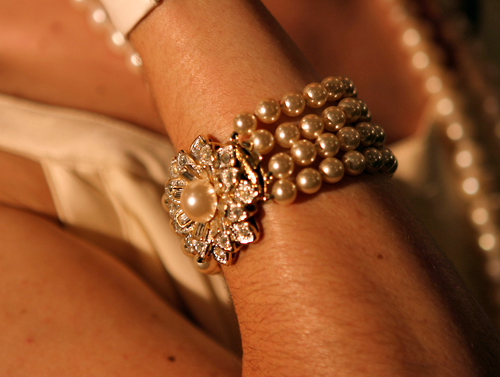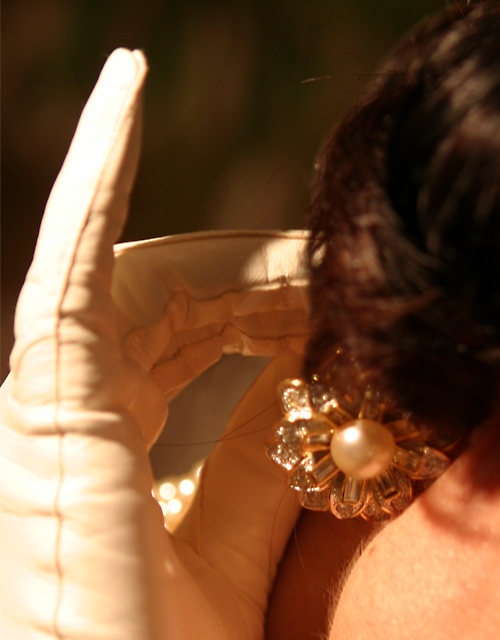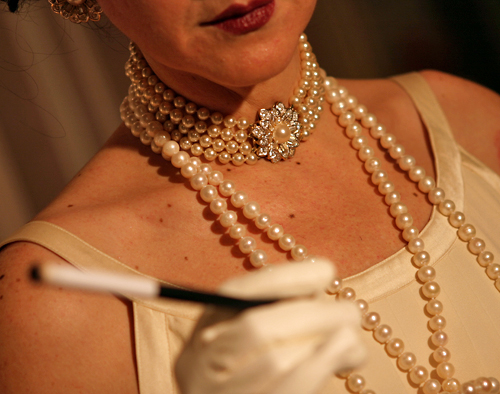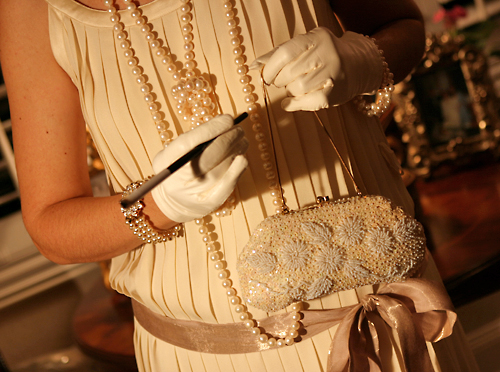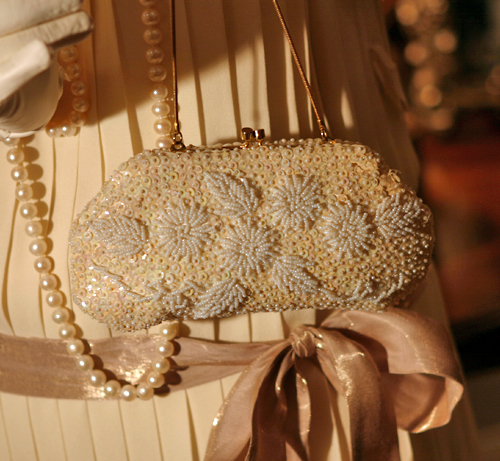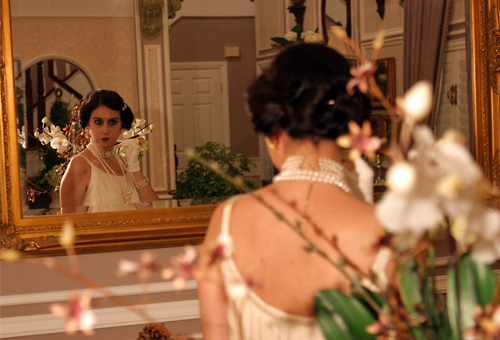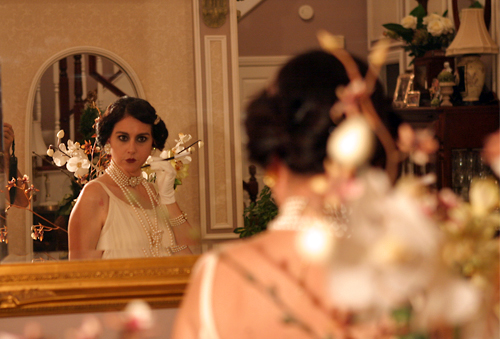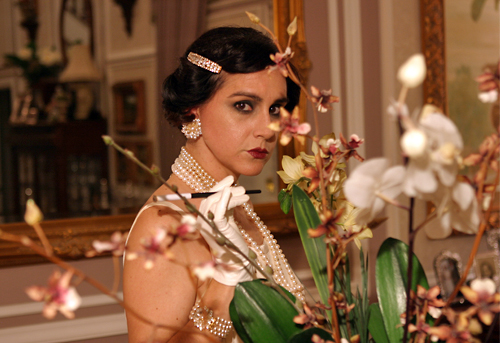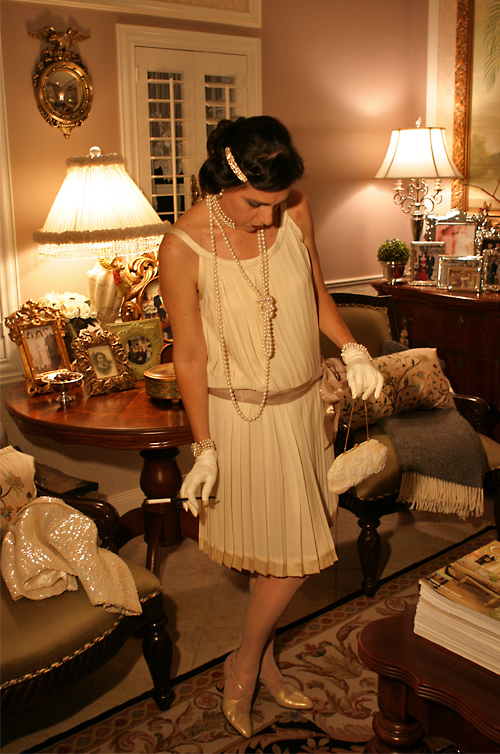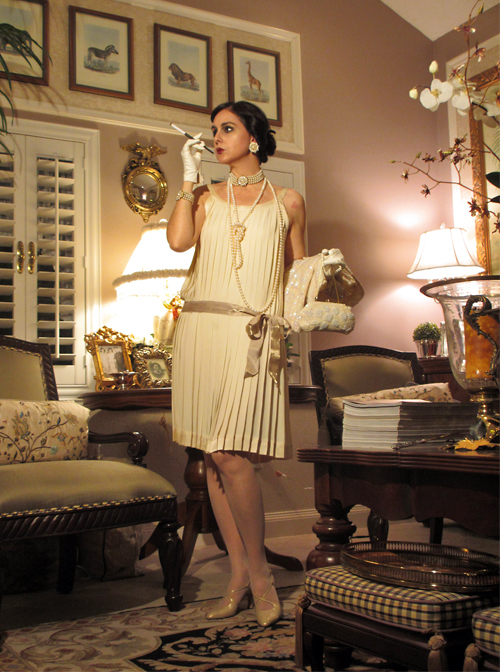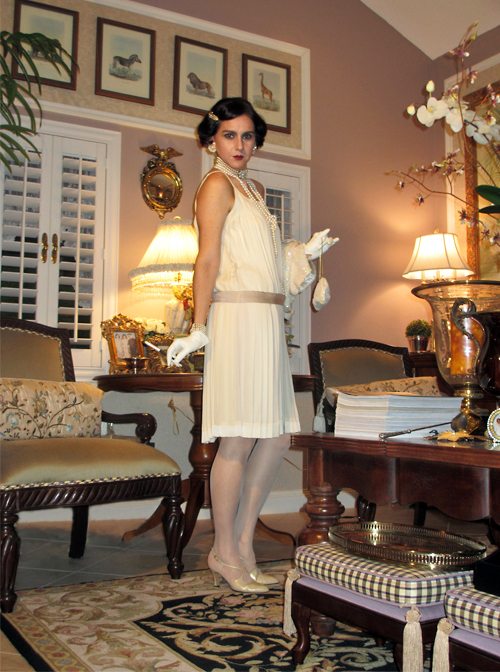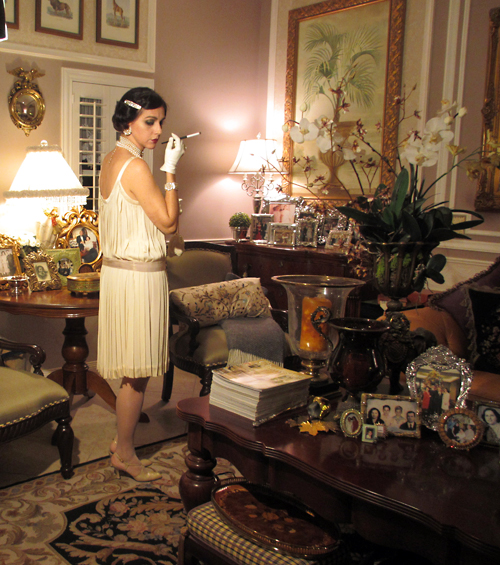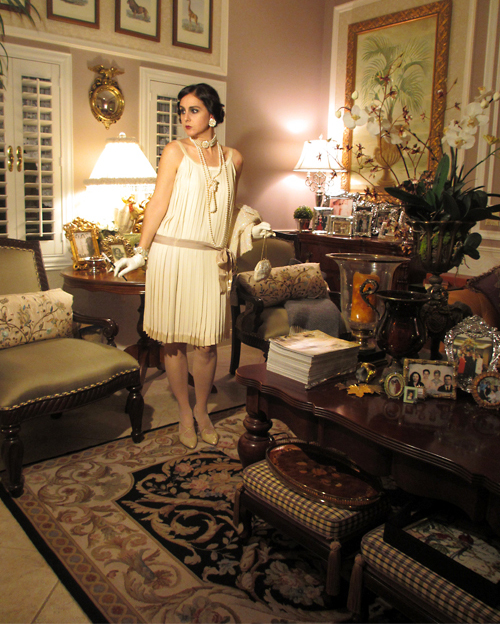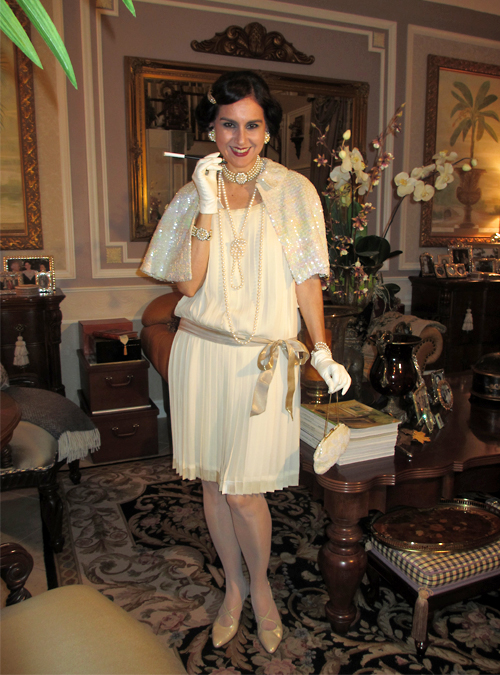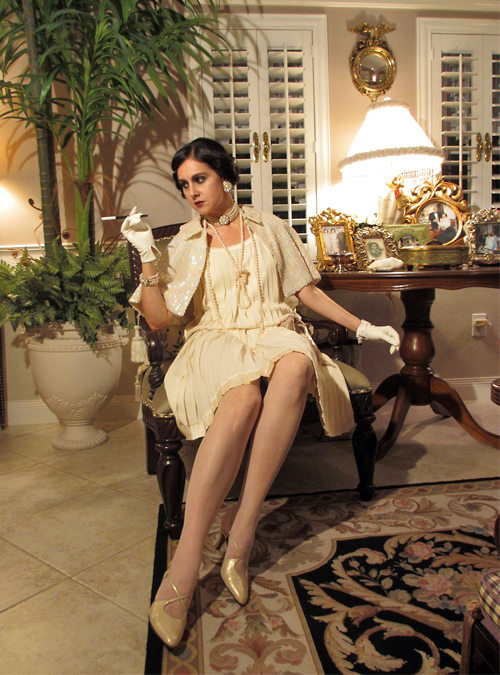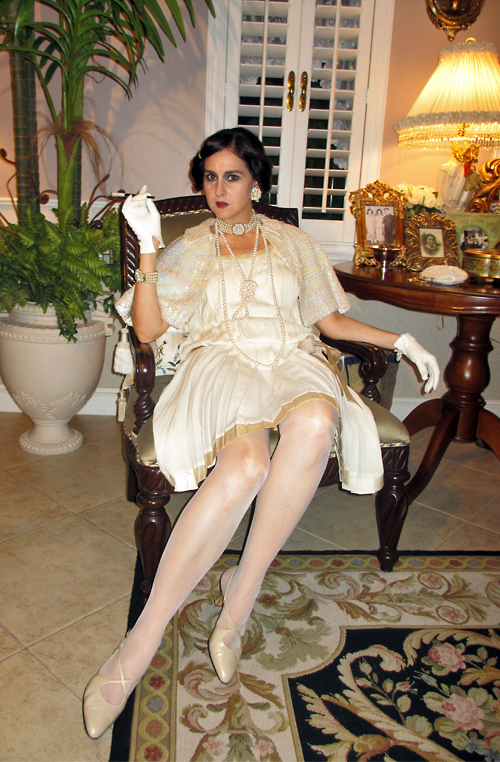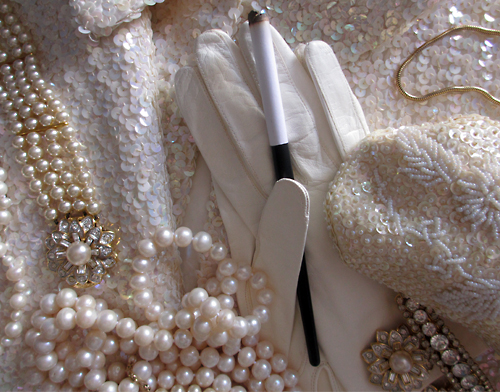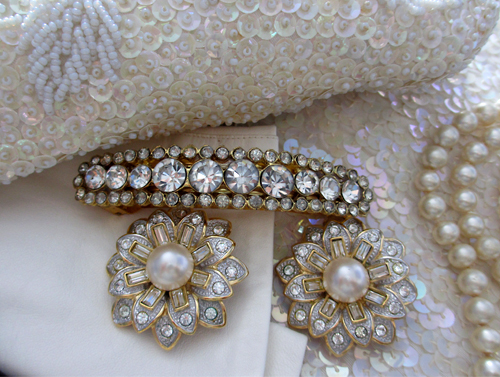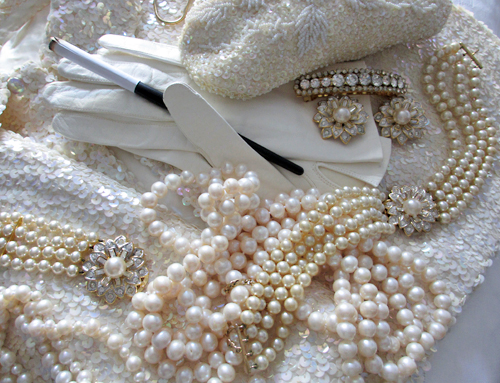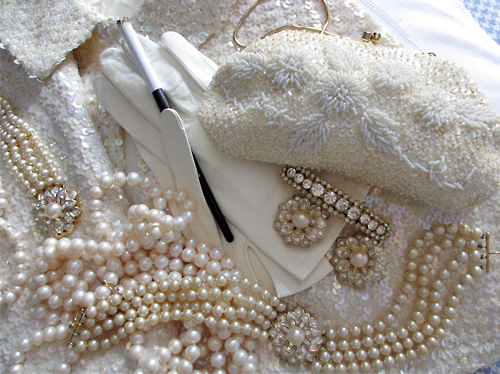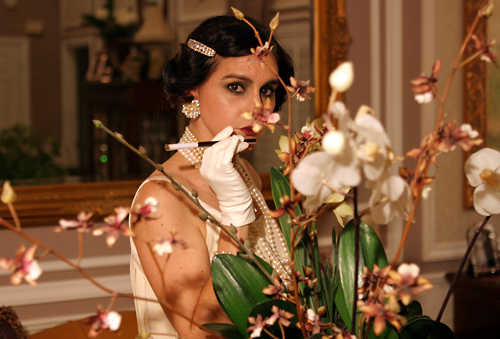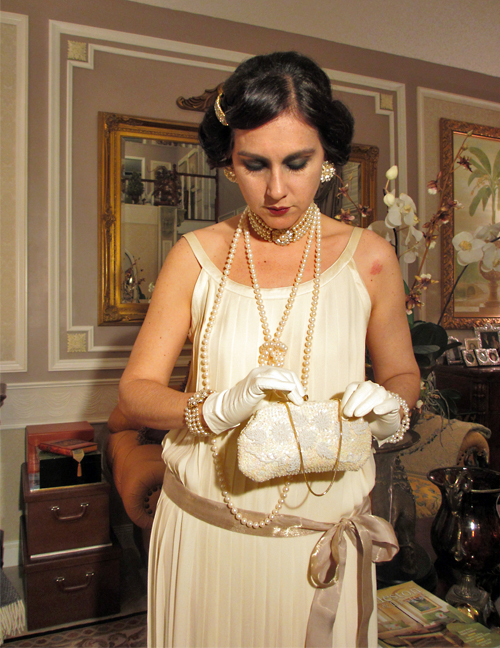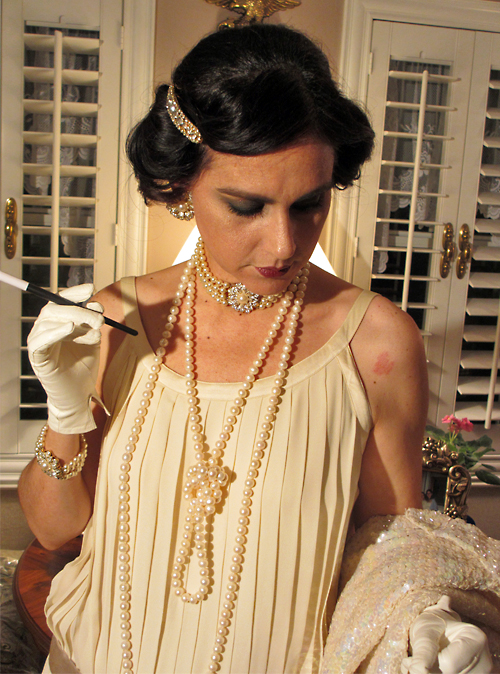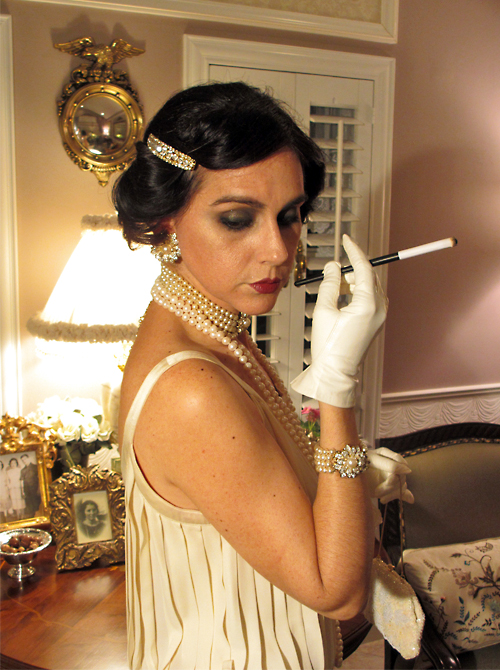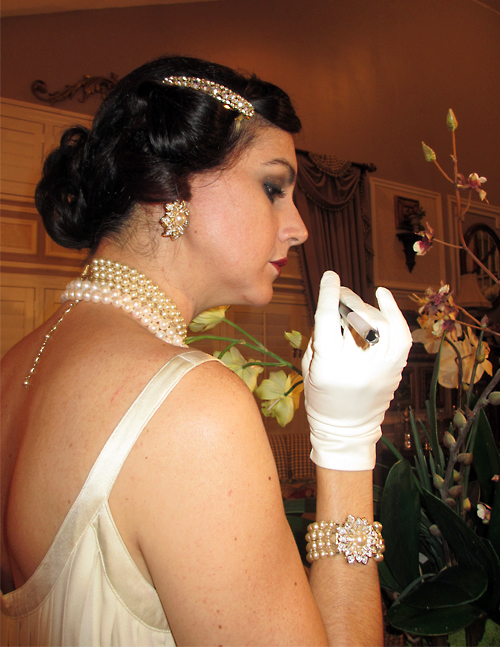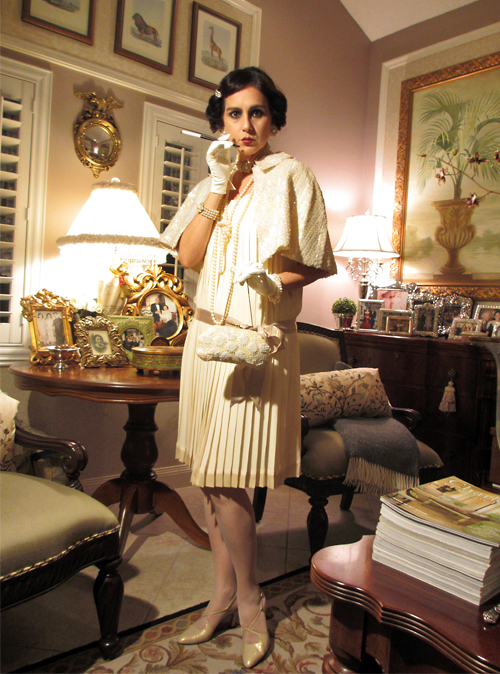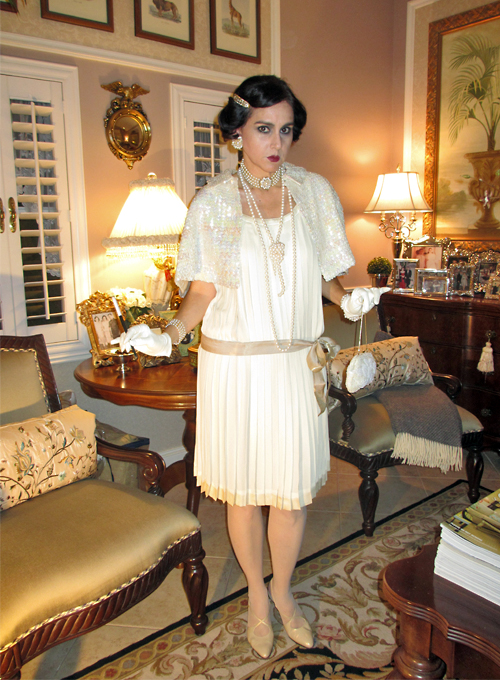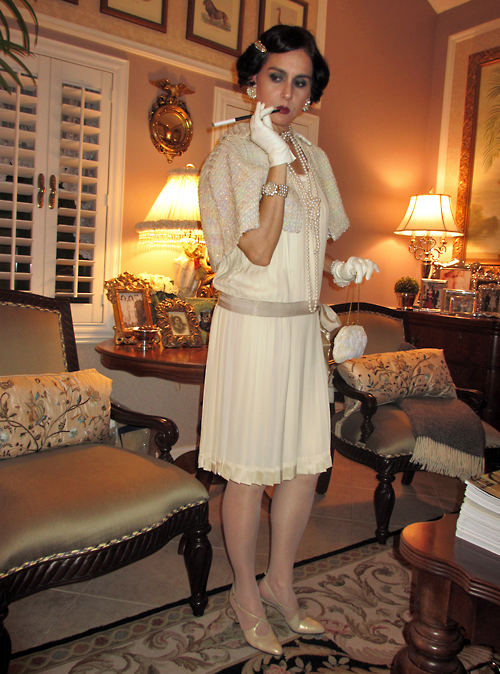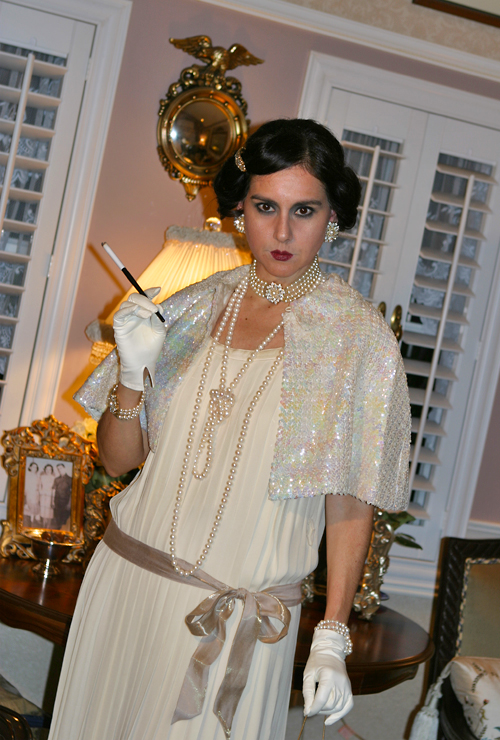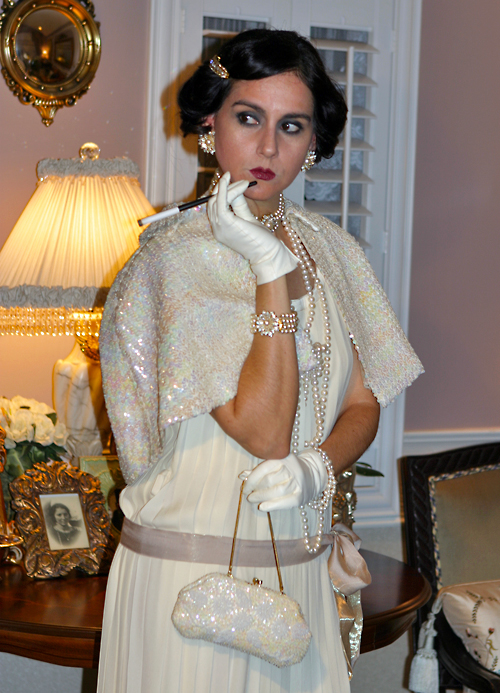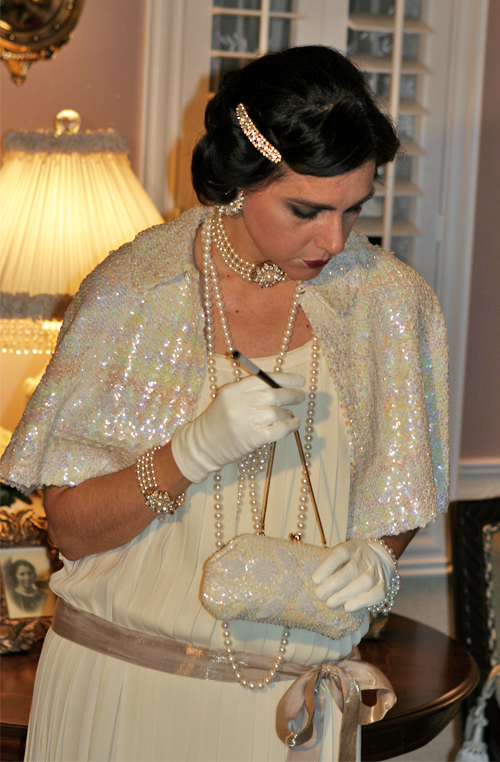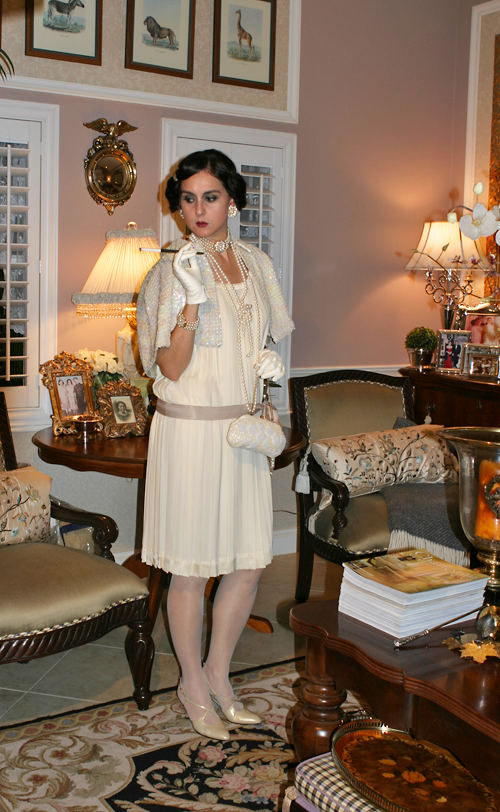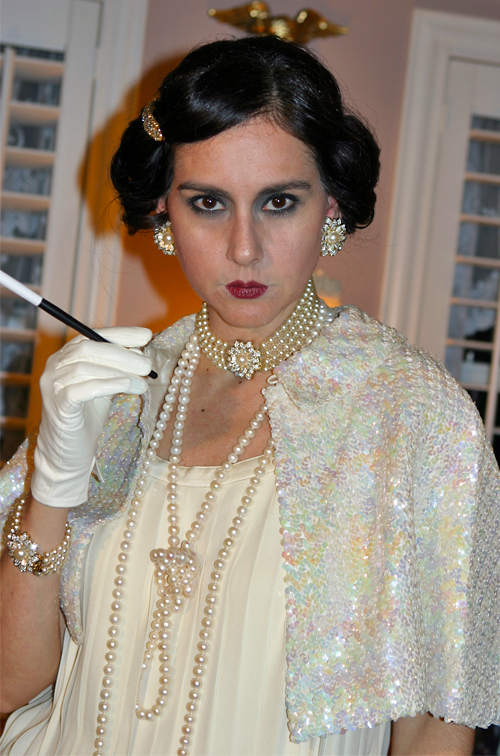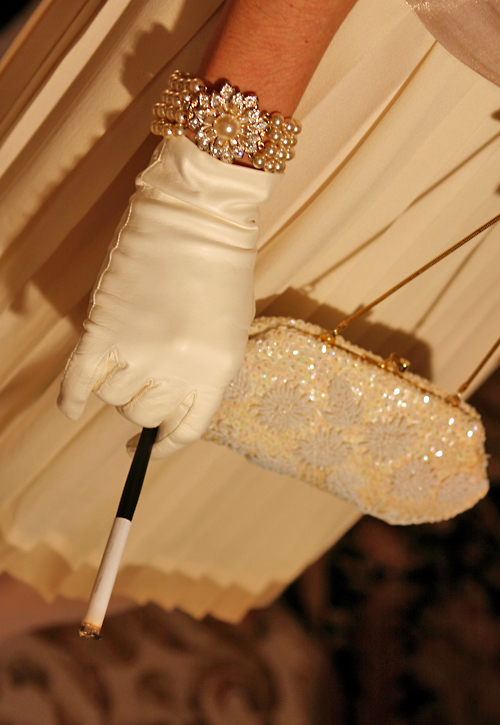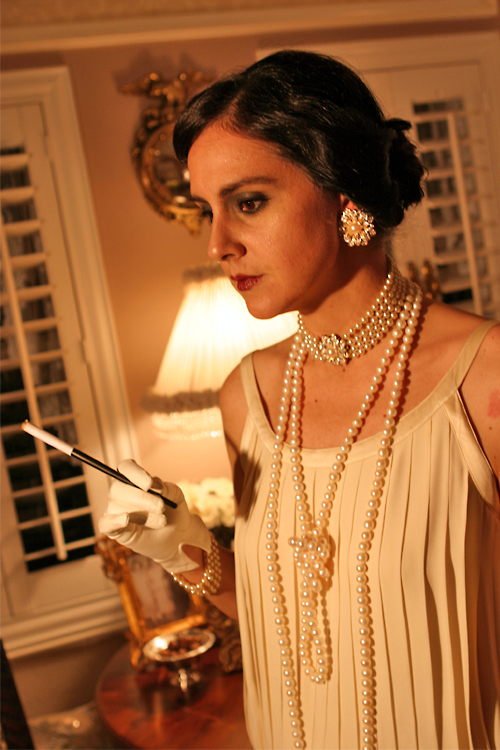 Este fin de semana tuve una fiesta de Halloween, o fiesta de la Víspera del Dia de Todos los Santos, y este año decidí no vestirme de algo de miedo. En vez de algo tétrico, decidí rendirle tributo a la Era del Jazz.
Normalmente, siempre trato de vestirme para dar miedo en Halloween, ya que disfrazarme de algo que no de miedo es algo que asocio con carnaval y no con Halloween. Últimamente, sin embargo, he estado viendo un "maratón" de Downton Abbey (la tercera temporada transcurre en los años 20!), asi que este año me sentía bastante interesada en disfrazarme de algo de otra época. También estoy esperando pacientemente la nueva versión de El Gran Gatsby, y con programas como Boardwalk Empire, los años 20 empezaron a atraerme mas y mas.
Los locos años 20 también son la época favorita de mi mejor amiga, Bettina, ya que durante ellos transcurre su novela favorita, Ifigenia, escrita por Teresa de la Parra, una escritora venezolana. La novela es magnífica, y si tienen la oportunidad, y encuentran el libro, les encantará leer la semi-autobiografía de esta jóven y sus vivencias durante esos años. Para una mirada mas informal sobre los años 20, pueden leer el divertido libro de Sophie Kinsella, Twenties Girl.
Investigué un poco en cuanto a maquillaje (que comenzó a usarse masivamente en esos años) y peinados, y decidí atreverme con ello. Practiqué el peinado un par de dias antes e incluso le mande una foto a Bettina a ver que pensaba. Para el maquillaje, imité los famosos labios en forma de corazón de la actriz del cine mudo, Clara Bow, y recogí mi pelo a la Garçonne con las típicas horquillas que se usaban tanto en esa época. No quería ser una "flapper" típica, necesariamente, sólo una chica de los años 20, asi que mayormente tomé inspiración de las descripciones que salen en Ifigenia y de fotografías reales de la época.
Tenía en casa todo lo que necesitaba y utilicé para disfrazarme. La única cosa que tuve que hacer fue la boquilla del cigarillo, que sólo me tomó un par de minutos, asi que no gasté ni un sólo dolar! El tipo de Halloween que me gusta! De qué te vas a disfrazar este año?
Si quieres ver el disfraz que use el año pasado, lo puedes ver aqui. Aqui puedes ver también como lucí este vestido de manera normal.
Me Puse: 
Vestido de Seda: Episode

Capa de Lentejuelas: Antigua

Guantes de Cabritilla con Largo de Dos Botones: Antiguos

Zapatos de Piel Iridiscente: Ferragamo

Pendientes/Zarcillos: Con cristales de Swarovski y perlas Majorica

Pulseras/Brazaletes: De perlas cultivadas en torsade; de perlas Majorica con cristales de Swarovski

Collares: De perlas cultivadas en tamaño cuerda; de perlas Majorica con cristales de Swarovski

Cartera/Bolso de Seda Bordada en Lentejuelas: Antigua

Boquilla de Cigarrillo: Hecha en casa con un pincel de maquillaje y un pedazo de papel quemado y adherido al extremo del pincel

Gancho de Pelo: De cristales antiguos
Share it in your...
Compártelo en tu...
Want to leave me a comment? | ¿Quieres dejarme un comentario? [+]
Comments | Comentarios