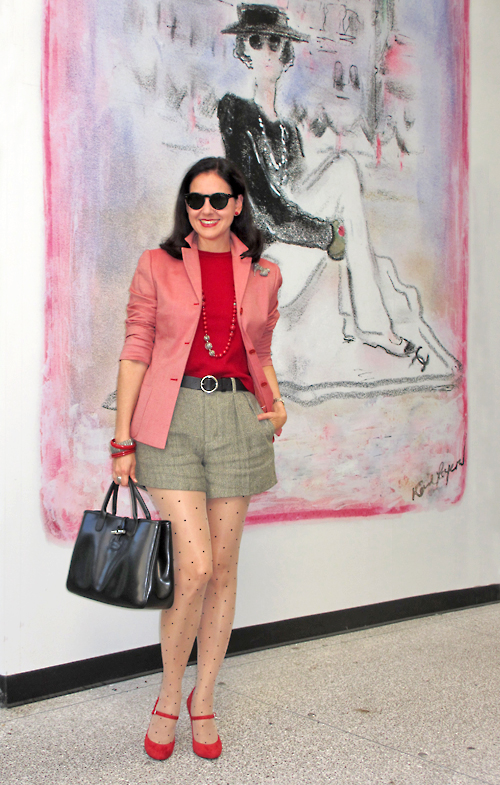 The Chanel store in Bal Harbour Shops is being remodeled, and in the mean time, they placed these murals of Coco Chanel drawn by Karl Lagerfeld. They're quite pretty, and also matched my outfit, so I decided to take a few pictures in front of them.
Do you remember the looks that I posted a while back that I took from this Pinterest board? They won me a gift card from Piperlime that I finally used to purchase these lovely Michael Kors shoes. I decided to wear them to Bal Harbour Shops by pairing them with shorts and a blazer. To add a fun touch to the outfit, I wore the dotted hosiery. Lots of people stopped me to ask about it, so I included some links below for similar products. 
Coincidentally, as I was walking towards the restaurants, Kim and Kourtney Kardashian, together with Kourtney's husband, Scott Disick, were coming out of hosiery store, Wolford! They were shopping with their entire reality show entourage, but I was able to catch a picture right before they hopped into their SUV.
I Wore: 
Cashmere Sweater: Label fell off

Cotton Dot-Weave Blazer: Isaia Napoli

Silk and Linen Herringbone Shorts: Ralph Lauren Rugby

Leather Belt: Cole-Haan

Suede Mary Jane Shoes: Kors by Michael Kors (bought with a partial gift card from Piperlime that I won with this Pinterest board) (here and here) 

Earrings: Vintage coral studs

Ring: Sterling silver and marcasite

Bracelets: Sterling silver marcasite and vintage Bakelite bangles from the 1940s

Bow Brooch: Sterling silver marcasite

Necklace: Sterling silver marcasite and coal beads

Leather Bag: Longchamp Roseau (here) 

Gold and Stainless Steel Watch: Raymond Weil, Toccata

Sunglasses: Ralph Lauren Purple Label (

here

) 

Perfume: So de la Renta, (

here

) Many people ask me the kind of perfume I wear. This has been my signature scent for quite a while. I find that it is both fresh and flirty, light and feminine, and very classic. When I looked online, I was pleasantly identified by the description in the Oscar de la Renta site: "For the spontaneous, energetic woman who spreads her enthusiasm everywhere she goes. A radiant, sparkling scent." And also, "So de la Renta revels in the elegant, unexpected, playful side of the Oscar woman."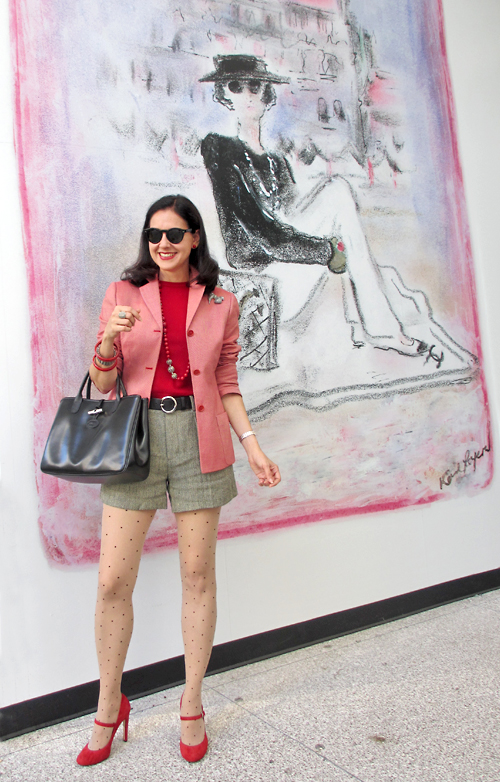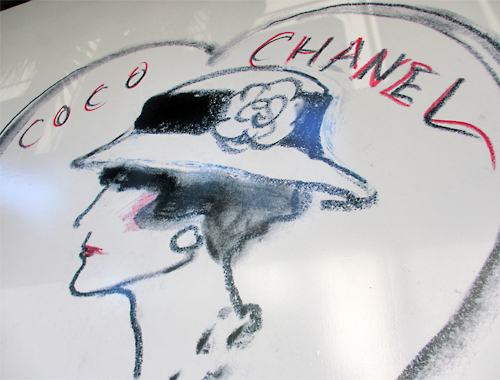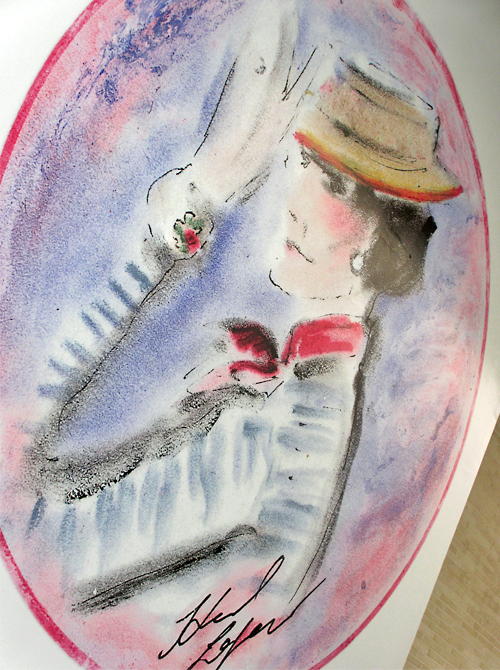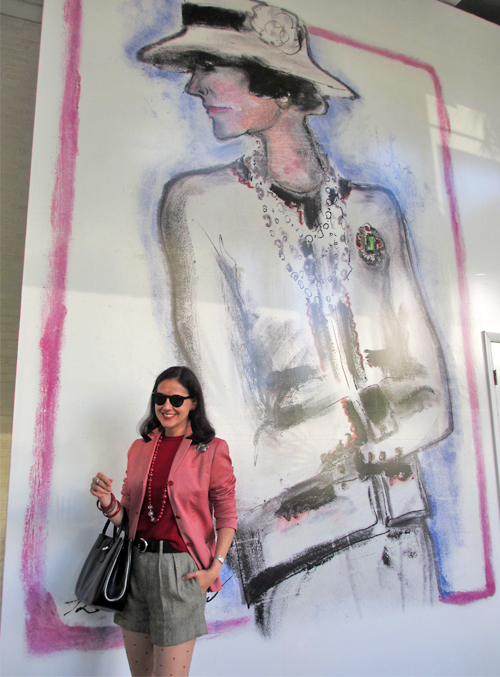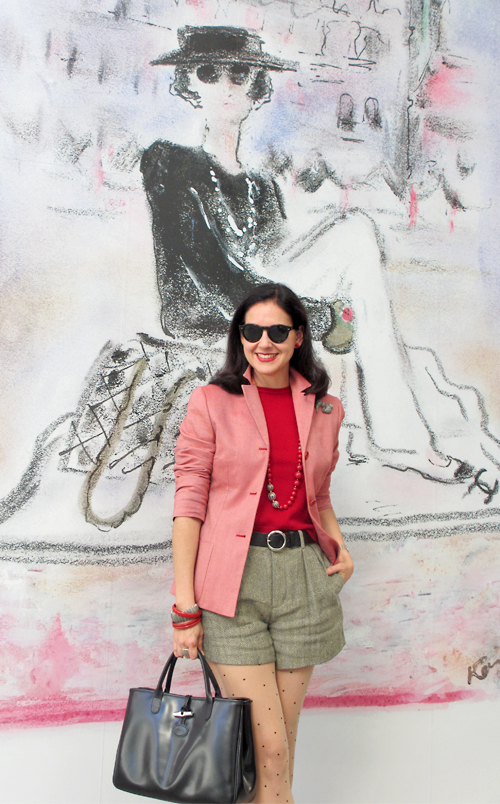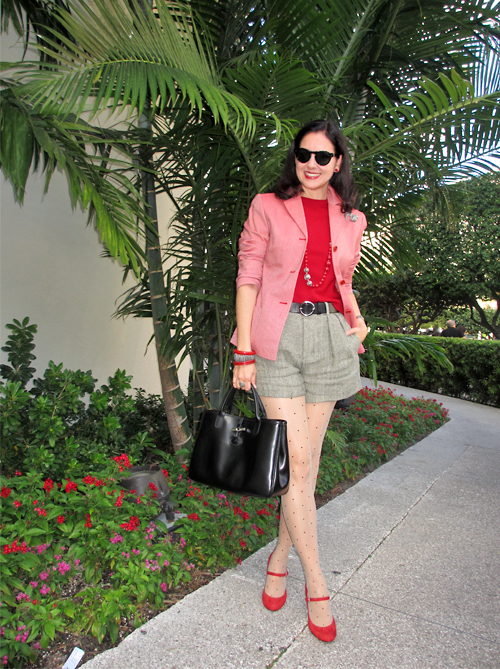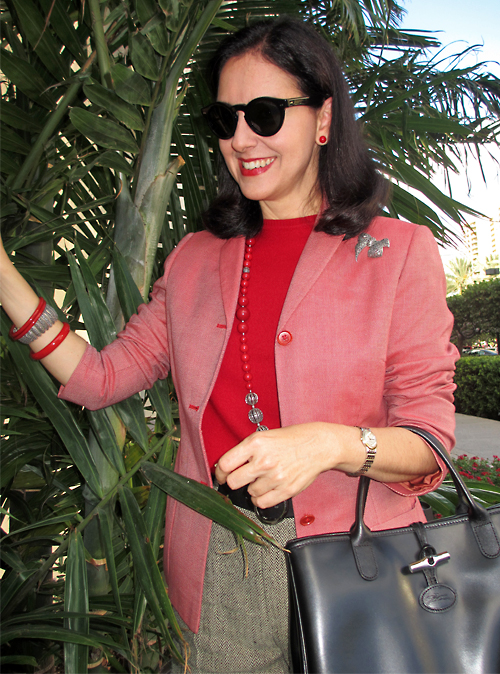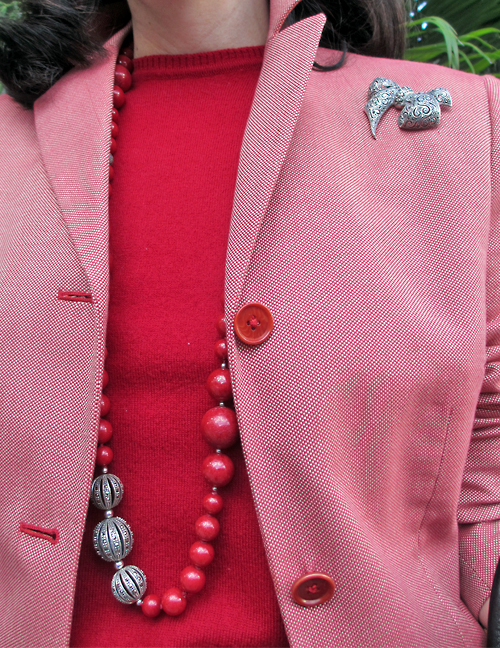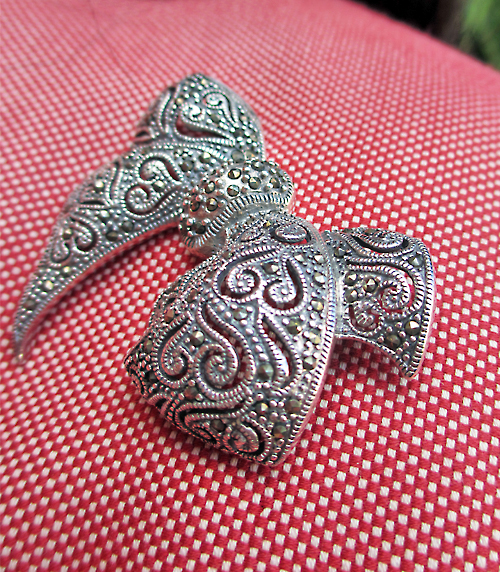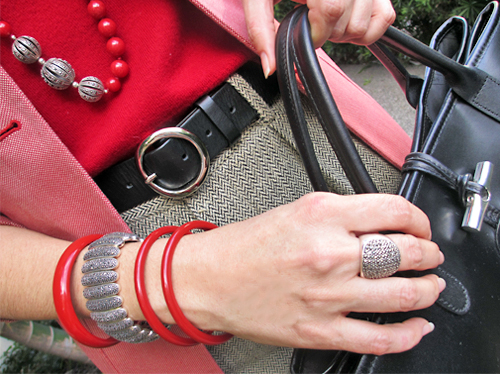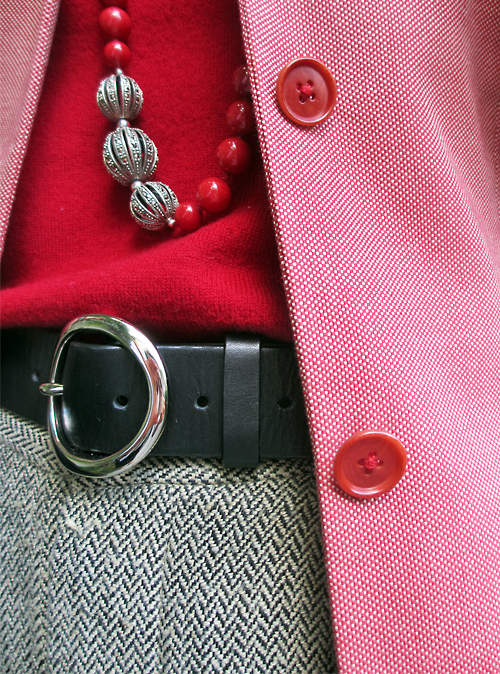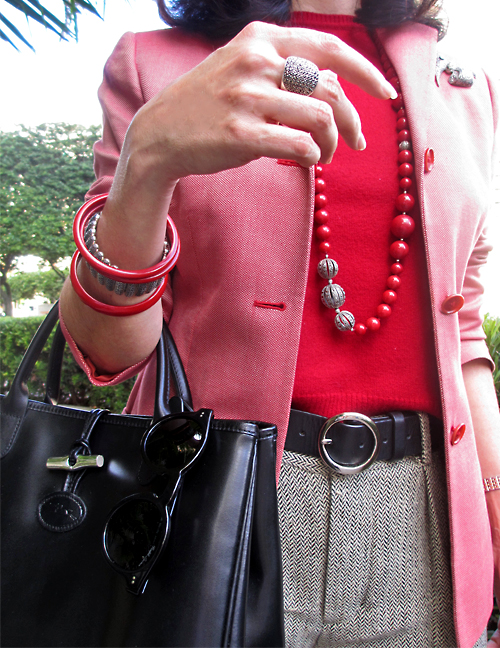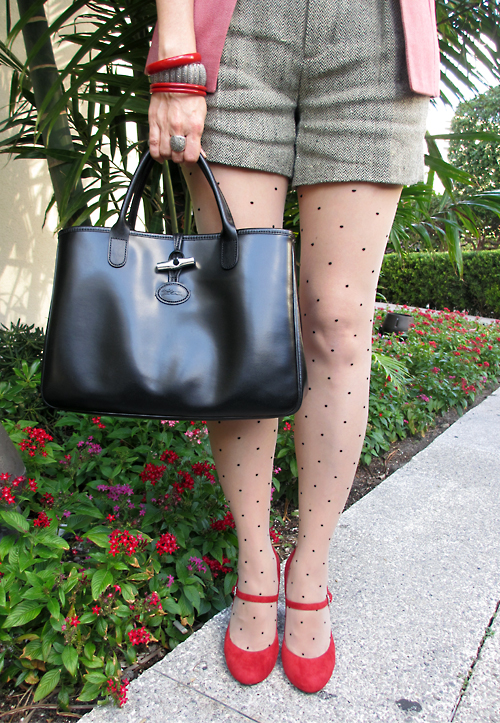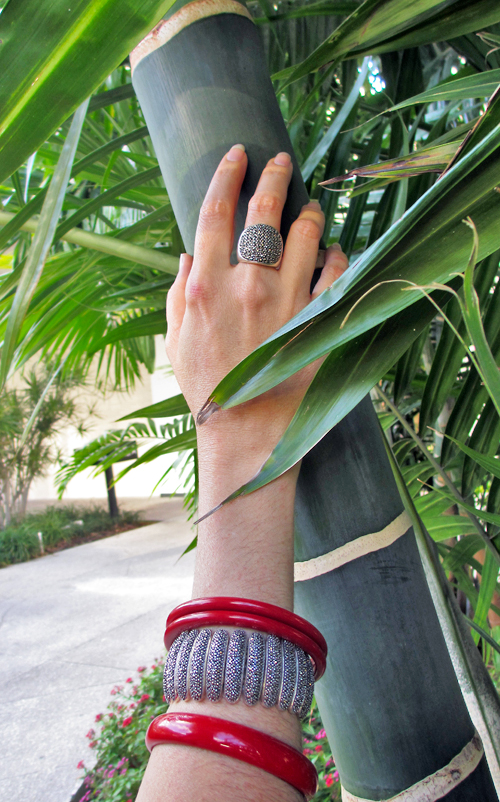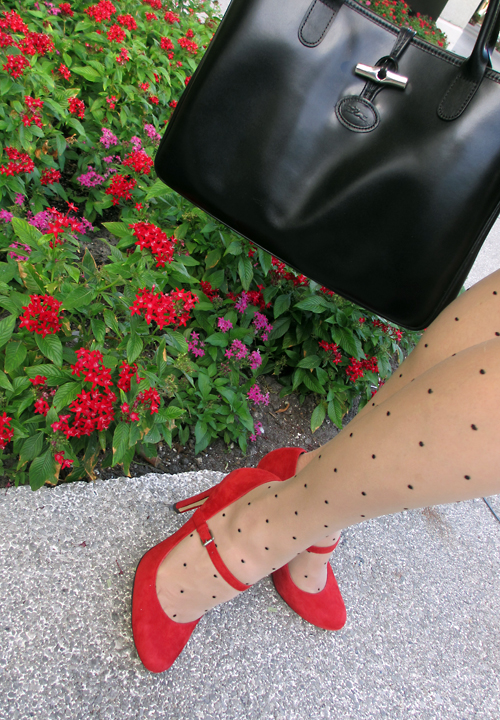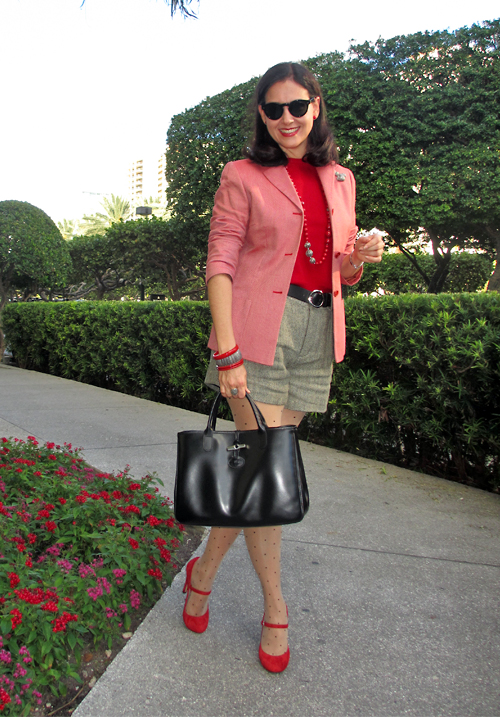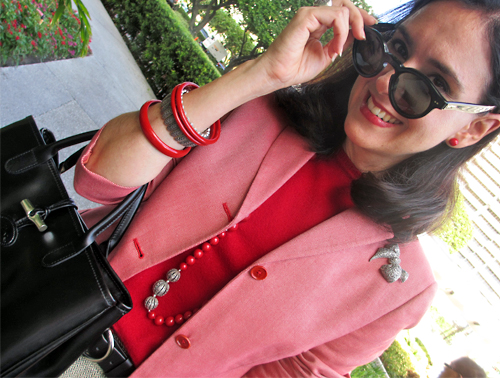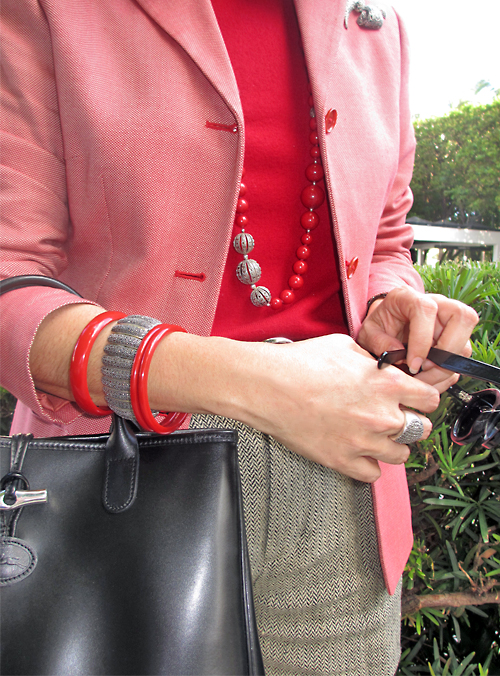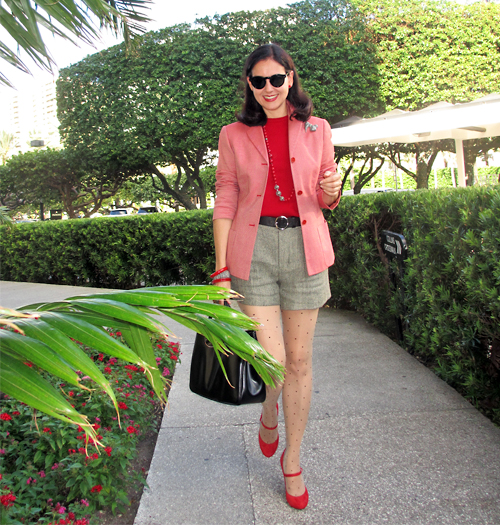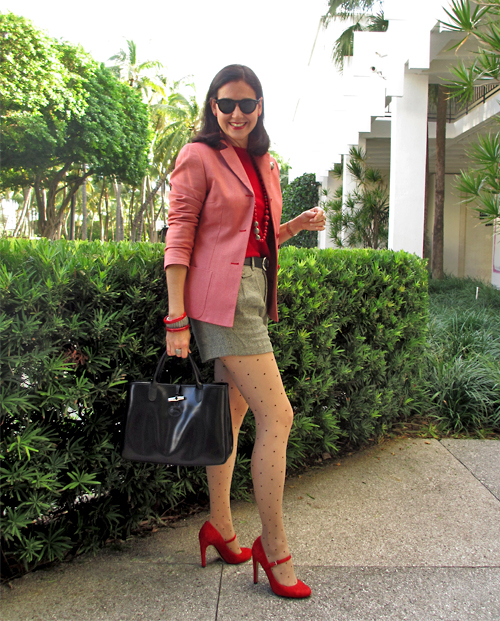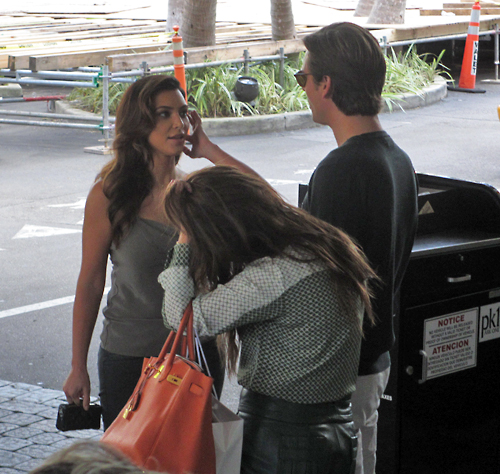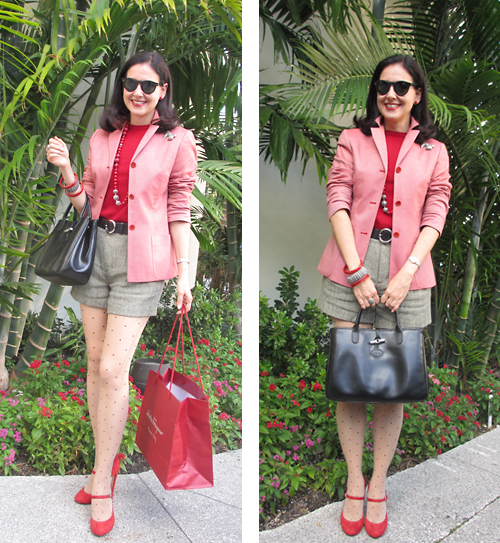 La tienda de Chanel de Bal Harbour Shops la están remodelando, y mientras tanto, han puesto unos murales de Cocó Chanel dibujados por Karl Lagerfeld. Son muy bonitos, y además pegaban con lo que llevaba puesto, asi que decidí tomarme algunas fotos con ellos.
Se acuerdan de los conjuntos que publiqué hace algún tiempo y que tomé de esta cartelera de Pinterest? Pues gracias a ellos gané una tarjeta de regalo cortesía de Piperlime para comprar estos magníficos zapatos de Michael Kors. Decidí estrenarlos para ir a Bal Harbour Shops, combinándolos con shorts y una chaqueta tipo sastre. Para darle un toque divertido al conjunto, me puse estas medias de puntos. Muchas personas me pararon para preguntarme sobre ellas, asi que incluí varios enlaces con productos parecido aqui abajo.
Por cierto, qué coincidencia que cuando caminaba hacia los restaurantes, Kim y Kourtney Kardashian, junto con el esposo de Kourtney, Scott Disick, salían de comprar en la tienda de medias Wolford! Estaban comprando con todo el equipo de su programa de televisión, pero pude captar esta imagen de ellos justo antes de que se subieran a su camioneta.
Me Puse: 
Su

é

ter de Cashmere: Se le cay

ó

la marca

Chaqueta Tipo Sastre de Algod

ó

n: Isaia Napoli

Shorts de Seda y Lino en Espiga: Ralph Lauren Rugby

Cinturón de Piel: Cole-Haan

Zapatos de Ante/Gamuza: Michael Kors (comprados parcialmente con una tarjeta de regalo que gan

é

con esta cartelera de Pinterest) (aqui y aqui) 

 

Pendientes/Zarcillos: Bolitas de coral antiguos

Anillos/Sortijas:

De plata esterlina y marquesita

Pulseras/Brazaletes: De plata y marquesita; de Bakelita antigua de los años 40

Broche de Lazo: De plata esterlina y marquesita

Collar: De plata esterlina y marquesita y corales

Cartera/Bolso de Piel: Longchamp Roseau (aqui)

Reloj de Oro y Acero: Raymond Weil, Toccata

Lentes/Gafas de Sol: Ralph Lauren Purple Label (

aqui

) 

Perfume: So de la Renta, (

aqui

) Mucha gente me pregunta qué perfume uso. Ésta ha sido mi fragancia por bastante tiempo. Encuentro que es fresca y coqueta, ligera y femenina, y muy clásica. Cuando busqué la descripción en la página de Oscar de la Renta, quedé gratamente identificada con lo que decía: "Para la mujer espontánea y energética que reparte su entusiasmo dondequiera que va. Una fragancia radiante y chispeante." Y también, "So de la Renta se deleita en el lado elegante, inesperado y divertido del tipo de mujer que representa Oscar de la Renta."
Share it in your...
Compártelo en tu...
Want to leave me a comment? | ¿Quieres dejarme un comentario? [+]
Comments | Comentarios