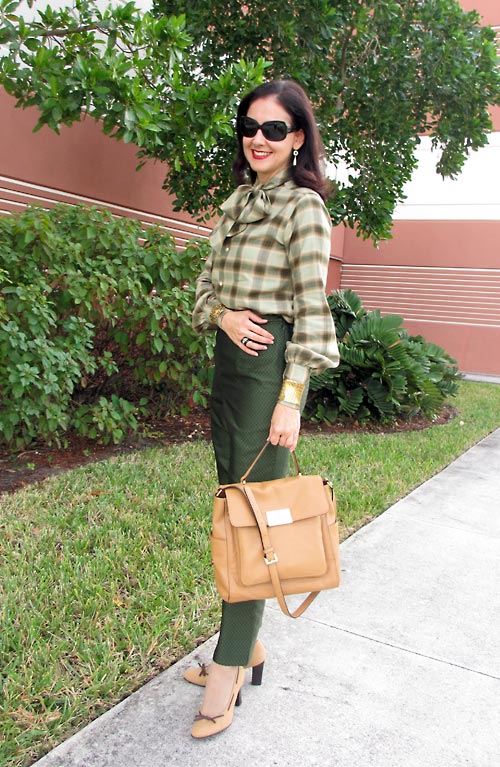 I went to the lighting of the Christmas tree in Worth Avenue, Palm Beach, and it was wonderful! So much fun! Many of the stores were still open, and the parade included not only Santa but also the Yeti from Saks Fifth Avenue. Cheese, wine, cookies, champagne, and lots of Christmas decorations, holiday windows, carolers, and an enormous Christmas tree…simply an absolutely perfect night! Oh, yeah, and I had a picture with Santa because one is never too old for that!
Naturally, and feeling totally in a Christmas spirit, I dressed in winter greens and plaids, with gold and tan accessories. I wanted it to be holiday-inspired, but not fall into the red and green combination. I ended up liking the pattern combination as well. What do you think?
I Wore: 
Wool Bow Blouse: Ralph Lauren Blue Label

Silk Brocade Pants: Vintage Jones New York, from my mom

Wool and Leather Shoes: Lauren by Ralph Lauren

Earrings: Gold, citrine, and diamonds

Ring: gold and diamonds with a green jade insert; two vintage bands of tortoise

Bracelets: Pierced gold-plated cuffs

Leather Bag: Michael Kors

Sunglasses: Burberry

Perfume: So de la Renta, (

here

) Many people ask me the kind of perfume I wear. This has been my signature scent for quite a while. I find that it is both fresh and flirty, light and feminine, and very classic. When I looked online, I was pleasantly identified by the description in the Oscar de la Renta site: "For the spontaneous, energetic woman who spreads her enthusiasm everywhere she goes. A radiant, sparkling scent." And also, "So de la Renta revels in the elegant, unexpected, playful side of the Oscar woman."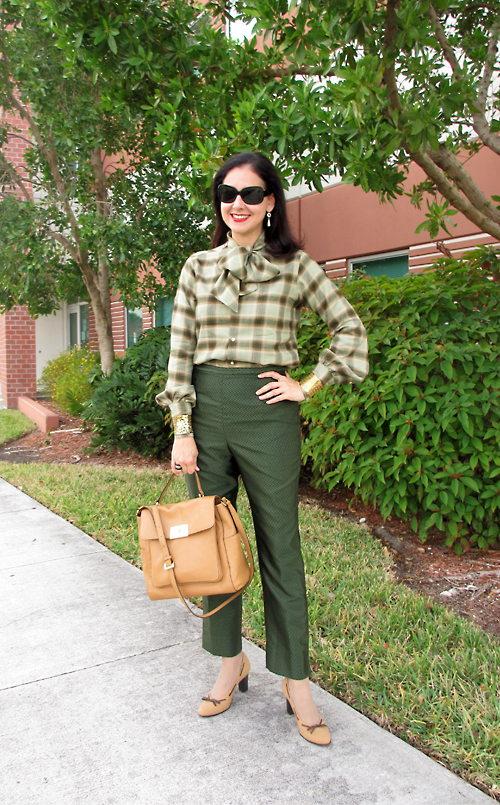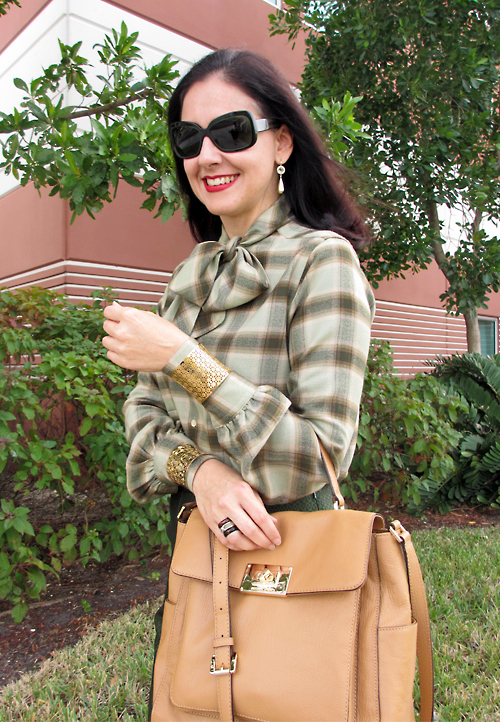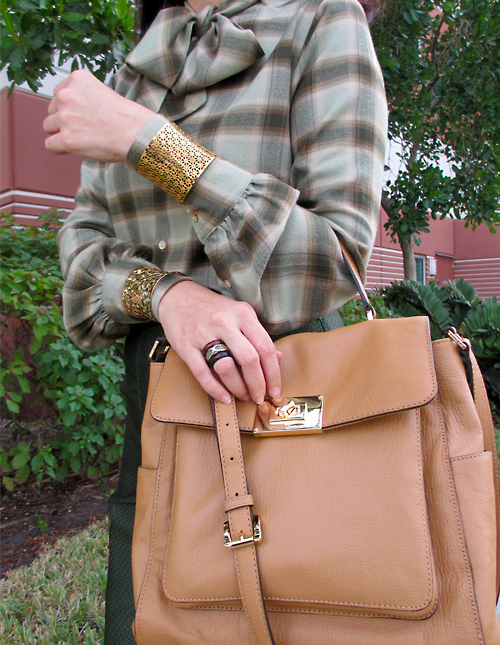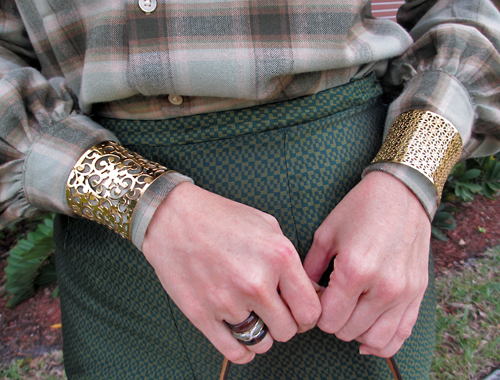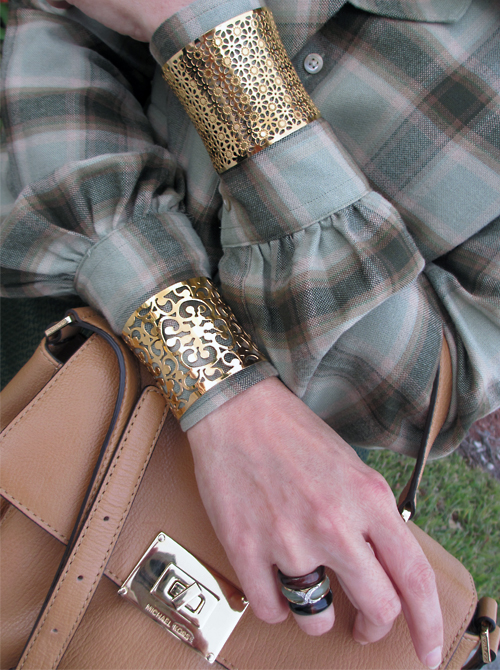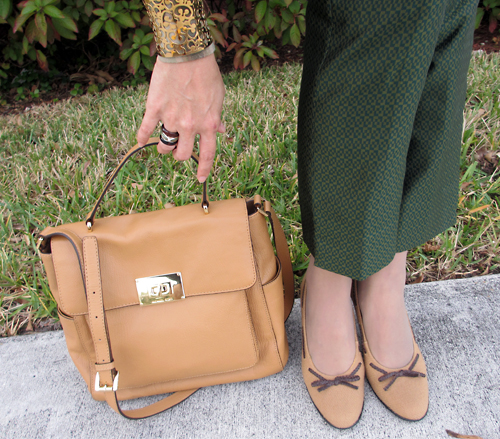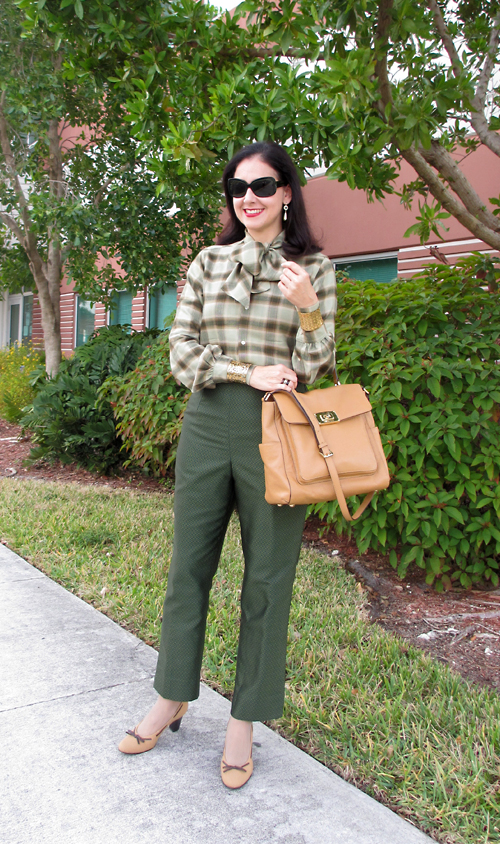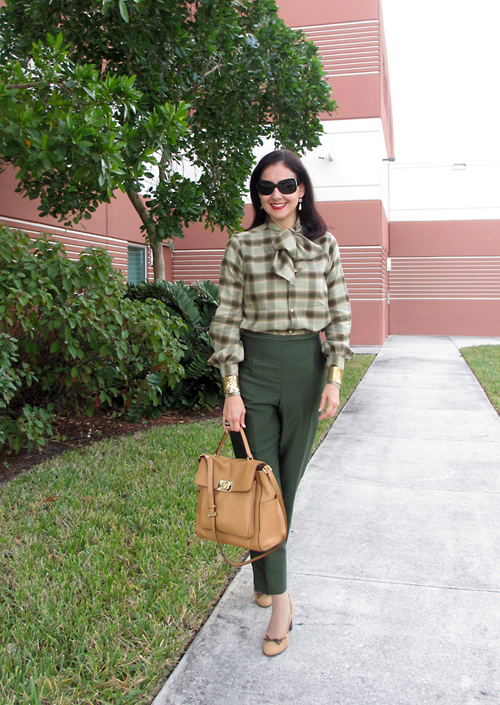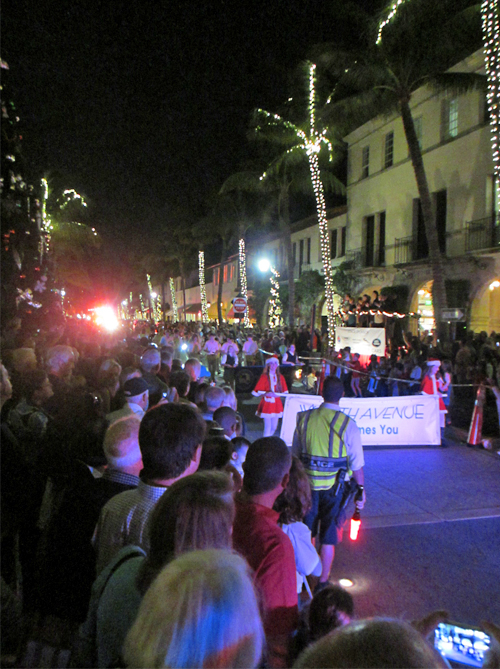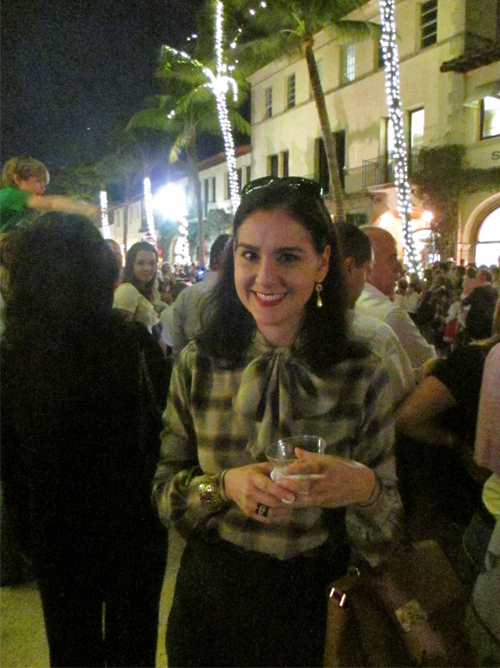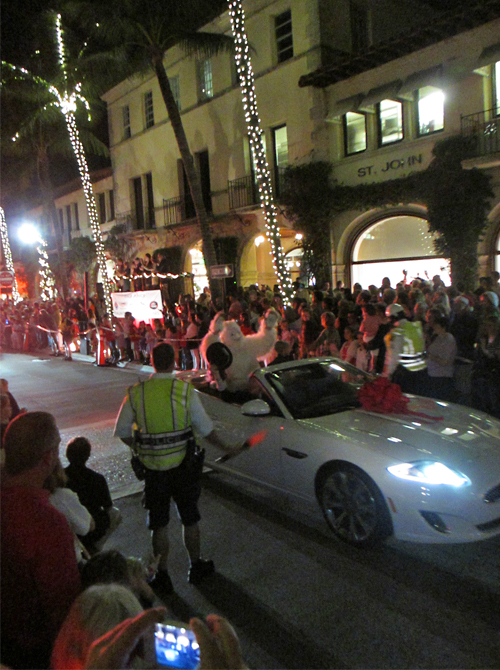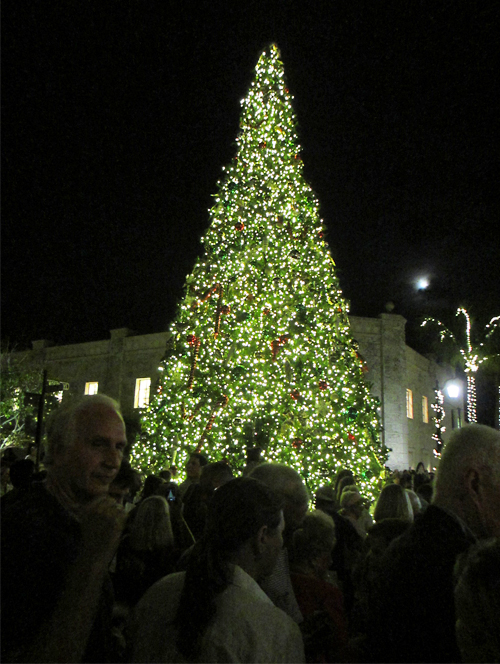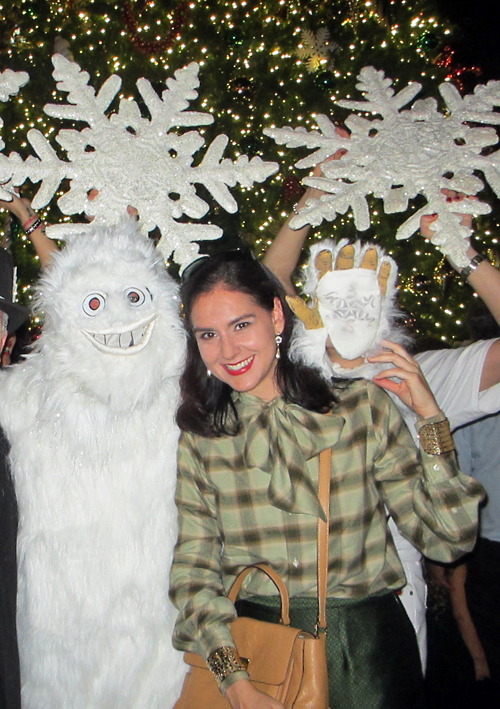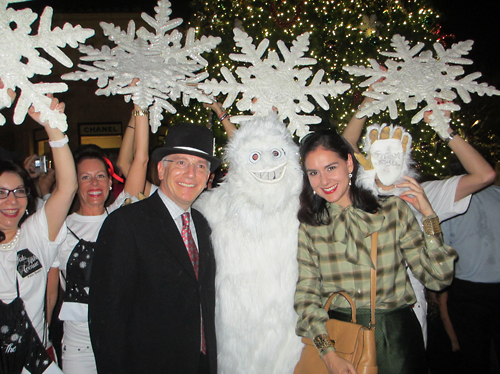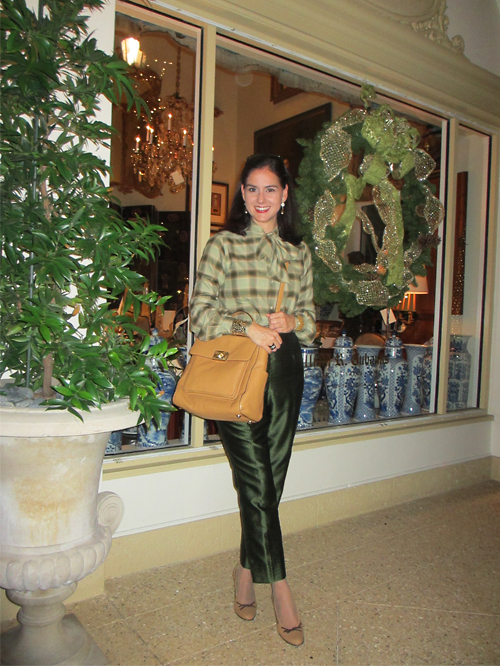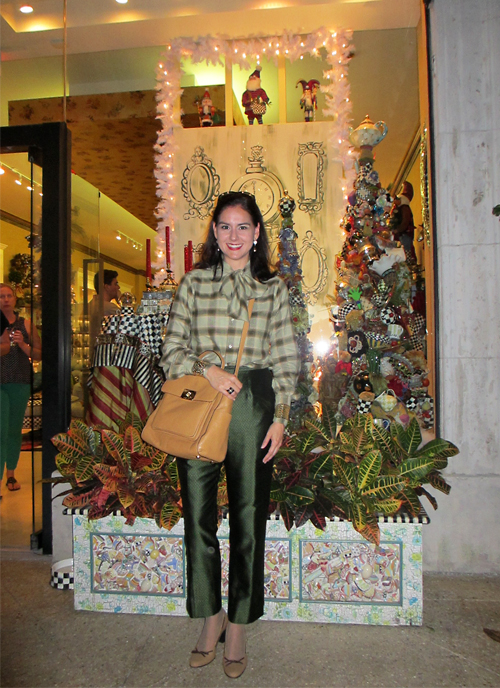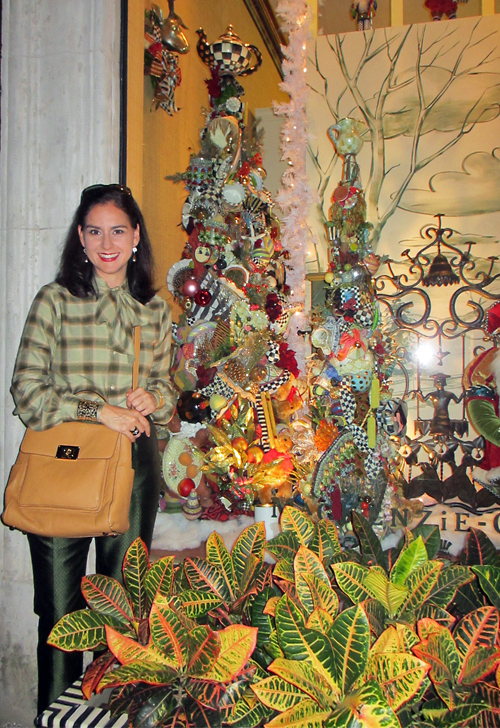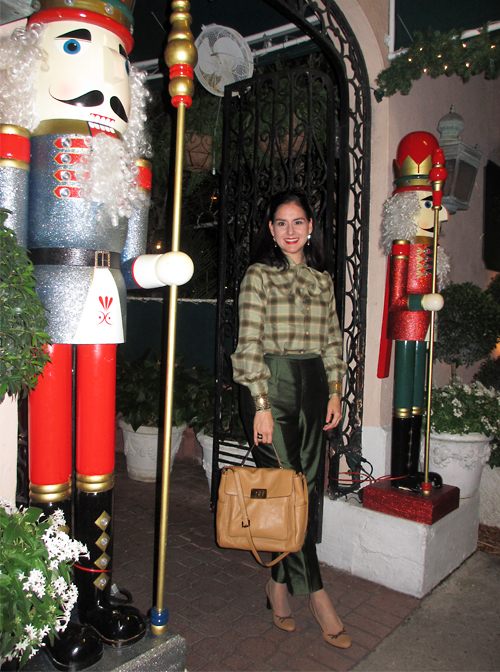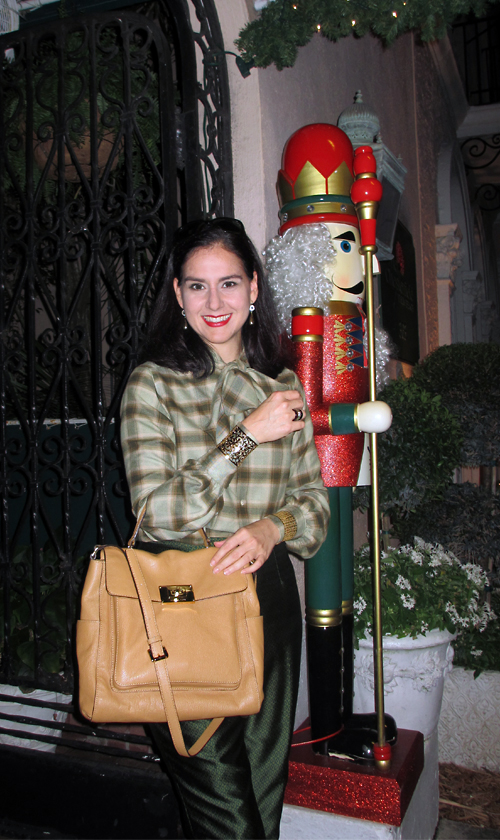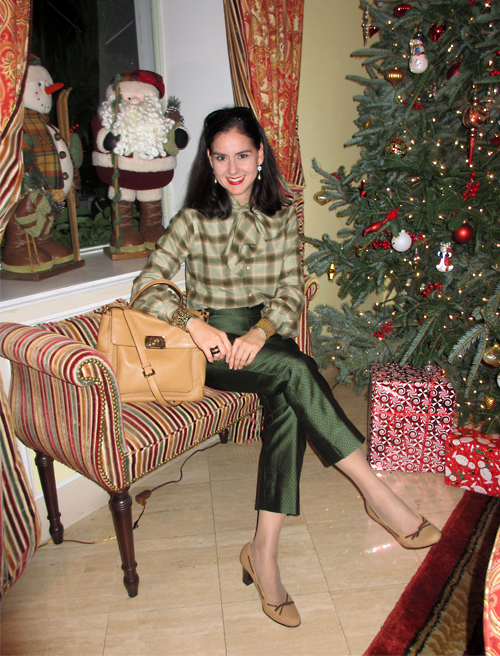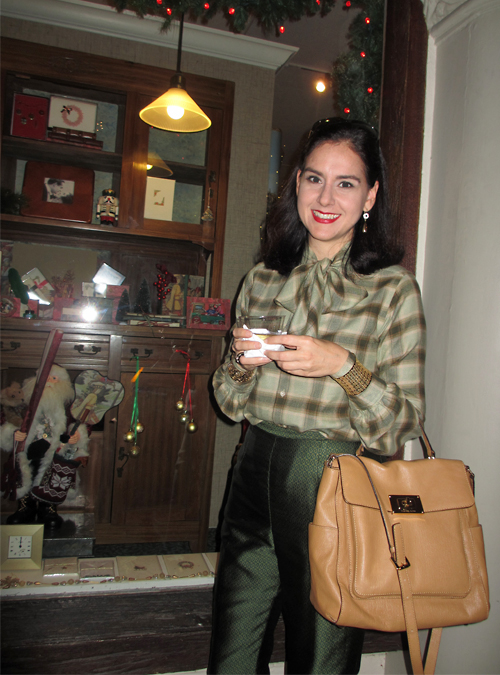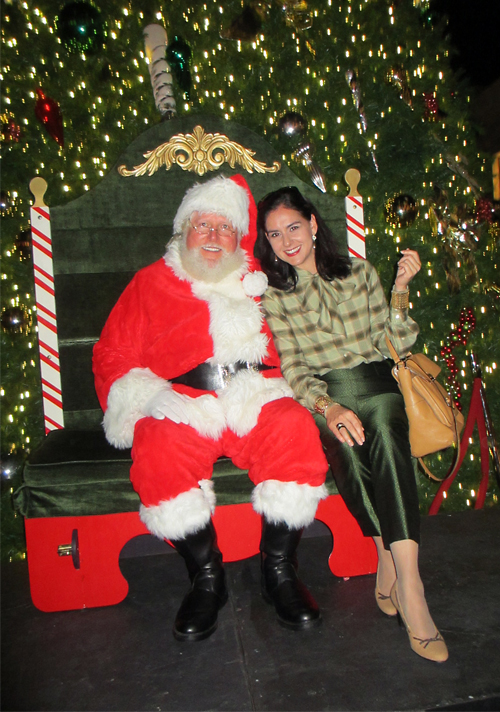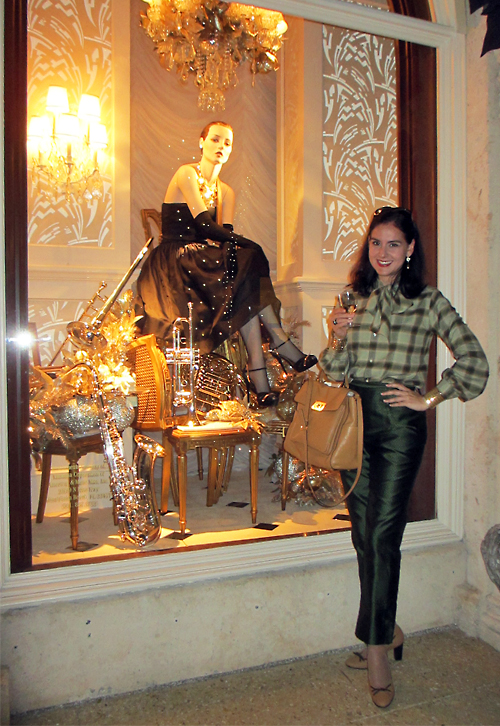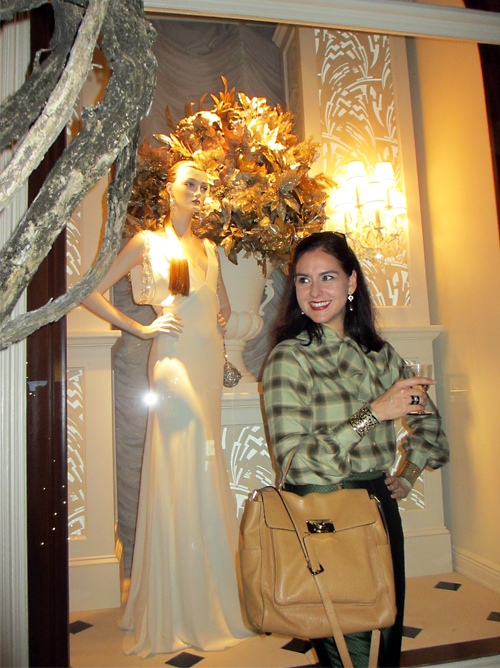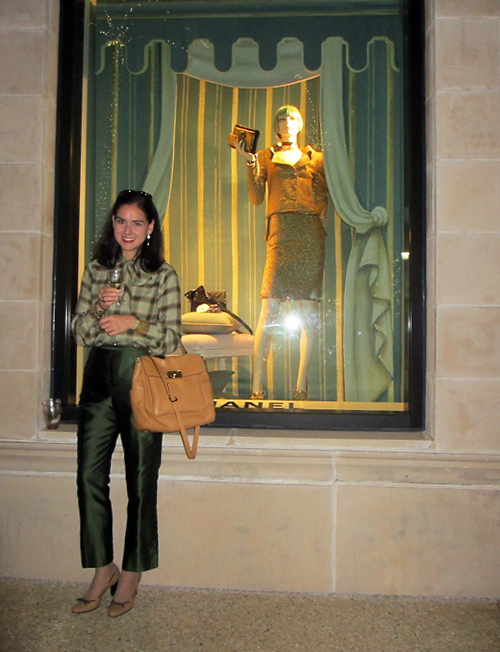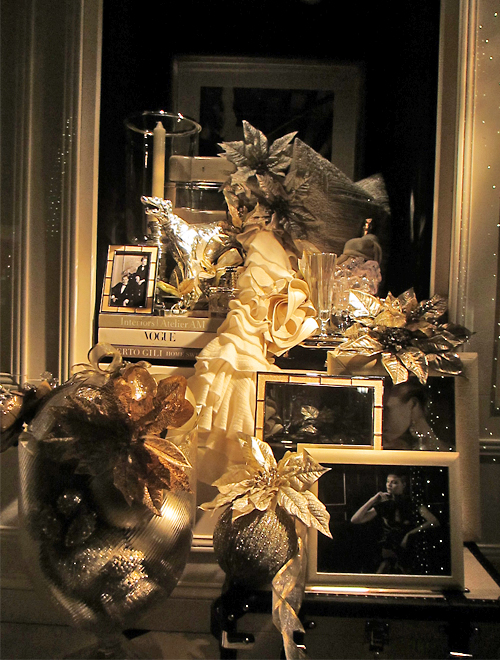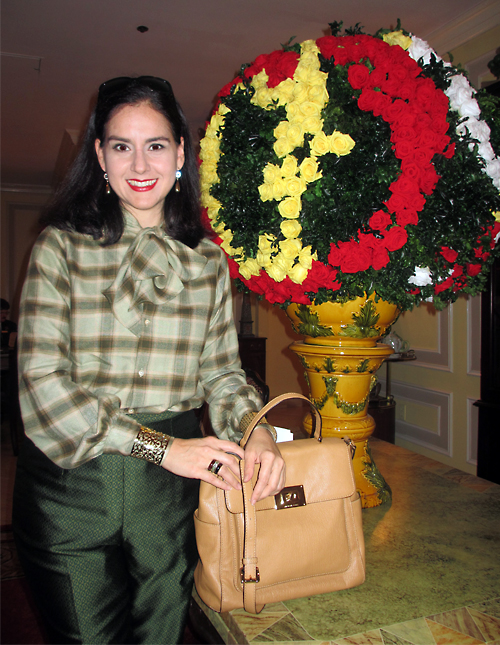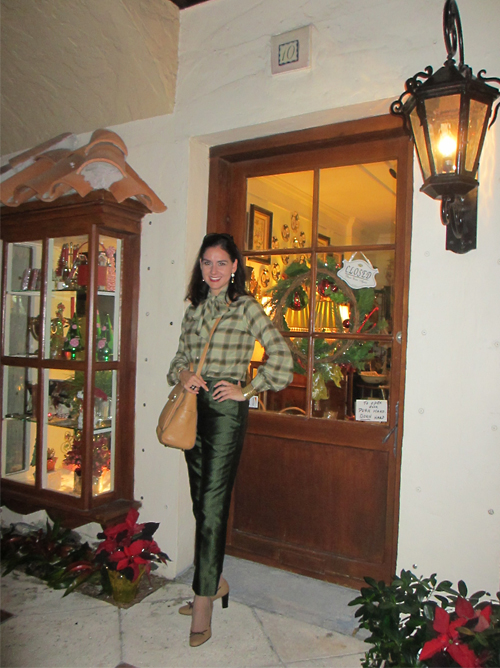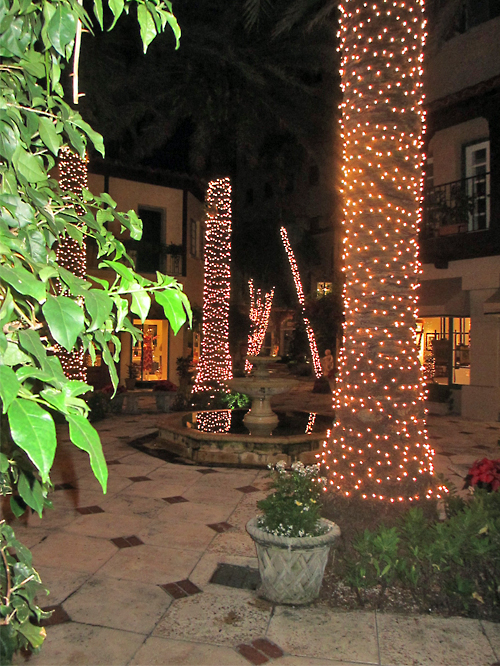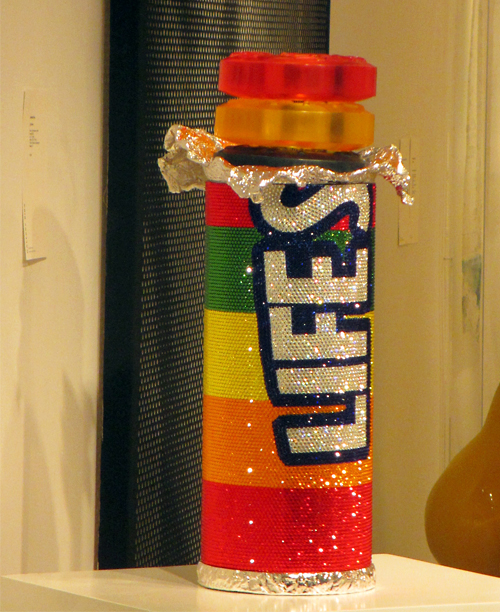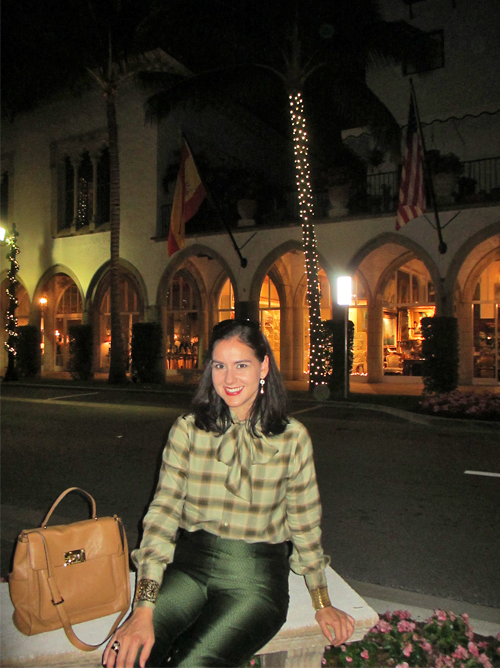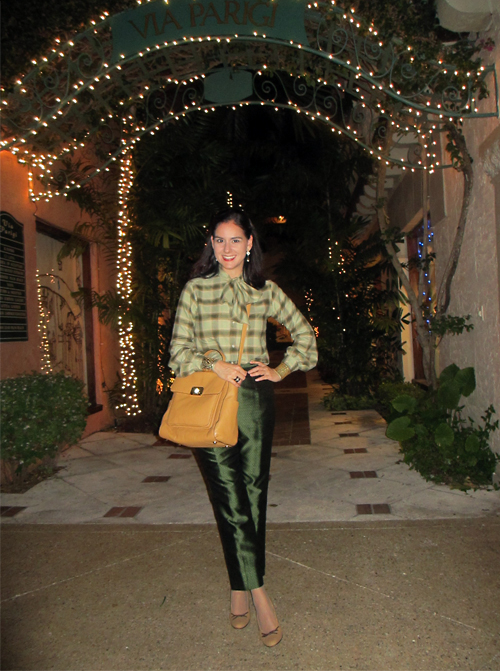 Fui al encendido del árbol de navidad de la Avenida Worth en Palm Beach y fue maravilloso! Me divertí muchísimo! Muchas de las tiendas estaban todavía abirtas, y el desfile incluyó no sólo a San Nicolás, sino también al Hombre de las Nieves de Saks Fifth Avenue. Queso, vinos, galletas, champán y muchos arreglos navideños, vitrinas decoradas, cantores de villancicos y un enorme árbol navideño…simplemente una noche absolutamente perfecta! Oh, y por supuesto me tomé una foto con San Nicolás porque uno nunca es lo suficientemente mayor como para no hacerlo!
Naturalmente, y sintiéndome invadida por el espíritu navideño, me vestí de verde invernal y tartán, con accesorios en marrón claro y oro. Quería que la inspiración fuese navideña, pero sin caer en la combinación tradicional de rojo y verde. También me gustó bastante el contraste de patrones. Qué les parece?
Me Puse: 
Blusa de Lana con Lazo: Ralph Lauren Blue Label

Pantalones de Seda Brocada: Antiguos, de Jones New York que eran de mi mam

á

Zapatos de Lana y Piel: Lauren by Ralph Lauren

Pendientes/Zarcillos: De oro, citrine y diamantes

Anillos/Sortijas:

De oro con diamantes y un insert de jade verde; dos bandas antiguas de carey

Pulseras/Brazaletes: Perforadas y ba

ñ

adas en oro

Cartera/Bolso de Piel: Michael Kors

Lentes/Gafas de Sol: Burberry

Perfume: So de la Renta, (

aqui

) Mucha gente me pregunta qué perfume uso. Ésta ha sido mi fragancia por bastante tiempo. Encuentro que es fresca y coqueta, ligera y femenina, y muy clásica. Cuando busqué la descripción en la página de Oscar de la Renta, quedé gratamente identificada con lo que decía: "Para la mujer espontánea y energética que reparte su entusiasmo dondequiera que va. Una fragancia radiante y chispeante." Y también, "So de la Renta se deleita en el lado elegante, inesperado y divertido del tipo de mujer que representa Oscar de la Renta."
Share it in your...
Compártelo en tu...
Want to leave me a comment? | ¿Quieres dejarme un comentario? [+]
Comments | Comentarios