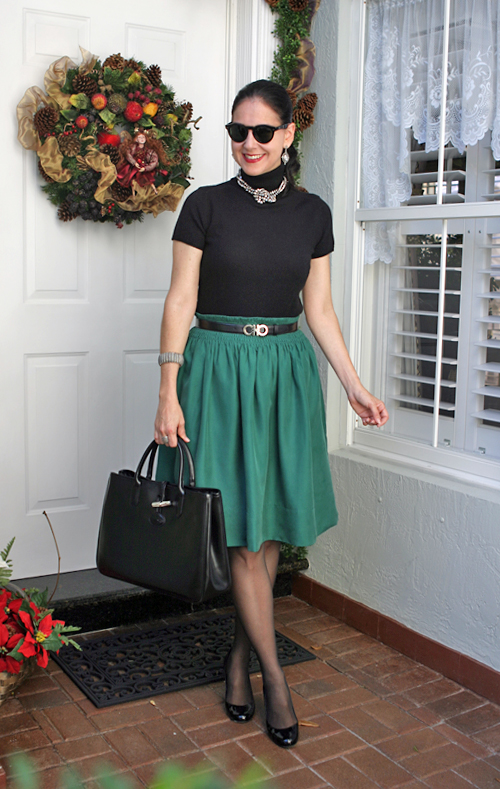 Taking cue from this Pinterest picture here, I decided to adapt it for a less formal look that would work for an office party or a night out. It's Holiday-inspired, but without screaming Christmas, and it features a very on-trend hunter green.
In order to let the green stand out, the rest of the outfit works well in a monochromatic black. Overall, an elegant and chic combination. By the way, I decided to wear a turtleneck (another big trend this winter!) instead of a crewneck sweater to give a backdrop for the necklace to shine and to elongate the linear blackness of the body. To replicate, you could simply wear long-sleeve or even a cardigan, but we're currently experiencing warmer days, so this was fine in my climate.
This skirt proves to be very versatile, so I've worn it many times before on the blog. You can see it here, here, here, and here.
I Wore: 
Cashmere Turtleneck Sweater: Label fell off

Fuji Silk Skirt: Talbots

Earrings: Sterling silver marcasite and cut quartz

Ring: Sterling silver marcasite

Bracelet: Sterling silver marcasite

Necklaces: Cut hematite, Donna Dressler

Leather Bag: Longchamp Roseau (

here

) 

Sunglasses: Ralph Lauren Purple Label (

here

) 

Perfume: So de la Renta, (

here

) Many people ask me the kind of perfume I wear. This has been my signature scent for quite a while. I find that it is both fresh and flirty, light and feminine, and very classic. When I looked online, I was pleasantly identified by the description in the Oscar de la Renta site: "For the spontaneous, energetic woman who spreads her enthusiasm everywhere she goes. A radiant, sparkling scent." And also, "So de la Renta revels in the elegant, unexpected, playful side of the Oscar woman."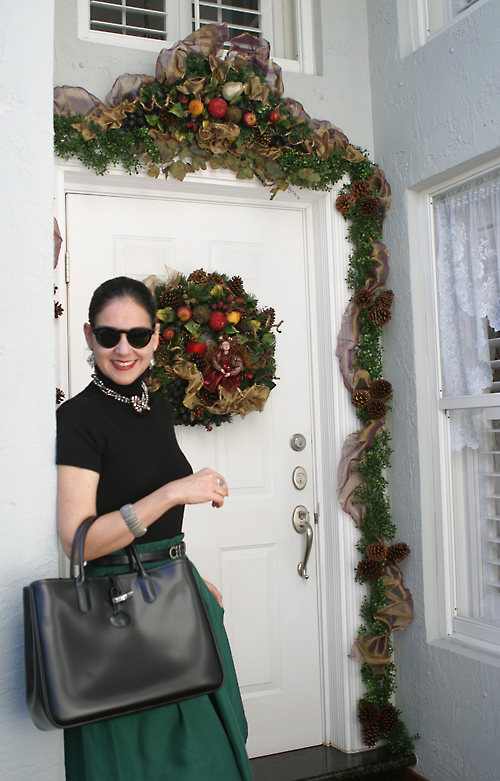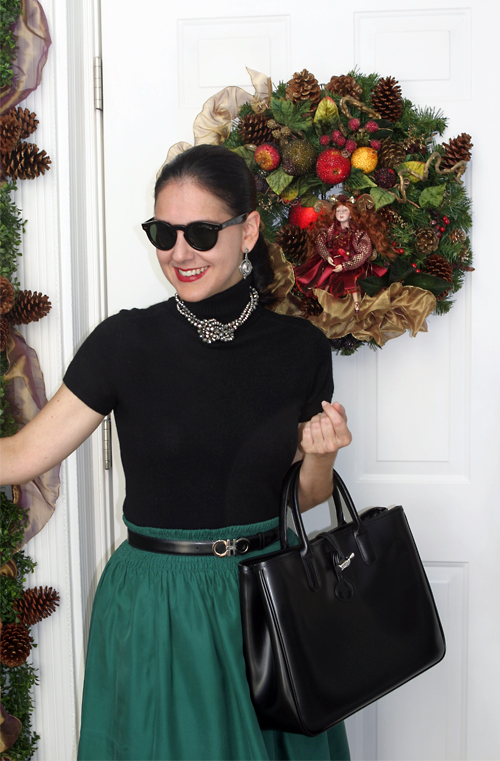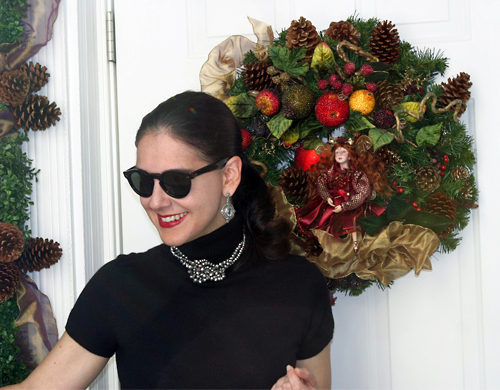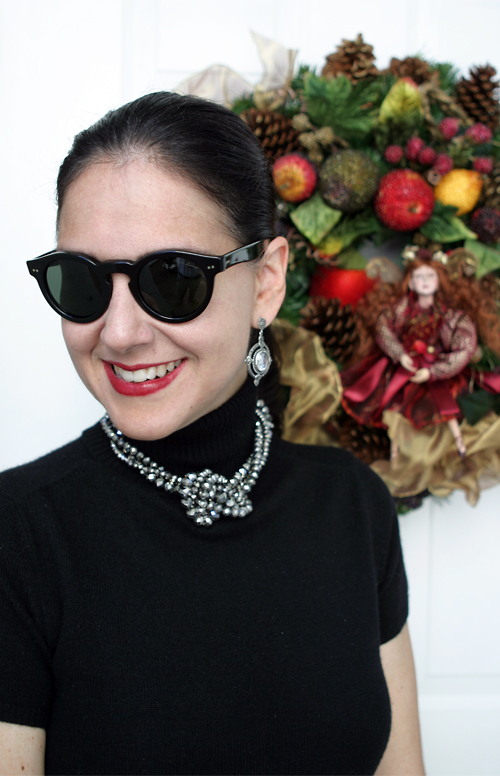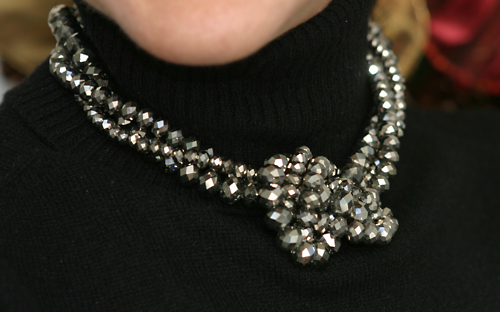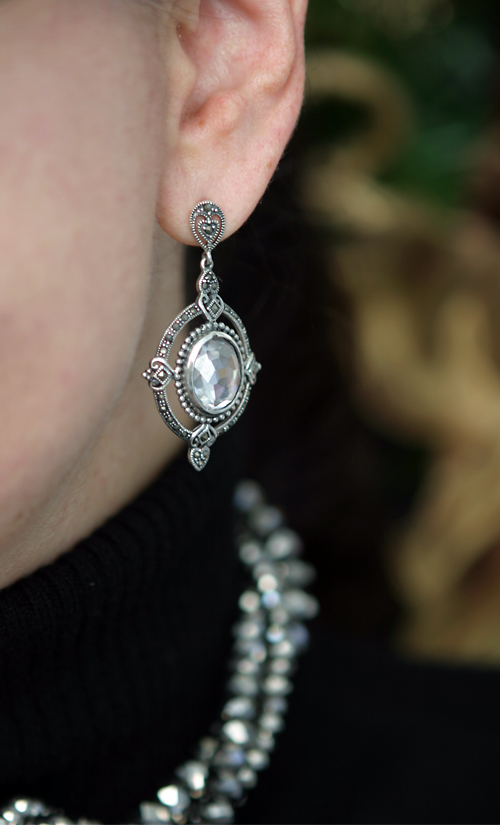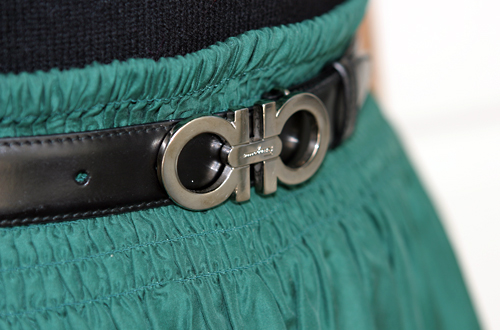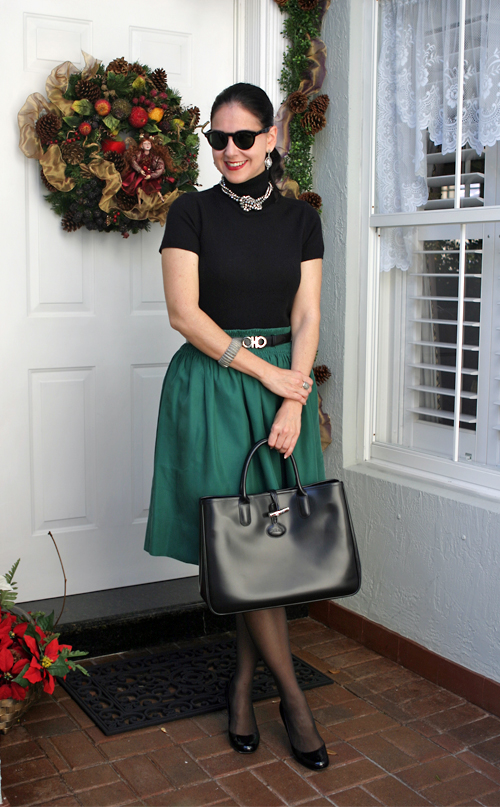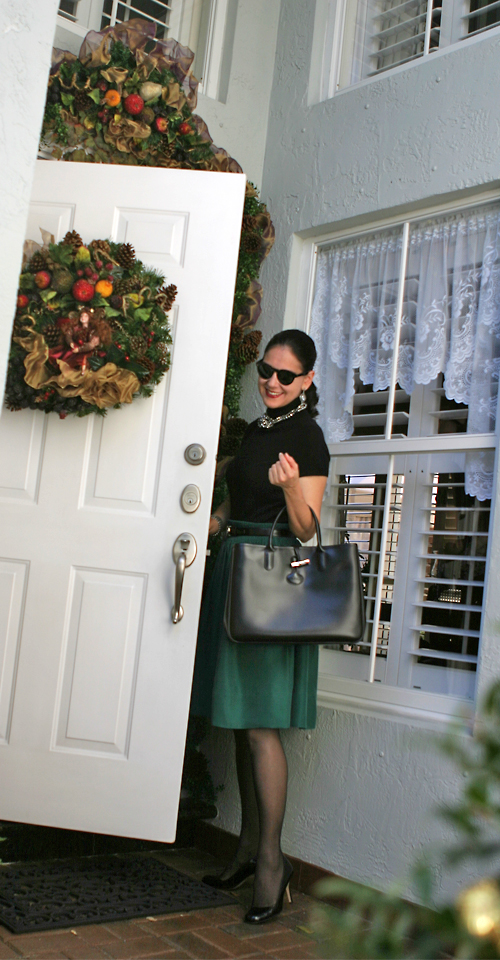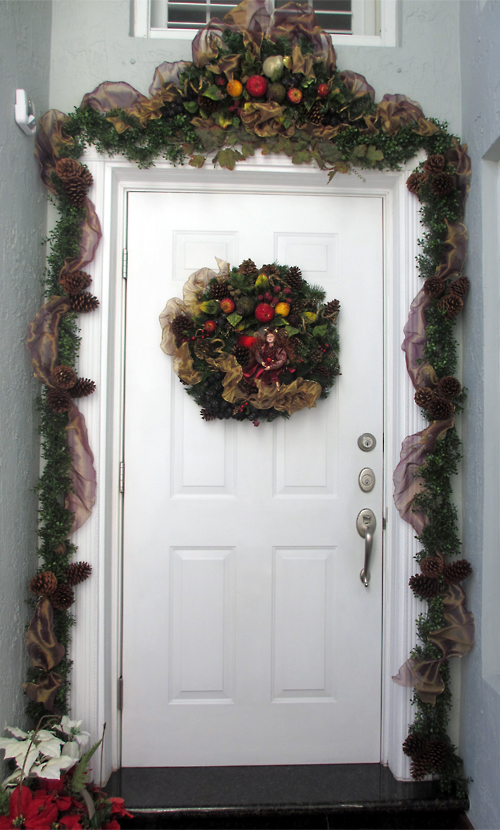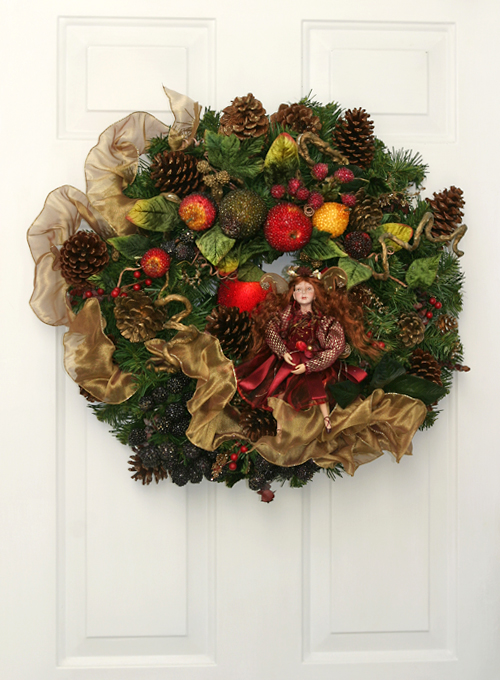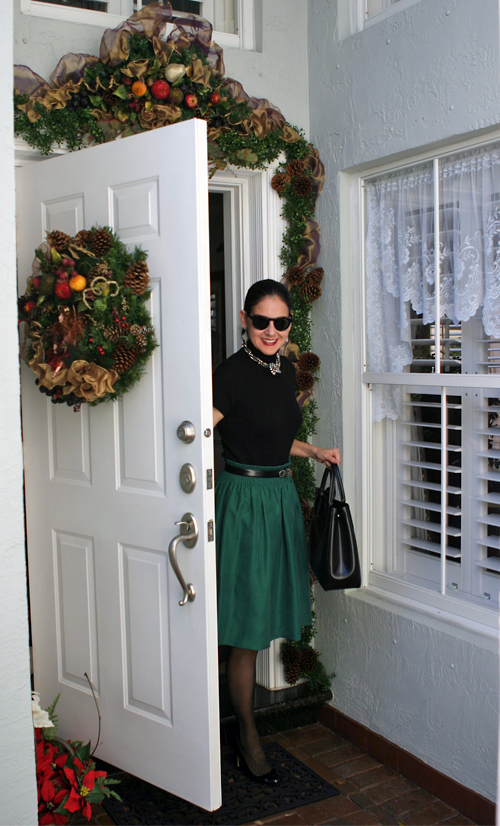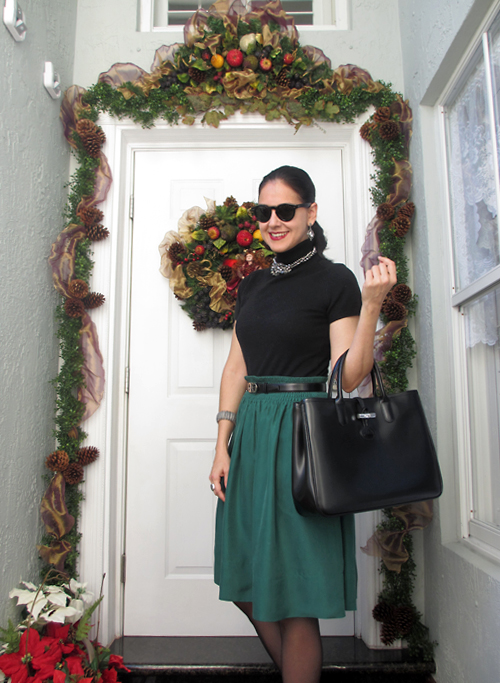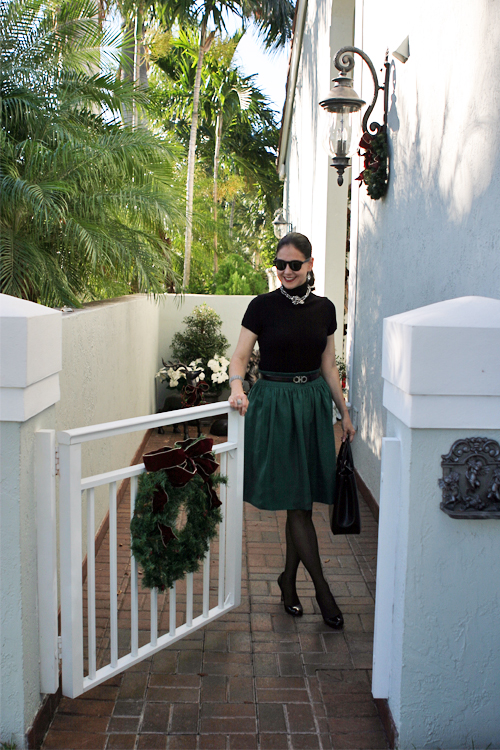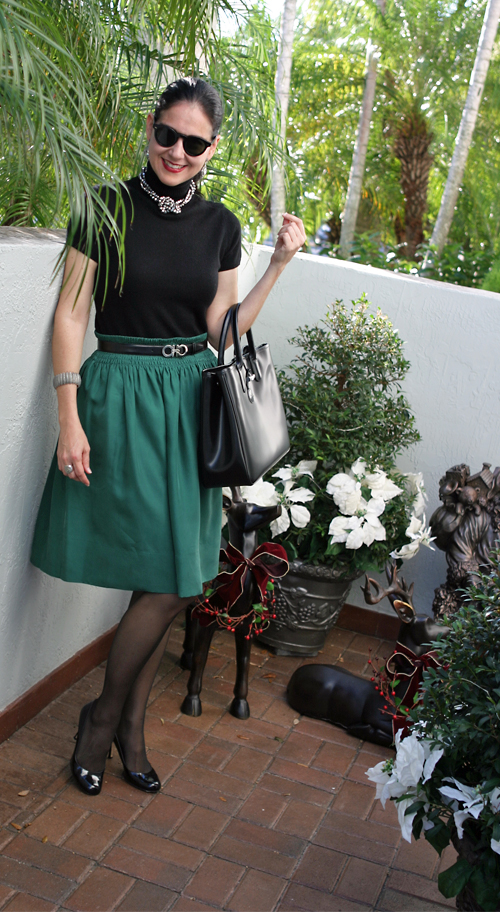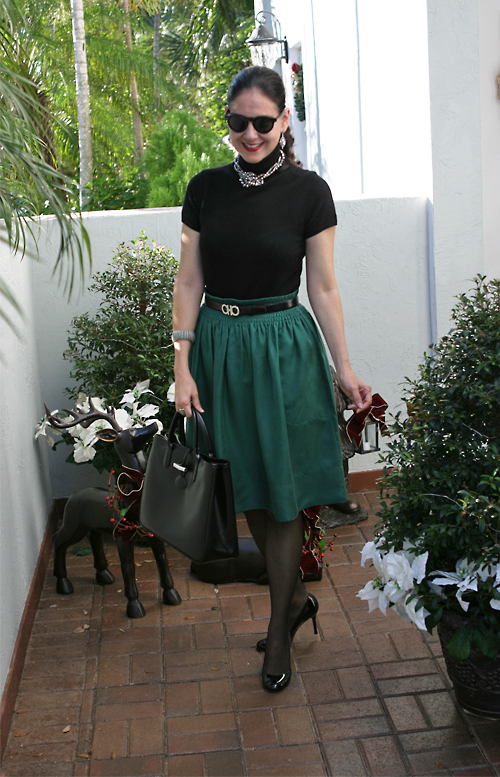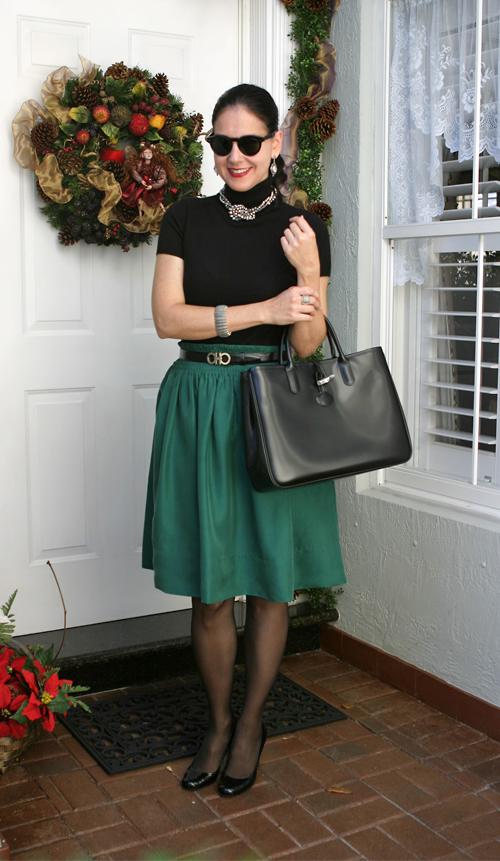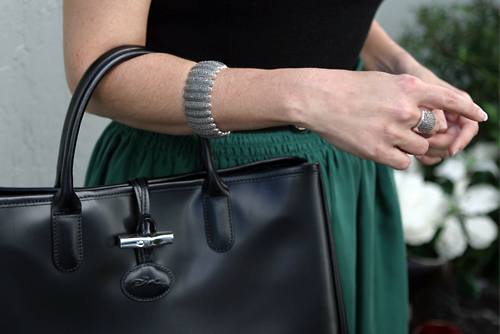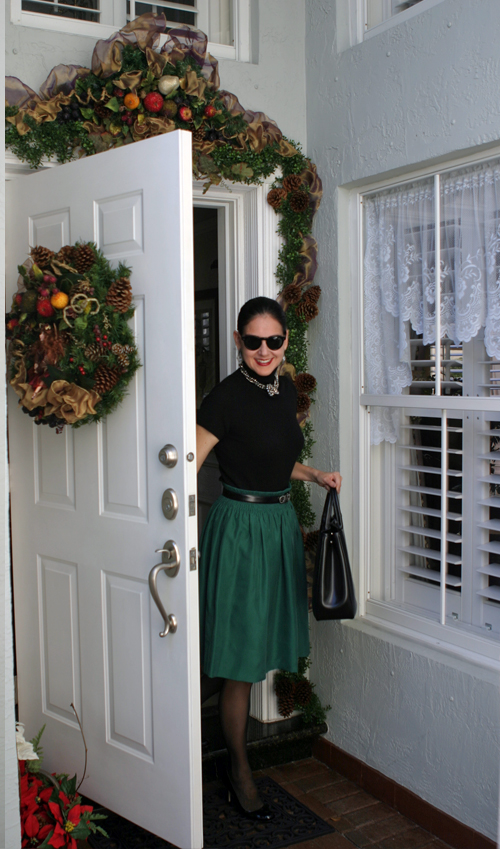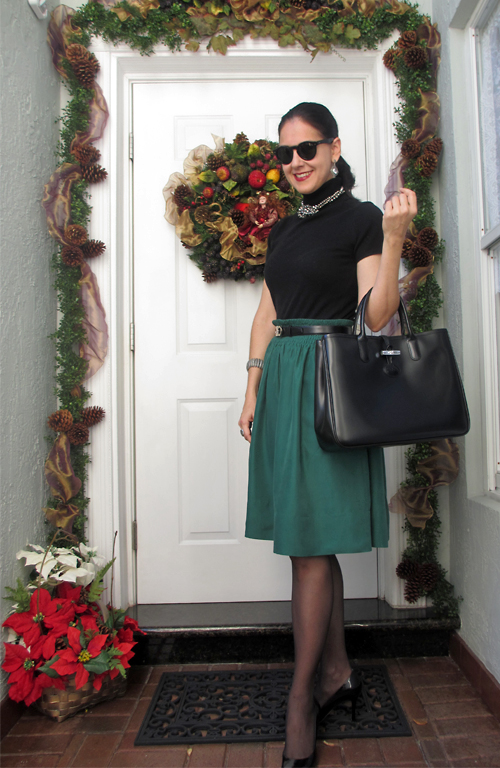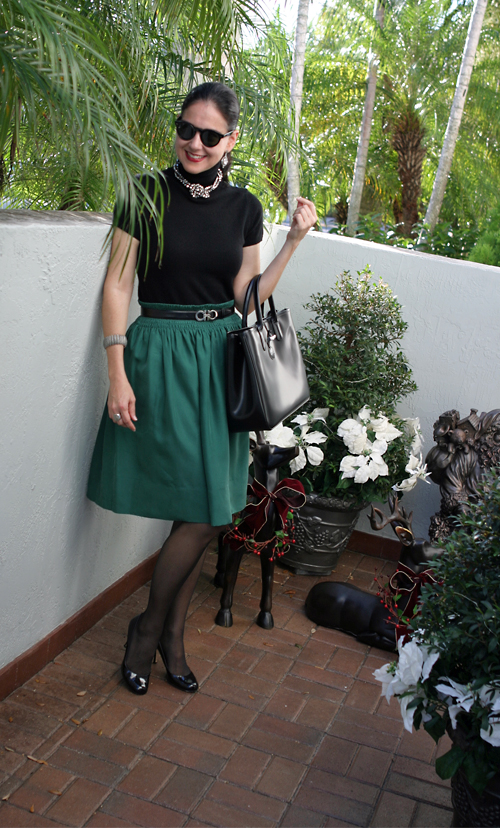 Tomando como inspiración esta foto de mi Pinterest, decidí adaptar el conjunto para una combinación menos formal que funcionara para una fiesta de la oficina o para salir de noche. Es un conjunto festivo pero no excesivamente navideño, y además utiliza un color que está muy de moda este invierno: el verde esmeralda.
Para que el verde resaltara, el resto del conjunto funciona bien en un tono monocromático negro. Una combinación elegante y chic. Por cierto, decidí lucir un cuello de tortuga o cisne (que es otra tendencia fuerte este invierno!) en vez de un suéter de cuello redondo, por ejemplo, para darle un fondo donde resaltara el collar, y también para elongar la linearidad del negro en el cuerpo. Para replicarlo, pueden ponerse también un suéter de manga larga o incluso una chaqueta de punto, pero como tenemos unos dias bastante cálidos últimamente, la manga corta funcionó para mi.
Esta falda me ha salido muy versátil, asi que la he lucido muchas veces en el blog. Pueden verla aqui, aqui, aqui y aqui.
Me Puse: 
Su

é

ter de Cashmere Cuello Tortuga/Cisne y Manga Corta: Se le cay

ó

la marca

Falda de Seda Fuji: Talbots

Pendientes/Zarcillos: De cuarzo tallado y marquesita de plata esterlina

Anillo/Sortija:

De

marquesita de plata esterlina

Pulsera/Brazalete: De

marquesita de plata esterlina

Collares: De hematita tallada, Donna Dressler

Cartera/Bolso de Piel: Longchamp Roseau (aqui)

Lentes/Gafas de Sol: Ralph Lauren Purple Label (

aqui

) 

Perfume: So de la Renta, (

aqui

) Mucha gente me pregunta qué perfume uso. Ésta ha sido mi fragancia por bastante tiempo. Encuentro que es fresca y coqueta, ligera y femenina, y muy clásica. Cuando busqué la descripción en la página de Oscar de la Renta, quedé gratamente identificada con lo que decía: "Para la mujer espontánea y energética que reparte su entusiasmo dondequiera que va. Una fragancia radiante y chispeante." Y también, "So de la Renta se deleita en el lado elegante, inesperado y divertido del tipo de mujer que representa Oscar de la Renta."
Share it in your...
Compártelo en tu...
Want to leave me a comment? | ¿Quieres dejarme un comentario? [+]
Comments | Comentarios