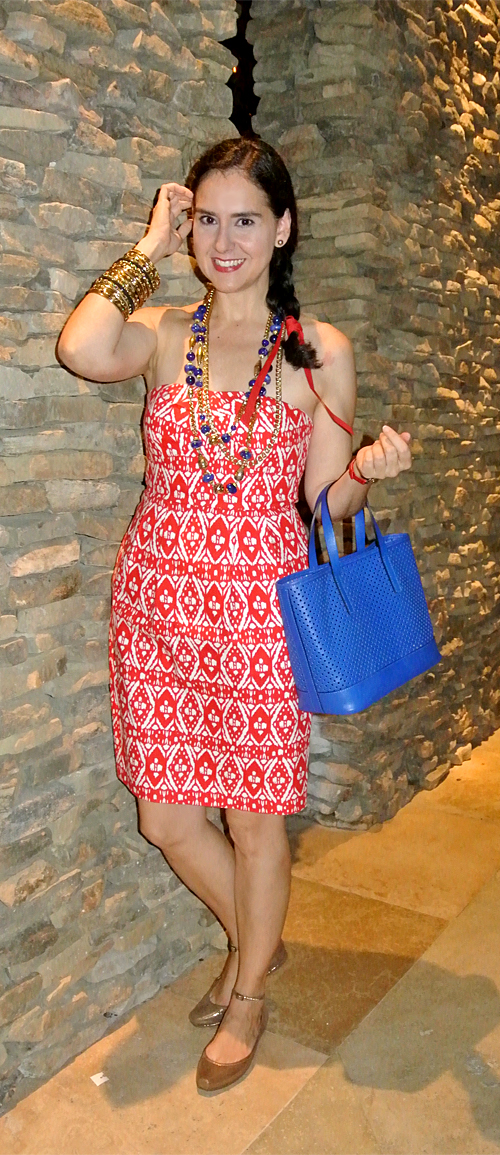 This is what I wore on the Fourth of July to watch the fireworks. It was so hot that day that I didn't even dry my hair after I showered. Of course, a strapless dress became the perfect choice. The fireworks were great, but about 2 or 3 minutes after the fireworks ended, it began to rain copiously, right on cue!
LET'S KEEP IN TOUCH! Join me on Facebook, Twitter & Pinterest! 
STYLING PROCESS:
The Starting Point: Strapless red and white dress
The Complementary Pieces:  Flat gold shoes; pierced cobalt blue bag
The Finishing Touches: Gold and blue jewelry; side braid with red ribbon
The Mirror Review: Had I worn this dress for a different occasion, I probably would have worn it with heels, but since I was going to watch the fireworks on the golf course, I wanted to wear flats for easy walking. The whole look was chic enough for dinner too.
WHAT I WORE:
Cotton Ikat-Like Print Strapless Dress: J. Crew Factory (very similar here)

Earrings: Gold studs

Ring: Gold

Bracelets: Brass set by Amrita Singh (here); antique Bakelite bangles from the 40s

Necklaces: Graduated brass and blue resin, from Spain

Gold and Stainless Steel Watch: Raymond Weil, Toccata

Perfume: So de la Renta, (

here

) Many people ask me the kind of perfume I wear. This has been my signature scent for quite a while. I find that it is both fresh and flirty, light and feminine, and very classic. When I looked online, I was pleasantly identified by the description in the Oscar de la Renta site: "For the spontaneous, energetic woman who spreads her enthusiasm everywhere she goes. A radiant, sparkling scent." And also, "So de la Renta revels in the elegant, unexpected, playful side of the Oscar woman."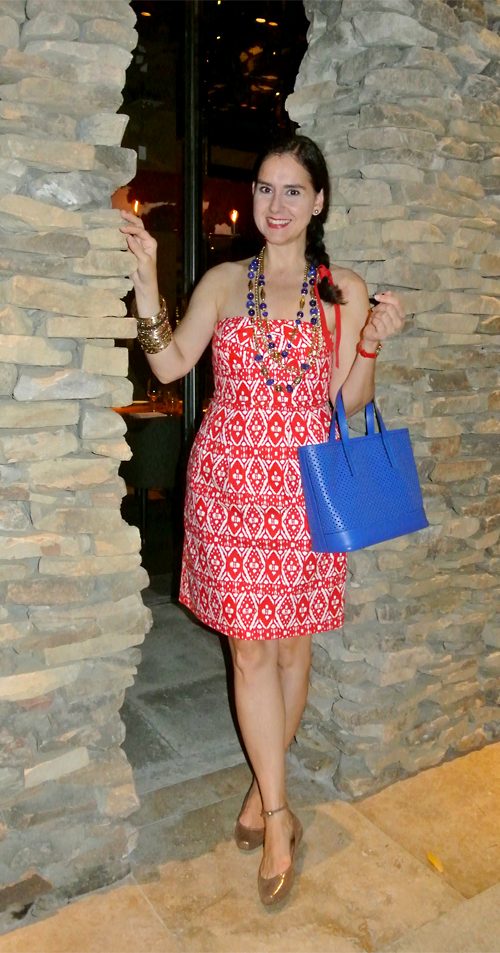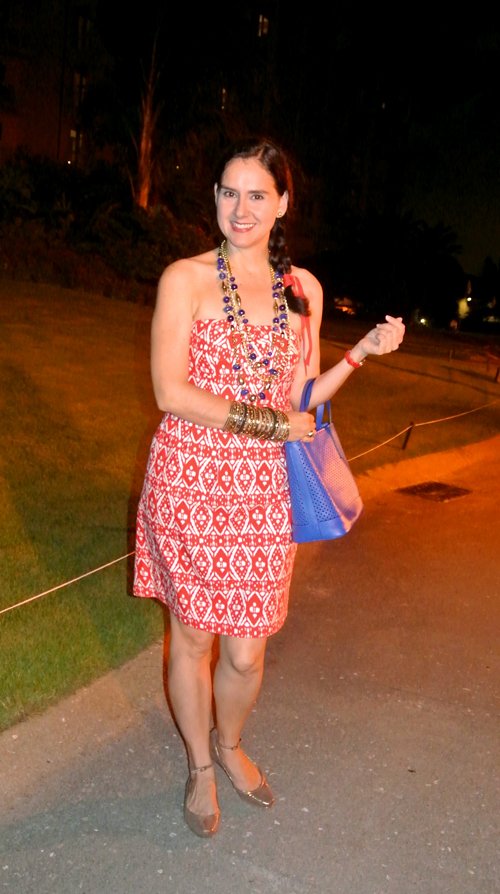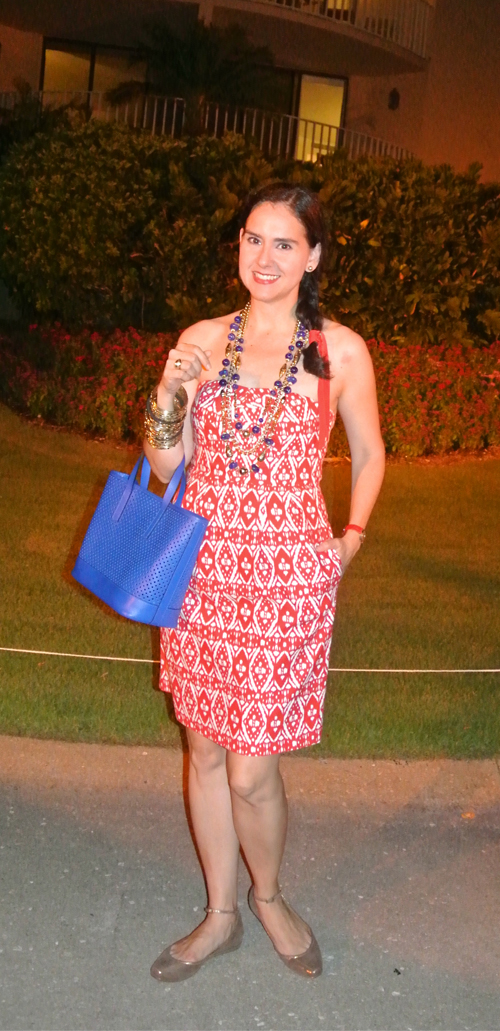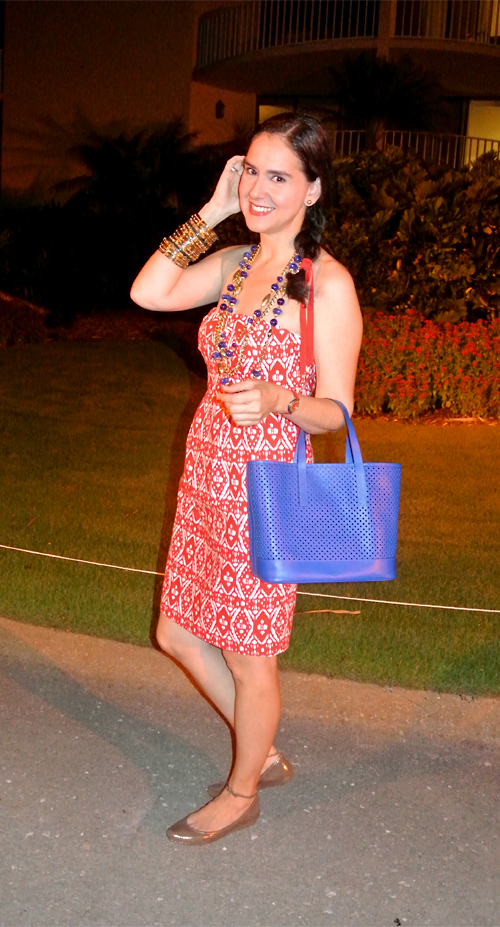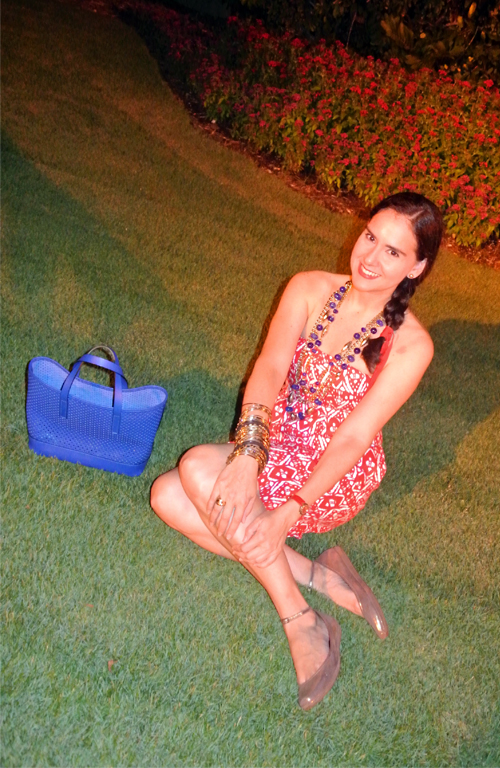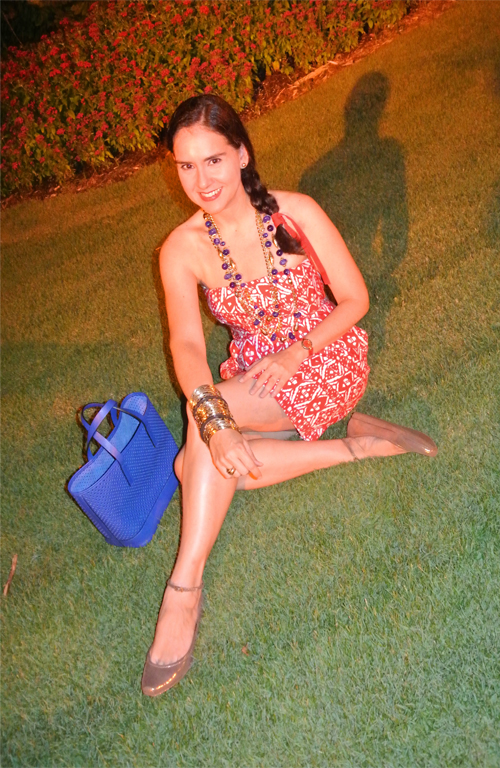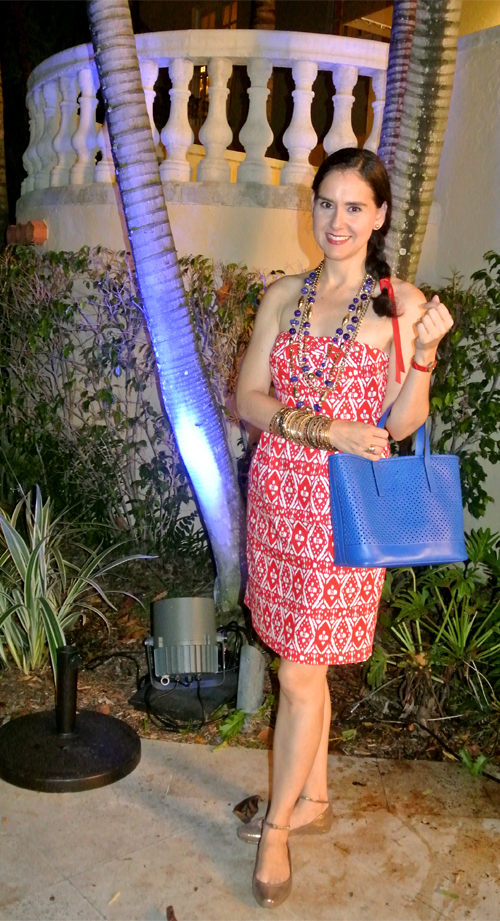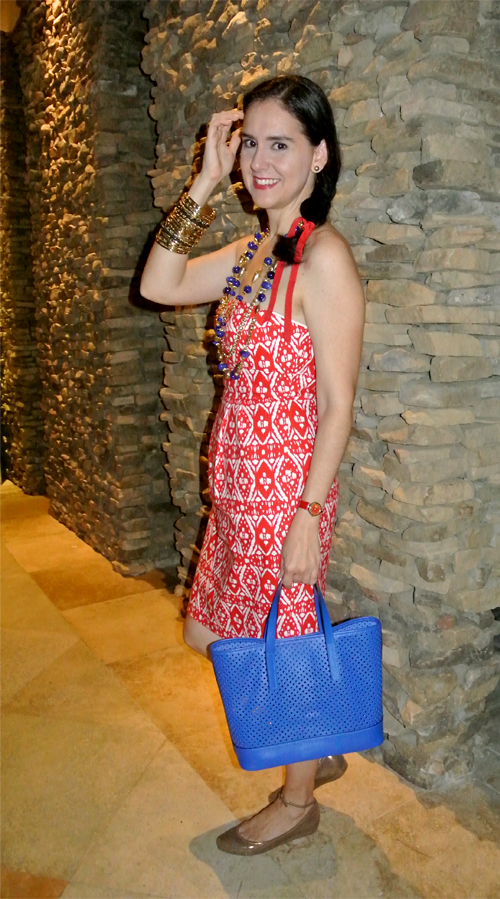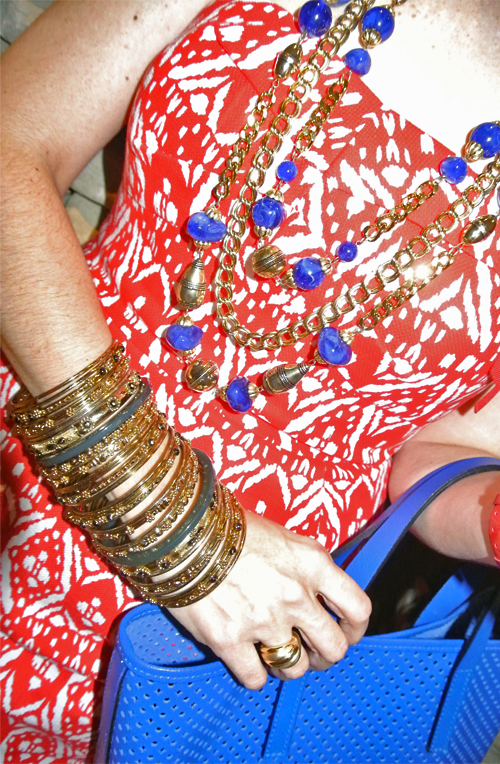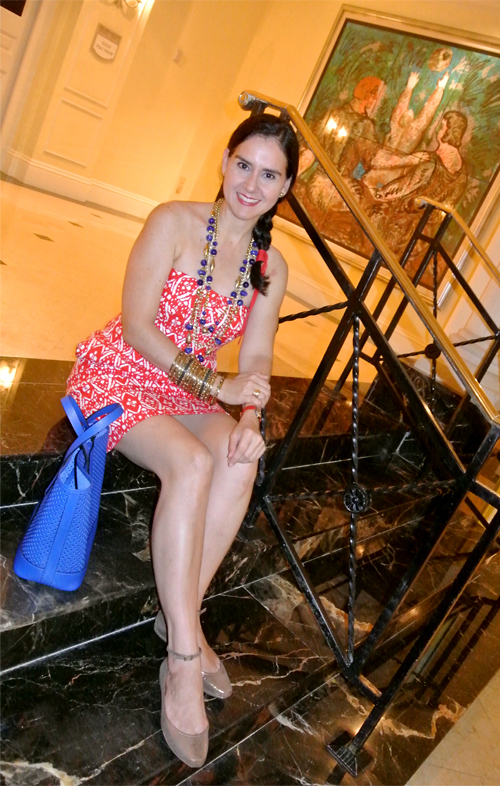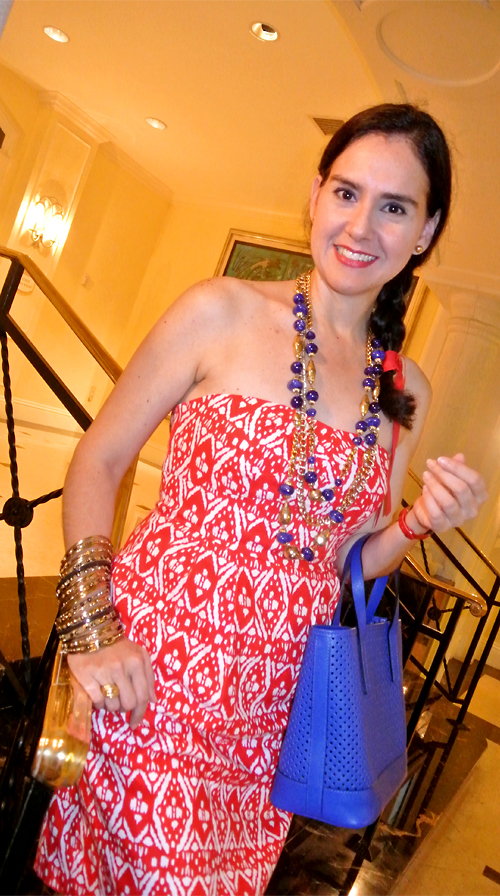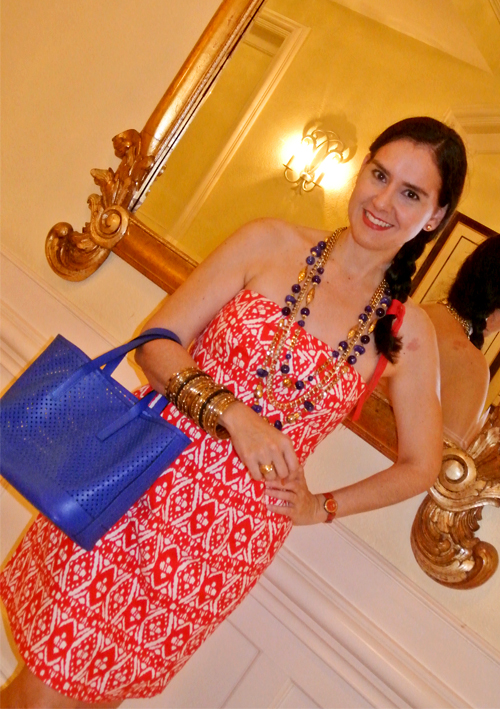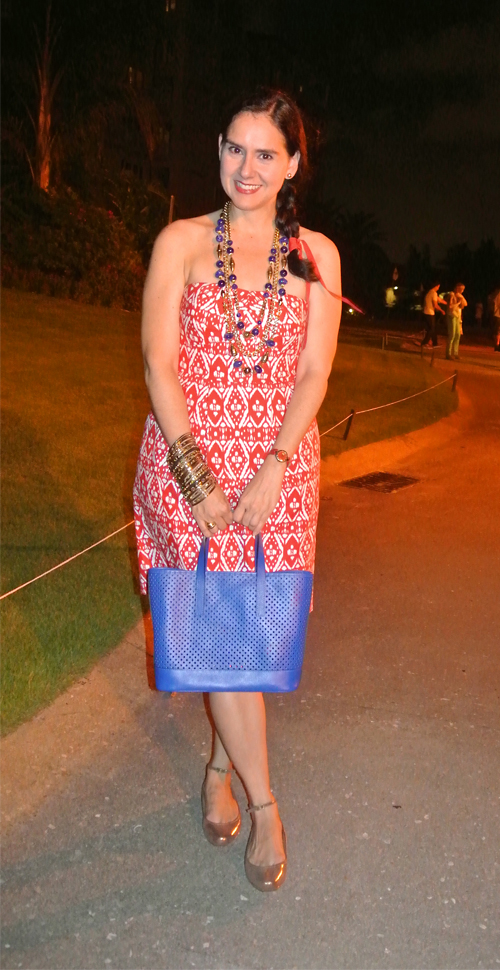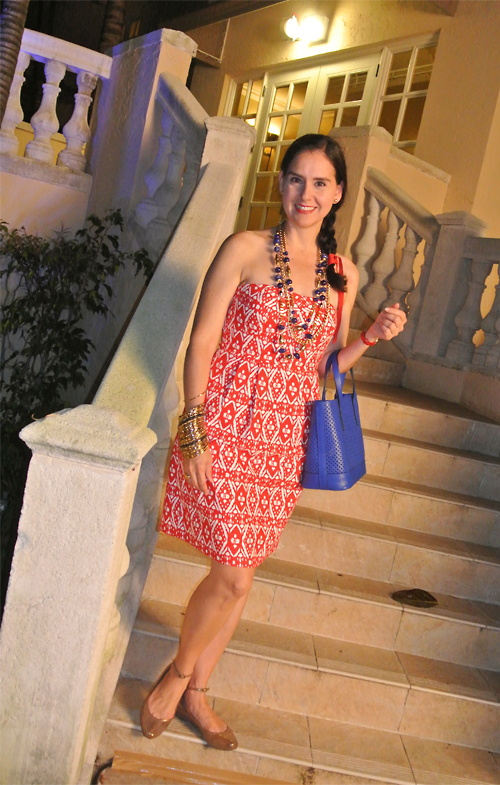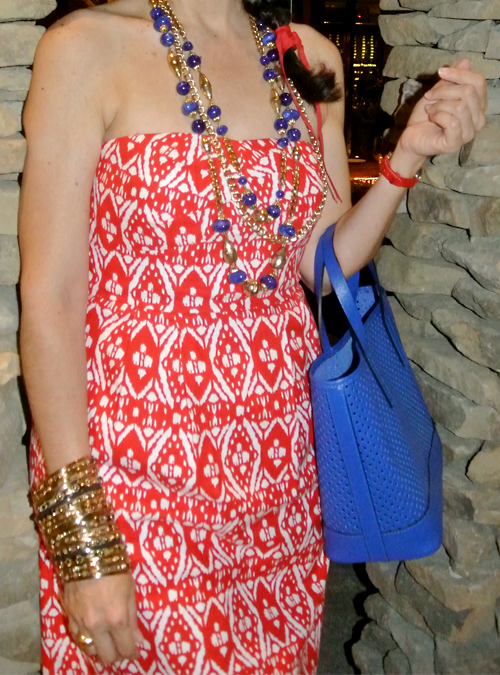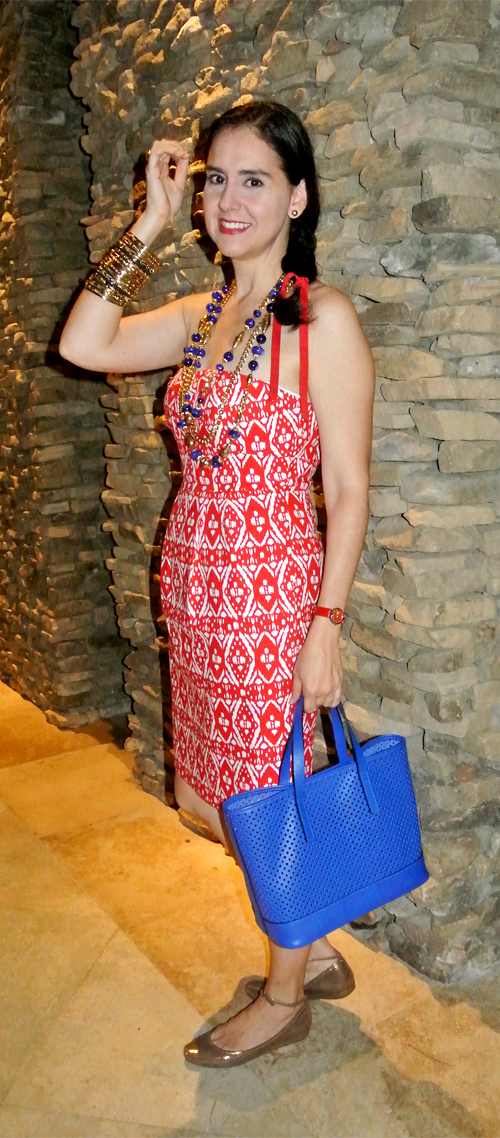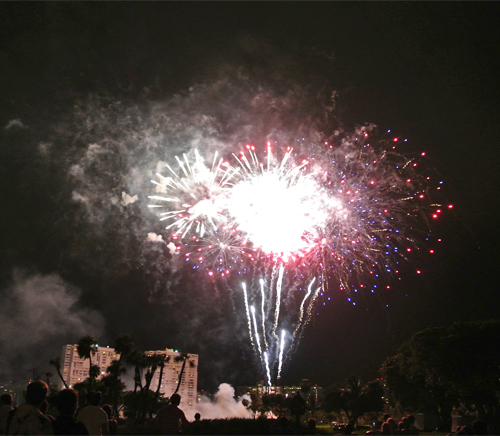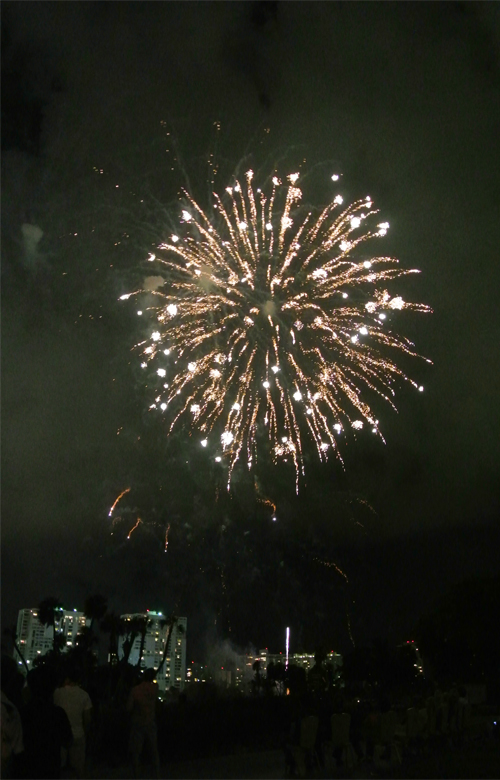 Esto fue lo que me puse para ver los fuegos artificiales el Cuatro de Julio. Hacía tanto calor ese dia, que ni siquiera me sequé el pelo después de ducharme. Por supuesto, un vestido strapless fue la elección ideal. Los fuegos artificiales fueron magníficos, pero 2 o 3 minutos después de que terminaron, comenzó a llover copiosamente, justo a tiempo!
SIGAMOS EN CONTACTO! Únanse a mis páginas de Facebook, Twitter y Pinterest! 
PROCESO DEL ESTILISMO:
El Punto de Partida: Vestido strapless en rojo y blanco
Las Piezas Complementarias: Zapatillas doradas planas; bolso/cartera perforada en azul cobalto
Los Toques Finales: Joyas doradas y azules; trenza de lado con lazo rojo
La Respuesta del Espejo: Si me hubiera puesto este conjunto para otra occasion, probablemente me lo hubiera puesto con tacones, pero como iba a ver los fuegos artificiales en el campo de golf, quise ponerme zapatillas planas para que me fuera caminar. El conjunto resultó bastante chic para ir a cenar también.
LO QUE ME PUSE:
Vestido Strapless con Estampado de Ikat en Algod

ó

n: J. Crew Factory (MUY similar aqui)

Pendientes/Zarcillos: Bolitas de oro

Anillo/Sortija: De oro

Brazaletes: De bronce de Amrita Singh (aqui); de Bakelita antigua de los años 40

Collares: Graduado en bronce y resina azul, comprado en España

Reloj de Oro y Acero: Raymond Weil, Toccata

Perfume: So de la Renta, (

aqui

) Mucha gente me pregunta qué perfume uso. Ésta ha sido mi fragancia por bastante tiempo. Encuentro que es fresca y coqueta, ligera y femenina, y muy clásica. Cuando busqué la descripción en la página de Oscar de la Renta, quedé gratamente identificada con lo que decía: "Para la mujer espontánea y energética que reparte su entusiasmo dondequiera que va. Una fragancia radiante y chispeante." Y también, "So de la Renta se deleita en el lado elegante, inesperado y divertido del tipo de mujer que representa Oscar de la Renta."
Share it in your...
Compártelo en tu...
Want to leave me a comment? | ¿Quieres dejarme un comentario? [+]
Comments | Comentarios